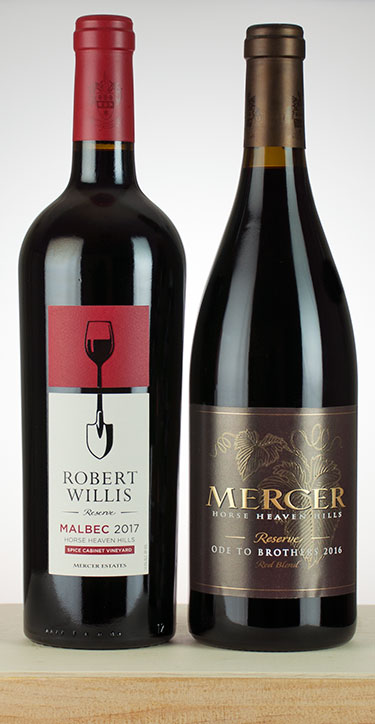 Comprehensive quality control in the vineyards allows Mercer Estates Winery owners Rob and Brenda Mercer the ability to deliver exciting estate-grown wines at exceptional values.  Their tiered brands offer a range, from value-driven reds and whites to ultra-premium reserve wines. Founded in 2005, this winery continues to impress at every turn.
The Mercer's family has been farming in the Horse Heaven Hills since 1886 and their beginnings in the wine industry date back to 1972 where they remain deeply rooted in the AVA. Read more about these ambassadors of Washington wine in the article here.
You can find many of their wines on store shelves at major retail outlets, however some of the reserves and small lot wines are found only at their tasting room or as wine club offerings.
Prosser Tasting Room & Winery
Address: 3100 Lee Rd, Prosser
Phone: (509) 786-2097
www.mercerwine.com
Here are reviews of a mix of 7 red and white wines we recently tasted:
Mercer Estates 2017 Robert Willis Reserve Malbec, $55
Editor's Choice – Outstanding (94 pts.)
Gorgeously structured, with muscular structure upholding rich flavors of cassis, crushed blackberry and macerate cherry inlaid with vibrant notes of tarry minerality, violet, cocoa and warm spice. Burnish tannins draw out on the powerful, finessed and expressive finish.
Mercer Reserve 2016 "Ode to Brothers" Rhône Red Blend, $42
Editor's Choice – Outstanding (93 pts.)
Supple, fine and elegant, this aromatic Rhone Style red wine of Syrah, Grenache and Mourvedre displays ripe blackberry, plum and red berry fruit with interlocking flavors of lavender, vanilla bean, cracked peppercorn and coriander. Underlying earthy mineral notes and powder-fine tannins grace the finish. Sourced from estate Spice Cabinet Vineyards in the Horse Heaven Hills AVA.
Mercer Estates 2017 Horse Heaven Hills Malbec, $25
Editor's Choice for Best Value – Outstanding (91 pts.)
Dusty earth aromas mark the jammy red and black fruit, cocoa, graphite and warm spice notes in the smooth, generous red. Well rounded, with balanced acidity and polished tannins.
Mercer Estates 2017 "Sharp Sisters" Horse Heaven Hills Red Blend, $25
Editor's Choice for Best Value – Outstanding (91 pts.)
An absolute charmer that maintains a nice balance between the elements of fruit and acidity. Macerated blackberry, dark plum and luscious fig flavors hum with upbeat notes of mineral, graphite and cocoa powder that harmonize together on the long, coaxing finish.
Blend: Syrah, Merlot, Malbec
Subsoil 2017 Horse Heaven Hills Red Blend, $19.99
Editor's Choice for Best Value – Outstanding (91 pts.)
This red blend is extremely smooth, offering a balanced mix of dark plum, ripe blueberry and red currant flavors. Picks up notes of mocha, tobacco leaf and light sweet tannins that add a drying touch to the appealing finish.
Blend: Merlot, Syrah, Malbec, Grenache, Petite Verdot and Cabernet Sauvignon
Subsoil 2018 Horse Heaven Hills Chardonnay, $16.99
Editor's Choice for Best Value – Outstanding (91 pts.)
Creamy and nicely centered, with a deep well of lush pear, apple and floral honeysuckle aromas and flavors that carry long on the rich, smooth mouthfeel. Seductive undertones of butterscotch and baking spices show on the finish.
Vineyards: Eagle & Plow, Spice Cabinet and Zephyr Ridge Vineyard
Mercer Estates 2018 Horse Heaven Hills Sauvignon Blanc, $15
Editor's Choice for Best Value – Excellent (90 pts.)
Clean cut, crisp and refreshing, crafted with beautiful streaks of lychee and grapefruit that extend from the beginning, filling in the gaps between expressive notes of wheat grass, lemon oil and lime zest. Super clean minerality merges with racy acidity on the finish.