Mercer Estates Winery founders Rob and Brenda Mercer are ambassadors of Washington wine and deeply rooted in the Horse Heaven Hills AVA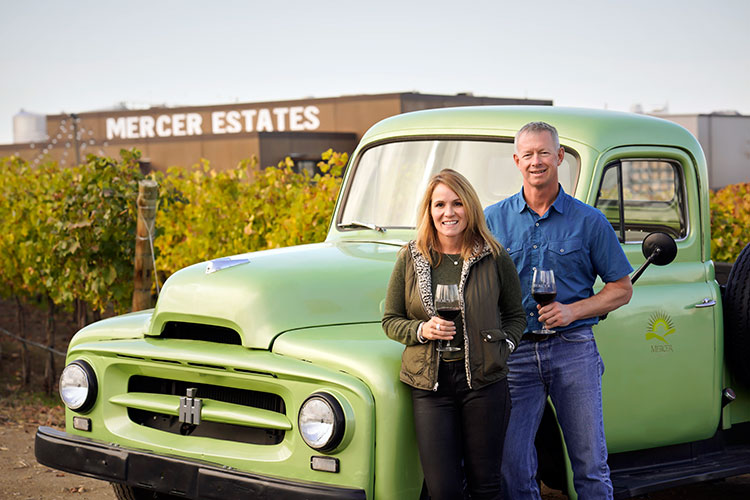 RICH WITH LORE, the Horse Heaven Hills sit high above the desert floor in Eastern Washington. This arid, windswept landscape is where earlier generations of Rob Mercer's family left their historic stamp—first as sheepherders in the 1880s, then crop farmers, and in recent times as winegrape growers. Today Rob and Brenda Mercer, who founded Mercer Estates Winery in 2005, are building their own legacy in the region.
Having built the Prosser-based winery to a level of 50,000 cases annually, the industrious husband and wife duo have become leading ambassadors of Washington wine and champions for the Horse Heaven Hills AVA (American Viticultural Area).  Hailed for sustainable farming practices, they have been growing wine grapes in this celebrated AVA since 2000.
Complete quality control in the vineyards allow Rob and Brenda to deliver exciting estate-grown wines at exceptional values, ranging from everyday reds and whites to ultra-premium reserves. Word is spreading, evidenced by the telling sign that membership in their wine club has doubled over the past two years.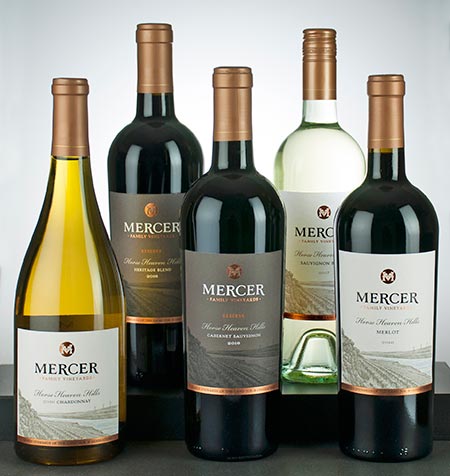 With established tasting rooms in Prosser and Seattle's neighborhood of Georgetown, the Mercers launched a new brand in mid-2018 under the Mercer Family Vineyards label. The deal was put together with help from general manager Will Mercer (Rob's brother) and is a partnership with the well-known Napa-based Delicato Family Vineyards who came to them seeking a Washington winery partner with similar core values based on family, quality and sustainability.
"Delicato Family Vineyards was looking for a Washington State winery, and we are honored that they chose us," Brenda says about the new line that consolidates the former Mercer Canyons and Mercer Estates lines into a single brand distributed nationwide. All the wines are crafted at Mercer Estates Winery in Prosser from grapes grown primarily in their estate vineyards in the Horse Heaven Hills.
Mercer's upper-tier wines labeled as "reserves" and "small-lot" are premium bottlings crafted in smaller quantities. These are available at the tasting room outlets, and some are offered through the wine club.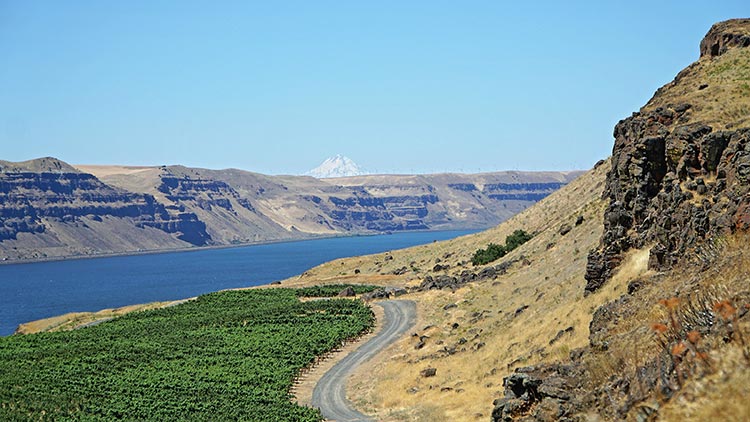 Rob and Brenda are blazing new territory at a significant vineyard site (near Chapman Creek in the southeast corner of the state) where they have already planted nearly 1,100 acres of Cabernet Sauvignon, plus smaller plots of Malbec, Syrah and Chardonnay. With support from the Mercers, their longtime vineyard manager, John Derrick, was heavily involved in an application submitted to petition the federal government for AVA status for this new growing region designated as "The Burn." Interestingly, the name is found on older maps of the area, apparently rooted in the farming practice of early settlers who would burn the grasses off once a year to let them regrow.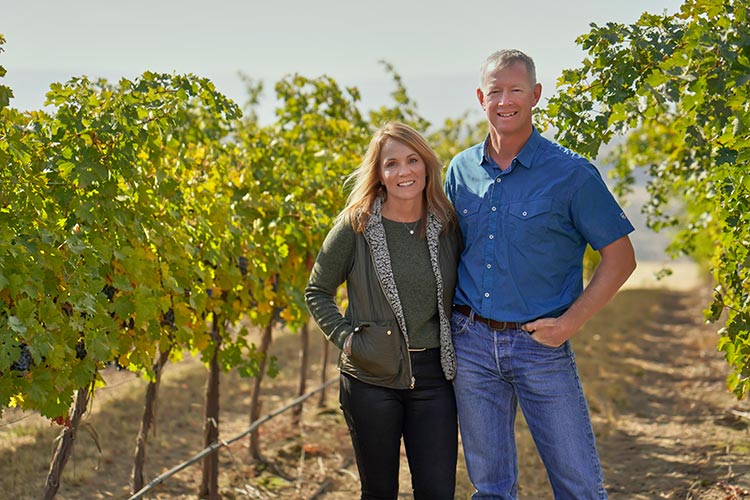 In the following Q&A session, Rob and Brenda describe how they first met, started a winery, and are helping spread the word of Washington wine out to the rest of the world.
What is your personal connection with the Horse Heaven Hills?
Rob: I was born and raised farming alongside my dad and extended family members. I have had the great opportunity to work with hard-working, smart farming mentors.
Brenda: I came to the Horse Heaven Hills after marrying Rob in 1991.
How did you two meet, was there a farming connection?
Brenda: We met at Walla Walla Community College. We had both been at WSU and were at WWCC for separate reasons. We met in Mrs. Bell's art history class. I was heading to France for a semester abroad and Rob was playing football there. I grew up in Walla Walla and Rob primarily grew up in Prosser. There was no farming connection but we have loved farming together.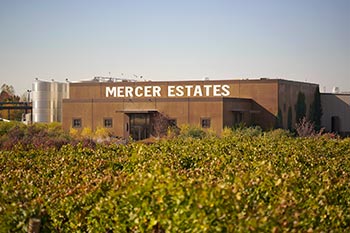 With a background in farming and row crops, how did you happen to get involved in the wine business?
Rob: It came up at a poker game with my good friend Ron Harle. He had experience in building and growing Hogue Cellars as a national brand.
And why the focus on vineyard development in the Horse Heaven Hills?
Rob: It was about our ability to be different and unique. I recognized the special value the Horse Heaven Hills offers to the wine industry, which would be impossible to replicate.
You have a new Mercer Family Vineyards tier in partnership with Delicato Family Vineyards (based in Napa) that brings your wine nationwide.
Rob: Yes, my brother, Will Mercer, connected with the Delicato people through his sales efforts. They were looking for a Horse Heaven Hills Washington State wine because of the quality Cabernet Sauvignon being produced from there. It took a couple years to put it all together and develop the right label. But, I think we are definitely heading in the right direction with the Delicato Family.
What are you most proud of at Mercer Estates Winery?
Rob: The great quality of our fruit and the reputation of our vineyard and winery teams.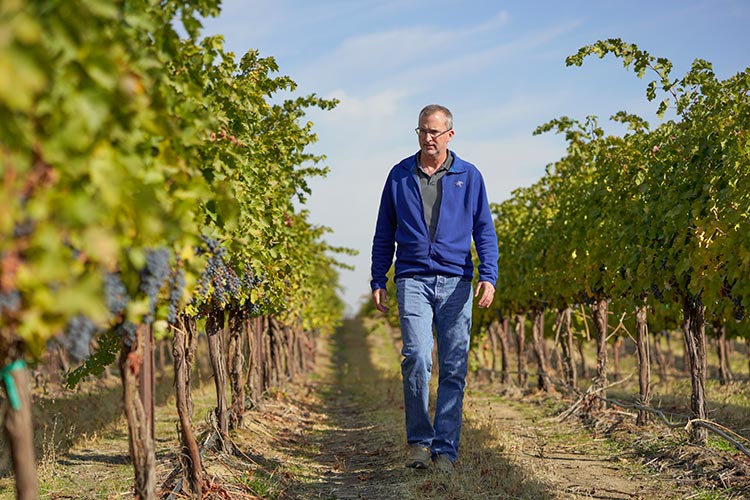 Speaking of vineyards, I understand that John Derrick, vice president of vineyards for Mercer Ranches, has been with your family business a long time.
Brenda: Yes, John joined the Mercer team right after graduating from WSU in 1991. He has been an integral part of the company ever since.
Rob: In fact, John has worked in every facet of the company operations. He's been working with the vineyards since 2008 and has been instrumental in the growth and success of the vineyard operation.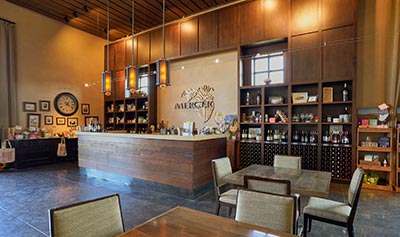 Rob, you served as a Captain in the US Marine Corps in the 1990s and again after the bombings of 9-11. How does that affect what you do today?
Rob: It was a great life experience. It was a lesson in leadership and trusting your people to do the right thing, given the right tools.
Greatest challenge since starting Mercer Wine Estates?
Brenda: Getting the word out about Washington wines. Everyone knows of Napa and France, but Washington is still relatively new to the marketplace. But I think if you can get people to try Washington wines, they are impressed and a little shocked by the value for the price.
Rob: The challenge is competing with the mega-giant wineries for market share and mindshare. The largest five companies sell roughly 85% of the brands in retail.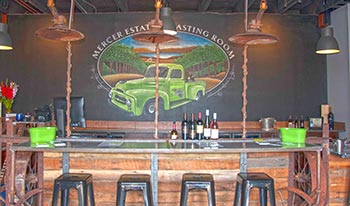 What prompted you to open a tasting room in Seattle last year?
Brenda: The tasting rooms are such a great way to share your wines with others. We added the Georgetown location as another outlet to reach more Westside people with Mercer Wines and the Horse Heaven Hills story.
What else is new and exciting?
Brenda: Our latest expansion lies just west of our farm at Sundale, Wash. We have planted quite a few acres of wine grapes, primarily Cabernet Sauvignon and Malbec. We hope to see this area become its own AVA someday; an application has already been submitted. We call it "The Burn." We believe it will become one of the most exceptional vineyard areas in the state.
What should our readers know when they see a bottle of Mercer wine?
Brenda: That the wines are delicious and are built to be great food wines. And that we had a lot of fun creating them.
Rob: It is all estate grown fruit, owned and operated by a fourth-generation Washington family.
Where do you see the future of Washington State wine going?
Brenda: I see Washington wines growing based on quality and value…
Rob: …and for Washington to be recognized as one of the premier growing areas in the world.
Written by John Vitale
Photographed by Colby Kuschatka
Editor's Top Picks: Mercer Estates Winery

Recommended releases from Mercer's small-lot and reserve collection:
Mercer Estates 2016 Small Lot Riesling, $20
Editor's Choice – Outstanding (91-94 pts.)
Vibrant and highly expressive, with floral aromatics of honeysuckle, melon fruit, orange peel, pear and beeswax. This dry version makes a sophisticated statement, with distinctive chalk and limestone flavors inlaid with apple, gooseberry and citrusy notes that marry the flattering minerality with the brighter acidity side. –JV
Mercer Estates Eagle & Plow 2014 Block 93 Cabernet Sauvignon, $100
Editor's Choice – Outstanding (91-94 pts.)
Led by dusty aromas of red fruit and tobacco, the seamless palate gushes with polished, rich and pure expressions of gorgeous ripe cherry, rose petal and hints of caramel lined with ultra-refined tannins. Showing precise balance and acute focus, the lush mouthfeel and pillowy structure extend the harmonious, lengthy finish. –JV
Mercer Estates 2015 Cavalie Reserve Red Blend, $42
Editor's Choice – Outstanding (91-94 pts.)
Polished and bright, this Bordeaux-varietal red wine is tinted with lovely herbs and gravel minerality on the luxurious mouthfeel, buoyed by expressive flavors of blueberry, black cherry, cocoa powder and spice. Glossy tannins neatly frame the elegantly structured finish. Sourced from Cavalie, Spice Cabinet and Zephyr Ridge Vineyard –JV
Mercer Estates 2015 Cavalie 7 Cabernet Sauvignon, $75
Editor's Choice – Extraordinary (95-100 pts.)
Incredibly pure, deep, rich and harmonious, with aromas of black fruit, cocoa and graphite loaded with generous flavors of red and black currant, blackberry coulis, anise, cedar and crushed granite. There's underlying grace to the firm, polished tannins that add dimension and length to the resonating finish. Sourced from Block 7 of Cavalie Vineyard –JV
Mercer Estates 2015 Robert Willis Reserve Malbec, $55
Editor's Choice – Outstanding (91-94 pts.)
Full flavored and pure, with floral violet, dark fruit and crushed rock aromas that expand on the rich palate highlighted with blackberry, dark plum and cocoa with lingering notes of dried herbs and tobacco leaf. Plush round tannins flow through the complex finish. –JV
Mercer Estates 2015 Spice Cabinet Vineyard Reserve Syrah, $42
Editor's Choice – Outstanding (91-94 pts.)
Rich and complex, with notable savory streaks and alluring aromas of dark berry, grilled meat, bay leaf and coffee beans. A core of crushed blueberry and singed plum fills the palate, deeply layered with bits of tar, leather, cedar boughs, white pepper and distinctive notes of blood orange citrus. The flavors meld together with tremendous depth on the finish. –JV
Mercer Estates 2016 Zephyr Ridge Vineyard Reserve Chardonnay, $32
Editor's Choice – Outstanding (91-94 pts.)
Sleek, rich and elegant, offering superb concentration and balance. Tempting aromas and creamy flavors of Fuji apple, fig, melon and lemon tart are neatly layered with restrained butterscotch and light toast on the long seamless finish. (Bottle not pictured) –JV
Tour & Taste at Mercer Estates Winery
Prosser Tasting Room 
& Winery

3100 Lee Rd, Prosser
 WA
Open Wed-Sun, 11am-5pm
PH: (509) 786-2097
Seattle Tasting Room
6235 Airport Way South, Suite 102, Seattle
 WA
Open Wed-Sun, 11am-7pm
PH: (206) 717-7387