Place your message in front of 50,000 affluent readers each quarter who are actively engaged in wine and culinary tourism. Discover 7 key reasons how you can benefit by advertising. Click here for reader testimonials or get a Sneak Preview inside the magazine.  
Washington Tasting Room® Magazine is on the ground, actively engaging audiences that are passionate enthusiasts of Washington wine tasting and touring. We're the Pacific Northwest's leader in developing this qualified readership and attract the most sought after affluent consumer who loves wine and travel. Serious wine consumers turn to Tasting Room Magazine each quarter for insightful articles, fresh timely content, wine reviews, expert tips, events, and spectacular photographs in a format that's easy to read, entertaining and informative.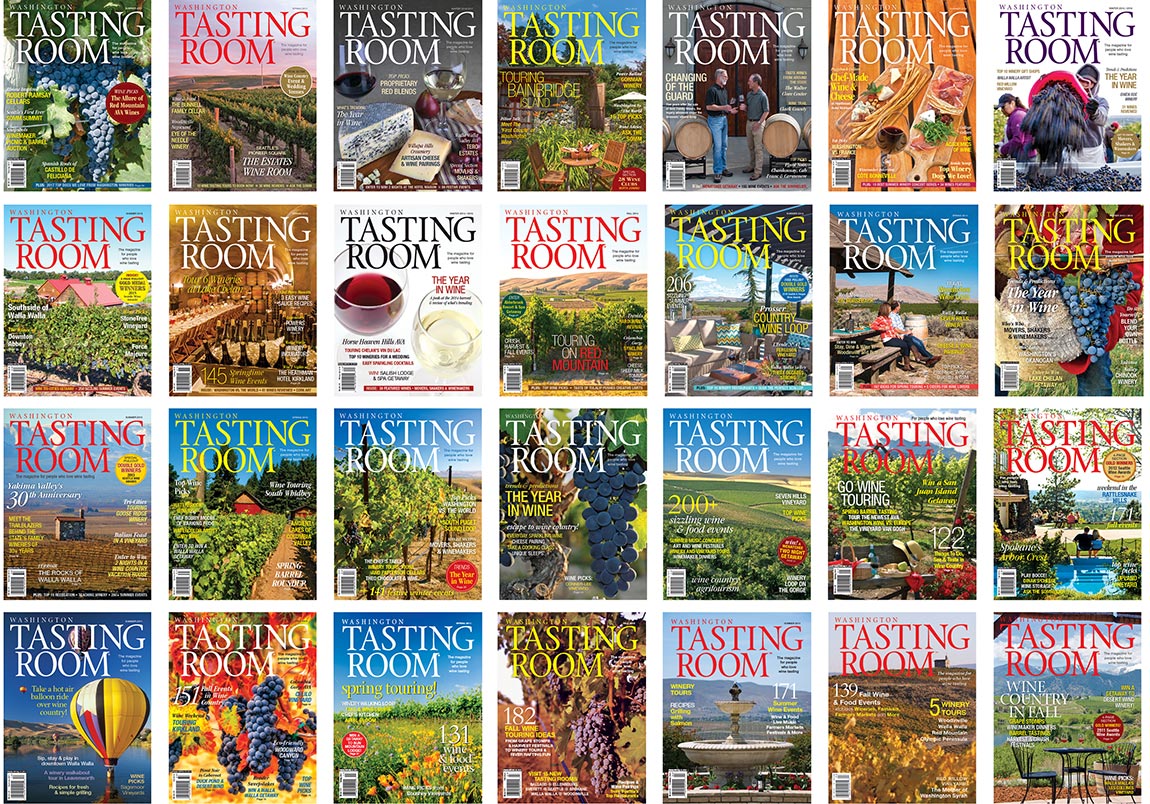 With articles by leading wine, food and travel journalists, insiders and experts, Tasting Room Magazine will help you capture the interest and attention of readers both young and mature who are avid wine travelers in Washington State and beyond, seeking out touring and travel destinations, accommodations, food and gifts, lifestyle and entertainment.
Targeted distribution where it counts most.
Your advertising message will be distributed to affluent wine consumers throughout the state, newsstands throughout the Pacific Northwest, and paid subscribers in 30 states.
Quarterly publication/newsstand dates:
Spring issue ~ March 1st
Summer issue ~ June 1st
Fall issue ~ September 1st
Winter issue ~ December 1st
Tasting Room Magazine is distributed at the following locations throughout the Pacific Northwest:
•  Newsstands & Bookstores
•  Wineries
•  Restaurants & Wine Bars
•  In Rooms of Fine Resorts & Lodgings
•  Fine Wine Retailers
Read what readers are saying about Tasting Room Magazine.
We receive letters from avid readers, like this one: "Thank you for a wonderful snapshot of the incredible wine industry in Washington, I look forward to each print issue and e-newsletter. Your publication has been an invaluable resource for myself, and also visiting friends and family."
– Scott Wertman, Bellevue, WA
Get the best of print, digital and social media exposure.
Contact us for a sample of the magazine and learn how you can gain high-quality advertising exposure to serious wine consumers of every age group who are actively engaged in wine, culinary and tourism activities, both in print and online.
Contact us to inquire about advertising or phone (360) 779-1905.