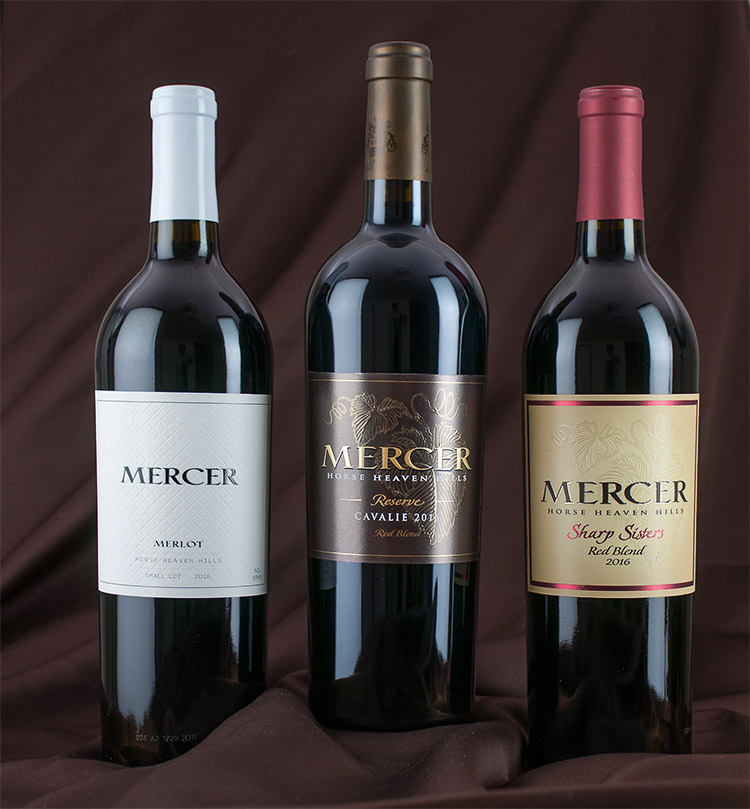 Complete quality control in the vineyards allows Mercer Estates Winery owners Rob and Brenda Mercer the ability to deliver exciting estate-grown wines at exceptional values, ranging from everyday reds and whites, to ultra-premium reserves. Founded in 2005, this winery continues to impress at every turn.
The Mercer's family has been farming in the Horse Heaven Hills since 1886 and their beginnings in the wine industry date back to 1972 where they remain deeply rooted in the AVA. Read more about these ambassadors of Washington wine in the article here.
You can find many of their wines on store shelves at major retail outlets, however some of the reserves and small lot wines are found only at their tasting rooms or as wine club offerings.
Seattle Tasting Room
Address: 6235 Airport Way South, Suite 102, Seattle
Phone: (206) 717-7387
Prosser Tasting Room & Winery
Address: 3100 Lee Rd, Prosser
Phone: (509) 786-2097
www.mercerwine.com
Here are reviews of 3 new releases:
Mercer Estates 2016 Horse Heaven Hills Small Lot Merlot, $32
Editor's Choice – Outstanding (91-95 pts.)
This is a stellar example of this varietal from the Horse Heaven Hills AVA. Rich and smooth textured, featuring elegant bing cherry, plum, blackberry and currant flavors enlivened with fresh acidity. Complex sage and tobacco notes deliver appeal on the saturated finish.
Mercer Estates 2016 Horse Heaven Hills Reserve Cavalie, $42
Editor's Choice – Outstanding (91-95 pts.)
A concentrated mix of wild berries mingled with red stone fruit and dark chocolate are at the heart of this harmonious and exceptionally structured red wine, supported by sage, gentle warm spice notes and firm dusty tannins that converge on the supple everlasting finish.
Blend: Merlot, Cabernet Sauvignon, Malbec, Petit Verdot and Syrah.
Mercer Estates 2016 Horse Heaven Hills Sharp Sisters, $24
Editor's Choice for Best Value – Outstanding (91 pts.)
Flawless structure and outstanding balance are the cornerstones of this value-driven perennial favorite. Brilliant red and black fruit of raspberry compote and blackberry preserves shine on the forefront, backed by savory hints of dried sage and warm spice. Muscular yet powdery fine tannins weave effortlessly through a sheen of fresh acidity that blankets the aftertaste.
Blend: Syrah, Merlot, Malbec and Cabernet Sauvignon.