The collective plantings known as Wallula Vineyards and the visionary wine grape growers behind them, Bill and Andy Den Hoed, were profiled in the Spring 2020 print issue of Washington Tasting Room magazine. Below are reviews of 16 wines from elite producers, made wholly or in part from grapes grown in this sought-after area.

Reach the article on Wallula Vineyards and the Den Hoed brothers here.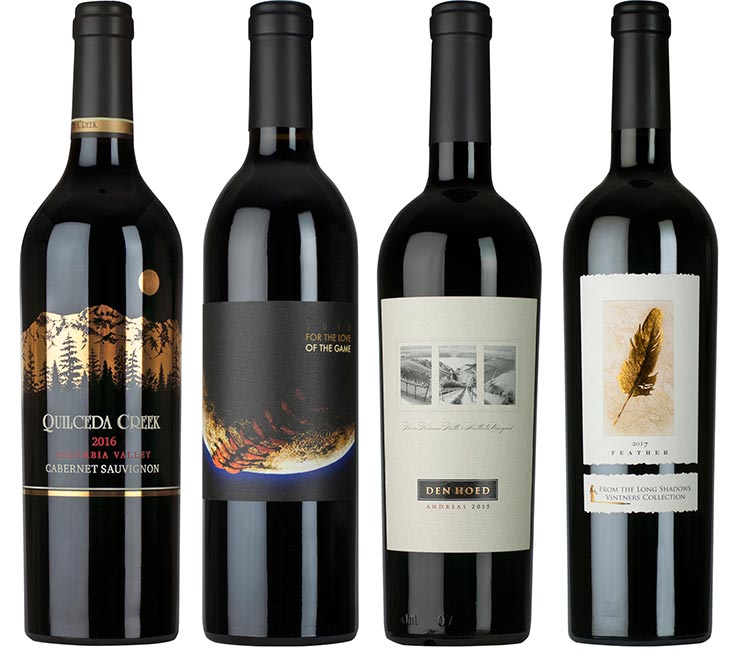 Quilceda Creek 2016 Cabernet Sauvignon Columbia Valley, $200
Editor's Choice – Extraordinary, 97 pts.
Rich, suave and complexly layered, with mouth filling flavors of cassis, steeped dark berries, violet and black plum that continuously evolve. Distinguished notes of mocha, fig, graphite, dried herbs and crushed rock linger endlessly, suspended by a firm tannic backbone. Drink now or cellar for 20-30 years.
Rasa Vineyards 2016 "For the Love of the Game" Wallula Vineyard Cabernet Sauvignon, $115
Editor's Choice – Extraordinary, 96 pts.
Elegant, powerful and expressive, with a creamy midpalate and fine tannins that permeate through the concentrated flavors of cassis, blackberry and black cherry highlighted with scintillating forest floor, tobacco, cacao nib, sage and thyme. Enticing white pepper and mineral notes linger on the rich and pure finish.
Den Hoed 2015 Andreas Wallula Vineyard, $80
Editor's Choice – Extraordinary, 95 pts.
Marvelous in structure, with stunning balance and vibrancy that shines through sophisticated nuances of graphite, pencil shavings, cola and dried orange peel notes that weave intricately through a lush core of black cherry and cassis flavors. Sleekly elegant, complemented by minerally iron and tobacco leaf on the rewarding finish. Named in honor of Andreas, the father of winegrape growers Bill and Andy Den Hoed.
Long Shadows Vintners 2017 Feather Cabernet Sauvignon, $70
Editor's Choice – Extraordinary, 95 pts.
The structure wields both sinewy power and a beautiful pillowy feel, giving the sensation that all is right and balanced in the world. Jam-packed dark fruit emerges with tones of cassis, blackberry and plum, infused with graphite, espresso, granite and a hint of dried herbs. Tightly meshed tannins hold sensational focus on the mesmerizing finish.
---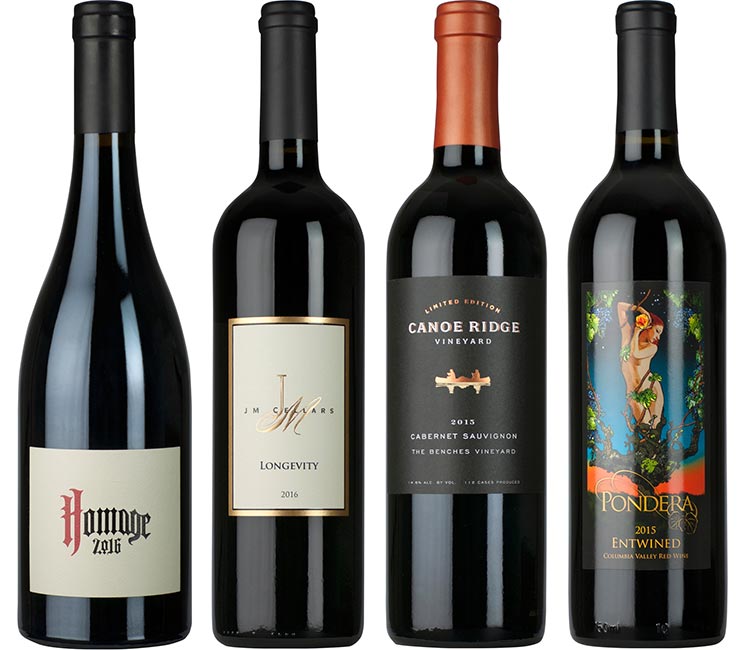 Rôtie Cellars 2016 Homage, $65
Editor's Choice – Extraordinary, 95 pts.
This signature Mourvèdre-forward GSM varietal red by Sean Boyd is warm and suave, loaded with black pepper, smoky mineral, olive and garrigue details marshalled by uplifting structure. Saturated red fruit, violet and plum flavors echo long on the savory finish. Most of the fruit is from Wallula Vineyard (65% Mourvèdre) blended with Grenache and Syrah.
JM Cellars 2016 Longevity, $45
Editor's Choice – Outstanding, 92 pts.
Muscular and complex yet smoothly built, loaded with smoke-tinged dark cherry and delightfully savory shades of slate, earth, spice, graphite and cocoa. Fresh tasting to the end, the structure flexes with powerful uplift through the long aftertaste. A blend of mostly Cabernet (67%) with Merlot and Petit Verdot; all the Cabernet comes from the winery's contracted Stiletto Block at Wallula Vineyards.
Canoe Ridge Vineyard 2015 Limited Edition "The Benches" Cabernet Sauvignon, $44
Editor's Choice – Outstanding, 92 pts.
Rippling, with dark fruit, dusty minerality and lithe structure well defined by firm, gripping tannins. Rich black currant and thistle fruit flavors reveal an intriguing backdrop of bay leaf, dried sage and espresso that mesh with loamy earth notes on the finish. The fruit comes from among the earliest plantings at Wallula Vineyards and is used in many of Precept Wine's finest offerings.
Pondera Winery 2015 Entwined, $34
Editor's Choice – Outstanding, 92 pts.
Supple, yet dense, offering robust blackberry and red fruit flavors that anchor the spice, dried herbs, cedar box and forest floor notes. Sweet gripping tannins merge with edges of graphite on the richly structured finish. This Bordeaux style blend of Merlot, Cabernet Sauvignon, Cabernet Franc, Petit Verdot and Malbec is made with 70% Wallula grapes.
---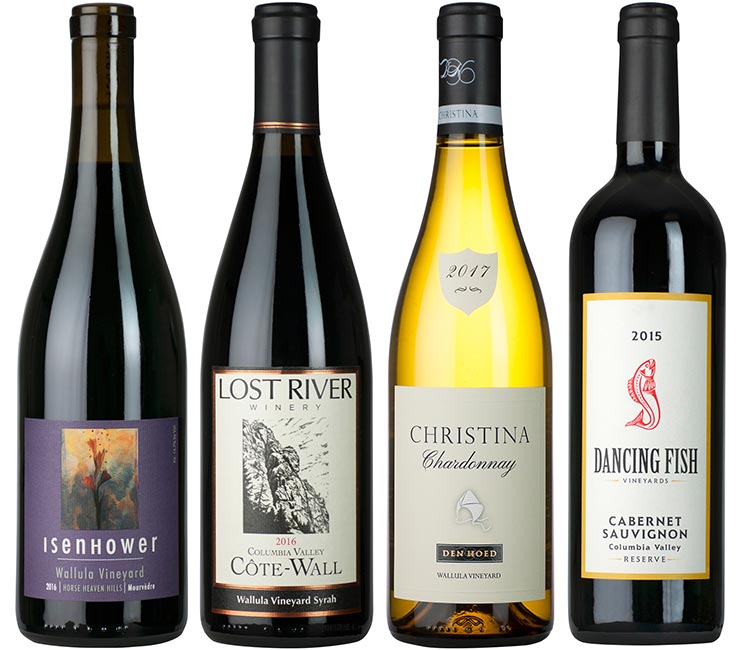 Isenhower Cellars 2016 Wallula Vineyard Mourvèdre, $36
Editor's Choice – Outstanding, 94 pts.
Dynamic, ripe and plump, with beguiling aromas of floral bouquet, dark red fruit and earthen terroir that weave skillfully on to the mouth-filling palate with pure expressions of black cherry and currants. Focused, with fresh acidity and peppercorn notes enlivening the lip smacking finish. Fermented with native yeast, only the free run wine was used.
Lost River Winery 2016 Wallula Vineyard Côte-Wall, $27.50
Editor's Choice – Excellent, 90 pts.
This Syrah was co-fermented with Viognier in the style of wines made in France's Côte Rôtie region. It is both creamy and zesty, with sprightly citrus notes of tangerine and grapefruit embedded in the rich flavors of crushed boysenberry, black currant, licorice, granite and white pepper. Juicy acidity keeps the finish lively.
Den Hoed 2017 Christina Chardonnay, $38
Editor's Choice – Outstanding, 91 pts.
Very elegant and silky, offering aromas of nutmeg-spiced peach with delicate caramel notes. Fresh acidity backs up a framework of sleek minerality that shows balanced D'Anjou pear and lemon blossom with accents of blanched almond and spice. This Wallula Vineyard designate Chardonnay pays tribute to Marie Christina Den Hoed, mother to grape growers Bill and Andy Den Hoed.
Dancing Fish Vineyards 2015 Reserve Cabernet Sauvignon, $48
Editor's Choice – Outstanding, 91 pts.
Rich, complex and robust, with aromas of blackberry, crème de cassis, violet and pencil shavings. The voluminous structure exudes an immense profile of jammy raspberry, dark cherry, blackberry and licorice layered with savory tones of dried herbs, cedar boughs and mineral notes that sing through the spice-laden finish.
---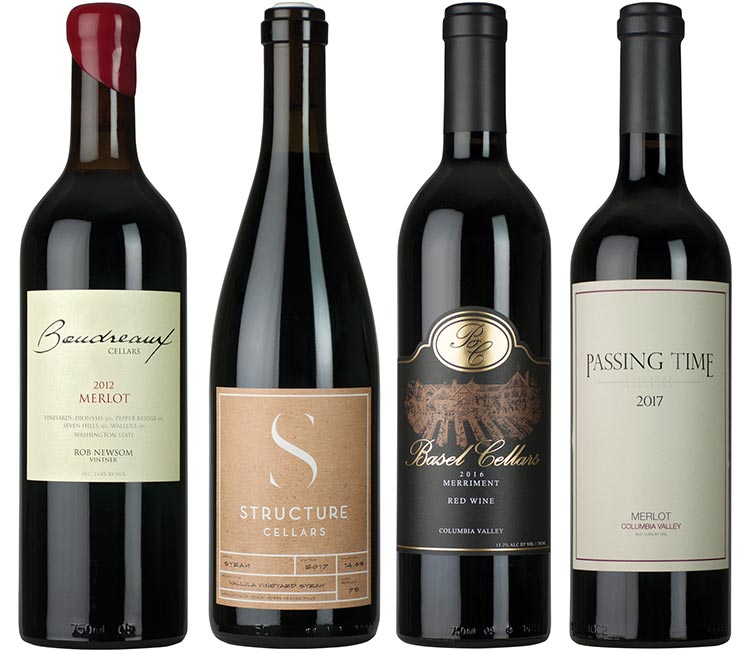 Boudreaux Cellars 2012 Merlot, $60
Editor's Choice – Extraordinary, 95 pts.
Impressive finesse and grace radiate with sleek acidity and luscious aromas of black cherry, violet and sage that integrate effortlessly with nuances of minerally blackberry. The flavors harmonize, rippling with fine-chalk tannins for an extended finish. A pristine example of understated power and elegance that illustrates why this varietal from Washington State can compete on the world stage.
Structure Cellars 2017 Wallula Vineyard Syrah, $38
Editor's Choice – Outstanding, 91 pts.
This single-vineyard bottling from Brian Grasso and Brandee Slosar is 100% Syrah from Block 15. It offers velvety structure and unctuous mouthfeel loaded with mineral and rocky earth notes that lead to grilled plum, blackberry and dried red currant flavors embedded with thyme and lavender. Earthy tar accents emerge on the deep finish.
Basel Cellars 2016 Merriment, $55
Editor's Choice – Outstanding, 92 pts.
Supple and broad shouldered with lush aromas of dark red and blue fruit, pencil shavings and violet. Rich expressions open on the deep palate to steeped blackberry, crushed cherry, cassis and tobacco that gain power on the full finish. This Bordeaux style blend incorporates fruit from Wallula Vineyard, as well as three others. A blend of Cabernet, Merlot, Malbec and Cabernet Franc.
Passing Time 2017 Merlot, $55
Editor's Choice – Outstanding, 93 pts.
Winemaker Chris Peterson scores a touchdown for this red wine, notable for the plush structure and strikingly dense core of black cherry flavors elegantly balanced with dark currant, cocoa, sage and crushed rock inflections that glide toward polished spice notes. The components are 80% Wallula Vineyard blended with a bit of Klipsun Vineyard Merlot.