Wine grape growers Bill and Andy Den Hoed's vision of a world-class site along the Columbia River is known as Wallula Vineyards, whose fruit ranks high among elite producers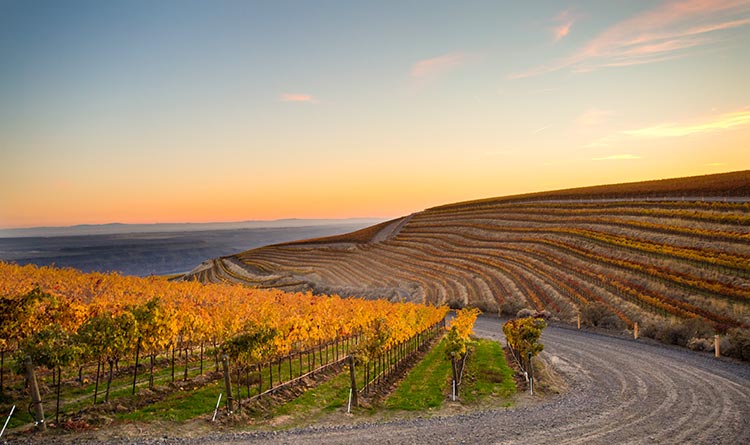 Editor's note: Click here to read reviews on 16 wines from various producers using fruit from Wallula Vineyards.
Written by John Vitale
ON A RUGGED STRETCH of terrain carved by the brute force of Ice Age floods, the collective plantings known as Wallula Vineyards sit majestic along the eastern edge of the Horse Heaven Hills AVA.
A wonder of farming mastery, vines here hug the landscape in every direction atop the distinctive high plateau ridgetop with breathtaking views of the Columbia River. Gargantuan columns of igneous basalt rock jut outward from the bluffs and descend toward the river shore over a thousand feet below, terraced in places with patches of lush vines hemmed in by steep slopes.
From an aerial perspective, these solitary "benches" appear like stepping stones in a land of giants, part of the staggering natural beauty amid a tumble of brown and gray rock, sandy Shano silt loam soil and royal blue waters of the mile-wide river, the largest in the Pacific Northwest.
Dutch Heritage
Wallula Vineyards was virgin ground when farming brothers Bill and Andy Den Hoed, along with their late father Andreas, stumbled upon it in the late 1990s. Having farmed in the Yakima Valley for years, they had been hunting for a piece of land that offered something different. Among other things, they sought a south-facing slope next to a large body of water, with room for future expansion.
"We looked all over for three or four years and finally this piece of property came for sale—and it met all the criteria. We just fell in love with it instantly," says Bill Den Hoed. "We did not have any idea how far reaching this project would get. Looking back it's amazing how it all fell together."
They started leveling the ground mid-summer of 1997 and planted the first Cabernet Sauvignon and Merlot vines the following spring. "We managed to plant approximately 425 acres out of that original purchase," Bill recalls, which took them several years.
Today Wallula Vineyards is close to 1,000 contiguous acres of vineyards with yet more land for careful expansion. In all, it encompasses three main vineyard sites. "To the west would be the Wallula Gap Vineyards, to the east would be Wallula Vineyard, and to the bottom Lake Wallula," clarifies Andy.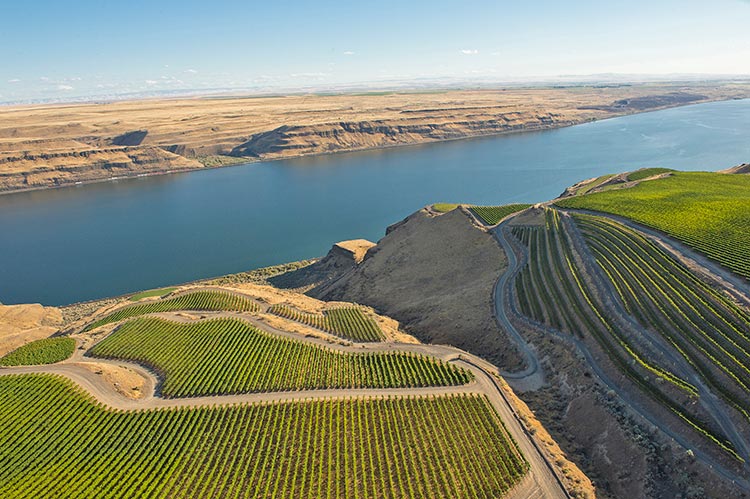 Developing this chunk of barren desert into a world-class vineyard was no small feat. The Den Hoeds had to build an irrigation pipeline to bring water from the river up to the highest parcels, two miles uphill. Access for trucks and farm equipment meant hewing a costly road from the bluff top down to the bottom through tons of grueling basalt.
Bill and Andy's father immigrated from Holland in 1948 and landed in the Yakima Valley, which had a fairly big Dutch concentration. "They didn't come over with much, but what they did have was a lot of determination. Our Dad taught us that same value at an early age," says Bill. "Hard work, determination and strong faith was the equation. And man, we just knuckled our way through it for three or four years."
Elite Grapes
Over the past 20 years, ownership and interests in certain parcels have changed hands but the common thread is that the Den Hoeds still manage all of Wallula Vineyards (not to be confused with Art Den Hoed Vineyards, an altogether different entity in the Yakima Valley). In addition, Bill and Andy own a significant portion of land in Wallula Vineyards, which they use for their eponymous label, as well as sell fruit to other wineries or manage under long-term contracts.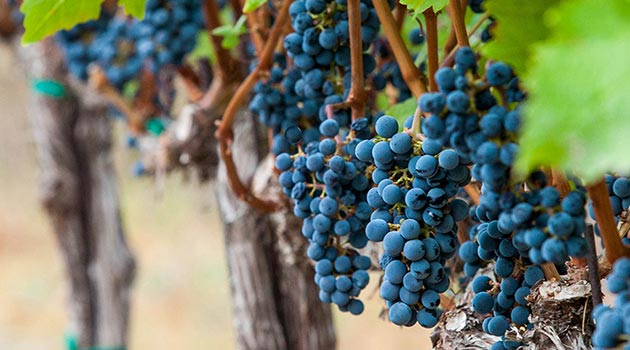 The comradely brothers were born eight years apart and bring 76 years of combined expertise to vineyard management. They share a lot of similarities, yet both have distinct personalities that complement one another. Asked about their individual strengths, Bill puts it, "I tend to run the farming side of the operation and Andy runs the business side of the operation. He's very adept at farming, but our natural gifts are different."
Their generous nature and open willingness to do whatever it takes to grow the finest quality grapes possible have earned them huge respect from top producers seeking their fruit or management services. The roster includes notables Quilceda Creek, Long Shadows Vintners, JM Cellars, Isenhower Cellars, Rasa Vineyards, Rotie Cellars, Passing Time, Den Hoed Wine Estates, as well as larger-scale wineries like Canoe Ridge Vineyard, Browne Family Vineyards and Pacific Rim, to name a few. And while not all produce a vineyard designate, many use the fruit in the final blends of their most prized bottlings.
Cabernet Sweet Spot
Largely through exploration, the Den Hoeds originally planted a lot of varieties throughout Wallula Vineyards that have been whittled down over time to Cabernet Sauvignon, Chardonnay, Cinsault, Malbec, Merlot, Mourvèdre, Muscat, Pinot Gris, Riesling, Syrah and Viognier.
Around the mid-2000s, growers like Bill and Andy started planting new clonal selections. It started when Randall Grahm, founder of Bonny Doon winery and California's first Rhône Ranger, wanted to put together a Riesling label in Washington called Pacific Rim.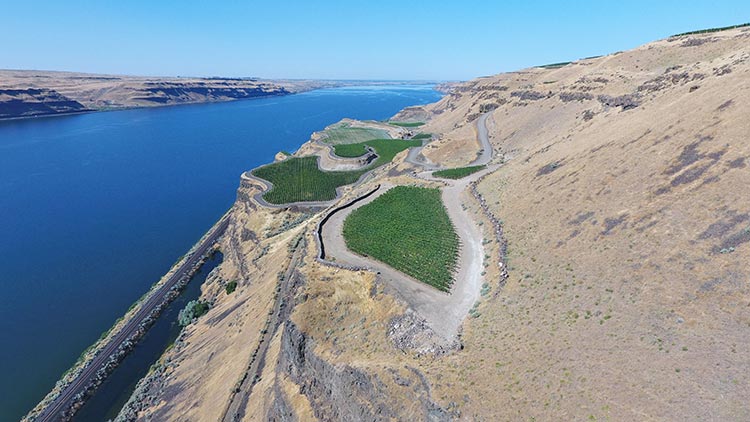 "So we get this project with Randall, and he wants us to go out and source these clonal Rieslings from Germany, clone 239 and clone 90," says Bill, which opened his eyes to possibilities with other varieties. Through deep research, Bill identified a little-known Cabernet Sauvignon clone that kept coming up on his radar of high-scoring French wines. It took a few years working with UC Davis to import the clone from France and process it to be sure it was sanitary.
"And finally, in 2010 we planted some clone 685 Cabernet Sauvignon as an experiment. And that is probably the luckiest we've ever been with clonal selection. It's a really great clone and it makes astounding wine," says Bill. Cabernet accounts for the majority of all the total acreage at Wallula, and with the success of clone 685 as well as ten other well-performing Cabernet clones at the site, future plantings are expected to rise.
Color Concentration
Winemaker Gilles Nicault of Long Shadows Vintners has been sourcing grapes here since 2003. He incorporates multiple clones in the expressive Feather Cabernet. "Feather uses a large amount of Cabernet Sauvignon from this site each year using clones 8, 4 and 7 with different aspect and soil profiles, which bring to the final blend a deep layered wine with a lot of complexity," he says. "The reds show concentration of the color and silky round texture with a refined backbone and aromatics."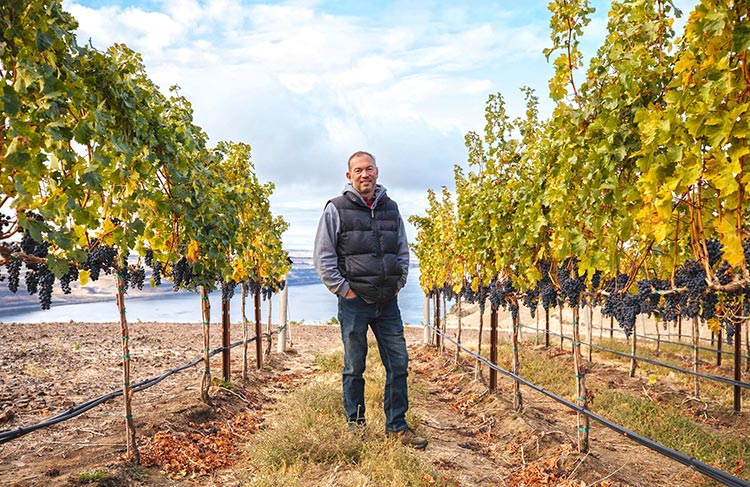 Gilles notes the cool water of the Columbia River influences the extreme temperature shifts, from highs during the day with a cooling effect at night.
"This increases even more the diurnal shift, which increases the intensity of color and vibrant flavor profile."
He admires Bill and Andy for tapping into the vineyard's potential. "No matter how good a site is, it takes a very special individual to be able to fully show the true expression and potential of the land. The Den Hoeds were the perfect gurus of this patch of land."
Lake Wallula
Paul Golitzin is Quilceda Creek's director of winemaking and has been working with the Den Hoeds for nine years. His winery has an exclusive, long-term contract for the fruit from Lake Wallula Vineyard, a special site about 40 acres in size, planted a stone's throw from the Columbia River at elevations ranging from 40 feet to 200 feet above it.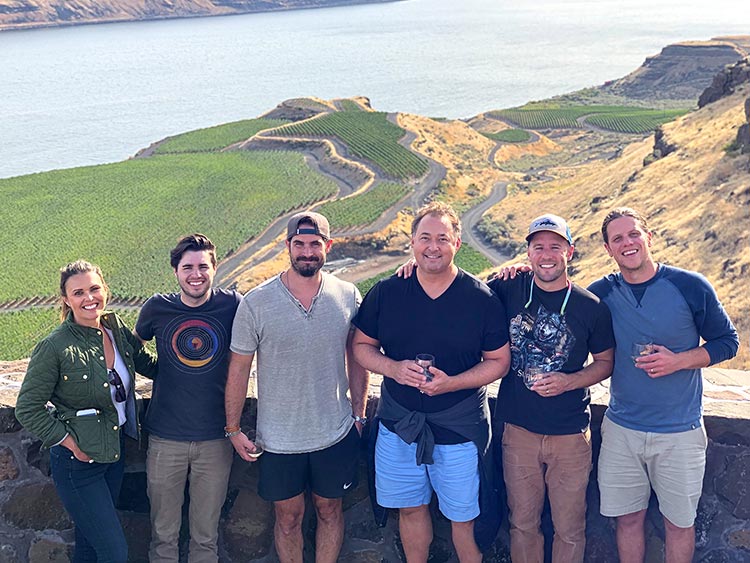 "The vineyard is surrounded by cliffs of basalt that radiate heat, causing a two week earlier bud break. That, coupled with the fact that it's extremely unlikely to freeze due to its proximity to the river, have a combined effect of extending the growing season by up to a month, which is a huge plus!" says Paul.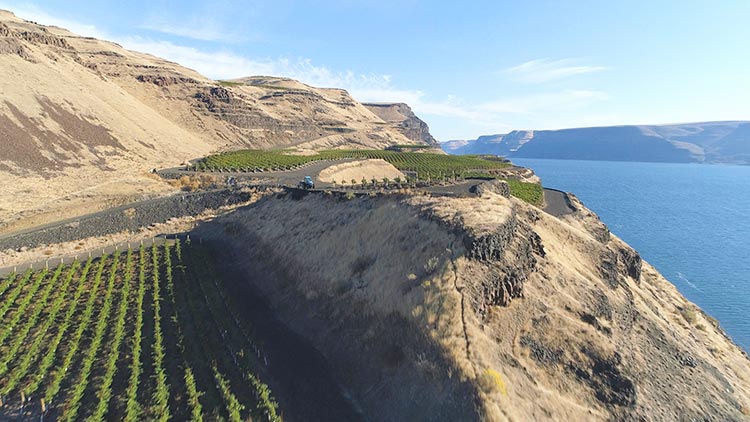 He believes the site is so unique it's worthy of being its own American Viticultural Area. "We can consistently make wines from this site with fabulous black fruit character, with intense flavor and richness that are second to none." He blends some of the fruit into his Columbia Valley Cabernet, which packs remarkable power and never-ceasing structure.
"Bill and Andy share the same passion that I do," Paul says. "We like to get things right from the start, with a no-compromise attitude. We have to grow perfect fruit to even have a chance to make a perfect wine."
Many Micro-Climates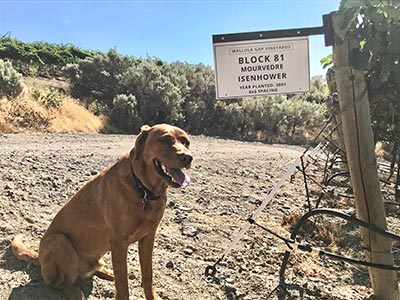 Brett Isenhower of Isenhower Cellars experienced his first harvest with the Den Hoeds in 2007. He pulls in several red varieties, including Mourvèdre every year. "Wallula Vineyard has many micro-climates, from very warm to relatively cool, that allow for many different expressions of wine," Brett comments.  "The highest elevations are very cool and excel for long hang time for white grapes.  On the river's edge the temperatures are among the warmest in the state, creating powerful red wines."
Brett's 2016 Mourvèdre displays a distinct dynamic and pure style. "The crew at Wallula dial the Mourvèdre canopy and clusters in perfectly to get this late-to-ripen variety perfect."
Brett appreciates the fact Bill and Andy are open to experiments and are willing to take chances to learn more.  "They spare no expense and will do whatever it takes to make the best wine possible."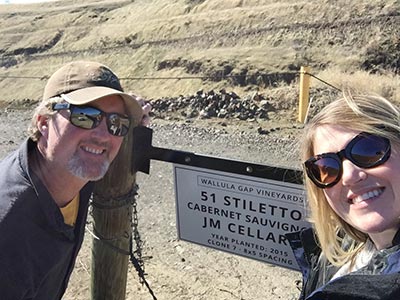 Experience The Magic
John Bigelow of JM Cellars was introduced to Wallula fruit in 2008 by a fellow winemaker. When he was offered two acres of clone 7 Cabernet Sauvignon off a solitary terrace of vines called the Stiletto Block in 2015, he accepted. "It has become one of my favorite blocks of Cabernet anywhere in the state," John says without hesitation. "The winds blow hard, the soils are rugged and rocky, the plantings are very healthy and the temperatures are ideal with the Columbia River offering cool evenings in the heat of the summer."
John says it is the most dramatic, beautiful vineyard in Washington and he loves taking his customers out to "experience the magic." His 2016 Longevity was comprised of mostly Cabernet from the Stiletto Block and this polished red flexes with powerful, uplifting structure.
"Bill and Andy think big," John adds. "Their vision and dedication to creating something as special as Wallula Vineyards is amazing."