A review of the hottest trends in Washington State wine and predictions for the future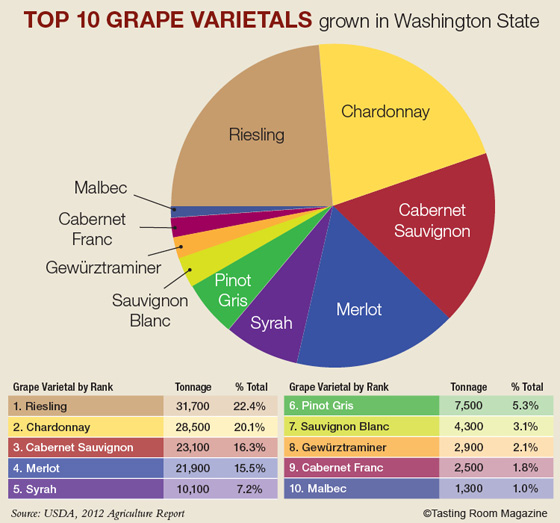 Click this link to view the complete article as it appeared in the Winter 2012-13 issue along with the special section, "Movers, Shakers &  Winemakers"
AFTER TWO successive cool vintages, growers and winemakers in Washington breathed a collective sigh of relief in 2012. The operative word for the growing season was "normal" in the very best sense of the word. The season saw a nearly unprecedented period of clear, warm, dry weather from July all the way through mid-October. With many describing the conditions as near perfect, 2012 has the potential of being a classic Washington vintage. Here are some of the trends that emerged over the past year and predictions for 2013 and beyond.
Washington Wine Is Big Business
A new economic study valued the impact of the state's wine industry at a staggering $14.9 billion nationwide, more than a $10 billion increase from a similar study conducted five years earlier. With the number of wineries in the state topping 775 wineries in 2012, look for the Washington wine industry to prosper and expand in the coming years as new wineries and tasting rooms continue to open, existing ones branch out, and additional vineyards are planted.
Privatized Liquor Sales
The past year saw tectonic changes all across the Washington liquor industry.  A statewide initiative privatized sales of hard liquor in June 2012, ending more than 70 years of government monopoly. Suddenly spirits competed with wine and beer on the grocery store shelves, and wineries and distributors began offering discounts to retailers based on volume sales—something that had previously been barred. The world shook but kept on turning. Still, look for the ramifications of these changes to play out in the months and years ahead.
Gallo Arrives in Washington
E. & J. Gallo Winery, the largest family-owned winery in the United States, made a splash entering the Washington wine market with the purchase of Columbia Winery and Covey Run from Ascentia Wine Estates (a Healdsburg, CA-based company now defunct). Look for Gallo to increase production to one million cases in the coming years and help promote the Washington wine banner across the country and around the world. Watch for other California companies to follow Gallo's lead, looking for places in the state to invest.
Precept Wine Stretches Its Legs
Gallo wasn't the only company who took advantage of the dissolution of Ascentia.  In May, Seattle-based Precept Wine purchased Idaho's largest winery, Ste. Chapelle. After only ten years in business, this puts Precept's production at nearly one million cases annually. They are the largest privately owned wine company in the Northwest, with many of their wines focused on the $15 value and under category. Look for continued advancements from this significant player on the Washington scene.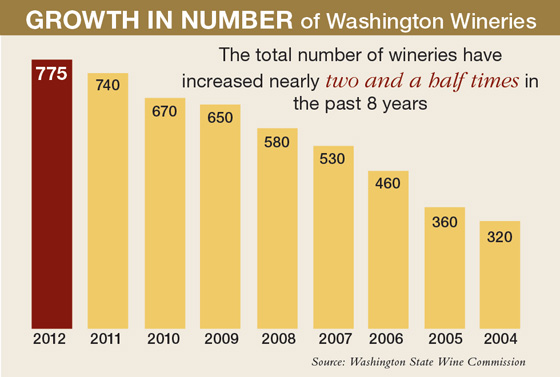 A Bumper Crop
While California forecasted a grape shortage after a decade of stagnant plantings, Washington growers continued to plant grape vines at an aggressive pace. The near perfect growing conditions, combined with recovery from previous years' freeze damage, and additional plantings, led to a record crop of Washington grapes. Production is expected to reach almost 190,000 tons, shattering the previous record of 160,000 in 2010.
This spells good news for both consumers and wineries, who saw the state's wine grape production overall drop 11% just one harvest ago—a result of a wetter, cooler vintage and also the unexpected early freeze event the winter prior which hurt or killed many plantings in affected areas. In 2011, red varietals were down by 20%, whites by 2%.  Based on a short supply of the hardest hit varietals, such as Cabernet Sauvignon, which was down 28% that year, expect to pay more for these premium reds as they near their bottling release dates in 2013.
Look for Washington's output to continue to soar, and the wine grape acreage to nearly double by the end of this decade.
Lucky 13
The Ancient Lakes of Columbia Valley officially became Washington's 13th federally approved viticultural area in late October. Ancient Lakes is unique compared to most of Washington's growing areas in that more white grape vines are planted than reds. The first appellation-designated bottles will hit the shelves in early 2013.  Expect the number of Washington viticultural areas to keep growing.
Walter Clore Wine Center
The Walter Clore Wine Science Center got a financial boost with an additional $1 million pledge from Ste. Michelle Wine Estates. The Eastern Washington center being built in Prosser will dramatically expand viticulture and enology research.
Blends Are Big 
Consumers showed a strong interest in blended wines (wines that are not varietally designated and contain more than one grape) as retail sales increased 26% nationwide this year, with wines from Washington and California driving the surge in growth. With blends one of Washington's strongest categories, look for wineries to take advantage by putting an increased focus on this category in 2013.
Drink Pink!
Many once turned up their noses at pink wines as cheap, sweet plonk, however Washington winemakers and consumers alike showed a renewed interest in Rosés in 2012—so much so that some of the best wines sold out in early spring, long before temperatures warmed. Is this a passing fad or have Americans finally begun to embrace this distinctly European summer pastime wine? Time will tell, but the smart money says Rosés are here to stay.
Not Just Wine
The number of wineries in Washington continued its meteoric growth during the past year, but the state also saw the opening of a number of small cideries and distilleries. Already home to plentiful microbreweries, Washington appears poised to become the home for craft liquor producers of all persuasions.
Economic Signs?
After several years of holding the line on prices during an economic slowdown, some wineries started slowly edging their prices back up. While some said it was just a reality of costs having increased and prices having stayed the same, could it also be a sign that the economy has finally turned a corner? Stay tuned.
Written by Sean P. Sullivan