Cheering for their local Super Bowl Championship team this season, noshing Seattle football fans might also become victors in the fight against hunger in Washington State.
"We want to give the 12th Man something to take to the game as well as give back to the community," says Bob Bullock, who along with his wife Lauren have created a fundraiser to benefit the statewide Northwest Harvest non-profit food bank with their new line of affordably priced wines aptly named, 12th Blend.
A family of two will receive a meal with every bottle of 12th Blend purchased through the 2014 football season, now available on shelves at Albertson's, QFC, Haggen, Top Foods and Esquin Wine Merchants.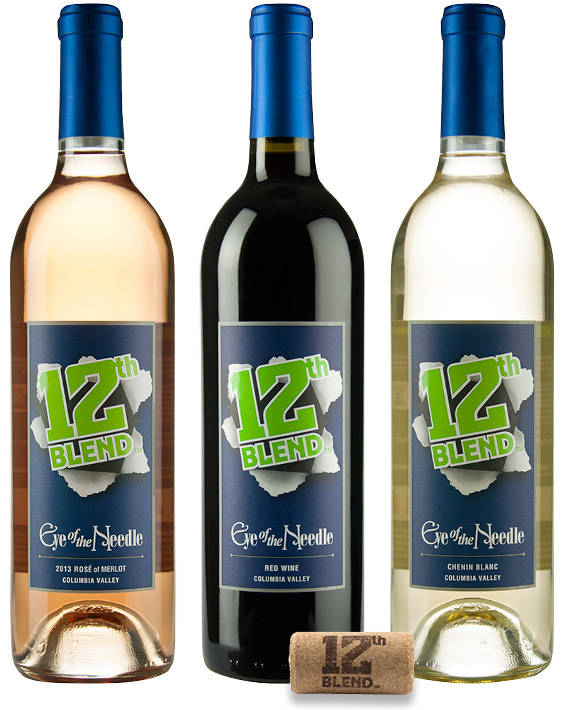 "Our initial bottling will feed 26,400 people," says Lauren Bullock. "In July, we plan on doubling the bottling—our goal is 4,000 cases, which translates to 96,000 meals by the end of the year."
The entrepreneurial Bullocks are owners of Eye of the Needle, a Woodinville-based winery they launched in 2009 with the idea that good wine should represent a value in terms of not only price, but taste.
Earlier in his career, Bob cut his teeth in the wine industry working for a wholesaler where he had the opportunity to help introduce Hogue and Snoqualmie brands into the market. Later he worked in the health insurance business but when he retired in 2006, he started helping small wineries sell their wine as a winery agent.
"After the economy tanked, I realized there was a sea of unsold wine out there," Bob told Tasting Room Magazine. "So Lauren and I put our plans together to put a price-driven product on the market—a good wine at a great price—a wine that we want to drink."
Drawing on their strong ties to premium vintners, the Bullocks began purchasing surplus wine, which they blend and bottle under their own label, passing the savings to consumers seeking solid tasting wines (often multi-vintage blends) in the $10 to $15 price range.
Bob recalls his startup five years ago, "My friend Jeff Gordon of Gordon Brothers Winery sold me a couple barrels of Cabernet Sauvignon and I started with 440 cases. We retailed it for $10 and it was all gone in 11 weeks."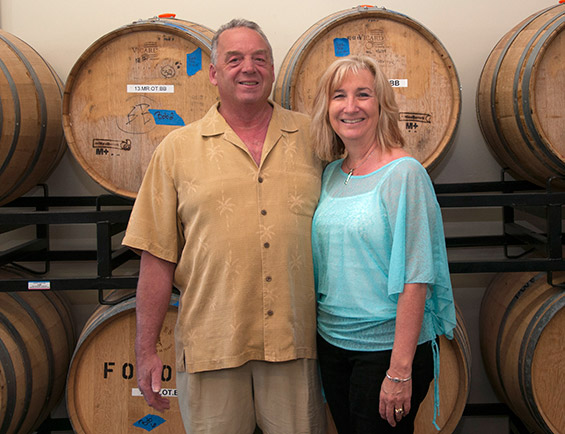 The concept caught on with consumers and Eye of the Needle has quickly grown to a respectable 6,000-case production winery. And distributors and thirsty consumers are snatching up their 12th Blend brand quickly. The first bottling of the 12th Blend Rosé has nearly sold out within the first few weeks of release, with the remaining few cases to be sold through the Woodinville tasting room. The second bottling will be available around August 1.
"We feel strongly about giving back. It has absolutely blossomed. People are excited about this and jumping on it," Lauren says.
"The blends were developed for the 12th Man but we wanted to make it a fundraiser. Let's let the 12th Man be number one, not only in noise and team support, but number one in taking care of people in their own state," Bullock told Tasting Room Magazine.
EDITOR'S PICKS
12th Blend Red Wine (non-vintage), $15
A perfect game day wine, this food-friendly medium-bodied red blend consists of primarily Sangiovese sourced from the Walla Walla Valley AVA and Wahluke Slope AVA. It's blended with Merlot and a small amount of Barbera and Cabernet Sauvignon.
Nose: Soft and fruity aromatics of red berries, rose petals and a whiff of vanilla.
Taste: Vibrant on the palate, exuding lively flavors of dried cranberries, strawberries, roses, red currants and crushed rock minerality. The solid balance of acidity and integrated tannins make this a winning choice for sports fans because it pairs so well with a wide variety of hearty foods and snack dishes.
Game Day Pairing Suggestions:
Beef sliders and cole slaw
Bratwursts with sauerkraut
Alder plank grilled salmon and asparagus.
12th Blend 2013 Rosé of Merlot, $15
A dry Rosé crafted from 100% Merlot with no residual sugar. The grapes come from a 40-year-old block at Otis Vineyard in the Yakima Valley AVA.
Nose: Floral and fruity aromas of watermelon, pear, citrus and honeysuckle.
Taste: There's a medium-bodied viscosity to the texture, adding to the lush and creamy mouthfeel that's backed by fruit-forward flavors of guava, starfruit, pear, nectarine and tangerine peel. The lively acidity carries through to a bone-dry finish. A crowd pleaser.
Rosé Game Day Pairing Suggestions:
Bruschetta with chevre goat cheese
Chicken and bacon shish kabobs
Pasta salad tossed with ham, salami and provolone cheese 
12th Blend Chenin Blanc (non-vintage), $15
A refreshing blend of two of Washington's finest white varietals, Chenin Blanc (85%) and Riesling (15%), both of which were grown in the Yakima Valley AVA.
Nose: Fragrant scents of lime blossom, lemon thyme, pear, beeswax and tropical plantain fruit.
Taste: Crisp and refreshing, this easy-going off-dry white wine is sure to win over many fans. It's nicely balanced—not too dry and not too sweet—with a tiny amount of effervescence followed by zesty flavors of kiwi, apricot, honeycrisp apple and keylime.
Game Day Pairing Suggestions:
Buffalo wings
Jalapeno poppers
Fruit salad
Nachos with spicy cheese sauce
Where To Find 12th Blend
12th Blend wines are produced by Eye of the Needle Winery in Woodinville. Look for them at QFC, Haggen/Top Foods, Albertson's, Esquin Wine Merchants and other retail stores. The wines are also available at Eye of the Needle Winery located in the warehouse district of Woodinville. The tasting room is open every Saturday and Sunday from 1-5pm.
About Northwest Harvest
Northwest Harvest provides nutritious food to hungry people everywhere in Washington State in a manner that respects their dignity, while fighting to eliminate hunger. Northwest Harvest is the only non-profit food bank distributor operating statewide in Washington with a network of more than 360 food banks, meal programs and high-need schools. Through this network, they help provide more than 1.7 million meals every month.
Written by John Vitale