The Yakima Valley AVA celebrates its 30th anniversary as the Pacific Northwest's inaugural wine region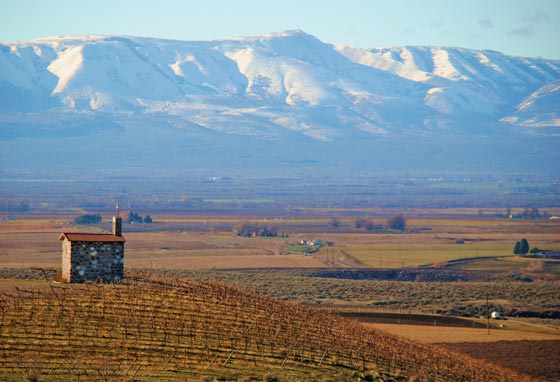 Click here to view this article as it appeared in the Summer 2013 issue PLUS exclusive interviews with the original trailblazers behind Washington's family wineries of 30+ years.
IT WAS the year mobile phones (now called cell phones) hit the market, Michael Jackson's "Thriller" album went platinum, and the most popular home computer was Radio Shack's Tandy 2000. At the same time, another event was brewing early in 1983 that would shape the future of wine in Washington State—the Yakima Valley was designated the first American Viticultural Area (AVA) in the Pacific Northwest.
Many wine buffs don't realize the Yakima Valley became an appellation before the larger "umbrella" Columbia Valley AVA. Or that it's only two years younger than Napa Valley AVA, California's first appellation.
It was a game changer back then. The new status brought a boom in vineyard plantings during the 1980's and wineries began to swell up in its wake. Today a tsunami of wine is produced in the Yakima Valley AVA, accounting for a colossal 40% of the state's total wine production.
Fruit from this highly regarded region is also used in wines from every corner of Washington, even Oregon and Idaho.  It's the second largest appellation in the state and within its immense breadth are diverse soils, topography and microclimates where nearly any kind of grape can ripen.
Three sub-appellations rest inside the Yakima Valley AVA boundary lines: Rattlesnake Hills, Red Mountain and Snipes Mountain.  Including these AVA's, the number of wineries and tasting rooms tally around 125, ranking Yakima Valley among the top wine touring destinations in the entire Pacific Northwest.
The Yakima Valley, along with much of Eastern Washington, has a long history as a farm belt, but wine grapes were still relatively scarce three or four decades ago.
Just Another Crop
Grower Mike Sauer started planting wine grapes in 1973.  His Red Willow Vineyard is home to some of the oldest vines in the state.
"At the time it was just another agricultural crop along with wheat, hay and Concord grapes," he says. "Since that time we have evolved from (table) grape grower to winegrower, with the emphasis changing from producing tons of grapes to producing quality wines."
Dr. Walter Clore, along with his assistant George Carter, planted a plot of 20 different varieties at Red Willow Vineyard in 1973. "George made wines from this fruit, as well as from several locations around the state, to evaluate regional suitability for wine grape production. The only keeper from this plot was Cabernet Franc, which we went on to expand commercially in 1985," Sauer recalls.
Sauer went on to plant the first Nebbiolo in the state in 1985, a crucial turning point.  "This one-acre Nebbiolo planting event was really the beginning of Red Willow's pioneer effort with many varieties," he explains. "David Lake of Columbia Winery suggested that an even better variety for the state would be Syrah, so the following year Red Willow planted the first Syrah in the state.  During and shortly after this time period, Red Willow would go on to plant Cabernet Franc, Sangiovese, Viognier, Tempranillo and Malbec."
Early Hobby Shop
Jim Holmes, of Ciel du Cheval Vineyard fame, planted his first grapes on Red Mountain in 1975, with help from John Williams of Kiona Vineyard, his partner at the time. "Thirty years ago the valley was largely a hobby shop, except of course for Columbia Winery and Chateau Ste. Michelle. Now it's a major industry," says Holmes.
Bucking The Experts
Longtime valley grower and winemaker Paul Portteus took a keen interest in the Yakima Valley a month after the cataclysmic eruption of Mount St. Helens in 1980. "We had previously been looking in Napa and Sonoma. We thought there would be lots of property for sale due to people wanting to sell out because of the volcano, but boy were we wrong," he says.
Hunting for the right piece of land, Portteus soon encountered the conventional belief at the time that only certain white varietals could thrive in the Pacific Northwest climate. He recalls, "Our realtor was an old cowboy who knew just about everyone in the valley. He spent days driving us around to meet anyone he knew who was growing wine grapes, which were few and far between. I can't recall who it was, but I do recall the conversation: 'You know, if you want to sell wine grapes you better grow Riesling, and if you want to go out on a limb, try Chenin Blanc!'"
Against the advice of experts, Portteus planted eight acres that included Cabernet Sauvignon, Chardonnay and Merlot in 1982. "We continued to confound them with our planting Zinfandel in 1984, and many others since," he says.
Uncharted Future
During these formative years, Dr. Walter Clore, known as the Father of Washington Wine, had a profound influence on many growers, including Dick Boushey. "Walt Clore and his assistant George Carter, who both worked at the WSU Prosser research center, were two people that encouraged me to get into the wine grape business. Their knowledge, personalities and enthusiasm are still with me today," he says.
With their help, Boushey planted one acre on an experimental basis that consisted of eight different varieties in 1977, followed up in 1980 by his first commercial block of Cabernet Sauvignon, Merlot and Chenin Blanc.
With boots in the vineyard since the Yakima Valley AVA was formed, Boushey comments about the biggest changes he's seen over the years. "Outside of the tremendous growth of acres planted and wineries, I would say the skill and knowledge level of growers and winemakers has increased phenomenally," he says, adding, "We have a better understanding of the terroir in the Yakima Valley that helps us decide where the best sites are located and which varieties best match those sites."
Boushey remembers tasting Washington wines alongside top wines from around the world while attending the World Vinifera Conference held in Seattle many years ago. "This convinced me that we could grow great grapes here and make great wines," he says.
The future of Washington wine remains bright and uncharted. One can only wonder what will happen in the next 30 years.
Written by John Vitale