Walla Walla-based TERO Estates has grown to include three sister wineries that complement each other with a diverse collection of rich red wines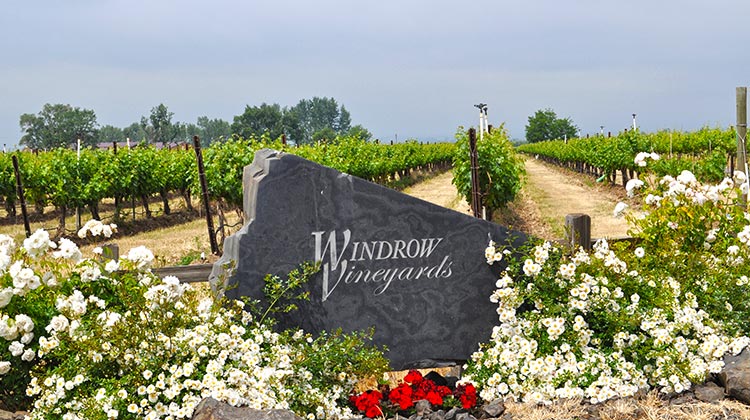 WHEN Doug and Jan Roskelley, along with partner, Mike Tembreull, literally put down roots on the first commercial vineyard in the Walla Walla Valley—Windrow Vineyard—and launched TERO Estates in 2007, they couldn't have predicted their trajectory would conjure part of Newton's first law of motion: "An object either remains at rest or continues to move at a constant velocity."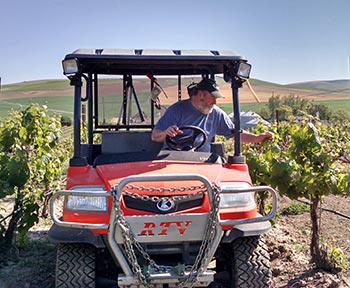 Doug and Mike quickly built a solid brand, garnering accolades early on for their Bordeaux blends, while bringing the historic vineyard back to life.  But rather than rest at these accomplishments, Doug and Mike expanded their roots, planting in new varietals including Nebbiolo, Petite Syrah, Petit Verdot, Sangiovese and Charbono.  With the release of the 2014 S.T. (TERO's version of a super-Tuscan) the brand will have hit its goal of being 100% estate grown.
Hello Charbono
While at a wine bar in Calistoga in 2008, Jan was intrigued by Charbono on the menu.  "Honestly, we didn't know what it was," says Doug.  Not surprising, given the red Italian wine grape variety is considered a cult wine with a fiercely loyal but small following—only approximately 60 acres were being grown in California at the time.  "So Jan ordered a glass and really liked it."
"A lot," says Jan, laughing.  "It's just this big round red with a little more acidity."  So in 2009, when it came time to plant the last three-quarters of an acre on Windrow, Jan asked for Charbono and Doug listened.
"After all, Jan is my final tester before bottling," says Doug.  "For the most part, Jan has a much more precise 
palate than I."
Her wish was granted after Doug researched sites where it was being grown—the climate, heat units, exposure and soil—and concluded it would grow well on Windrow.  The result is the first Charbono in the Northwest.  "I don't know of anyone else growing it and certainly don't know anyone else who has made it," Doug says.  With only 21 cases produced, the question was the best way to sell it.  Hence, the concept of a new wine club.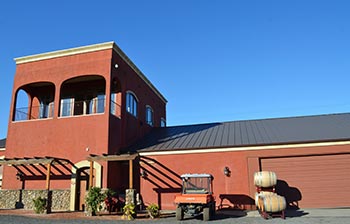 Private Reserve Club
The Charbono isn't the only newer planting ready for prime time.  TERO's first Nebbiolo is in bottle (only 20 cases were produced) and a small amount of a new blend of Petit Verdot and Petite Syrah with the playful name, Petit(e)2.  These small, special lots were not enough to go to TERO's regular wine club and thus prompted the creation of the Private Reserve Club, an allocation-only program with limited membership.
"We wanted something different and new because some varietals and blends that used to be unheard of in Washington have become pretty mainstream," Doug explains.  "It may include these wines consistently in the future," he says, raising an eyebrow as if to build intrigue, "it may be something else."
"Winemaker's delight," Jan quips, smiling.
Party of Four
Back to Newton's reference to velocity: "Managing four labels, two wineries, and four tasting locations is really…ambitious," says Jan, referring to TERO's acquisition of the Flying Trout, Waters, and 21 Grams brands, and the opening of other locations within a relatively short period of time.  TERO wines are still made at the winery located on Windrow Vineyard in Milton-Freewater, Oregon in the southern region of the Walla Walla Valley AVA (American Viticultural Area).  Tastings here are by-appointment only, though the winery opens its doors to the public for certain events, which have become wildly popular (think whole-pig roast at the annual Wine & Swine soiree).
The other brands are produced nine miles away on the Washington side of the AVA in the rural southside winery district of Walla Walla, where guests can taste Flying Trout, Waters, and 21 Grams.  The original downtown Walla Walla tasting room at the Marcus Whitman Hotel has expanded to accommodate more guests, and showcases TERO wines and a selection of Waters.
Most recently, they opened a tasting room in the latest hotspot—SoDo Urban Works, south of Seattle's stadium district.  The Sodo location pours primarily Waters and 21 Grams, but serves as a retail store for TERO and Flying Trout wines.  It's also a pickup location for all of the wine clubs to accommodate their burgeoning Seattle and environs members.
"With the purchase of Flying Trout, we want to be true to it as a niche brand and keep the people that came for what the wine was to begin with," says Doug, talking about the Malbec-centric winery.  "We really want to be making world-class Malbec at affordable prices and started to feel like we were pricing ourselves out of the market."  There will still be vineyard-designate Malbecs, including their flagship, Mary's Block and Block 2, and the blends: Cutthroat, Brook Blend, and Deep River.  But Doug has allowed himself to stray a bit from the original program when it seems right.  "I made a really nice entry-level Merlot under the label using 40% Windrow fruit and 60% from the Waters' program using Canoe Ridge," Doug says.  Costco bought every last bottle before it even hit the shelf.  The Flying Trout label has also been freshened up with a white logo against a rich, midnight blue background.

"With Waters, we've spent the past couple of years building the brand back up in the market," says Doug.  The brand, which hit the ground running with single-vineyard Syrahs, is now receiving equal attention for its Cabernet Sauvignon and red blends including the Prelude, Cappella and Interlude, all nods to Jaime Brown's history as a musician.
The 21 Grams program remains a collaboration between artist Mako Fujimara and Waters Winery, producing a limited 100-case bottling of Cabernet Sauvignon from some of the most exclusive lots in the state.  A portion of the sales from each bottle, with labels created from Fujimara's art, benefit the International Arts Movement, a humanitarian organization he founded.
Despite adding brands and diversifying production, the winemaking team remains small, with Doug wearing the hat of head winemaker for TERO and Flying Trout, working alongside veteran winemaker Jaime Brown for Waters and 21 Grams.
Taking It To The Streets
After a whirlwind few years tweaking the new brands while expanding TERO, the dust is settling, if only for a moment.  Jan and Doug are not ones to sit still, and plan on hitting the road more in 2017 in their 45-foot Prevost motorhome.  "We bought it ourselves—it's not a company vehicle—so that we can finally slip in a vacation and combine business with pleasure after a really busy few years," Jan says.  They converted part of the main cabin into kennels for their "groupies," two Anatolian Shepherds, which Jan describes as the "brave and dominate" Bravo and "goofball" Charlie.  "They love the bus," she says.  Jan and Doug plan on taking the wines to country clubs, restaurants, wine shops and wine festivals around the country.
"We're just going for it," says Doug cracking a smile.
Written by Kirsten Telander with photos by Jan Roskelley
---
Editor's Top Picks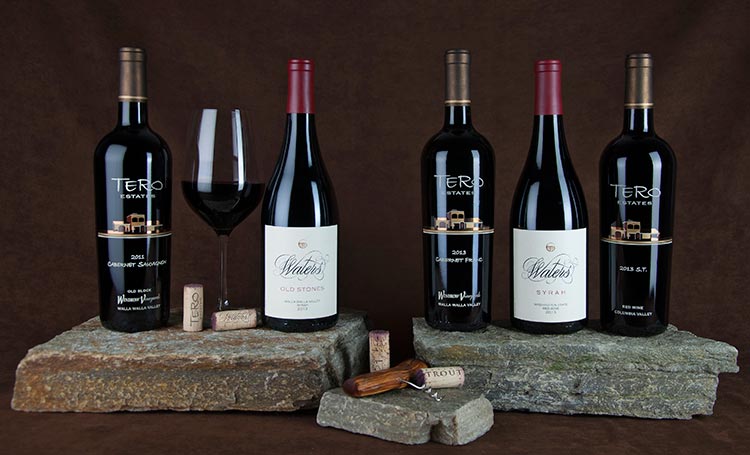 TERO Estates 2011 Windrow Vineyard Old Block Cabernet Sauvignon, $57

Editor's Choice — Extraordinary

Made with fruit from the eldest Cab block of this venerable estate vineyard, the hallmark of this old vine wine is its remarkable depth, structure and complexity. Dusky aromas of tobacco, graphite, dried herbs and red and black fruit meld fluidly into earthy flavors of currant, mocha, slate, spice, black raspberry and hints of blueberry. Earthy and nuanced, with fine tannins coating the finish.
Waters Winery 2012 Old Stones Walla Walla Valley Syrah, $50
Editor's Choice — Extraordinary
Polished and sophisticated, this standout from the Rocks District leads with brooding aromas of smoked meat, blue and red fruit, cured black olive and crushed rock notes that echo on the vibrant palate, joined with savory components of black raspberry, currant, stony minerality and hints of smoke. Rich, glossy tannins saturate the compelling finish.
TERO Estates 2013 Windrow Vineyard DC3, $38
Editor's Choice — Extraordinary
(Not pictured above) A distinctive estate blend of Cabernet Franc (56%) and Merlot (44%), swooning with rich, dark fruit aromas and flavors of cherry, raspberry, blueberry and plump currant that coalesce with ganache, violet florality, anise, basil and rosemary. Bold, plush and focused through the firm gripping finish.
TERO Estates 2013 Windrow Vineyard Cabernet Franc, $41
Editor's Choice — Extraordinary
Powerfully built, this is a dense and full-bodied version, expressing cavernous aromas and flavors of sweet tobacco, bramble, espresso, herbs, caramel, mocha raspberry preserves and dark currant. An absolute stunner.
Waters Winery 2013 Washington State Syrah, $32
Editor's Choice — Outstanding
There's a yin and yang balance to this red wine as black and red fruit flavors contrast with earthy umami flavors. Bright and complex, with blackberry, red plum and pretty rhubarb notes evenly layered with black truffle, bits of tar, violet and iron minerality.
TERO Estates 2013 S.T. Red Wine, $38
Editor's Choice — Outstanding
Focused and structured, this super-Tuscan blend of Sangiovese and Cabernet possesses depth to the packed flavors and matching aromas of cherry, red and black currant, thyme, mocha and tobacco spice. Refined tannins lend firm tannic grip to the finish.
---
Visit & Taste
TERO Estates 
Downtown Walla Walla
Located in the Marcus Whitman Hotel, accessible from the lobby or street level.
6 West Rose St, Suite 103, Walla Walla, WA
Waters & 21 Grams 
SoDo Tasting Room
Located in the SoDo Urban Works Building just south of downtown Seattle.
3861 First Ave South, Suite E, Seattle, WA
TERO Estates Winery (note: by appointment only)
Located at the site of Windrow Vineyard.
52015 Seven Hills Rd, Milton-Freewater, OR
Waters, Flying Trout and
 21 Grams Tasting Room
Located in the southside district of Walla Walla.
3796 Peppers Bridge Rd, Barrel Room B, Walla Walla, WA
Contact: PH: (541) 203-0020
 or online at www.TRwines.com