It's hard to tell what Chris Gorman of Gorman Winery loves more — wine or music. Luckily for us, he doesn't have to choose.
Article posted December 2016 (as published in the Fall 2016 print issue)

WHEN you walk into Gorman's Woodinville tasting room at The Station, the walls are covered with guitars, an appropriate backdrop for the musicians that play there on Friday nights.  And F.O.G. (Friends of Gorman) wine club members come to parties at the Warehouse District tasting room and winery across town as much for the great shows as for the much-coveted wine.
"Mudhoney came in yesterday," he said when I met him for an interview at The Station tasting room in the Hollywood Schoolhouse area of Woodinville.  "Someone won an auction package, and Mark McNeilly brought them all through to taste wine.  I pulled out my vintage 1968 Super Fuzz pedal and Mark Arm signed it!"
He gets just as excited about wine, and the two definitely go together, and both reflect this winemaker's personality.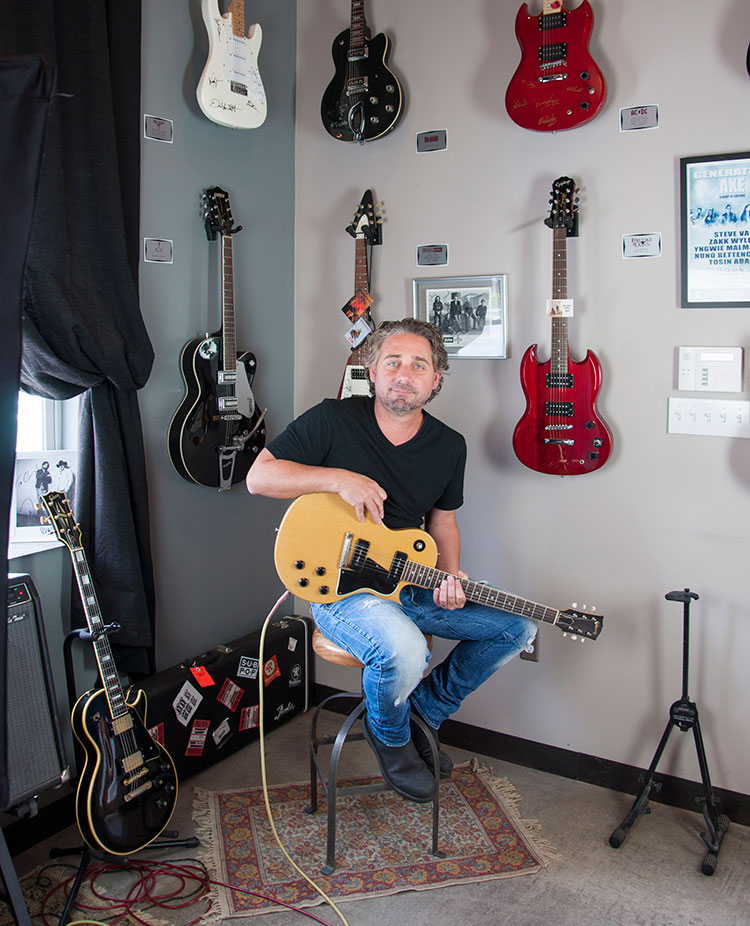 This year, Gorman turned it up to 11 for his wine club members, creating a party around a wine-and-guitar-lover's dream-come-true concert at the Paramount in Seattle.  On stage was GENERATION AXE a touring show featuring five of the worlds greatest guitarists: Steve Vai (Frank Zappa, David Lee Roth Band and more), the Swedish legend Yngwie Malmsteen, Zakk Wylde (Ozzy Osbourne and Black Label Society), Nuno Bettencourt (Extreme), and Tosin Abasi, who shreds an 8-string guitar in Animals as Leaders. Beforehand, F.O.G. members enjoyed club-only Gorman wines and music-lover's camaraderie.
Like his music preferences, Gorman's taste in wines also runs bold.  Gorman fell into a job with an Italian wine importer right out of college, and fell in love with the wine business.  Traveling the wine regions of Italy, Spain and Germany, he gained a knowledge of the wines made there, and had his wine epiphany over Barbaresco and Barolo—the "iron fist in the velvet glove" of wine.  Both wines are made from Nebbiolo grapes grown in the northwestern part of Italy, in different soils that affect their characteristics.
Seduced by these dynamic wines, Gorman wanted to learn more by trying his hand at vinification, and started experimenting with some of the boldest fruit in Washington sourced from Kiona Vineyard on Red Mountain.
"I was hanging out with some friends and randomly asked Scott Williams of Kiona Vineyard if I could get some of his fruit, and he said yes!" says Gorman.  They've had a handshake agreement ever since, and Gorman has a hand in choosing the best fruit he can, then chauffeurs the grapes to his Warehouse District winery where the winemaking process begins.
After those initial experiments, he opened Gorman Winery in 2002 with the goal of "creating intense red wines highlighting Red Mountain fruit."  Back then, Red Mountain was a tiny region with a lot of potential.  Fifteen years later, Red Mountain is an established American Viticultural Area (AVA) growing and producing some of the most coveted and expensive wines in the state—and the world.
Gorman Winery grew alongside the reputation of Red Mountain, and Washington State in general.  His main label is a lineup of robust wines that have found a dedicated following: The Evil Twin (named after the famed Fender Twin guitar amp) is a supple and robust Syrah/Cabernet blend, and The Bully is a dark and intense Cabernet/Petit Verdot blend.
(Editor's note: Interview continued below wine reviews)
---
The Evil Twin 2012, $65
Editor's Choice — Extraordinary
Led by aromas of Chambord, porchetta and sage, this pure and juicy Red Mountain blend of Syrah (75%) and Cabernet (25%) triggers all the senses, starting with a firm grip of mouth coating tannins that deliver amped up flavors of macerated black raspberry, dark cherry and ripe blackberry inlaid with sage and saline minerality that reverberate on the polished and powerful finish.
The Bully Cabernet Sauvignon 2012, $50
Editor's Choice — Extraordinary
Juicy red berry aromas mingle with Cameroon tobacco wrapper and spice. Boasting elegance behind the muscular and bold Red Mountain fruit, there's a drum roll of ultra-fine tannins that resonate through the graceful, ethereal texture. Extracted flavors of cassis, blackberry compote and vibrant red plum, tobacco and violet sing through the finish with lingering notes of crushed rock.
The Pixie Syrah 2012, $45
Editor's Choice — Extraordinary
With alluring dark berry aromas, this uber-lush red wine is textural, lined with powerful, concentrated black fruit flavors, notably cassis, black plum sauce, violet, lavender, sage and loamy earth with a dusting of cocoa powder. The rich juicy flavors weave together and saturate the finish in epic proportion.
The Big Sissy Chardonnay 2014, $35
Editor's Choice — Extraordinary
Lush and creamy, there's a silky unctuous mouthfeel that accompanies the tropical fruit flavors dominated by pineapple and plantain, layered with apricot, lime blossom, coconut sprinkles and blanched almond notes that glide through the harmonious finish.
Zachary's Ladder 2013, $30
Editor's Choice — Outstanding
The red wine that launched the winery back in 2002 as its first release is as remarkable as ever!  This  blend of six Red Mountain vineyards is pillowy and smooth, with rich seamless flavors of crushed black raspberry, esspresso, tarry earth and granite, all the while elevated by light, yet firm tannins that build on the focused finish.
The Devil You Know 2014, $28
Editor's Choice — Excellent
Smooth, polished and well-structured, touting powdery fine tannins that glide through flavors of vivacious raspberry and black cherry layered with dark fruit characters of blackberry, black currant, freshly-turned earth and peppery barrel spice on a mouth coating finish.
The Devil You Don't Know 2013, $28
Editor's Choice — Excellent
A Syrah-dominant blend with aromas of steeped plum, violet, caramel and spice. Fleshy and dense, this wine rolls off the palate with fluidity, exhibiting full flavors packed with rich dark plum, black currant and boysenberry, layered with caramel, tar and iron notes that emerge on the finish.
Old Scratch 2014, $28
Editor's Choice — Outstanding
This Red Mountain Cabernet swirls with dark-toned dense flavors of raspberry and blackberry preserves, plum skin, licorice and pipe tobacco spice. There's a sheen of crushed shale and smooth tannins that freewheel through the lingering finish.
Ashan Celilo Vineyard Chardonnay 2013, $40
Editor's Choice — Excellent
Elegant and refined, this single-vineyard wine was crafted from historic old vines planted in 1973, among the oldest in the state. Creamy and pure, with aromas and flavors of Meyer lemon, peach, fresh apple and biscotti interwoven through a bolt of supercharged acidity, this Chardonnay gushes with distinctive chalk and limestone minerality on the long finish.
---
A few intimate words with Chris Gorman:
What are some of your most coveted guitars in your tasting rooms?
CHRIS: How do you choose?  We have about 15 signed-guitars in the tasting room right now from some of my favorite musicians.  I have been present during almost all of the signings, so they are all special to me.  A few of the high points have been meeting Cheap Trick back stage for the signing and afterwards Rick Nielsen said he was not sure they have ever all signed the same guitar.  Meeting Queensryche was awesome and becoming friends with singer and wine lover Geoff Tate.  We also had Jon Auer of The Posies play a private event at our tiny tasting room.  Simon Write from AC/DC, John Moyer from Disturbed, Mark Arm from Mudhoney, Kix Brooks from Brooks & Dunn…we have tasted with them all.
What is the concept behind Ashan Cellars—why did you decide to do this project?
CHRIS: First off, I love Chardonnay and I absolutely love making it.  In 2012 I wanted to take a stand for my favorite white grape.  We started Ashan Cellars to highlight some of the greatest Chardonnay vineyards in Washington State.  Each of our four Ashan Cellars Chardonnays are barrel fermented using only native/wild yeasts and malolactic bacteria. We age and ferment them in only French oak, with differing amounts of new and neutral barrels to highlight the vineyards.
And your "The Devil You Know (and Don't!)" project?
CHRIS: We listen to a lot of old Delta Blues at the winery.  I have always wanted to pay a little respect to folklore surrounding Robert Johnson.  It's a fascinating story of him meeting Old Scratch at the crossroads and selling his soul to the devil to become the greatest blues man.  He was legendary.  There would be no Eric Clapton without Robert Johnson.
The Devil project has been a big success for us.  We started these wines in 2011 by mistake. We could not say 'no' to all the grape farmers that had extra fruit at the end of the harvest.  Before we knew it, we had about 2,000 extra cases of delicious wine with no real plan on where it was going.  So we made two new wines, The Devil You Know and The Devil You Don't Know.  The wines turned out amazing and we have not looked back.  Since then we have added a new Red Mountain Cabernet Sauvignon called Old Scratch and this year we have a 2015 Old Scratch Chardonnay…surprise!
Do you have any other future goals or projects you'd like to share with us?
CHRIS: Our main goal now is making our club members and guests welcome, and sharing our story. I was late to open a tasting room in Woodinville in 2012, ten years after I started making wine.  I still consider our tasting rooms as a new adventure and we are working very hard to make the experience as awesome as our wines.  We just started two new wine clubs this year to keep up with the demands of our customers.  They are loving it, and we look forward to adding more and more customers to our family of club members.
Written by Shannon Borg and photography by John Vitale
Woodinville Hollywood District Tasting Room at The Station
14505 148th Ave NE, Woodinville
Open Mon-Thur 12-7pm, 
Fri-Sat 12-9pm, Sun 12-5pm
Gorman World Headquarters Tasting Room
19501 144th Ave NE #C500, Woodinville
Open Sat-Sun 12-5pm
PH: 425-483-2925