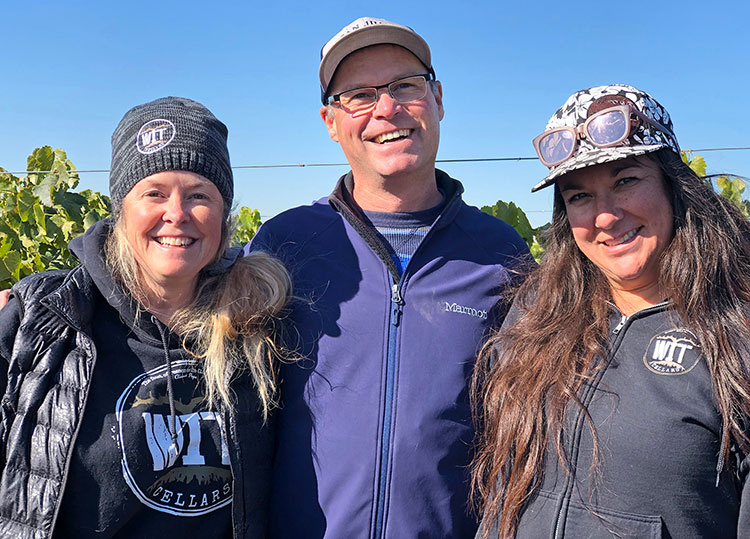 WIT Cellars is the endearing story of three friends who worked tirelessly together to form their own winery and have continued to flourish using the motto of "whatever it takes." The trio previously met while working together at a flagship winery in the Yakima Valley; Flint Nelson as winemaker, Carolina Warwick (nicknamed Cat) as assistant winemaker and Gina Adams-Royer as tasting room manager.
Now regrouped as WIT Cellars, each player brings their immense talent and passion in the wine industry together to deliver wines their customers rave about.
Established in 2016 with a tasting room in Prosser, the winery has quickly grown to 5,000 cases annually, a testament to the group's camaraderie, to say nothing of their deft winemaking abilities and access to some of the finest blocks of fruit in Washington.
Their most recent tasting room expansion in Woodinville is just the latest feather in their cap. The 2,600-square-foot location sports a large screen to catch weekend football games, a long tasting bar for chatting with friends and WIT team members, along with cozy seating areas throughout the space.
"The WIT team and our customers are family to us," says Gina. "We laugh, cry and celebrate life's successes and challenges together. We do this with conversation, good food and exceptional wine."
The red wines are built with consummate elegance and finesse, each one a showcase of Yakima Valley terroir. Newly released is a single varietal sparkling wine, a showstopper so noteworthy it begs a repeat performance.
Check out Wit Cellars new digs in Woodinville at 19501 144th Ave NE, Suite A400 (open Fri-Sun) or learn more at www.witcellars.com.
Below are 4 releases we recently reviewed: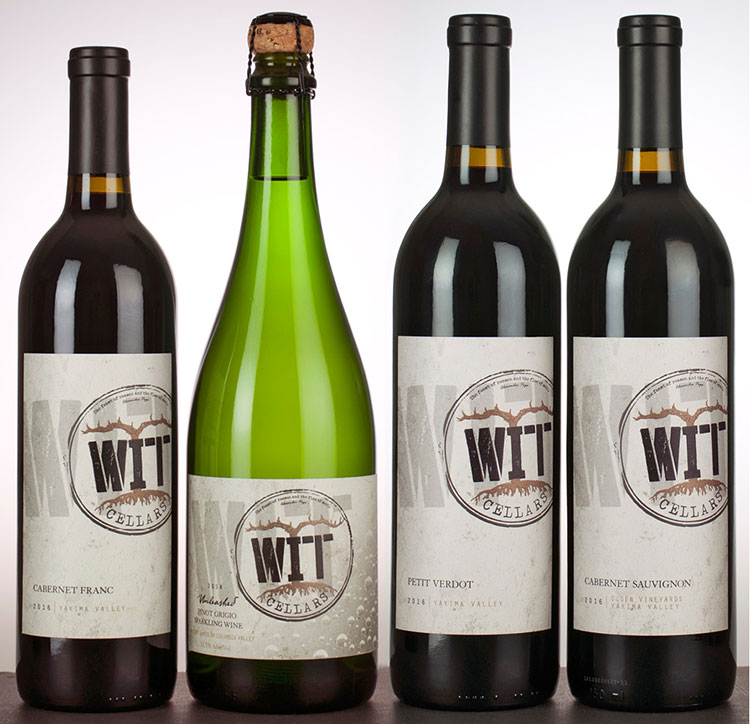 WIT Cellars 2016 Olsen Vineyards Cabernet Sauvignon, $50
Editor's Choice – Outstanding (91-94 pts.)
Pure, deep and balanced, with a vibrant backbone wrapped in blackberry, dark cherry, cola and tobacco flavors. Exceptionally fine tannins fuse with earthy undertones of mineral, sage and cocoa that carry long on the elegant finish. An outstanding version in every sense. Drink now or cellar for several years.
WIT Cellars 2018 "Unleashed" Pinot Grigio Sparkling Wine, $28
Editor's Choice – Excellent (90 pts.)
Sourced from the Ancient Lakes of Columbia Valley AVA, this dry sparkling wine offers a sleek, lively frame that tantalizes with fine beads and flavors of crisp, green apple and lemon slices. Delivers crushed caliche minerality on the chalky finish.
WIT Cellars 2016 Olsen Vineyards Petit Verdot, $50
Editor's Choice – Outstanding (91-94 pts.)
Regal in style, with finely meshed tannins and good heft to the firm structure, framed with brilliant flavors of violet, mixed dark berries, tobacco and spice. There's vibrant underlying acidity upholding the long finish.
WIT Cellars 2016 Olsen Vineyards Cabernet Franc, $45
Editor's Choice – Excellent (90 pts.)
Ultra smooth and polished, the rich red stone fruit takes center stage, backed by vanilla bean, sassafras, anise and barrel spice. Finishes with herbaceous pepper hints.