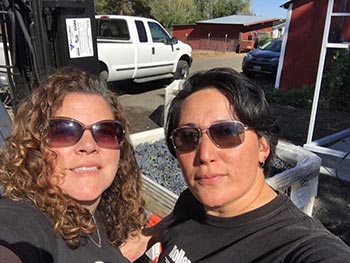 Tanya Woodley and Elaine Jomwe, SuLei founders and partners, have been churning out exceptional wines for the last 12 years. Washington Tasting Room first reported on them in 2014 upon the opening of their Walla Walla tasting room—and their latest red and white releases are hard proof this duo is a consistent winner in every category. Producing high quality, bang-for-your-buck wines, they are a rising star on the Washington wine scene.
After several years of searching, they finally settled on a second satellite location in the more densely populated city of Vancouver, WA (where Tanya was born and raised). Tanya and Elaine say the combination of a growing wine market, and the revitalized downtown and waterfront made it the ideal choice for them.
Currently in production at 1,800 cases, the pair plan on continuing to grow slowly, emphasizing quality and consistency while still experimenting. "We produce more white wines than most other wineries in the Walla Walla Valley," says Elaine. "The intent for white wine production is to showcase the naturally bright acidity and the varietal fruit. Our red wines are mostly sourced from the Walla Walla Valley." She says they strive for a sense of place, fruit focus, balanced alcohol, bright acidity and integrated oak on their reds, adding, "We adore sparkling wines and hope to expand beyond our first Blanc de Blanc méthode champenoise to an array of sparkling offerings."
If you are a fan of solidly-crafted wines with a minimalistic touch, this buzz-worthy winery easily qualifies for a trip to Walla Walla or Vancouver:
• Vancouver tasting room is at 613 Main St, Vancouver, Wash.
• Walla Walla tasting room is at 17 N. 2nd Ave, Walla Walla, Wash.
Check website for seasonal hours at www.suleicellars.com
Below are 3 wines we recently reviewed:
SuLei Cellars 2016 Walla Walla Valley Dena Rae, $30
Editor's Choice – Outstanding (91-94 pts.)
This super-Tuscan style red wine verges on exotic, layered with macerated cherry and raspberry flavors tempered by kirsch, mineral and complex spice revealing tobacco leaf and dried dill accents, match with a firm matrix of tannins on the extended finish.
SuLei Cellars 2016 Walla Walla Valley Beet Red
Editor's Choice – Outstanding (91-94 pts.)
Smooth, savory and well tempered, with a textural edge rippling with violet, raspberry and dark plum flavors that fan out with expressive details of loam, anis and baking spice. Firm-footed tannins evolve on the lengthy finish.
SuLei Cellars 2018 Yakima Valley Albariño
Editor's Choice – Outstanding (91-94 pts.)
Gushing with floral and mineral characters, this fuller-bodied version hits all the right notes, exuding complex, rich flavors of honey, lime citrus, gooseberry, white currant, jasmine, grapefruit and green melon. Stays focused, with a dash of fleur de sel to season the pleasing, dry finish.