Mercer Estates Winery founders Rob and Brenda Mercer are unrelenting in their mission to deliver exciting estate-grown wines at incredible values, from everyday sippers to ultra-premium reserves. Their latest releases continue their commitment of quality-first from vineyard care to the bottle. In addition, these releases signal the talent of Mercer Estates winemaker, Jeremy Santo.
Heads up Seattleites: Mosey down to the winery's tasting room in the historic Georgetown neighborhood to find a delicious new release, Georgetown White Blend.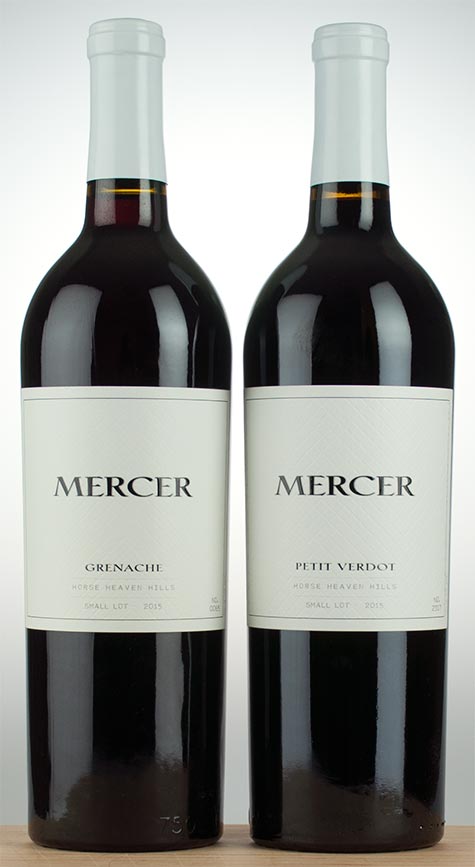 Also newsworthy is the brand new, ingeniously-packaged RESEALABLE canned wine lineup from Mercer Estates. It's called ICAN (think "I can!") and it travels with ease in a slim, lightweight recyclable bottle that is shaped more like a sports drink than a traditional soda pop can. The ICAN carries two-and-a-half regular-size glasses of wine and the resealable, screw cap lid is a valuable benefit when hiking, skiing, boating or picnicking. This could be revolutionary as the outdoor travel companion for wine lovers.
You can find many of their wines on store shelves at major retail outlets, however some of the reserves and small lot wines are found only at their tasting rooms or wine club exclusives.
Seattle Tasting Room
Address: 6235 Airport Way South, Suite 102, Seattle
Phone: (206) 717-7387
Prosser Tasting Room & Winery
Address: 3100 Lee Rd, Prosser
Phone: (509) 786-2097
7 releases from Mercer Estates Winery

Mercer 2015 Small Lot Grenache, $32
Editor's Choice – Outstanding (91-95 pts.)
Only five barrels were made, offering rich, supple flavors of red berries, black currant and cranberry intermingled with expressive accents of incense, warm spice and mineral character on the juicy finish. Pairs with a wide range of dishes, from cured meats and grilled salmon to pork loin with mustard and herbs.
Mercer 2015 Small Lot Petit Verdot, $32
Editor's Choice – Outstanding (91-95 pts.)
Dark and muscular, with floral aromas of violet, lavender, black fruit and roasted coffee. The mouthfeel is svelte and plush, with beautiful depth and concentration behind the suave flavors blackberry, blueberry, pencil shavings and light inflections of caramel. Dense tannins show refinement on the balanced finish. Nine barrels produced.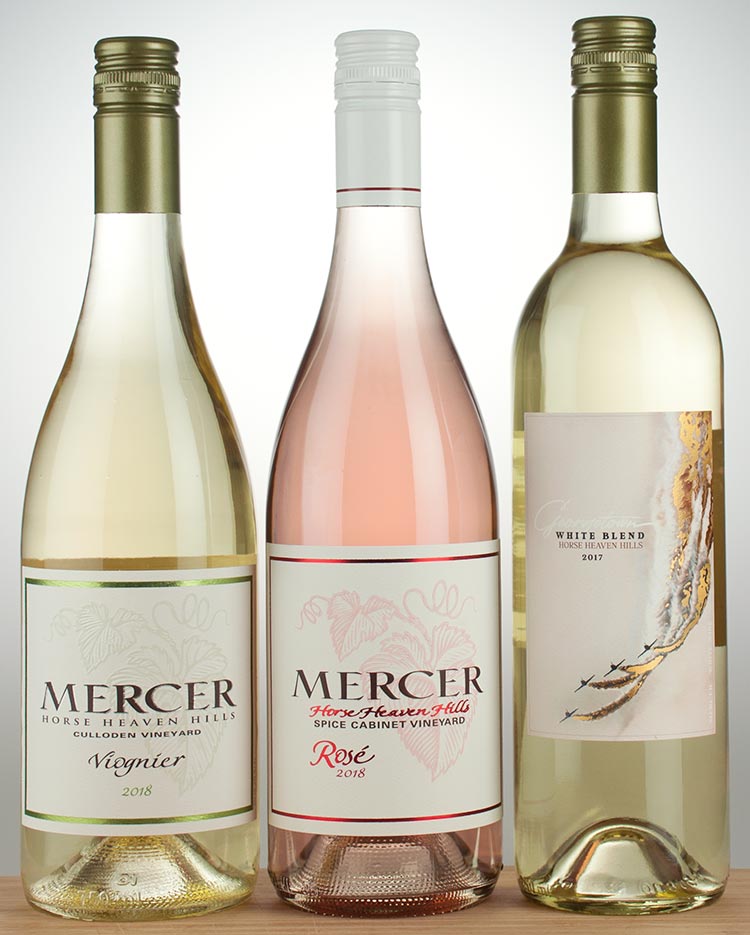 Mercer Estates 2018 Culloden Vineyard Viognier, $18
Editor's Choice – Outstanding (91-95 pts.)
An incredible value! One third of this white wine was fermented in an Italian clay amphorae, which allowed for great aromatics. Vivid and refreshing, leading with tantalizing aromas of peach, meadow flowers and tropical citrus. The mouthfeel is lusciously round and smooth, offering fresh-tasting apple and pear flavors streaked with limestone on the clean-cut finish. A standout version of this varietal in the state.
Mercer Estates 2018 Spice Cabinet Vineyard Rosé, $15
Editor's Choice – Excellent (88-90 pts.)
Made from estate Grenache grapes grown in the Horse Heaven Hills AVA, this pretty, pale pink version starts with aromas of ruby red grapefruit, red berries and expressive salinity. The palate is balanced, crisp and dry, flowing with delicate accents of strawberry, cherry and pomegranate that lead to finishing touches of white pepper and dried herbs.
Mercer 2017 Georgetown White Blend, $18
Editor's Choice – Excellent (88-90 pts.)
This aromatic white wine is a succulent blend of Sauvignon Blanc and Viognier, delivery juicy edges of grapefruit, kiwi, lime zest and honeysuckle backed by refreshing piercing acidity. Fresh, forward and briskly refreshing with a clean, balanced finish.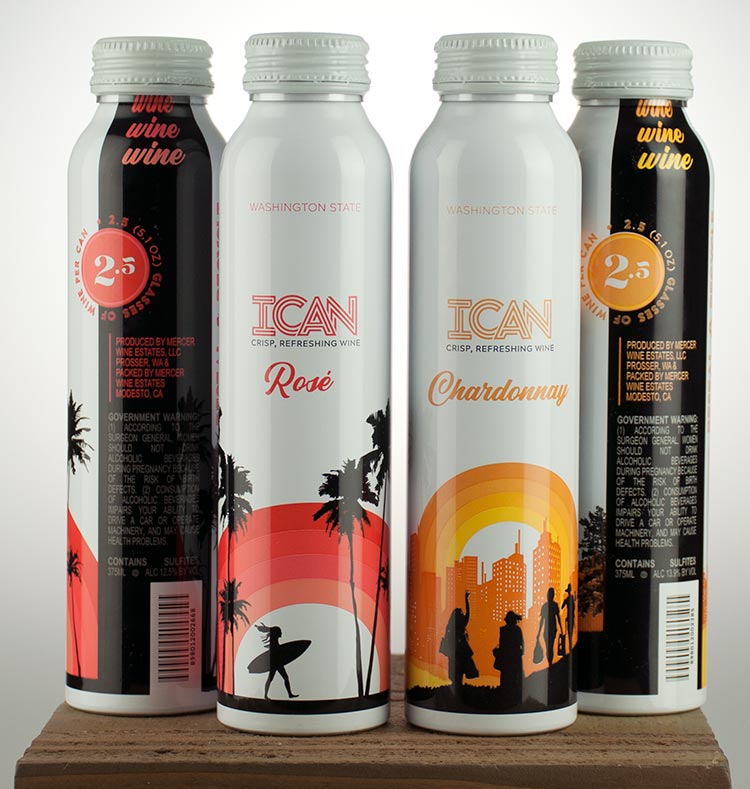 ICAN Horse Heaven Hills Chardonnay, $7.99 (12.7 oz. resealable can, approx. 2.5 glasses of wine)
Editor's Choice – Excellent (88-90 pts.)
Lush, creamy and satisfying, with pretty aromas of tropical fruit, honeysuckle and coconut, followed by sleek flavors of melon, pear and citrus. This is the little black dress of Chardonnay (or power suit) dressed up in a new, boldly-designed resealable can that travels anywhere.
ICAN Horse Heaven Hills Rosé, $7.99 (12.7 oz. resealable can, approx. 2.5 glasses of wine)
Editor's Choice – Excellent (88-90 pts.)
Fun-natured with a complex side waiting to be discovered, this pale pink Rosé charms with delicate strawberry, peach and rosebud flavors that finish with a kiss refreshing lemon-lime. ICAN wines are packaged in an eco-friendly, resealable tall slim can that's ideal for beach sunsets or a day on the slopes.