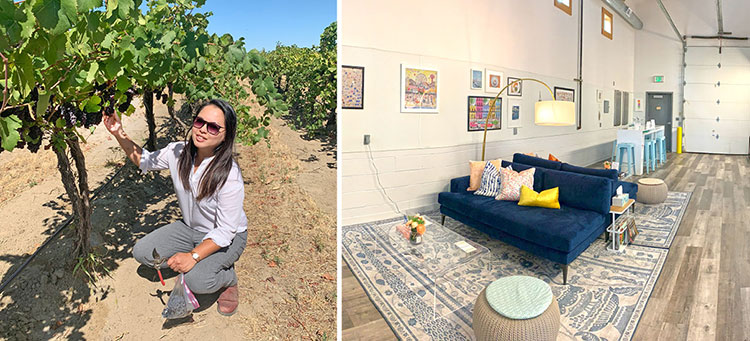 Fiona Mak is on a mission to show wine lovers that Rosé isn't just meant for summer—it's a wine for every season. Her winery and tasting room, SMAK, is the newest addition to Walla Walla's incubator winery district near the airport.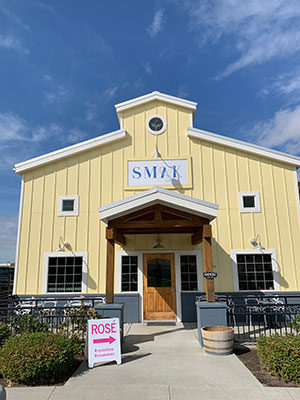 Originally from Hong Kong, Fiona holds a degree in Hospitality Management from Syracuse University and has been at the helm of several prominent restaurants within the U.S., including management positions at Morimoto in Philadelphia and Haru Sushi in New York. After earning her Certified Sommelier title from the Court of Master Sommeliers, Fiona moved to Walla Walla to further her training in wine, entering the Enology and Viticulture program at Walla Walla Community College in 2013. Her professional experience in wine includes work at Opus One Winery in Napa Valley, along with a full-time lab management position with Artifex in Walla Walla.
Fiona's exposure to winemaking techniques and styles, along with her frequent travels to the French Riviera sparked the idea for a unique winery focusing only on Rosé. The tastefully appointed tasting room pairs an industrial vibe with a chic and stylish one. According to Fiona, the tasting room changes with the seasons, based on the type of Rosé being served.
"Rosé to me is more than just a beverage, it is a lifestyle," she says. "I wanted to bring this lifestyle here, so SMAK was born." The wines are refreshing, full of vitality and lively enough to spice up any party.
It's worth a visit to this charming tasting room for the SMAK talk alone. The location in Walla Walla is at 594 Piper Ave in the Airport Winery District. If you appreciate wine/cocktail creations, there's lots more fun stuff at www.smakwines.com
Below are 3 releases we recently reviewed:
SMAK Wines 2018 Fall/Winter Rosé, $19
Editor's Choice – Excellent (88-90 pts.)
Sassy and savory, this Syrah-based Rosé is built with a sleek core of lemon-lime citrus that cuts through the midpalate with supportive notes of watermelon rind, dried herbs and river rock. Ends with a hint of blanched almond.
SMAK Wines 2018 Summer Rosé, $16
Editor's Choice – Recommended (85-87 pts.)
Aromas of white flowers and clover introduce this food-friendly Rosé of Pinot Gris. Snappy and approachable, the core of juicy green apple, lemon and mineral notes reveal a flickering of grapefruit on the dry, racy finish.
SMAK Wines 2018 Spring Rosé, $16
Editor's Choice – Excellent (88-90 pts.)
This Rosé of Sangiovese is brightly lit with a spear of piercing acidity supercharged with lime and lemony flavors that give this a chiseled, mouthwatering feel. Underlying red berry, dried herbs and oyster shell nots filter through the crisp finish.