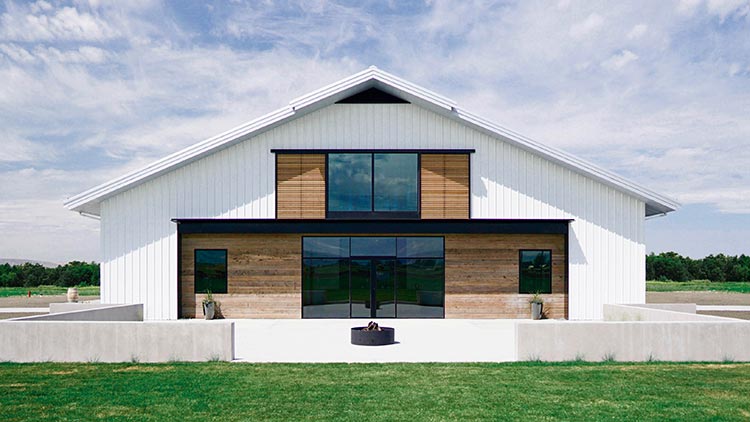 Formerly located at Walla Walla's airport, Revelry Vintners has moved to the town's Southside. The new winery sits on 20 acres of farmland, framed by vineyards, with breathtaking views of the Blue Mountains. The premise for the new construction was to use modern materials and engineering in the silhouette of a century barn, common to the Walla Walla Valley.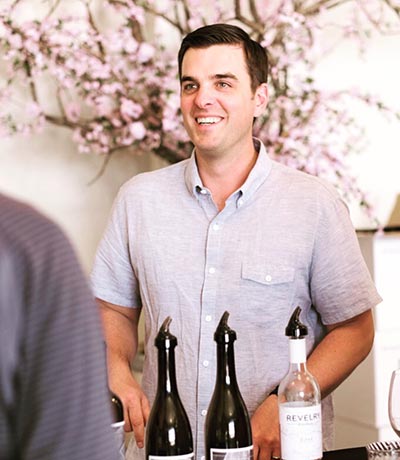 "It was important to us that this history was preserved in the design of our winery," explains owner and winemaker Jared Burns. "The structure is incredibly energy efficient and is built to withstand the test of time. The design, inside and out, is astonishingly thoughtful, with the customer experience in mind."
Attaining a passion for wine at a young age, Jared founded the winery not long after college with "the goal of producing three wines that were just as good or better than those being offered at much higher prices." The selection has grown considerably since then, but Jared insists the goal is unchanged, "To create some of the finest wines you can buy, whether it costs fifteen bucks or fifty."
Each of the wines we sampled are highly distinctive and acutely balanced, especially the Aerials Series, an impressive collection of seven single-vineyard varietals. The labels are represented with an aerial photograph showing the topographical features of the specific vineyard where each wine was sourced, and lists data critical to the character of the site and wine, such as vineyard elevation, clone, year planted, how many tons harvested and cases produced.
Guests receive an elevated tasting experience that guides them through not only the wines, but the vineyards where the grapes are grown and winemaking techniques.
"For the best chance to experience Revelry first hand, people must absolutely visit us at the winery in the Walla Walla Valley," invites Jared. Guided tastings are available at the winery seven days a week from 10am-4pm at 3978 Peppers Bridge Rd, Walla Walla. The tasting room is open 10am-5pm. For more information call or visit onine at (509) 540-5761, www.revelrywines.com
Here are 3 releases we recently tasted:
Revelry Vintners 2014 Weinbau Vineyard Cabernet Franc, $52
Editor's Choice – Outstanding (91-94 pts.)
Reminiscent of a fine French Chinon, this lush, well-structured version is driven on the front of the palate with red plum and raspberry flavors that delve into darker notes of black currant, with wet stone, sage and hints of tobacco aligning on the earthy, lingering finish.
Revelry Vintners 2015 Weinbau Vineyard Block 19 Syrah, $56
Editor's Choice – Outstanding (91-94 pts.)
Supple and balanced, there are exotic floral and spice notes of lavender, violet and clove that flow through beguiling flavors of blackberry, cherry, red currant and wet stone. Well-integrated tannins and a flickering of black pepper surface on the finish. Unfined and unfiltered, the wine was stirred on the lees for added complexity.
Revelry Vintners 2014 Red Mountain Cabernet Sauvignon, $52
Editor's Choice – Outstanding (91-94 pts.)
This gorgeous version is made from clone 8 Cabernet Sauvignon plantings from grower Scott Williams' Heart of the Hill Vineyard on Red Mountain. Svelte, polished and well structured, with refined tannins offering solid grip on the mid-palate. This version is brimming with dark flavors of blackberry, plum, red currant, violet, mint and dried herbs. A swath of cocoa powder threads its way through complex flavors, lingering on the aftertaste.