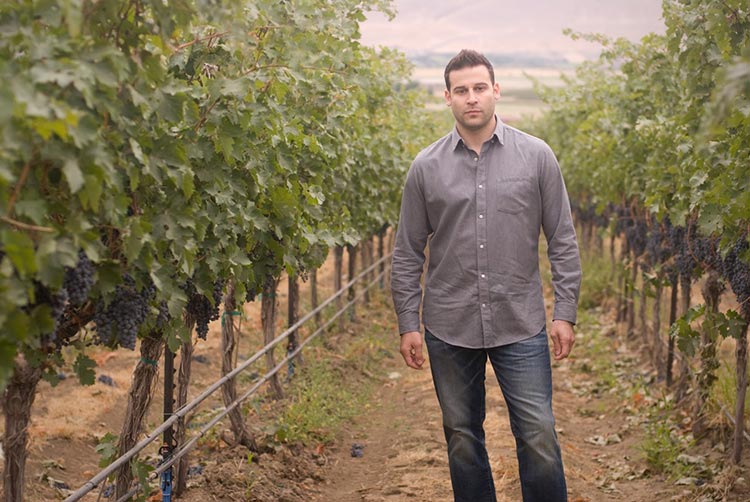 It's fitting that Marco De Santis, a first-generation Italian American, named his winery after the Latin word for "root" because his story began with finding and returning to his family's roots. His great grandfather traveled from a small village in Italy to Tacoma in 1904 to work on the railroad. Marco says he returned to his family roots in Washington 111 years later to dedicate part of his life to crafting premium wines that showcase the terroir of the Red Mountain AVA.

"My family in the Abruzzo region of Italy continues to tend our family vineyards and make wine locally," says Marco, a full time practicing endocrinologist in Tri-Cities. "So I like to say that wine is in my blood." He began making wine on a small scale during his medical training in Detroit. After a few years of studying winemaking textbooks and working with tanks and barrels, he decided it was time to go commercial.
"Having visited Washington state a couple times and realizing that the wines displayed a beautiful balance of old and new world styles, I knew this is where I needed to be," says Marco. He enlisted the aid of a local consulting winemaker, Josh Maloney, who has been making wine for decades, working for storied wineries like Stag's Leap in Napa and Estancia in Monterey County before coming to Washington.
Radix's flagship wine is a deeply expressive co-fermented red blend of Syrah and Petite Sirah, two grapes that share genetic roots. Marco's concept of co-fermenting parent and offspring grape varieties may be fairly uncommon, yet logical. "The wine is able to become more cohesive earlier in the process and also express those unique genetic characteristics that the grapes share," he says.
Tastings by appointment only; contact radixwine@gmail.com or visit online at www.radixwine.com
Radix 2015 Laevus Syrah-Petite Sirah, $48
Editor's Choice – Outstanding (91-94 pts.)
Intensely brooding, with powerful structure and expressions of macerated blackberry, tar and cracked peppercorn, framed with ripe and plump layers of dark brambly fruit accented with violets, leather and chewy spice notes that hang on the dense finish.