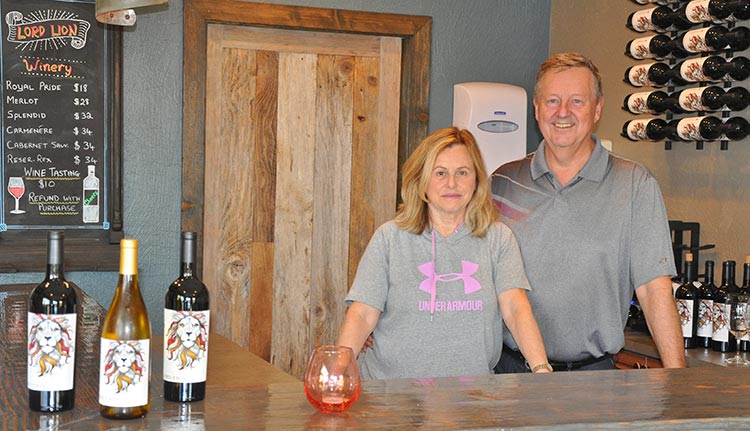 Graham and Gillian Cox are the latest to open a winery in the burgeoning Artisan Hill District of Woodinville. The winery's name, Lord Lion, is a nod to their English heritage. "The tasting room decor and the wine names also reflect our English heritage, but that is where the 'Englishness' ends," says Gillian. "The wine produced at Lord Lion is true artisanal style Washington wine."
The couple relocated from England to Woodinville in 2006 when Graham was brought over as a senior executive to look after the international business side of a leading medical technology company headquartered in nearby Bothell. After leaving the corporate world, they got the urge to start making wine at home and Graham took the winemaking course from UC Davis. "We have been passionate about wines for a long time but from the other side of the bar," says Gillian with humor. "Opening Lord Lion is a dream come true for us, it's a fun lifestyle that fulfills a passion. It's very hard work—very manual, not glamorous at all—but when the wine comes off the press and you realize you have created something potentially amazing, it's very rewarding."
Being newcomers to the industry, Graham and Gillian sought help and collaboration from winemakers and field experts. Their wines are sourced from top vineyards in the state, like their Red Mountain Cabernet. "It's a bit of a cliché that great wine starts with great grapes, but it is so true," Graham points out. "Buying top quality fruit makes a huge difference in winemaking, otherwise, regardless of your skill and hard work, you are playing Russian roulette with your wine."
The wines were aged two years in barrel and another two years in the bottle, resulting in rich, supple reds and crisp, clean whites. Approachable and sophisticated but not snobby whatsoever, Lord Lion delivers quality wines within a relaxed warehouse setting and friendly vibes. Look for exciting new releases coming from this dynamic husband and wife team.
Visit & taste: $6-$10 tasting fees, refundable with purchase; 18808 142nd Ave NE, Ste 5B, Woodinville; Sat-Sun 12-5pm, or by appointment at (425) 318-2311, www.lordlionwinery.com
Here are 3 releases we reviewed: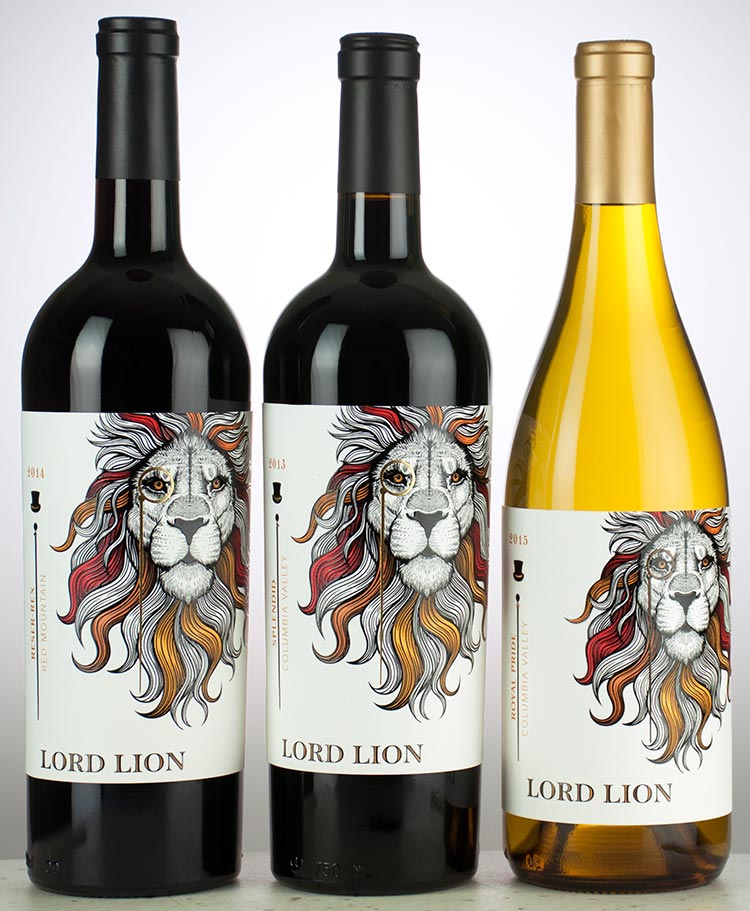 Lord Lion 2014 Reser-REX Red Mountain Cabernet Sauvignon, $34
Editor's Choice – Outstanding (91-94 pts.)
Powerful and rich, with dusty aromas of red and black fruit and deeply concentrated flavors of Marionberry preserves, dark plum, violet, graphite and tobacco notes bound together by firm, gripping tannins and fresh acidity coursing through the lengthy finish.
Lord Lion 2013 Splendid Red Wine, $32
Editor's Choice – Excellent (88-90 pts.)
Aromas of sweet pipe tobacco lead to a dark core of blackberry accompanied by chocolate-covered cherries on the palate, brimming with shaved coconut, herbs and caramel spice on the finish.
Lord Lion 2015 Royal Pride Chardonnay, $18
Editor's Choice – Excellent (88-90 pts.)
Crisp and refreshing, offering zesty minerality and lemon verbena accents that merge with well-knit flavors of grapefruit, apple, and green melon on the citrus and spice-infused finish.