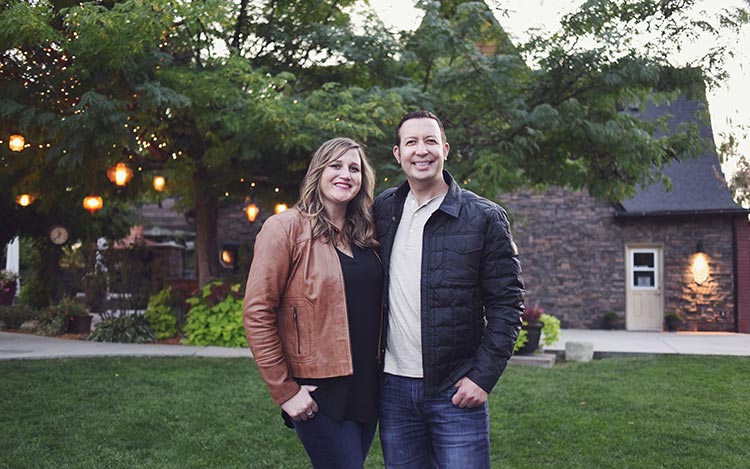 Fortuity Cellars is an apt name for this Yakima Valley-based winery whose story began with a text message. When Lee and Emily Fergestrom got married in 2016 they fell in love with the idea of building their lives around wine and launching their own company.
Since launching, Fortuity Cellars has worked with other consulting winemakers in the Yakima Valley. They broke ground on their own wine production facility and tasting room earlier in 2019 in Wapato. Until the new facility opens, tastings can be scheduled by appointment.
The Fergestroms say their mission is to showcase the flavors of the Yakima Valley; they currently work with family-owned growers to produce their small batch wines.
The U.S. Small Business Administration named this winery "2019 Rising Startup of the Year." From the beginning, a driving force for Emily to start her own business was the opportunity to give back and connect with others. "That's why we launched Fortuity Gives," she says. "In our first year as a winery, we were able to support more than 35 non-profits throughout Washington, but centered mainly on the Yakima Valley and the Greater Seattle area. We look forward to growing Fortuity Gives and looking for more ways to help our local communities grow and succeed."
Stay tuned to the website for more updates at www.fortuitycellars.com.

Below are three releases we recently reviewed:
Fortuity Cellars 2016 Heart of the Hill Vineyard Cabernet Sauvignon Red Mountain, $42
Editor's Choice – Excellent (88-90 pts.)
This fruity style bursts from the glass with blue plum and cherry flavors on the textural mouthfeel, layered with tobacco, earthen spice and anise notes. Well-integrated tannins are extended on the finish.
Fortuity Cellars 2017 Yakima Valley Chardonnay, $28
Editor's Choice – Outstanding (91-94 pts.)
Shows vibrance and purity of fruit, offering bright mineral notes backed with energetic flavors of white nectarine, apricot, lemon citrus and almond skin. Nicely textured, with a fresh and lively finish.
Fortuity Cellars 2017 Yakima Valley Viognier
Editor's Choice – Excellent (88-90 pts.)
Crisp, dry and refreshing, with aromas of pear and limestone lightly scented with honeysuckle. Well balanced on the palate, delivering clean flavors of guava and fresh-picked pineapple that mesh with zesty spice notes on the lively finish.