Winemaker Justin Basel has worked in Washington's wine industry his entire life, beginning at age 12 when he helped with chores around his family's vineyard. "I started working on the winery side my senior year of high school and have participated in every harvest since 2001," he says. "My wife Brianne and I had always talked about starting a small-lot, single-lot program and after ten years of talking about it we pulled the trigger and launched Solemn Cellars."
The name Solemn implies deep sincerity, which is precisely what Justin and Brianne say they set out to accomplish by focusing on premium quality instead of quantity. Justin does absolutely zero blending—each wine is carefully made from a single block, single vineyard and single varietal. For example, their three different Cabernets demonstrate beautifully contrasting expressions of the same varietal. Each highlights a separate micro-climate of the family's 20-acre estate vineyard, Pheasant Run, managed by Justin and his father, Greg Basel.
The winery is owned and operated by Justin and Brianne Basel with a helping hand from their two-year-old son, Parks, who is "already in training." They are located in Walla Walla's Southside where sprawling views of vineyards and Blue Mountains add to the blissful beauty of the grounds. There's ample outdoor seating and even a pond stocked with largemouth bass.
"We produce the wine on premise and it's not uncommon to get tours and barrel tastings of future vintages," promises Justin. Based on the earnestness and integrity of the releases we sampled from this aspiring winery, a bright future lies ahead for Solemn Cellars.
The winery is constructing a new tasting room in Walla Walla but you can book an appointment to taste until it's completed. Visit them online for more information at www.solemncellars.com
Here are 5 releases we recently reviewed: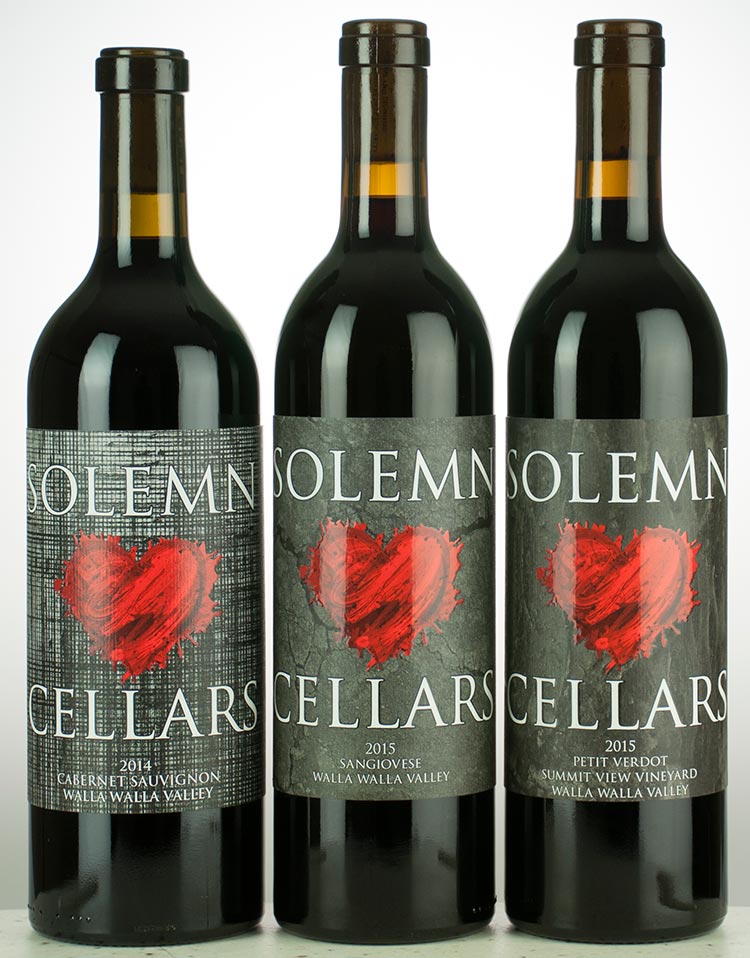 Solemn Cellars 2014 Walla Walla Valley Cabernet Sauvignon, $42
Editor's Choice – Outstanding (91-94 pts.)
Muscular and concentrated, filled with brooding expressions of coffee, cocoa nibs and loamy earth overlaid onto a rich core of macerated blackberry and cassis flavors. Savory layers of bay leaf, sage and spice notes echo through the deep, expansive finish. Sourced from Block 3 of Pheasant Run Vineyard.
Solemn Cellars 2015 Walla Walla Valley Sangiovese, $42
Editor's Choice – Outstanding (91-94 pts.)
Suave and powerfully crafted, displaying rich, bold red fruit of cherry and plump currant draped over savory notes of leather, tobacco and cedar that meld together on the smooth, well-rounded finish.
Solemn Cellars 2015 Summit View Vineyard Petit Verdot, $42
Editor's Choice – Outstanding (91-94 pts.)
Supple, concentrated and aromatic, with a bold, dense core of spiced plum, blueberry, currant and violet flavors swirling with intricate notes of graphite, mocha and flickerings of loamy earth on the bright finish.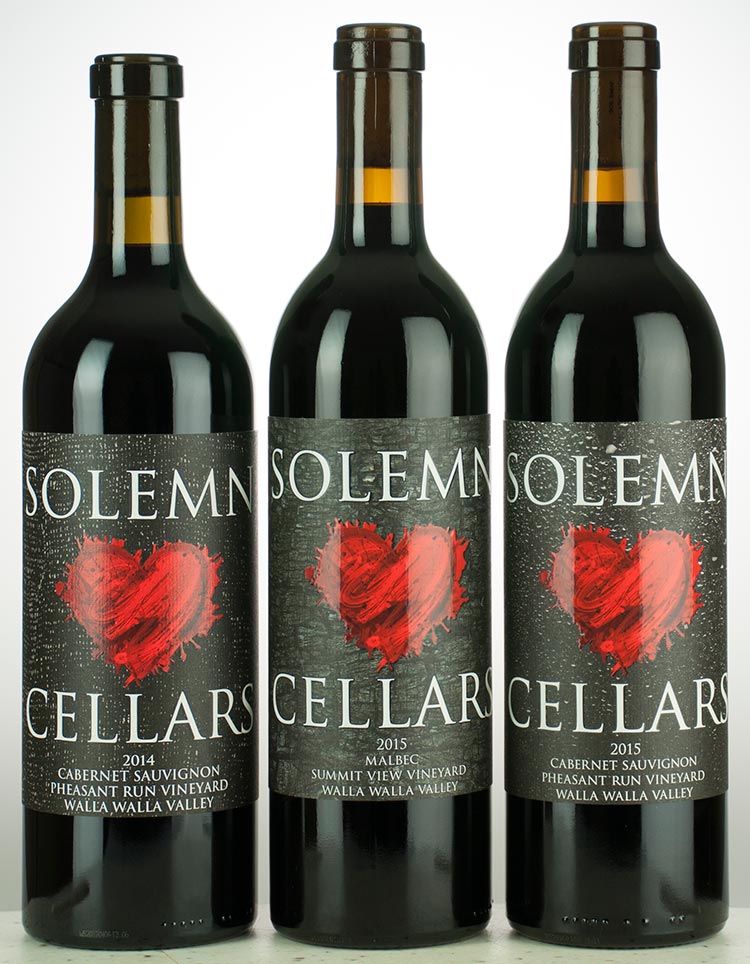 Solemn Cellars 2014 Pheasant Run Vineyard "Block 1" Cabernet Sauvignon, $42
Editor's Choice – Excellent (90 pts.)
Satiny and smooth, with dark fruit and chocolate aromas that join blackberry, red currant and spice flavors with a beam of graphite running through the mid-palate. Leather notes grace the rich finish.
Solemn Cellars 2015 Summit View Vineyard Malbec, $42
Editor's Choice – Outstanding (91-94 pts.)
Grace, elegance and a pillar of structure are the cornerstones of this expressive red wine, delivering fluid acidity behind the rich and supple flavors of dark cherry, violet, white pepper, dried herbs and a dusting of cocoa on the lengthy finish.
Solemn Cellars 2015 Pheasant Run Vineyard "Block 2" Cabernet Sauvignon, $42
Editor's Choice – Outstanding (91-94 pts.)
Bold, rich and muscular, this version is well balanced with firm tannins and smooth structure. The palate is brimming with up-front flavors of cedar-laced blackberry, dark cherry and cassis interwoven with seductive notes of dill, sage and spice that carry long into the finish.