Eye of the Needle Winery in Woodinville will release an array of new wines over the coming months, including these four that received "Outstanding" ratings. The premium quality of grapes is evident in each bottling, something owners Bob and Lauren Bullock take immense pride in. Through the years they have maintained long-term relationships with some of the finest growers and vineyards in the state, giving them access to top fruit at savings they pass on to their customers. With a casual yet lively atmosphere, the tasting room is open every weekend in Woodinville's Winery Warehouse District.
Visit & Taste
Eye of the Needle Winery
19501 144th Ave NE, Building D1200, Woodinville, WA 98072 (map here)
Phone: (888) 881-7110
Hours: Saturday & Sunday 1-5pm
Website: www.eyeoftheneedlewinery.com
Below are four wines we recently reviewed: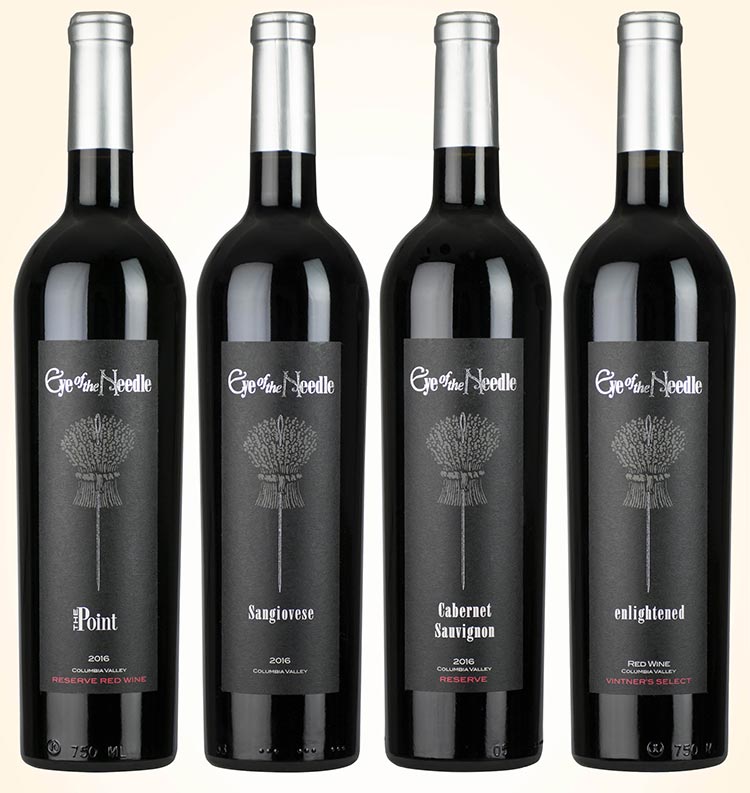 Eye of the Needle 2016 The Point Reserve, $40
Editors Choice: Outstanding (91-94 pts)
Powerfully structured, with bottomless depth to the flavors of cassis, vibrant red stone fruit, and graphite that broaden out on the textural mouthfeel. A panoply of savory accents extend across the finish, displaying mineral, crushed rock and loamy earth wrapped around a tight core of chiseled tannins.
Merlot, Malbec, Cabernet Sauvignon, Petit Verdot
Eye of the Needle 2016 Sangiovese, $38
Editors Choice: Outstanding (91-94 pts)
This finely crafted rendition leads with tempting aromas of cherry, dried cranberry and pencil shavings. Smooth and medium weighted, the plush mouthfeel is framed with solid acidity and concentrated flavors of cherry, plum, red currant, tobacco leaf, graphite and dusky tannins that stay focused on the finish.
Eye of the Needle 2016 Cabernet Sauvignon Reserve, $45
Editors Choice: Outstanding (91-94 pts)
Refined, supple, and elegantly built with concentrated blackberry preserves and jammy red fruit delivered on a pillowy structure of fine-grained tannins and balanced acidity that are the star of the show. Elevated by exquisite spice notes surrounded by well-integrated tannins that gain attention and traction on the exceptionally long finish.
Eye of the Needle Enlightened Vintner's Select (NV), $35
Editors Choice: Outstanding (91-94 pts)
Incredibly energetic, this brilliant blend of Sangiovese and Petit Verdot gushes with lively red currant and Bing cherry flavors balanced with black fruit, leather and floral shadings of violet and lilac. Thick tannins lend density and muscle power that drive through the structured finish.
Sangiovese, Petit Verdot