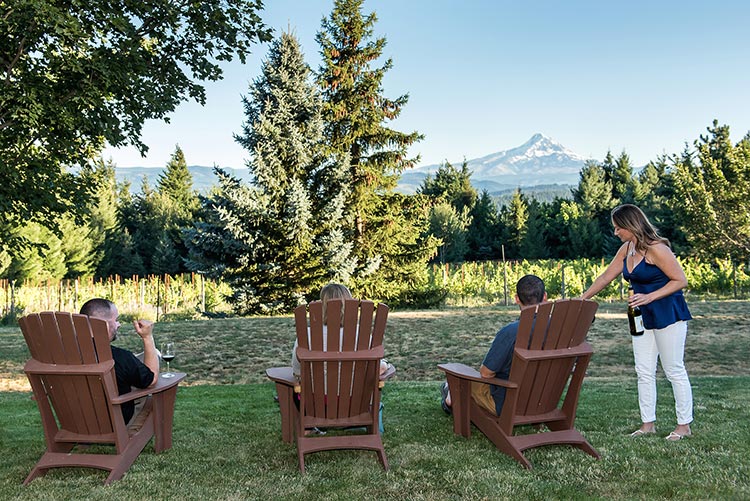 Thane Hawkins came to a crossroad in his life in 2005. Over the previous decade he had worked for Pixar in the Bay Area on some of the most groundbreaking animated films of our time, including Shrek, ANTZ and Monster's Inc. Meanwhile his life outside of the animation studio was one of endless exploration in nature. "I love the West Coast and wanted to explore every inch of it—the mountains, the ocean, the forest—on foot, on skis, and on a board," he says.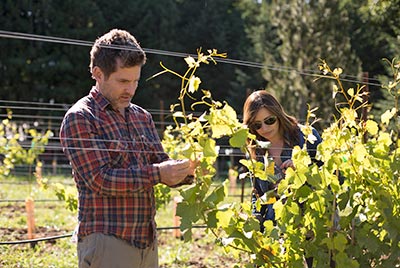 Though highly successful in the field of animation, he wanted to do something in his work life that was both creative and in touch with the earth. He decided to move up to Oregon, where he fell in love with the slower lifestyle—and discovered Pinot Noir. Having traveled often to Napa and Sonoma, he never conceived of actually making a career out of wine until he began touring around the Willamette Valley. The pivotal moment came during his first Thanksgiving weekend out to the tasting barn at Beaux Frere. "I could taste the earth, the dirt, and the must in the wines," he says emphatically. "And of course, the fruit!"
Thane worked harvest at Wine By Joe and enrolled in a winemaking program at Chemeketa College. A year later he was hired as assistant winemaker at Methven Family Vineyards where he was able to make a small lot of Oregon Pinot Noir on the side—and thus, Hawkins Cellars was launched in 2007. His outdoorsy explorations led him to the Yakima Valley, where soon he was buying top-notch Syrah and Viognier grapes and producing Washington wines as well. In 2011, he opened a tasting room in Dundee, Oregon.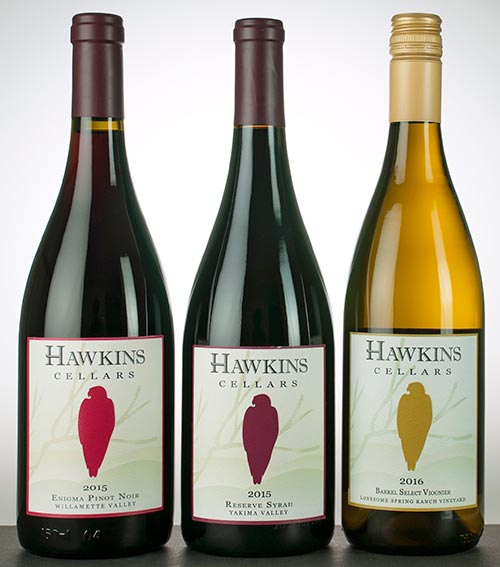 Hawkins Cellars recently opened a tasting room on Underwood Mountain with picture-postcard views of Mt. Hood. "Of all the places that my wanderlust for both adventure and quality grapes has taken me, the Columbia Gorge has always had the greatest pull," admits Thane. He met Deb Michelson in 2010 and the two bonded over a shared passion for love of wine and the Gorge.
"Our intimate tasting room is the perfect spot to sip wine and enjoy an outdoor picnic," says Deb, co-owner and hospitality manager of the winery.
The wines are elegant and balanced, reflecting earthy undertones of Old World expressions and influences that seem a perfect match for the natural surroundings and beauty of the Underwood tasting room. It is located about 90 minutes east of Vancouver, Wash. off Hwy 14 in the Columbia Gorge region in the town of Underwood at 10401 Cook-Underwood Rd. Hours change seasonally so check the website or phone (541) 946-3487, www.hawkinscellars.com
Here are 3 releases we recently sampled:
Hawkins Cellars 2015 Yakima Valley Reserve Syrah, $40
Editor's Choice – Excellent (90 pts.)
Sourced from Chandler Reach Vineyard in the Yakima Valley, this version is refined and graceful, with velvety tannins that coat the mouth, delivering rich, dark fruit flavors of macerate boysenberry, blackberry and plum steaked with violet notes on the lasting finish.
Hawkins Cellars 2015 Willamette Valley "Enigma" Pinot Noir, $38
Editor's Choice – Outstanding (91-94 pts.)
A blend of four clones from four different AVA's, this wine is refined and elegant. Enticing black cherry and rose petal aromas join sleekly complex accents of clove, spice and crushed rock on the palate that build structure and polished tannins toward the finish.
Hawkins Cellars 2016 Barrel Select Viognier, $26
Editor's Choice – Excellent (90 pts.)
Old World in style, there's a sheen of stony minerality and limestone that coat the mouthwatering palate, followed by restrained flavors of peach, honeydew melon and lemon citrus enlivened by crisp acidity that accompanies the finish with hints of lanolin.