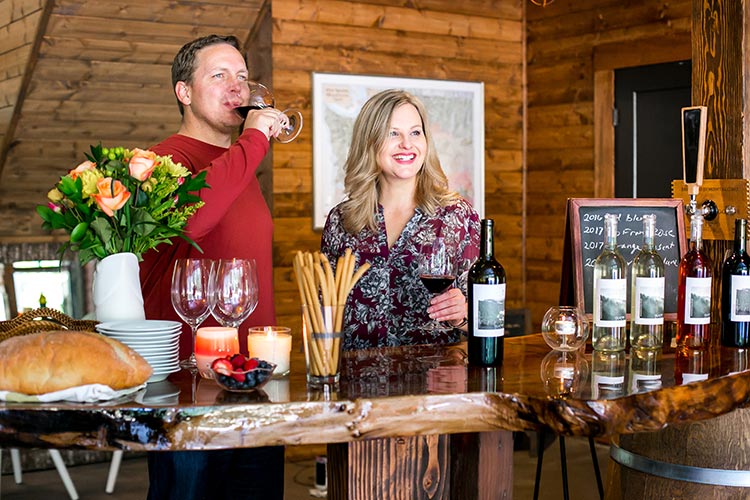 During Stephanie Jones' Navy service aboard a guided missile destroyer in the Mediterranean, her palate was honed on wines from Spain, Italy and France. "When I joined the civilian world I knew I wanted to incorporate winemaking as part of my life. I love to learn and I love to challenge myself, and winemaking fits the bill in both regards," says Stephanie.
Inspired by the big, lush Bordeaux blends of Washington, she moved to the Pacific Northwest and purchased property in Woodinville in 2014. She converted an old barn on the property to a production facility and never looked back. Open for private tastings by appointment only, the wines are handcrafted by Stephanie, with help from her partner Shawn Horton.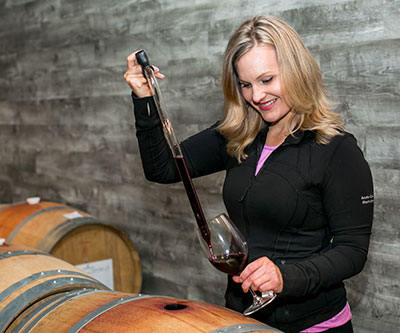 "I love challenging people's preconceived notions of what grapes traditionally yield," Stephanie says. "Every year we try something different—trialing different varieties, yeast strains, barrels and winemaking techniques. We strive to source the best fruit we can, and since we are small, we are able to make interesting wines that the big boys likely wouldn't tackle."
Working with top Washington growers seems to be the perfect fit for Stephanie, as her love for hiking and backpacking take up most of her time in July and August. Stephanie jokes that she would never have time to manage a vineyard, since those two months are sacred to her passion for adventure. Her Trailhead Series each year is named after a beloved Washington hike, encouraging wine lovers to enjoy the outdoors.
"What could be better than savoring a glass of wine at the top of a mountain?" Stephanie says. "That's my version of meditation."
The winery is worth seeking out, not just for the stunning view of Mt. Baker from the winery, but because the wines show serious depth, character and imagination.
As of this posting, there is a new tasting room under construction but for now Glacier View Cellars is still open by appointment in Woodinville, call (206) 719-1331. Keep track at www.glacierviewcellars.com.
Below are 3 releases we recently reviewed:
Glacier View Cellars 2016 Red Mountain Cabernet Sauvignon, $42
Editor's Choice – Outstanding (91-94 pts.)
Aged 24 months in a combination of Russian and French oak barrels, this is reminiscent of a fine Chilean counterpart, loaded with tarry inflections of cassis, blackberry and macerated cherry framed with overtones of bittersweet chocolate and loamy earth. Muscular yet finessed, displaying gripping tannins on the lengthy aftertaste.
Glacier View Cellars 2018 Gruner Veltliner, $24
Editor's Choice – Outstanding (91-94 pts.)
This white wine displays a serious wow-factor. Honeyed notes of apple, apricot and nectarine layered with lemon verbena, limestone and pea shoot accompany a creamy, rich and engaging mouthfeel. Zesty acidity courses along the complex, minerally finish.
Glacier View Cellars 2016 Red Mountain Mailbox Peak, $36
Editor's Choice – Excellent (90 pts.)
This red blend of Cabernet/Merlot shows immense power and depth, lavishly appointed with blackberry confiture, ripe cherry, pencil shavings, tobacco and sage. Solidly structured with grippy tannins that extend the finish.