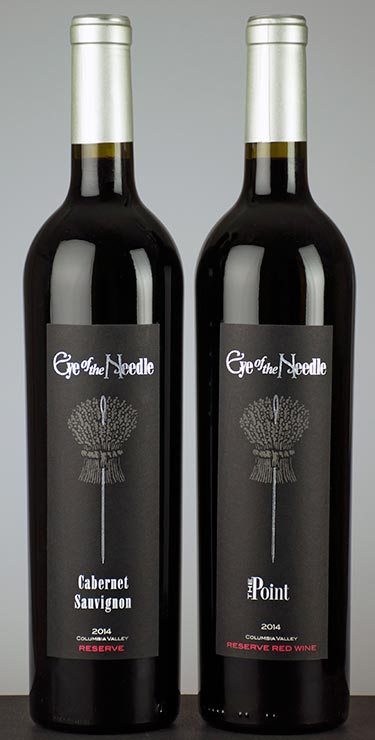 Owners Bob and Lauren Bullock of Woodinville-based Eye of the Needle Winery continue to raise the bar with these offerings sourced from premium vineyards in the state.  These two new releases were pulled from their finest barrels: a reserve Cabernet and a special reserve bottling of their popular blend, "The Point."
The Reserve Cabernet is a blend of fruit from Dineen Vineyard in the Yakima Valley and select vineyards in the Walla Walla Valley.  "The Point" Reserve is a flattering combination of five Bordeaux varietals sourced from Stillwater Creek and Walla Walla Valley. The finished results are impressive and on-point!
Eye of the Needle 2014 Reserve Cabernet Sauvignon, $40
Editor's Choice – Outstanding (91-95 pts.)
Sourced from their finest barrels, this sleekly styled version delivers everything one might dream for in a Cabernet Sauvignon. Finely balanced, structured and powerful, with delightful expressions of pencil shavings, cocoa powder and dried savory herbs draped over a rich, concentrated core of red and black fruit, red currant and violet flavors. Framed with balanced acidity and ultra-fine sweet tannins that add definition to the lengthy, rewarding finish.
Eye of the Needle 2014 "The Point" Reserve Red Wine, $35
Editor's Choice – Outstanding (91-95 pts.)
This lavishly appointed red blend starts off dense, offering ever-widening layers of rich plum, black cherry and currant flavors, followed by a wave of fig, sage, leather and sandalwood accents. Finishes with laser-point focus and velvety tannins that coat the mouth and linger indefinitely on the aftertaste. Cabernet Franc, Merlot, Malbec, Cabernet Sauvignon, Petit Verdot