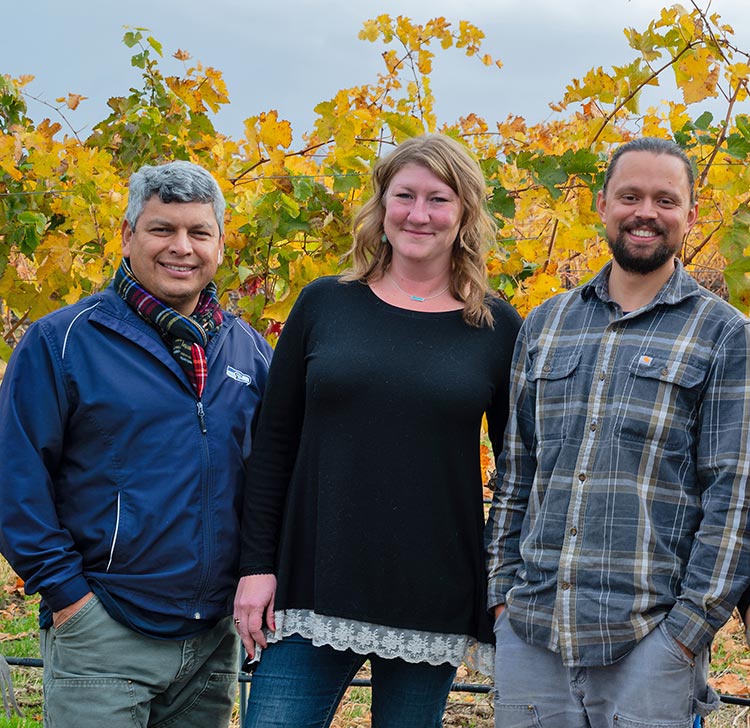 This winery project originated when four people from assorted backgrounds—a Mexican, a Texan, a Frenchman and a Buckeye from Ohio—all met while working in different capacities at Owen Roe Winery, one of the celebrated producers of the Yakima Valley founded by David O'Reilly. "We realized that we could make our own wine at the facility and that was an opportunity too good to pass up," says Jacki Evans, winemaker for both Owen Roe and Sin Banderas. "David O'Reilly is very generous, and he started Owen Roe under similar circumstances."
Each of the four partners is bristling with talent. Like a four-legged table, each brings different skills and strengths to the project's foundation. Jacki was born in Texas, where she studied biology at the University of Texas in Austin. She brings over ten years of winemaking experience with 15 harvests around the world, including Napa, Oregon, Australia, Austria and New Zealand.
Jose Licea (Nacho) is the viticulturist and hails from Mexico where he was raised in a farming family. He is the general manager at Owen Roe and takes care of the vineyards and harvest duties for Sin Banderas. Nacho earned a Master's in Business Management from the University of Colima and moved to Washington State in 2001. He's worked every aspect of vineyards and winemaking.
François Dereeper is the cellar master for both Owen Roe and Sin Banderas. Born in Madagascar, from a Madagascan mother and a French father, François lived in Tahiti until he left to attend college in Bordeaux where he obtained a Master's degree in Viticulture, Enology and Winemaking. After a stint at a prestigious winery in Bordeaux, he landed a job at Maryhill Winery in 2010 before coming to Owen Roe.
The latest addition to the troupe is Elyse Woda, who contributes IT and marketing assistance for Sin Banderas. Raised and schooled in Columbus, Ohio, she headed west with a degree in Geology, spending most of her time working as a public servant with the state and federal government.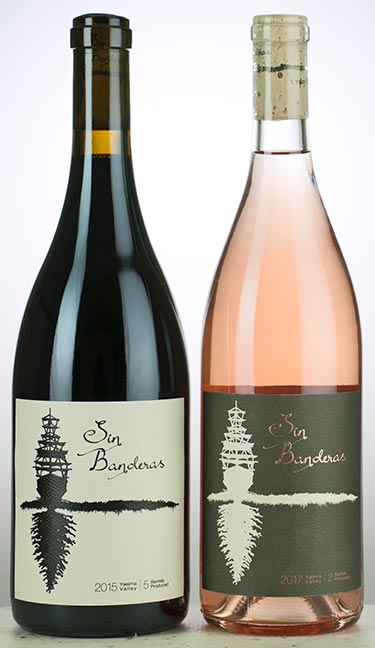 The energy and talent of this group radiates in Sin Banderas' distinctive wines. They don't have a tasting room but you can find their wines online or at select retailers. Watch for more great things to come from this budding project.
Below are their inaugural releases:
Editor's note: These small lot wines are likely already sold out (yes, their first releases were really that good) but you can find their current releases at select retailers in the Yakima Valley; contact sinbanderaswines@gmail.com or visit online at www.sinbanderaswines.com. Tastings by appointment only.
Sin Banderas 2015 Red Blend, $32
Editor's Choice – Outstanding (91-94 pts.)
This Rhône blend of Syrah (80%) and Mourvèdre (20%) is rich and open textured, with beguiling aromas of bramble, dark fruit and notes of blood orange that mingle with expressive accents of currant, tar, dark berries and plum. White pepper and spice linger on the aftertaste.
Sin Banderas 2017 Rosé, $24
Editor's Choice – Excellent (90 pts.)
Lean, dray and racy, offering ample red berry and white cherry flavors that glide through the juicy mid-palate, neatly framed with wetstone and mouthwatering acidity. Well built, with flickerings of white pepper that enhance the clean, minerally finish.