Tour eight established wineries in Walla Walla's Airport District, the historic site of the U.S. Army Air Corps training field during WWII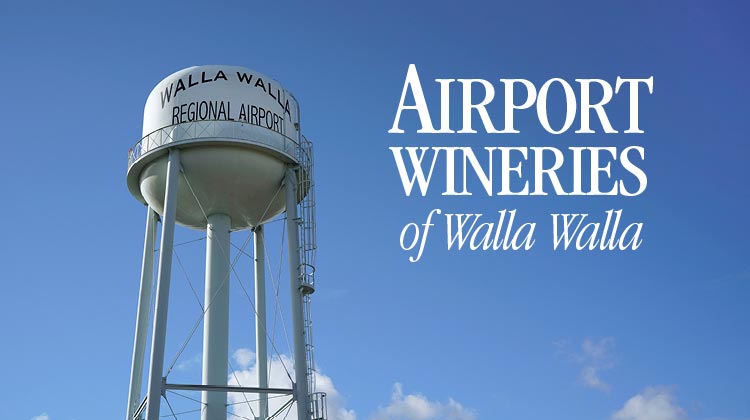 Written by Kirsten Telander
Photographs by Colby Kuschatka
Wine reviews by editor John Vitale
THE PORT OF WALLA WALLA championed repurposing before it was a thing. What is now known as the Airport Winery District was once the army training grounds during World War II for close to 600 bomber crews, including that of the famed Memphis Belle. The facilities were abandoned after the war and later turned over to the city and county.
Thanks to attractive rents early on, the Airport District is now home to 16 wineries and a handful of other business, including distilleries, breweries, boutiques and a roastery, all with low-key vibes and unobstructed views of the valley.
Many of the wineries in the airport district fly under the radar, operating out of modest spaces and discovered by word-of-mouth. Despite the lack of pretension, folks making wine out here take their craft very seriously and the proof is in the bottle.
The Legacy Continues
Dunham Cellars
Dunham Cellars celebrates its 25th anniversary in 2020 and the brand remains one of the valley's legends. Dunham's resiliency was tested after suffering the tragic losses of founder, Mike Dunham in 2013, and his son, artist and founding winemaker, Eric, in 2014.
Widow Joanne Dunham could have sold. "It was their idea to be here, I was here for support," she says. The winery was ripe to attract high rollers. They had grown from a one-room show in a dilapidated hangar to a state-of-the-art facility with its own bottling line producing approximately 24,000 cases of sought-after wines.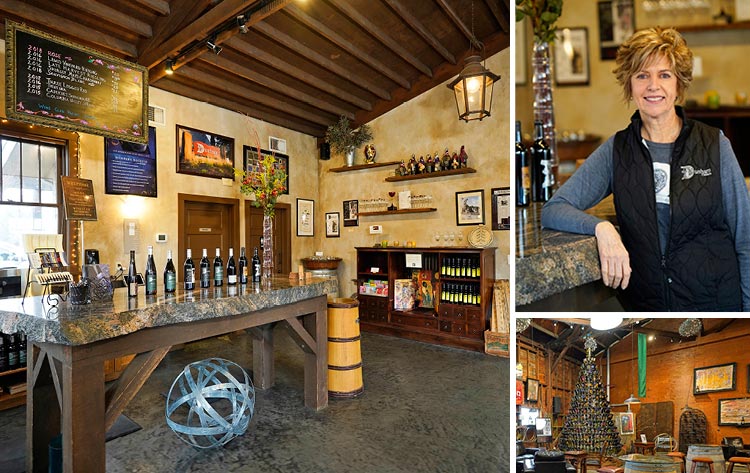 With the help of partners David and Cheryll Blair, along with son John, Joanne was determined to carry on the legacy. As a result, Dunham remains one of the darlings in the valley.
The consistency and quality of the wines never wavered. Joanne gives much credit to winemaker Rob Campisi and former winemaker, Dan Wampfler (now with Abeja), who took Rob under his wing at Dunham. "They were here in the days of Mike and Eric and to me, that's huge. They knew how they thought, they knew what we were."
---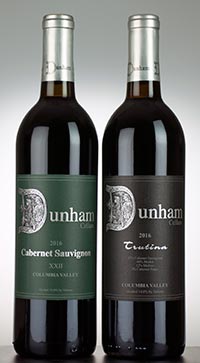 Dunham  2016 Cabernet Sauvignon XXII, $45

Editor's Choice – Extraordinary (95 pts.)

A wine of depth, structure and vitality, revealing cassis, gravelly black raspberry, red currant and dark blue fruit swirling with accents of orange coriander, vanilla and sultry cacao nib on a well built frame supporting firm tannins on a long sustained aftertaste. Decant to enjoy the ever-evolving flavors.
Dunham  2016 Trutina, $29
Editor's Choice – Outstanding (91 pts.)
This sumptuous Bordeaux varietal blend is open textured and generous, combining rich blackberry, cherry and violet flavors with underpinnings of bay leaf, tobacco, cocoa and a dash of cinnamon that mesh with rounded tannins on the savory finish.
---
The whimsical wonderland that Joanne created out of the tasting room has never wavered, either. She saved the original wood siding and created a cozy atmosphere out of a massive space with found objects—beautiful branches, bird nests and vintage chandeliers—with Eric's paintings as a backdrop. There is also a show-stopping bottle tree filled with 523 artist-series bottles, the labels created from Eric's artwork.
The Dynamic Duo
Adamant Cellars
Devin and Debra Stinger made wine in their basement for seven years while working day jobs in the high-tech industry in Portland.
"Devin grew up in Oregon and fell for Pinot Noir in a way that created a desire to craft his own wine," says Debra. But Pinot wasn't his focus and the couple set their sights on Walla Walla.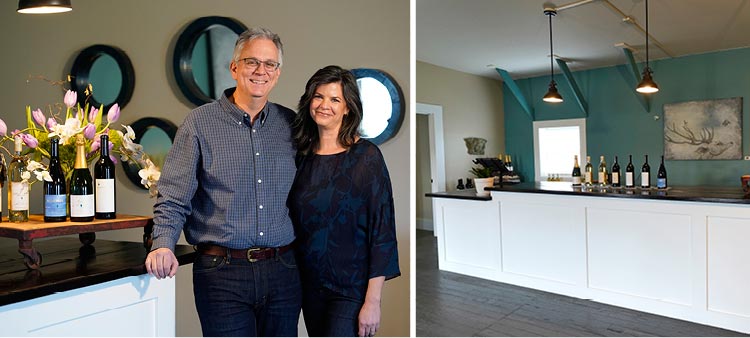 "It seemed a natural choice because of the wines we make," says Devin. The lineup includes some of the usual suspects for the area: Merlot, Cabernet Sauvignon, Syrah. But the couple were also drawn to less common varietals such as Tempranillo and Albariño. They were the first to plant Albariño in the Walla Walla Valley, and are among a small handful of Walla Walla wineries to offer the varietal.
They've made their home at the Airport District since 2006. Debra designed the HGTV-worthy tasting room that showcases her contemporary artwork and jewelry as well as the wines.
---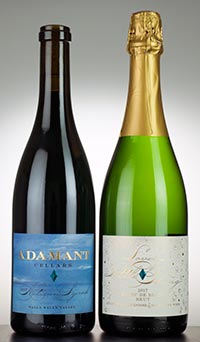 Adamant  2017 Walla Walla Valley Artisan Syrah, $40

Editor's Choice – Outstanding (91 pts.)

The high-toned fruit is minerally charged, filled with verve and satiny flavors of blackberry, red fruit and dried currants that reveal earthen shadings of vine leaf, graphite, loam and spice.
Adamant  2017 "Lovely Little Thing" Blanc de Blanc Brut Sparkling Wine, $55
Editor's Choice – Outstanding (91 pts.)
Vibrant and expressive, this lovely sparkling wine offers exotic flavors of glazed peach, lemon crème fraiche, orange blossom, quince and pine nuts. Rich minerality flows easily through the lasting finish.
---
Like most at the Airport District, Adamant only sells wines out of their tasting room. With production of just 1,000 cases a year, nearly all their releases go to their wine club. "We made a conscientious decision to keep our wine production on the lower end," says Debra. "This enhanced the final product and kept us sane."
Outlander fans will appreciate that the series was part of the muse in naming the winery. In the books, alchemists claim that wearing an adamant—a black diamond—brings "the knowledge of the joy in all things," hence the black diamond on the labels.
Time In A Bottle
Tempus Cellars
In 2001, a twenty-something Joe Forest was following Bob Dylan on tour when he saw that his final concert would be held at a 2,000-year-old Greek amphitheater in Taormina, Sicily.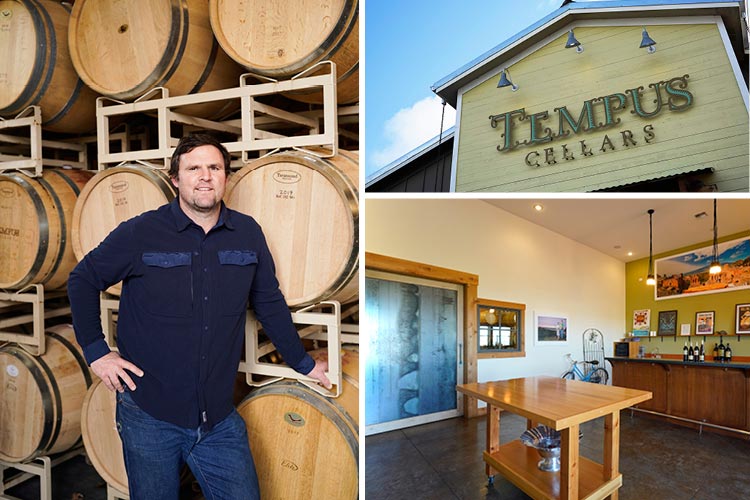 "I had to be there," he says. While at dinner before the show in the Piazza IX Aprile, Forest looked at all of the tables of people breaking bread with wine and had an aha moment. "I knew I wanted to make wine."
The epiphany wasn't entirely unfounded; he was exposed to fine wines while working at Wild Ginger in Seattle, and his father made wine for family and friends in his garage while Joe was growing up.
Forest spent time at Betz Family Winery before moving to Walla Walla to work at Seven Hills Winery and later at Dunham, where he was part of growing their production from 10,000 cases per year to 25,000.
---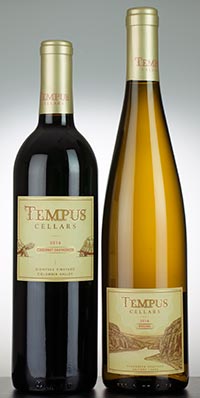 Tempus 2016 Dionysus Vineyard Cabernet Sauvignon, $42

Editor's Choice – Outstanding (91 pts.)

Ample concentration of dark fruit abounds in this dense, chewy red wine sporting rich cherry, blackberry and cassis loaded with crushed granite, fennel, bay leaf and spice. Seamless in structure, delivering well-integrated tannins on the flawless finish.
Tempus 2018 Evergreen Vineyard Riesling, $20
Editor's Choice – Outstanding (91 pts.)
A beautiful streak of zesty acidity adds zen-like harmony to the pristine, crisp flavors of red Comice pear, white apricot, green apple, fresh lime and orange blossom. A cascade of caliche minerality punctuates the highly expressive finish.
---
He and his wife Mollie founded Tempus in 2006. The name was a natural fit, a loose translation as a series of firsts. "Mollie and I, in the course of 18 months had our first house, first dog, first marriage, first baby, first winery…" says Forest.
Tempus is also a word play on time and Joe's cellar is ruled by old-world methods and patience; red wines are aged for 22 months in 100% French oak and another year in bottle.
Success Was In The Stars
SYZYGY Wines
Zach Brettler, owner and winemaker for SYZYGY, landed purposely at Walla Walla's Airport District with his first vintage in 2002. "Prioritizing the wine was the number one reason I started out here and stayed," says Brettler. He didn't want to bring on investors or a partnership and was never interested in building a big, fancy winery.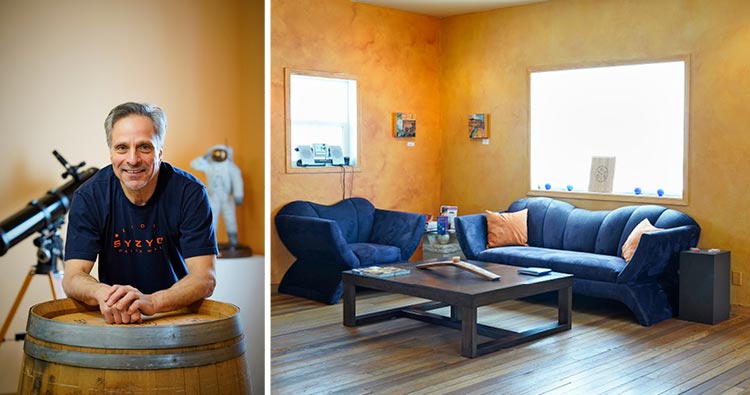 The name of the winery has a dual meaning. Brettler had a passion for astronomy growing up and has traveled to see a number of eclipses. "Technically, SYZYGY is the alignment of three celestial bodies, so the term is near and dear to me," says Brettler. "But I also like the tie-in to the wines—bringing different vineyards and varietals into alignment."
Before starting his own brand, Brettler took odd jobs at wineries in Seattle while making wine at home. He made the move to Walla Walla in 2001, where he worked harvest at L'Ecole.
---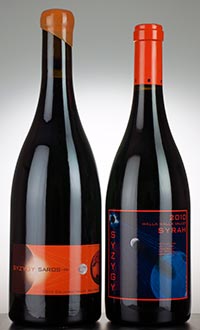 SYZYGY 2010 Saros, $60

Editor's Choice – Outstanding (93 pts.)

Deep, rich and multi-faceted, with aromas of leather, spice, graphite and cedar shavings. Blackberry, crème de cassis and red plum flavors stay vibrant with fresh acidity gilded with blood orange notes. Dark chocolate and spice infuse the finish, joined with supple tannins.
SYZYGY 2010 Walla Walla Valley Syrah, $40
Editor's Choice – Outstanding (92 pts.)
Expressive savory notes of violet, spearmint, peppercorn mélange and crushed pebble accent the velvety rich flavors of blackberry and dark red fruit in this elegant, full-bodied red. Ends long and spiced with fine tannins on the fresh finish.
---
Brettler attributes much of his success early on to luck and timing. "I secured some really awesome vineyards that would be much harder to get now. Plantings from 1972 off of Sagemoor Vineyard is just one example."
Being a one-man show and eliminating any extraneous expenses allowed Brettler to adopt a counter-intuitive business plan. "I decided to slow down my sales, slow down my releases so that I could pour wines when they are more ready to drink," he says, referencing the 2009 and 2010 vintages he's currently pouring. "People love tasting older wines, it's worked out great."
On The Rocks
Buty Winery
This winery, one of the anchors at the Airport District, celebrated its 20th vintage in 2019. Owner and founder, Nina Buty opened the doors in 2001 with her first white wines to sell. The brand later released mostly estate-grown reds to critical acclaim, as well as an alter-ego line of wines playfully named The Beast.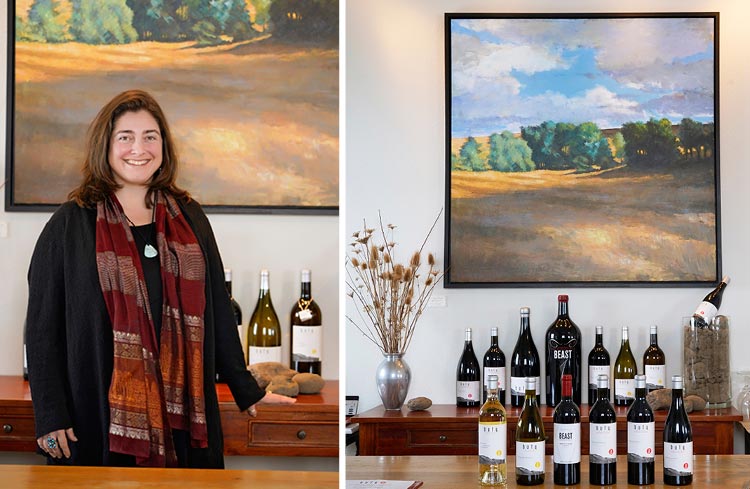 Buty's tasting room remains intentionally unfussy, with all the focus intended for the wines. "We're not looking to wow people with an opulent experience in the tasting room," says Nina. "We're a bootstrap winery, that's more our path. The most important thing is ensuring that our wines are coming from great sites and that our vineyards are well taken care of."
The winery project was conceived on a napkin while Nina was backpacking in the Cascade Mountains in 1998. Studying art and geology at Whitman College, Buty seemed the perfect merge of an investigation into the art of terroir. A soil column from Rockgarden Estate vineyard is displayed prominently behind the tasting bar, which she discusses in-depth with the wonder of a rockhound.
---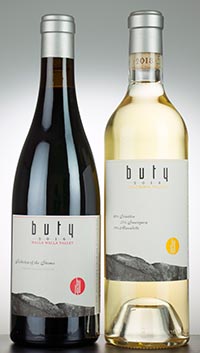 Buty 2016 Rediviva of the Stones Rockgarden Estate, $60

Editor's Choice – Outstanding (93 pts.)

Elegant and lacy, boasting a panoply of stone, earth and mineral expressions dappled with meaty savoriness, jammy red fruit, plum skin and cured olive. Silky in feel, with iron structure leading to a textural finish that dances with liveliness.
Buty 2018 Sémillon, Sauvignon & Muscadelle, $25
Editor's Choice – Outstanding (91 pts.)
Pure, with appealing aromas of white flowers, mineral and citrus. There's elegant textural weight on the palate, delivering lip-smacking flavors of lemon oil, lime peel, grapefruit essence and pear layered with dried thyme and crushed oyster shell. Finishes complex, minerally and balanced.
---
The outdoors has always been a big part of who Nina is, and her reverence for Mother Nature, in life and work, is shared with Buty winemaker Chris Dowsett (who has his own boutique brand, Dowsett Family Wines).
"I always believe that you should make wines from sources that will outshine your winemaking" says Dowsett.  "Try to make most of the winemaking decisions before the fruit hits the winery."
The Overachiever
Eternal Wines
Walking into Eternal Wines is like stumbling across a secret clubhouse with no special handshake necessary for entry. Don't be fooled by the laid-back, garage-like atmosphere. Owner and winemaker Brad Binko saves his intensity for the cellar, cranking out wines for both Eternal and his second label called Drink Washington State, with a massive portfolio of 18 wines between the two brands.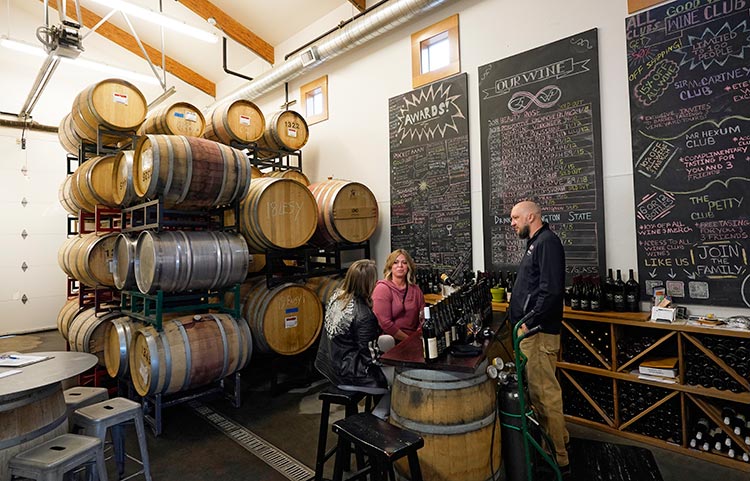 The New York native was introduced to fine wine early on from his father's impressive wine cellar before becoming a sommelier. He worked in fine dining in Charleston and later in Las Vegas. "I once served a bottle of 1945 Chateau Margaux," he grins.
He later became a marketing guru, as owner of Prism Nightlife in Las Vegas, good preparation for long hours in the cellar. Binko eventually moved to Walla Walla to start his own wine brands while still a student at the Institute for Enology and Viticulture at Walla Walla Community College, wowing critics with his first releases within months of graduation.
---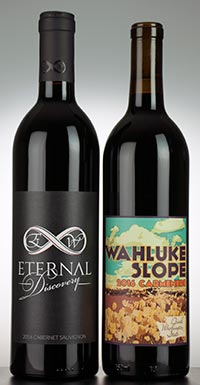 Eternal 2016 Discovery Cabernet Sauvignon, $59

Editor's Choice – Outstanding (94 pts.)

Poignant balance defines the rich red and black fruit intertwined with savory accents of forest floor. The flavors gain momentum and complexity, with tertiary notes of plump currant, cocoa and graphite. Refined tannins lengthen the sophisticated finish.
Drink Washington State 2016 Carménère, $29
Editor's Choice – Excellent (90 pts.)
There are plenty of herbaceous and savory flavors of peppercorn, dried basil, oregano, and pencil lead to match the jammy red fruit accented with roasted piquillo pepper and a hint of orange peel that make this lithe red wine so complex and intriguing. Shows grip on the finish.
---
Using natural yeast in all his fermentations, Eternal Wines focus on primarily small-lot, single vineyard wines versus Drink Washington State, with labels that look like retro postcards. "These blends are meant to represent a particular AVA in the state," says Binko.
If you don't find Brad in the tasting room or cellar, he may be out checking vineyards with his dogs, Picasso and Chloe. "They definitely have a say in what I'm doing," he says.
Homage To The Valley
Five Star Cellars
When asked what the story of Five Star is, Matt and Traci Huse give a simple answer. "We're a small, family owned, native Walla Walla winery that works only with Walla Walla fruit." The focus on local fruit was important to them: The family is from the valley and have never left.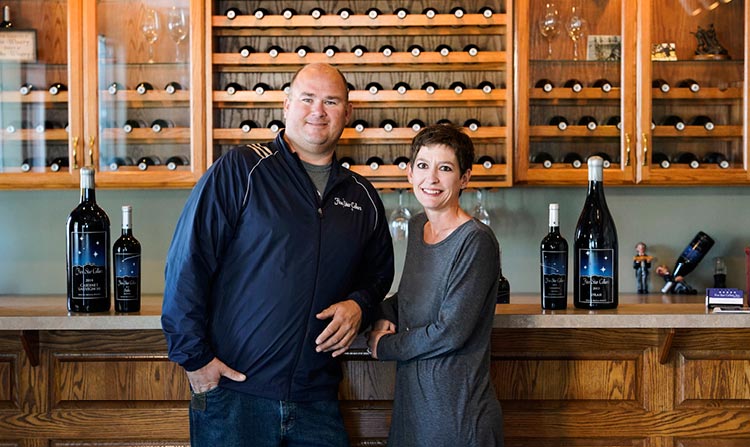 Matt Huse was working as a carpenter for one of Walla Walla's esteemed contractors, assigned to clients including Pepper Bridge, Leonetti, and L'Ecole N° 41. "I was just a grunt working on all the buildings, but I was curious and started asking a lot of questions," says Matt. "A good friend of mine out at L'Ecole, Tom Glase (now owner of Balboa and Beresan), along with their former winemaker Mike Sharon, told me I ought to think about doing this."
---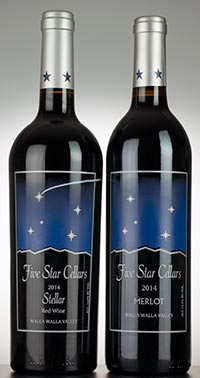 Five Star 2014 Stellar Red Wine, $54

Editor's Choice – Outstanding (94 pts.)

There's a sleek richness to the mouthfeel that's backed by vivid structure, driving focused flavors of pencil shavings, violet, espresso and cedar that meld with crushed blackberry amid a tight core of firm tannins that leave a lasting impression on the finish.
Five Star 2014 Merlot, $34
Editor's Choice – Outstanding (92 pts.)
Exquisitely balanced and rich, evoking black cherry, dark berry and red currant flavors laced with complex elements of caramel, vanilla and tobacco spice that finish with finely-honed tannins and well-proportioned acidity.
---
In the meantime, Matt's father David had sold his John Deere dealership. After a few years of working in sales, David retired and figured he needed something extra to do with his time, so he played with a few barrels of wine while helping out at Russell Creek Winery. He was hooked, and the family started Five Star together, the name referencing the best rating in the service industry.
Matt was happy to ditch a hammer for a wine thief and enrolled in the program for viticulture and enology at the community college in 2001 as part of the first graduating class. He took over as winemaker for Five Star in 2002. "We're surrounded by great wineries that send crowds in that aren't familiar with the winery," Matt says. "It's the new people that keep us going."
A Family Affair
CAVU Cellars
CAVU is an acronym for the aviation term, ceiling and visibility unlimited, indicating perfect flying weather. While his son Joel was honing his skills at a winery in the Columbia Gorge, former Army pilot James Waite and his wife Karen were looking to retire near relatives. They relocated to Walla Walla from the East Coast and launched CAVU in 2009 (so much for retirement) with Joel in charge of winemaking. All three are hands-on owners, making it a true family affair.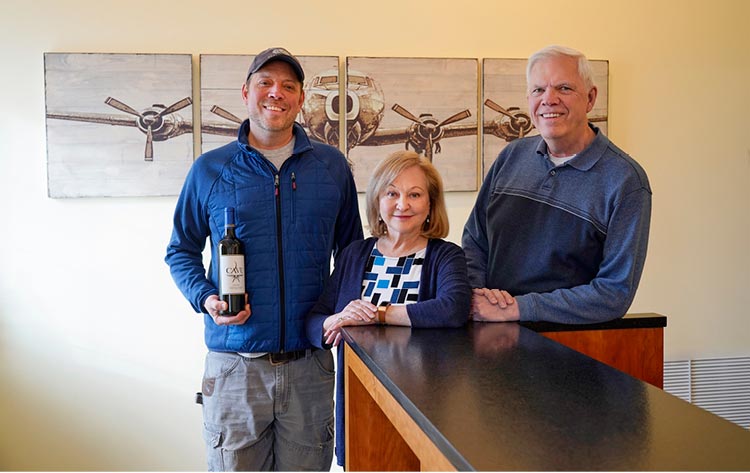 It was Joel's chef training at V. Sattui Winery through the Napa Valley cooking school that piqued his interest in winemaking. After attending a wedding in Walla Walla, he knew this was the place to make his mark and thus enrolled in the enology and viticulture program at the community college.
Joel's chef background largely dictated the wines that he wanted to make for CAVU—Barbera, for example. "It's one of the best general food wines out there in my opinion," he says. "I pair it with everything from salmon to a rib eye steak." He started with a Barbera Rosé, which the family believes to be the first in the state. "It started out as an experiment," Joel says, "but people in the industry tasted it and started buying it by the case before I opened my doors."
With approximately 10,000 square feet to work with, CAVU has evolved into a premiere event space. Art exhibits rotate monthly and a monthly salsa night draws 
a crowd.
---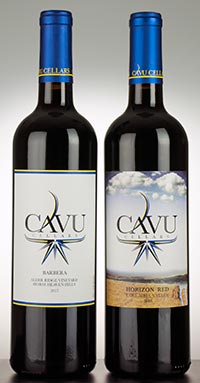 CAVU 2017 Alder Ridge Vineyard Barbera, $40

Editor's Choice – Outstanding (92 pts.)

Polished and smooth on the entry, with tantalizing grilled red plum, black cherry and bold spice intermingled with violet and vine leaf. The flavors gain intensity midpalate, showcasing the lively characters of the fruit and spice elements.
CAVU 2016 Horizon Red, $40
Editor's Choice – Excellent (90 pts.)
A bright and freshly styled Bordeaux varietal blend, loaded with dark stone fruit, floral violet, crushed raspberry and ripe blackberry flavors framed with thick, firm tannins and rich bold spice that lingers on the open textured finish.
---