Need a break from behind the wheel? Ditch the keys to the car and leave the driving (even meal planning) to a professional wine tour operator. Grab a friend or small group, and get ready to begin your next wine tasting adventure by boat, limousine, electric bicycle, even river raft!

AMA Waterways River Cruises
Immerse yourself in the many flavors of Europe on a unique wine tour river cruise with a Washington winemaker. The luxury cruise ships travel to places like France's Rhône Valley and Germany's enchanted Rhine River Valley. Guests can join tours that highlight the famous sights in each port of call. These special itineraries offer guests a perfect blend of wine-related experiences and excursions in grand capitals and charming towns. Taste local cuisine, discover how wine is made and, of course, partake in tastings—all at no extra cost. Freddy Arredondo of Cave B Estate Winery was the guest winemaker on a river cruise to the Rhône Valley of France this June. Next, Mike and Marti Andrews of Coyote Canyon Winery will be the guest winemakers on The Enchanting Rhine cruise happening on November 18, 2017.
---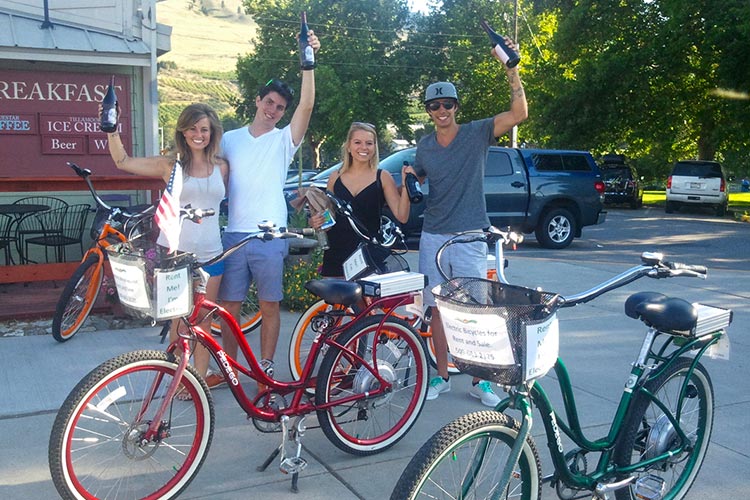 Chelan Electric Bikes
If you can ride a bike, you can certainly ride an electric bicycle! Your personal tour guide gives you a quick introduction to the bike and then whisks you off on a three-hour, 20-mile tour of vineyards and wineries. Feel the fresh air in your face and be part of the scenery as you pedal (or not!) aboard a comfortable Pedego electric bike along Lake Chelan's pristine shores. Trundle around award-winning wineries in a healthy and exciting way, stopping anytime you like. Your guide will keep you entertained with local history, myths, fascinating facts and figures. They'll even take your photo and provide humor (free of charge).
---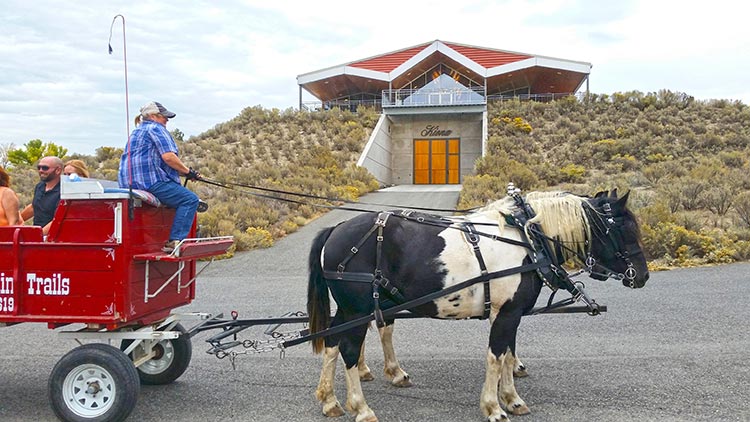 Red Mountain Trails
Kick back and chill out as a team of gentle draft horses pulls you along in a buckboard wagon while you travel through Red Mountain vineyards. Listen to the soothing clip clop of the horse's hooves as you're drawn through the winding country roads, where you'll sample plush wines from this renowned region. The Red Mountain Trails' horse-drawn wagon tour has access to the mountain's back roads that aren't accessible to the public.  You'll be immersed in the canopy of the very vineyards from where you'll taste some delicious world-class wines. Red Mountain Trail's owners were one of the first families to inhabit Red Mountain. They love to share the lore, history and wineries of the area. A gourmet lunch is included in your four-hour tour. Reservations required. Sunset hay wagon dinner rides are also available on weekends in the summer.
---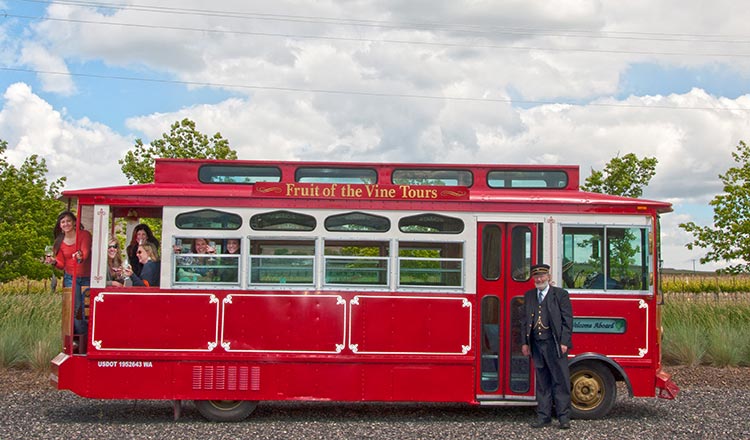 Fruit of the Vine Tours
Motorman and guide Jon Artz has close ties to a number of wineries in the Red Mountain AVA, a region known for bold, elegant red wines. His knowledge of the wineries and the region will enhance your tasting experience. Jon has personally visited three-quarters of the 160 wineries within a 60-mile radius of Benton City. When you're aboard Jon's trolley—chugging smoothly between wineries along back roads—with the Central Washington landscape of sagebrush, arid desert, basalt outcrops, and perfect rows of grape vines unfolding outside your window, you'll be glad you booked his services. There are no distractions and, above all, there's no getting lost. There's comfortable seating for 13 people—and a politician's platform on the rear end. They also offer beer and spirits tours through the region.
---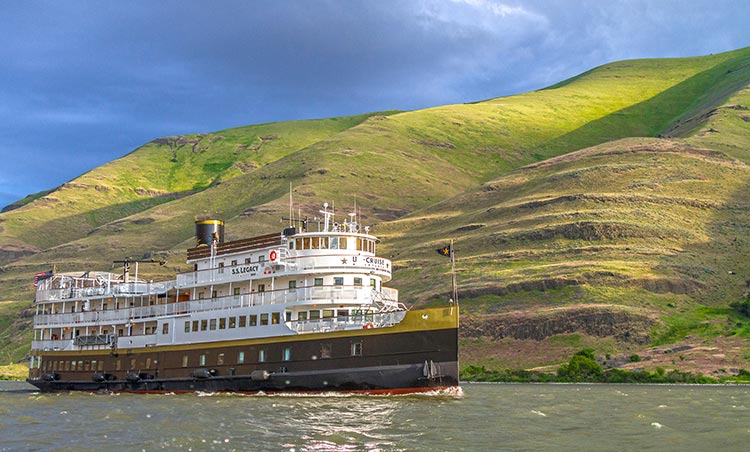 UnCruise Adventures
This boutique cruise line specializes in smaller and more intimate tours, including a Columbia River wine-themed cruise aboard the replica coastal steamer S.S. Legacy. The wine cruise's diverse itinerary visits no less than five American Viticultural Areas (AVA's) in Washington and Oregon, including Red Mountain, Willamette and Columbia Valley. Sample wines from these AVA's at onboard tastings hosted by experts and onboard sommeliers. The sommeliers offer wine education classes over appetizers every evening. Special wine experts act as guest hosts on the shore excursions. The hosts describe the history of the Gorge's premier wine regions and unique terroir. Onboard and shore wine pairings complete the Legacy's perfect wine cruising itinerary. The 88-guest Legacy offers two itineraries on the Columbia and Snake Rivers, round trip from Portland, Ore., from April through November. In 2017, eight departures are offered on the Rivers of Wine itinerary.
---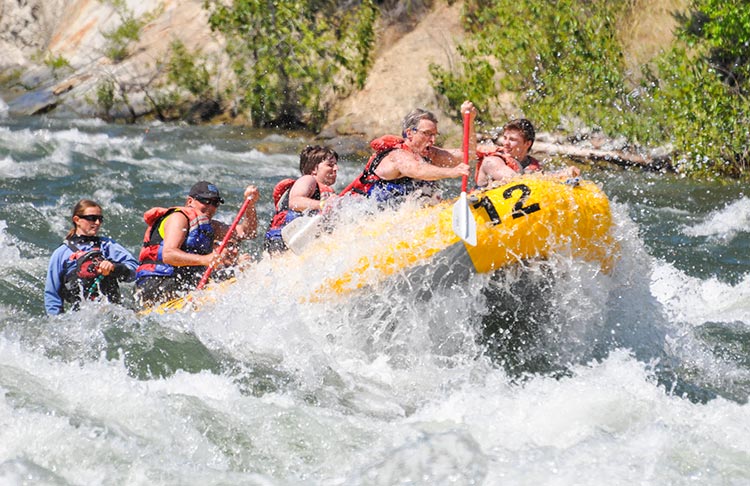 Blue Sky Outfitters
Combine your wine tasting with the thrilling bumps and splashes of whitewater rafting on this outing that departs from Leavenworth. You'll careen down 10 miles of the Wenatchee's wild rapids with names like Upper Gorilla, Sharkstooth, Snowblind—and our favorite, Suffocator—to crawl out of the surf for a sirloin steak BBQ, complete with corn on the cob, potato salad and ice cold lemonade. After lunch, the adventure continues as you are chauffeured to Wenatchee Valley wineries on a three-hour tasting tour. You'll be greeted at each tasting room by the vintner or owner, and introduced to their signature wines.
---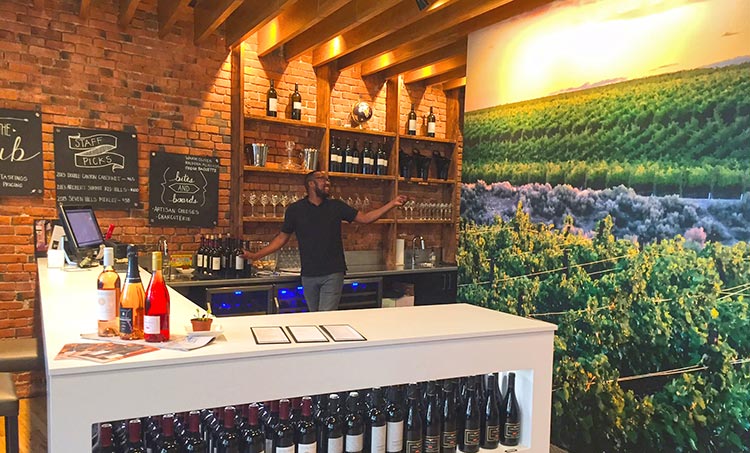 Bon Vivant Wine Tours
Take a specialized guided group tour of interesting wineries in the wine mecca of Woodinville. Running Wednesday through Sunday, Bon Vivant offers these tours from the Seattle area, in luxury touring vans. These public tours are purposely kept to small groups of 10 people or less, and visit four to six wineries. Bon Vivant will get you face to face with winemakers, cellar rats and others who love making wine. Each excursion includes a visit to one of the area's flagship wineries as well as a few carefully chosen hidden gem wineries. The boutique wineries are custom selected based on the taste preferences of each days' guests. Your chauffeur will escort you inside and introduce you to the wine tasting room staff. The experienced guides share their knowledge about local wine, grapes, terroir, and food and vineyard history.
---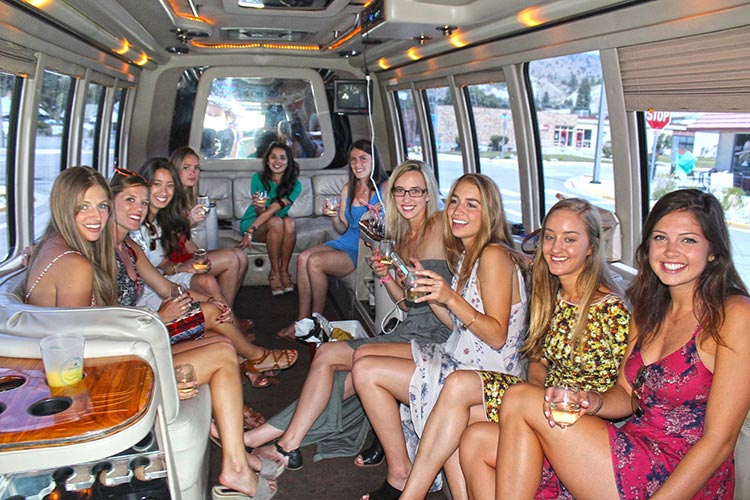 Lakeside Limousine
Lake Chelan Valley boasts over 30 wineries and tasting rooms and Lakeside Limousine can take you to a whole bunch of them—in style! They'll supply stretch limos, SUV limos, a limo bus or a van, to provide an "experience" of not just tasting wine but learning the wine fundamentals. The chauffeurs are well trained in the wine specifics of the Lake Chelan terroir and have developed personal relationships with the wineries. Dressed in resort casual polo shirts with logo, the drivers are never stuffy, and always eager to help assist in the wine education process. The tours are perfect for bachelorette parties, Chelan getaways, and other groups. So grab six to ten of your closest wine tasting friends and book the six-hour limousine package tour. You'll spend four hours tasting at Lake Chelan wineries plus a two-hour lunch or dinner afterward. Leave the driving to the professionals while you take in the beauty of this alpine lake region.
---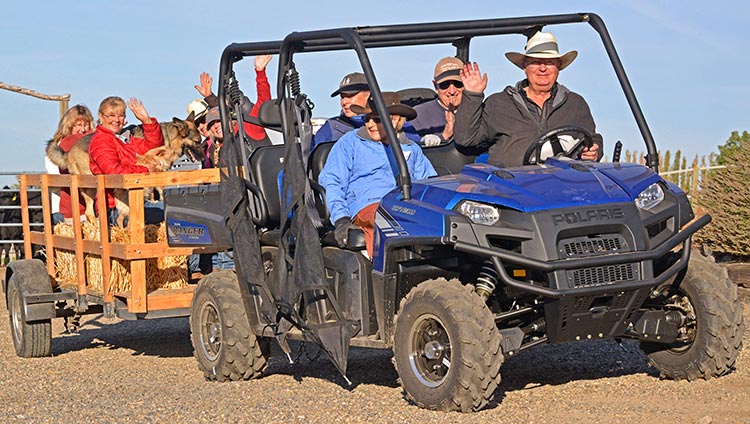 Cherry Wood Bed, Breakfast and Barn
Ever heard of a "cowboy limo"? We hadn't either, until we heard about Cherry Wood B&B's hay wagon hitched up to an all-terrain vehicle. Sitting on a hay bale seat, you'll be carted along in an open-air tour of vineyards in the Rattlesnake Hills AVA and wine taste at up to four wineries. The hay wagon tours take in more wineries than their horseback tours, and it's a darn sight easier on your "saddle." Includes cheese plate and fresh fruit samplings during the ride plus a delicious picnic lunch at one of the wineries. Tour operators Pepper and Terry Fewel invite you to unwind, kick back and have loads of country fun through wine country. Horseback winery tours are also offered.
---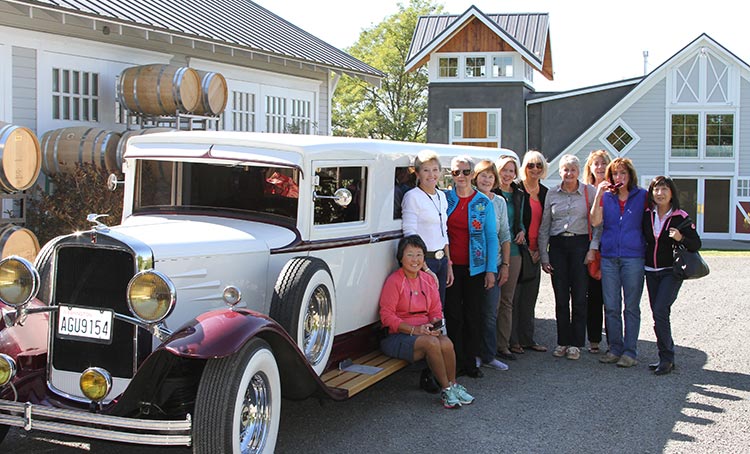 Dream Ride Charters and Tours
Channel the Gatsby-era vibe and shimmy onto the one-of-a-kind 1930 Durant deluxe limo that holds up to 10 wine-loving passengers. Your friendly guide will work with you to create a customized wine tour of Walla Walla Valley wineries as you sit back and soak in views of the Blue Mountains. This unique limo combines the classic style of the 1930's (like an inlaid hardwood floor) with today's modern amenities including air conditioning, fiber optic ceiling lights and a port for your music playing devices.  And, of course, cool wine storage for 30 bottles. Dream Rides can create an itinerary, or you can select the wineries. Dream Rides also offers a lunch option where the driver sets lunch out on the patio of one of the wineries. The talented chauffeur also serves a your personal photographer and shares the pictures with the guests at no charge. "It's our goal to make our guests feel like royalty and make their visit to Walla Walla a memorable experience," says owners Joe and Lisa Petrello.
---