June 2016 — Washington's wineries offer some of the most idyllic concert settings in the nation. From amphitheaters to vineyards, even a historic barn, there's a groove sure to please everyone among our top selection of outdoor concert series.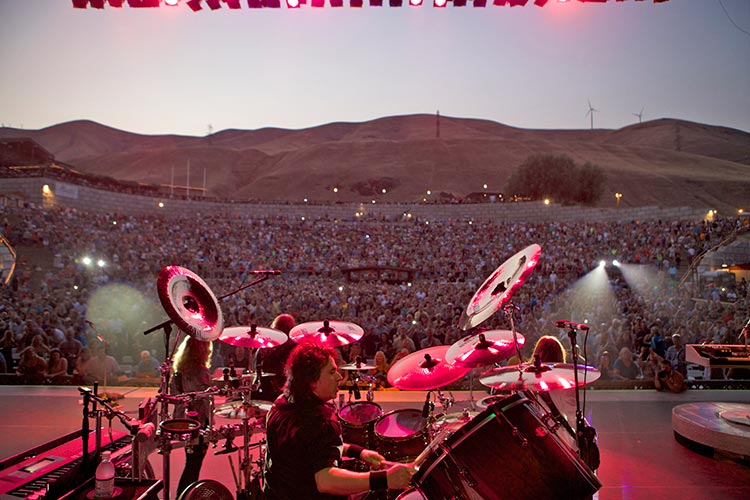 Maryhill Winery, Goldendale
Located on the Columbia River Gorge in the town of Goldendale, Maryhill Winery's location is absolutely perfect for music. With its stunning Gorge backdrop, a panoramic view of Mount Hood, and amphitheater set into the sloping hillside, few concert settings can rival this venue. When the sun sets behind the stage and the music floats over you from the great natural acoustics—with a glass of wine in hand—you'll understand why Maryhill Winery is truly a world-class concert venue. Every summer the 4,000-seat amphitheater hosts an all-star lineup playing a variety of music from country to jazz to blues and of course, rock & roll. This year's headliners are Tears For Fears, Jeff Beck, Buddy Guy and Chris Isaak.
---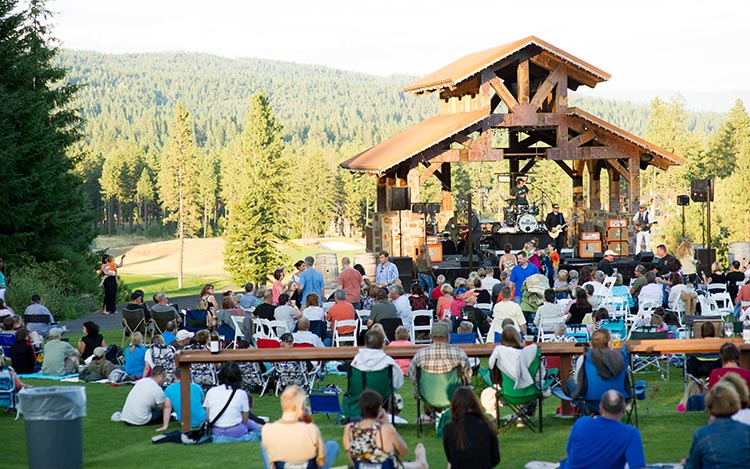 Swiftwater Cellars, Roslyn
In 2012 Swiftwater Cellars built a 2,500-seat amphitheater with a superb view over the forest-clad Cascade Mountains. In addition to general admission tickets, this classy winery offers an upscale concert experience with optional VIP seats, private party options and tableside wine service. The eclectic music presented at Swiftwater ranges from country to jazz to rock & roll, and star musicians have included Three Dog Night, Lonestar, and Josh Turner. Built around the site of Roslyn No. 9 Mine (closed in 1963) you can still see the mine entrance in the winery's forecourt. Get to the concerts early to taste excellent wines in their cavernous tasting room with sweeping views of Rope Rider golf course, and warm fireplaces built from stone sourced from Montana quarries.
---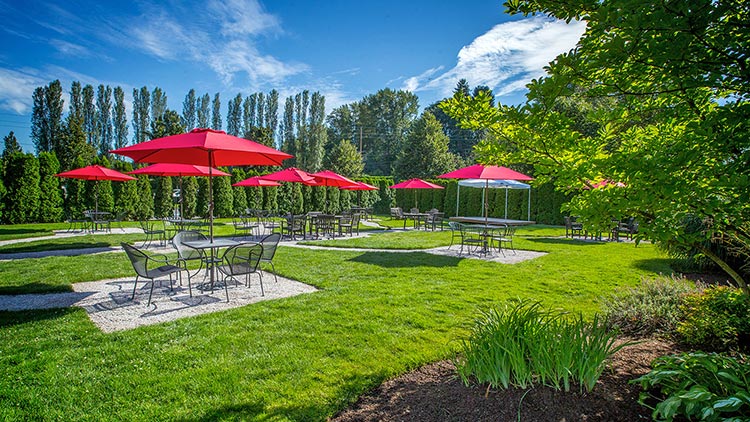 Columbia Winery, Woodinville
One of the state's iconic pioneer wineries, Columbia Winery is renowned for its excellent food and wine pairings, including its signature flatbreads and other small bites crafted by the winery's culinary team. The Sunday afternoon concerts are laid back with table or lawn seating and easy access to the wine bar. The music series presents local up-and-coming indie bands that form part of Seattle's rich music tapestry. Starting July 31st through September 11th, all eight concerts are free to attend or purchase an advance ticket for $15 for a glass of wine and discounts on additional bottles.
---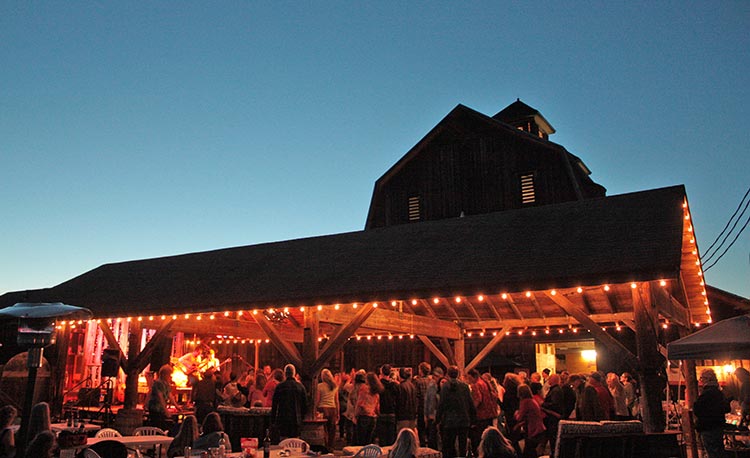 Olympic Cellars, Port Angeles
Now on its eighth concert year, Olympic Cellars concerts are outside with a big in-your-face view of the Olympic Mountains. As the sun sets and the moon rises, the band plays while concert attendees are up on their feet dancing the evening away. Concerts are held rain or shine with the band and dance floor under a covered patio. Food vendors are on-hand and wine is sold by the glass and bottle. Regional groups from Seattle, Port Angeles and Vancouver, B.C. regularly play here, from Beatles music to reggae to Celtic fusion and rock. One of the original 15 wineries in the state, the winery is known for its fun Working Girl wine labels and 100-year-old harvest bell. They hold the summer concerts every Saturday from July 16th through August 27th.
---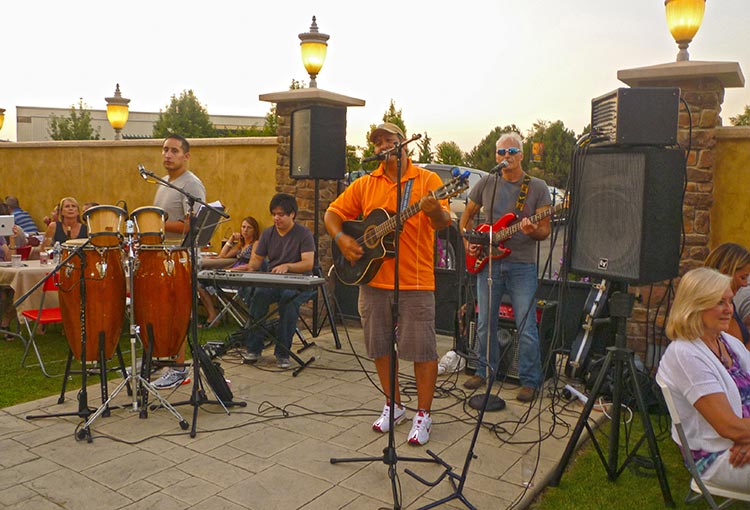 Winemakers Loft, Prosser
Winemakers Loft's summer events are in their sixth season. Coyote Canyon Winery, Martinez & Martinez Winery, and McKinley Springs Winery host the "Lounging at the Loft" Summer Music Series in an intimate Mediterranean-style courtyard in Prosser Vintner's Village.  There's nothing like dancing around a fountain to transport you to the Riviera. Each winery takes turns hosting events, adding their own flair by selecting live music acts and food vendors, making every event unique. This is reflected in the variety of music from country, classic rock, blues, and Latino/Tejano, to rockabilly and western swing. Wines from all three wineries are available at the concerts and food is always available.
---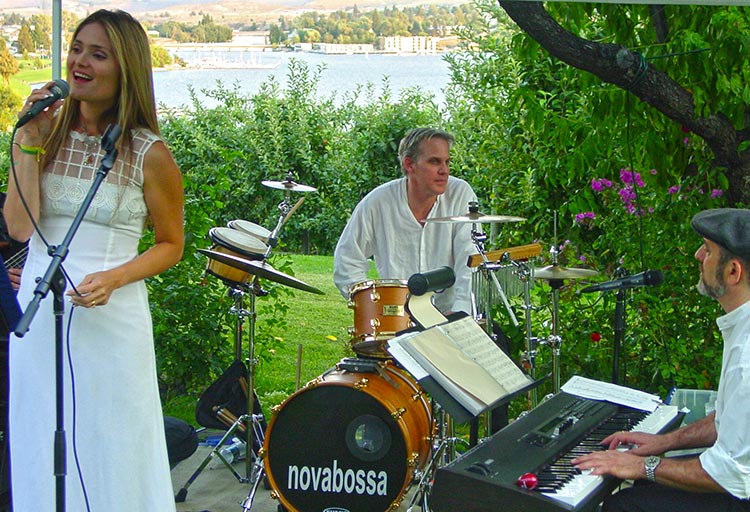 Vin du Lac, Chelan
With an emphasis on delicious food inspired by regular trips to Napa, Paris, and Provence, Vin du Lac captures the concept of lakeside dining al fresco nicely with great food and hearty wine, served on the patio surrounded by vineyards. Not to mention the gorgeous lake views through the trees from this 34-acre orchard. Vin du Lac's live outdoor concerts emphasize fresh talent that are encouraged to play their original music, with style, fun, and flourish. With sparkling blue Lake Chelan in the background, it's an intimate setting to enjoy a bottle of wine, summer-fresh bistro fare, and listen to talented up-and-coming musicians from around the Northwest. Their concert series is held on Saturday nights, starting in late May and finishing October 8, 2016.
---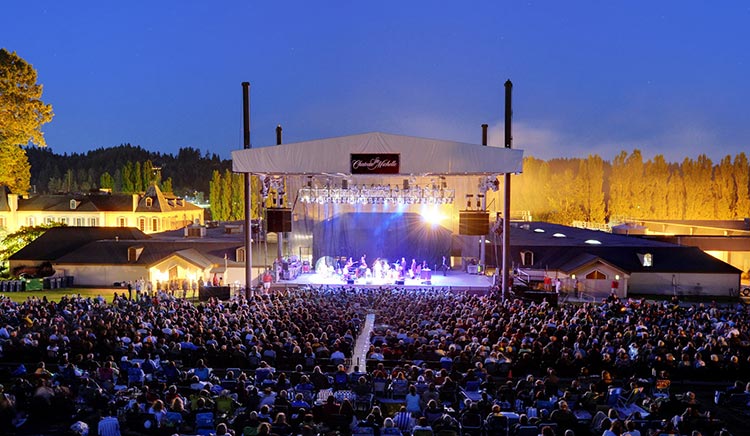 Chateau Ste. Michelle, Woodinville
Chateau Ste. Michelle's concert grounds are on a gently sloping grass field only a stone's throw from the Chateau. With charming views across the lush Woodinville Valley, the Ste. Michelle concert vibe is both mellow and romantic. This summer's concerts span a range of pop, jazz, rock and blues: Paul Simon, Bob Dylan, Chicago, Lyle Lovett & His Large Band, Frankie Valli & The Four Seasons, and Bonnie Raitt to name but a few. Book your tickets early for the Chateau's summer concerts as the 4,300 tickets for each show tend to sell out. Get to Woodinville a few hours early to visit a few of the town's 100-plus wine tasting rooms.
---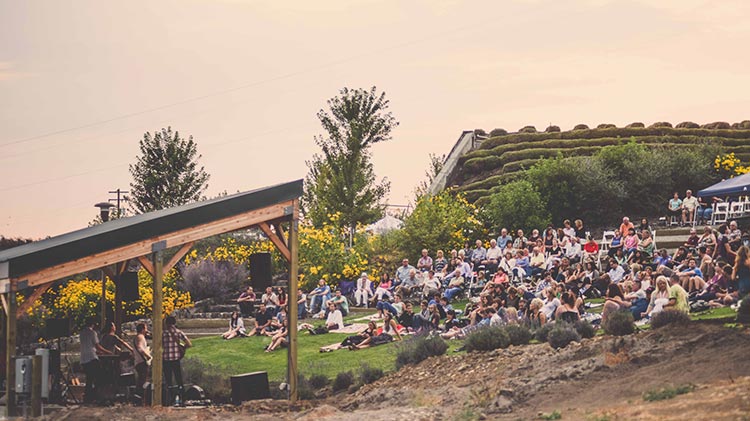 Gilbert Cellars & Hackett Ranch, Yakima
The Gilbert family has owned the Hackett Ranch for decades, where this small family winery produces their wines just west of downtown Yakima. They started their summer ranch concerts in 2011, a diverse summer music series called Music in the Vines with talent from rock & roll, country, and folk music, held in their grass amphitheater. This is a blanket-and-lawn-chair affair, and the concerts are timed for when the sun sets on the vines. Popular Seattle-based orchestral-pop band Hey Marseilles has performed here for the past five years. The Gilbert family handcrafts premium varietal Washington wines.
---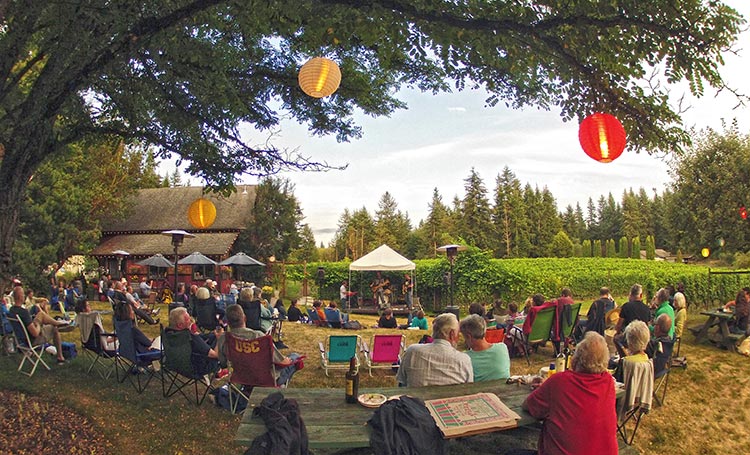 Whidbey Island Winery, South Whidbey
More than 25 years ago Whidbey Island Winery planted its first vines and has earned a reputation for estate whites and Pinot Noir. Magical, low key, and intimate best describes Whidbey Island Winery's summer concerts attended by small crowds. The compact stage backs up against the vineyard, with a forest of tall cedars in the distance.  Concert goers pick a soft grassy spot on the gentle slope overlooking the stage, set up their blankets or chairs, and enjoy wines, picnics and dancing under the old apple trees. Local musicians from the island and Seattle comprise the concert scorecard with groups and performers like Pearl Django, Krashzen, Ian McFeron, and Janie Cribbs. Music here typically includes Americana/rock, gypsy jazz, folk and some tunes "that blur the genre lines."
---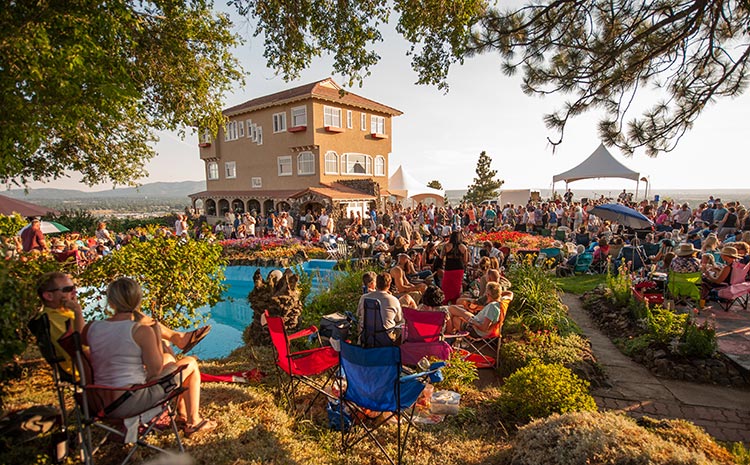 Arbor Crest Wine Cellars, Spokane
Perched up high above the Spokane Valley with astounding views, the Cliff House makes a grand setting for a summer concert series. Every Thursday, from the first week of May to the last week of September, a one-piece band plays in the "Performers on the Patio" Series. The informal first-come-first-served seating provides a casual atmosphere for friends and family. On Sundays, music from regional five to seven piece bands enlivens the grounds, with the musicians performing in a more formal setting right next to Cliff House. Music at these events is diverse; from big bands to country to rockabilly, plus rhythm and blues, soul blues, funk rock, and even Motown. Al fresco style foods are offered at the wine stations sprinkled around the grounds.