European influences run deep at these Washington wineries—from architecture, food and wine

Tsillan Cellars, Chelan
Drawing inspiration from many teaching trips to Italy and a love for the Italian lifestyle, Dr. Bob Jankelson began designing Tsillan Cellars in 2003 to resemble an Italian estate. The tasting room, completed in 2004, features 80,000 pounds of stone and marble as it conforms to the Golden Ratio, an ancient concept of nature used by famous Italian Renaissance architects. Natural materials, many imported from Italy, exquisite artistic details and Tuscan hues transport guests to an authentic Tuscan style retreat. With a 45-foot tasting bar topped with Carrara Rosa marble and elegant carved stone fireplace, the warm space invites guests to appreciate the ambiance of an authentic Italian estate while savoring a glass from their selection of Italian style wines such as Pinot Grigio, Barbera and Sangiovese.
---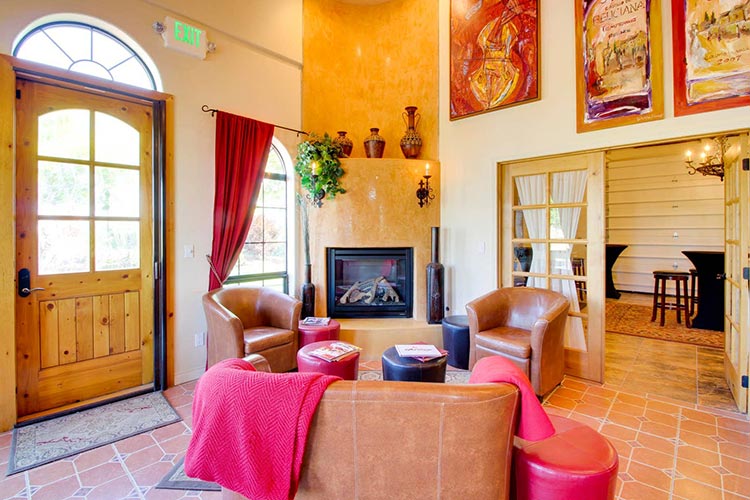 Castillo de Feliciana Vineyard & Winery, Walla Walla Valley
Entering Castillo de Feliciana is like stepping into a casita in Southern Spain. Owners Sam and Deborah Castillo were born in Spanish New Mexico, and Deborah's grandmother's Spanish heritage influences are everywhere. The tasting rooms in Walla Walla and Woodinville were inspired by family trips to the Andalucía region of Spain. "My goal was to have our customers experience Spain," says Deborah, who also rents a casita behind the winery on Airbnb. The focus is on estate-grown Spanish varietals, including Tempranillo, Albarino, Graciano and Garnacha. Go for the tasting and linger over a glass of authentic style sangria—the secret recipe was inspired by sangria the Castillos discovered in Rota, a small town in Spain.
---

Bonair Winery and Vineyards, Zillah
Gail and Shirley Puryear have always had a love for wine and travel. A trip to Southern France brought the couple to a chateau in the countryside—yellow with bright blue shutters—and they immediately fell in love. They took photos and used the inspiration to design their Yakima Valley tasting room to match their focus on European-style wines. A 35-acre vineyard surrounds the tasting room. Sit and sip a glass amid the landscaped garden, experience a walk through the vineyard or bring a picnic for a relaxing afternoon by the duck pond.
---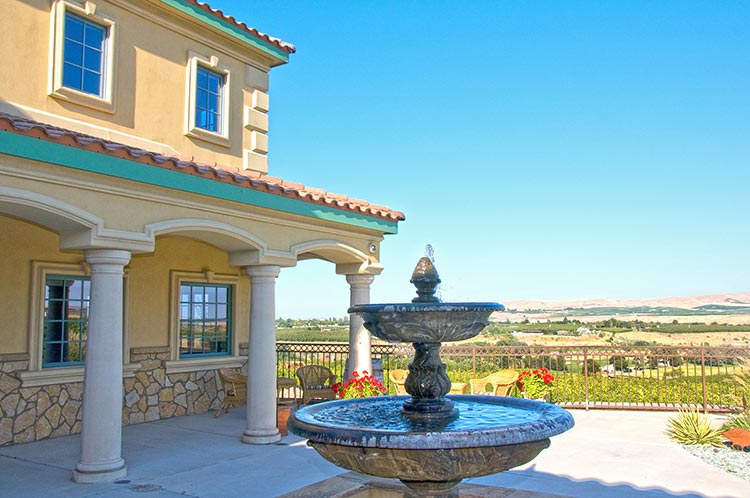 Chandler Reach Vineyards, 
Benton City
This Tuscan-style escape touts estate vineyards that wrap around the tasting room and down to the Yakima River. Owners Len Parris and his wife Jane credit the winery's existence to the inspiration drawn from a trip to Tuscany south of Sienna. Reminders of their trip are found in the decor of the tasting room, from the warm patina of the interior walls, floral arrangements and artwork to the Florentine fountain in the courtyard. The vantage point offers panoramic views that could easily resemble the Old World as much as eastern Washington. Closer to Seattle, head to their satellite tasting room in Woodinville where imported Italian roof tile lends an authentic touch. Get a taste of their Sangiovese, Super-Tuscan and other varietals.
---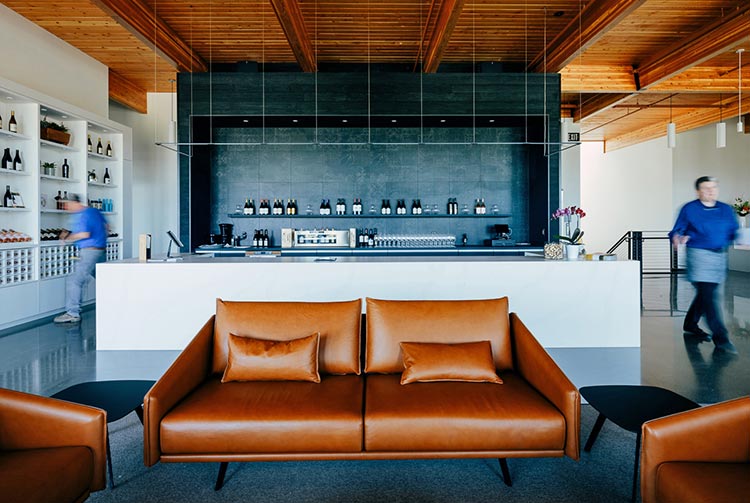 Valdemar Estates, Walla Walla
After 130 years of making wine in Spain, Bodegas Valdemar launched a state-of-the-art winery in Washington. The sleek, Euro-modern tasting room was built under the leadership of fifth-generation family member, Jesús Martínez Bujanda, and reflects the harmonious beauty of south Walla Walla. His initial steps was the hire of winemaker Marie-Eve Gilla and forging ahead with estate vineyard plantings in the Walla Walla Valley AVA. Wine flights include Bodegas Valdemar's Spanish red and white wines, as well as locally sourced Valdemar Estates Syrah, and are served with tempting tapas bites—Ibérico ham, chorizo, boquerones, piquillo peppers and other gourmand delights.
---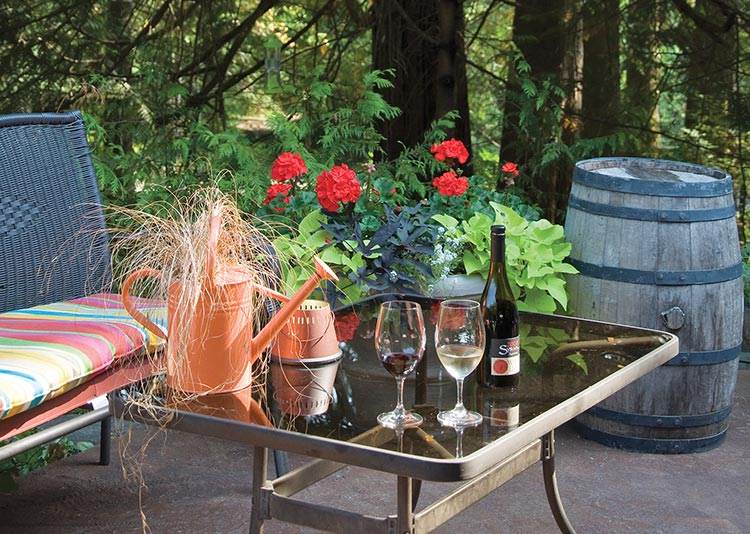 Walter Dacon Winery, Shelton
Lloyd and Ann Anderson's winery exudes woodsy charm in spades. Don't expect French-style castles here, just magnificent small-lot craft wines. The wrought-iron entrance gate is adorned with metal grape leaves and the slogan, Experience the Rhône. While studying winemaking at UC Davis in the early 2000s, Lloyd had a revelation over a glass of 1995 Guigal Hermitage Rouge. As Lloyd recalls, "I swirled it and thought it was just so good!" Born from the couple's love of Rhône-inspired reds, the winery produces three different versions of Syrah. Labeled with names like Magnifique, Beaux and Belle, there is true beauty in every bottle.
---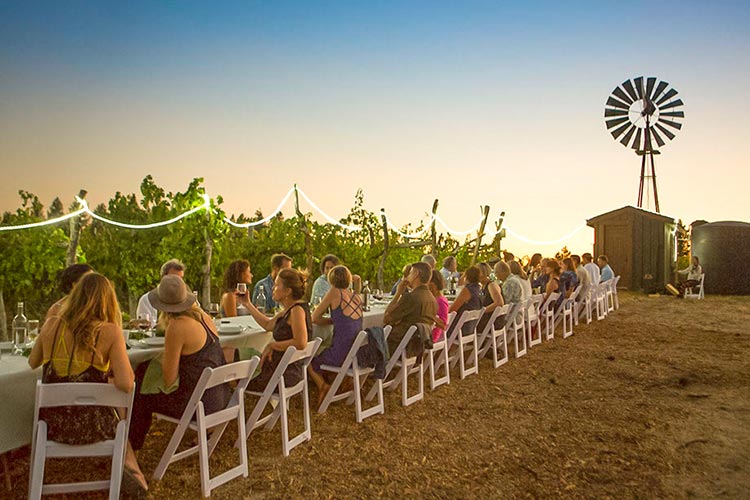 Domaine Pouillon, Lyle
Alexis Pouillon's lineage traces back to "an obscure family of French nobility." After the family estate was divided amongst his older siblings, he was left with a 4×7 meter plot of land in the small French village of Pouillon. Alexis spent two years at the famed Chateau Beaucastel in France's Châteauneuf du Pape region learning winemaking before coming to America to make a name. Excited by the prospects of the Columbia Gorge AVA, he planted two acres of Rhône varietals and started the winery with his wife, Juliet, in 2005. The tasting area has grown over time from the shade of a rustic barn to a clean, tidy tasting room with outdoor seating, making it a marvelous country setting for wine tasting.
---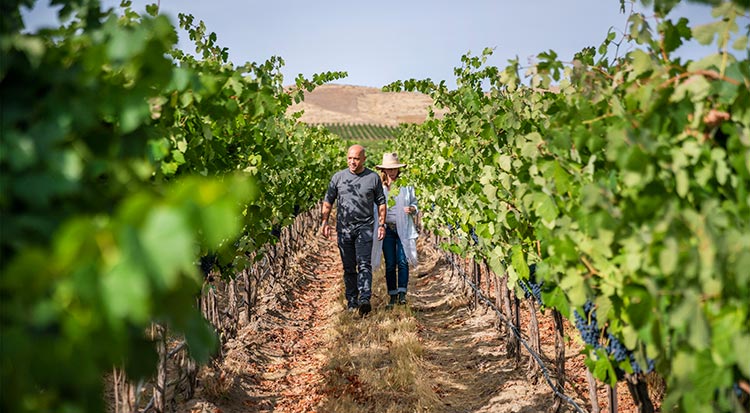 Mansion Creek Cellars, Walla Walla
Mansion Creek Cellars is the story of a family's love affair with Iberian varietals. "Mama" Julia Russell, a native of Galicia in Northwestern Spain, founded the winery in 2007. Now run by her son Denny Russell and his wife Tina, the majority of their fruit comes from the Red Mountain AVA, with a priority on Iberian-style red blends that feature Touriga Nacional, Souzão, Tinta Cão and Tempranillo grapes. "Our vision and mission is to continue to produce high quality wines and showcase non-traditional varietals and blends," says Denny. "We want to carry on her legacy."
---

Vin Du Lac, Chelan
This tasting area and bistro are like discovering one of those fabulous two-room cafes in Paris tucked off the Avenue de Champs-Élysées. The winery's name is French for "wine of the lake" and the focus is on French varietal wines, many harvested from estate vineyards behind the bistro. The menu offers a galaxy of Mediterranean dishes, starting with baguette and fromage, moving to Nicoise salad with Ahi tuna and classic croque madame. Live jazz keeps the atmosphere soulful during weekend nights throughout the year.
---
Col Solare, Red Mountain
Italy's Antinori winemaking family teamed with Chateau Ste. Michelle, building its facility on Red Mountain surrounded by 40-acres of estate vineyards. In homage to the Italian name, the vineyard is planted in a fan-shape, with rows radiating out from the winery like rays of sunlight. The winery sports a confluence of Old World and modern architecture, with a traditional barrel chai that flows into a contemporary cellar and tasting room. A bell tower stands 56-feet-tall with its 1,000-pound bell rung each year to mark the celebratory beginning and end of harvest.