Cherry Wood Bed, Breakfast and Barn brings a western flare to wine country glamour camping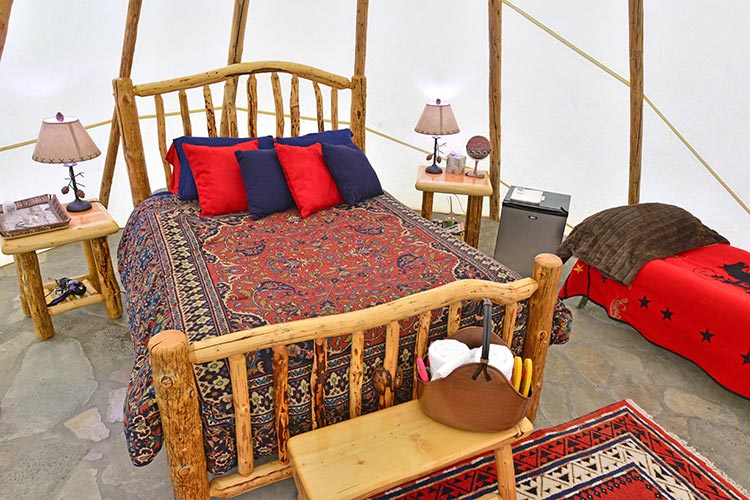 DUST OFF your cowboy boots and head to the country for an unforgettable few days of upscale camping at Cherry Wood Bed, Breakfast & Barn.  The ranch is sprawled out on a gently elevated south-facing slope in the Rattlesnake Hills appellation (named after a mountain range, not a reptile), home to almost two dozen Yakima Valley wineries and stunning valley vistas.
Like the great outdoors, even standing inside one of the 22-foot tall luxury teepees gives the impression of an immense, roomy accommodation (think vaulted ceiling).  Each is private, fully powered and self-contained, mounted over a sturdy and protective concrete and stone pad.  Comfy log beds, Ralph Lauren-style western throw rugs and snug bedding make this an indulgent version of camping.  Other surprises include bedside lamps, electric heaters, outdoor sinks, even a mini fridge.  "We try to provide every thing for the guest that a regular motel would have available," says innkeeper Pepper Fewel.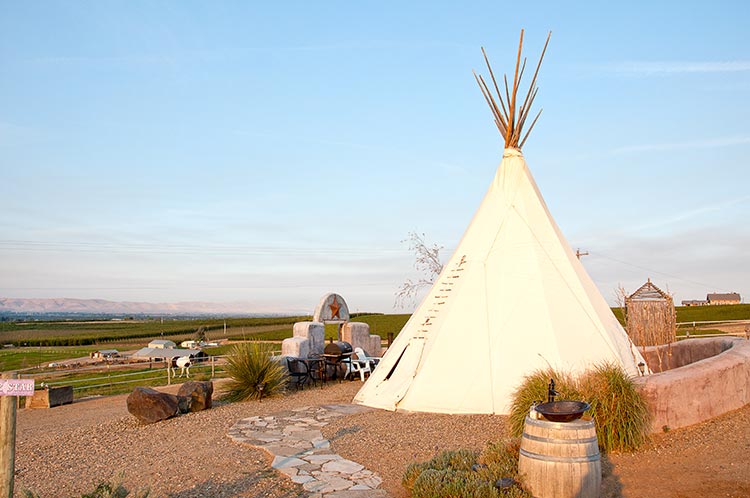 Extra thoughtful touches are appreciated by anyone who has roughed it outdoors, such as the fixings for marshmallow and chocolate s'mores stocked in each teepee.
"It makes us feel so good when a guest says, 'I am so relaxed and peaceful.'  We try to make the experience a relaxed getaway for a few days from their busy lives," says Pepper.  "You are able to take the time to live in the moment."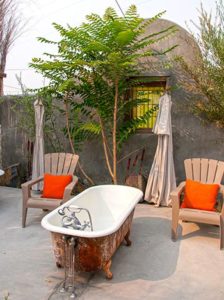 Dozens of horses graze in the pasture, many from the horse rescue program that innkeeper Pepper Fewel and her daughter, Tiffany, passionately run.  Horseback rides are available, led by trail boss Tiffany through sun-drenched vineyards and orchards that lead to two nearby wineries.  All proceeds go directly to the Fewels' rescue program.  "I truly hope that all our guests leave feeling that they were special, because each and everyone that comes and contributes to our cause of saving the horses is special," says Pepper, a lifelong horsewoman.  "Our horseback tours are our passion here at Cherry Wood.  We do all this work for the love of the horse.  We take in older horses that are no longer wanted, and give them a purpose and longer lives."
Riding in the saddle at a leisurely gait through scenic backroads is more than an incredible wine adventure, it's a chance to absorb and learn about the abundant agriculture that marks the countryside.
"When you go on the trails you see, feel and smell so much more than by a car.  All your senses are involved when you ride through fields and vineyards," explains Pepper.  "All the wineries and property owners allow us to visit and ride across their property; it feels like a family and we all work together to give our guests the best experience they can have."
For those interested in doing more wine tasting than the horseback ride affords, climb aboard Cherry Wood's hay wagon hitched up to an all-terrain vehicle that will escort you on a "cowboy limo" winery tour for the day.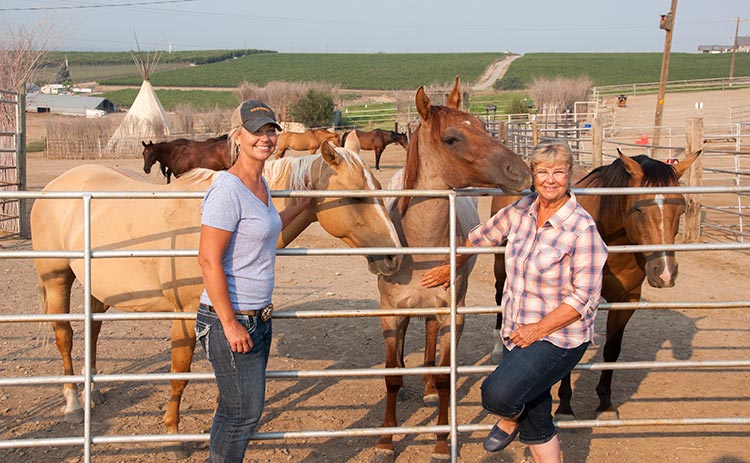 Following an afternoon of tastings, unwind with a relaxing twilight soak in one of the ranch's outdoor antique claw foot tubs with soothing delicate scented bath salts.
Enjoy sunset gazing from your secluded outdoor seating area and settle down to savor a bottle of wine, basking in the warm blaze from a chimenea (portable outdoor fireplace).  As the stars set in overhead, attentive ears may be treated to the ritualistic chorus of nature—the hoot of a barn owl, the low whinny of a stallion, the howl of a distant coyote.  As the nighttime sounds turn to white noise, you'll slumber peacefully inside your snug teepee, content in the knowledge that a hearty country breakfast of fresh and delicious local fare awaits in the morning.
To sum up this glamping experience in a single word borrowed from a 1930's Bing Crosby song (I'm an Old Cowhand) and later uttered tongue and cheek by actor Bruce Willis in the "Die Hard" movie…Yippee-ki-yay!
Written and photographed by John & Adean Vitale
Book a Glamor Teepee or B&B Room
Cherry Wood Bed, Breakfast and Barn
Teepee lodging available Wed-Sun, April through early October.
3271 Roza Drive, Zillah WA
PH: 509-829-3500
www.cherrywoodbbandb.com
Nearby Tasting Rooms
Cultura Winery
Open Fri-Sun 11am-5pm
3601 Highland Drive, Zillah WA
PH: 509-829-0204
www.culturawine.com
Dineen Vineyards
Open Fri-Sun, 12-5pm
2980 Gilbert Rd, Zillah WA
PH: 509-823-5347
www.dineenvineyards.com
Two Mountain Winery
Open daily 10am-6pm
2151 Cheyne Rd, Zillah WA
PH: 509-829-3900
www.twomountainwinery.com
Tanjuli Winery
Fri-Sun 10am-5pm (extended days in summer)
209 N Bonair Rd, Zillah WA
PH: 509-654-9753
www.tanjuli.com
More Wine Touring
For more tasting rooms, visit www.wineyakimavalley.org or www.yakimavalleywinecountry.com
Good Eats
Bon Vino's Bistro & Bakery
Order picnic take-out, or a sit-down meal. Good selection of local wines.
Open Mon-Sat 6am-3pm
Sun 7:30am-1pm
122 N. 16th St., Sunnyside WA
PH: 509-837-3936
www.bonvinosbistro.com
Snipes Mountain Brewery & Restaurant
Large selection of local wines and microbrews, open for lunch & dinner.
Open daily: 11am-9pm
905 Yakima Valley Hwy, Sunnyside WA
PH: 509-837-2739
www.snipesmountain.com
Santiago's Mexican Restaurant
Upscale Mexican fare, big tequila list and microbrews. Casual setting in downtown Yakima.
Open Mon-Sat.: 11:30am-9pm
111 E Yakima Ave, Yakima WA
PH: 509-453-1644
www.santiagos.biz
Craving More?
For more travel options, visit www.visityakima.com