Base camp at Eason Estates Bed and Breakfast, then tour a cluster of warehouse wineries and a distillery crafting beauty with their medium in the Artisan Hill District of Woodinville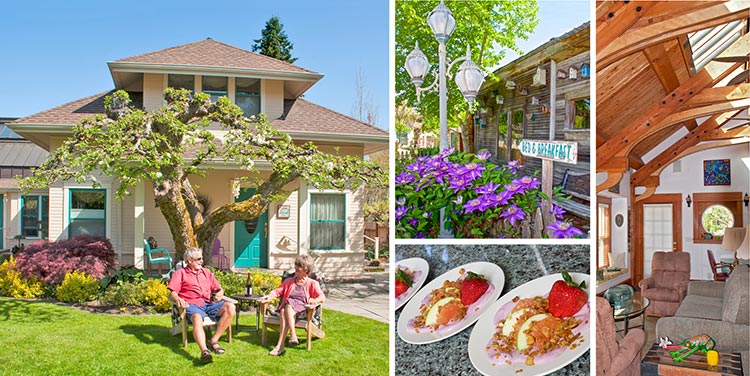 Reprinted from the Summer 2018 print issue of Washington Tasting Room magazine
WITH 116 wineries residing within a compact five-and-a-half square mile radius, Woodinville is conveniently designed for both wine producer and consumer. In the midst of the critical mass visitors will still find quiet oases like the Sammamish River Trail, an 11-mile paved trail that runs from Redmond's Marymoor Park to Bothell's Blyth Park. The stretch from Bothell to Woodinville allows for wildlife viewings such as beavers, herons and hawks, in addition to tasting room encounters without the need for motorized transportation.
Another sort of gem, conveniently located steps from this trail—and just minutes by auto from Woodinville's numerous tasting rooms—is Eason Estates Bed and Breakfast. Celebrating its ten-year anniversary this year as a bed and breakfast, the original residence dates back to 1906 and is a classic example of an American Foursquare. Owner Shaun Evans had the vision to attach this four-bedroom property (listed on the State and City Historical Register) onto his existing home via a custom-built solarium that now serves as the breakfast room for overnighters.
Wife and co-owner, Beth Rosenzweig, has lent her artistic touch to every space of the elegant, yet homey property, and is also responsible for the mouth-watering morning meals. Ensuite bathrooms ensure privacy for every guest and touches of hospitality include home-baked goods in the guest kitchen, French-press coffee delivered to your door before breakfast—and Shaun might even have a glass of wine from a local producer available at check-in. Fully energized for the day, it's time to start exploring a handful of tasting rooms in the Artisan Hill warehouse district.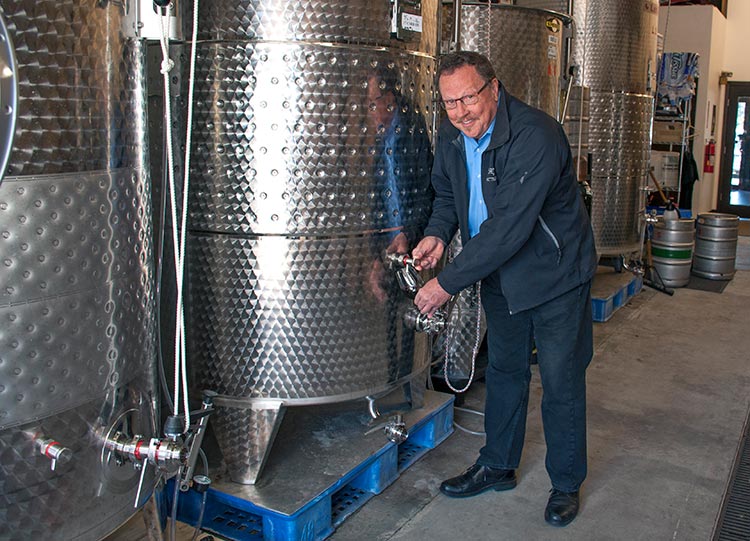 In garagiste fashion, Rob Entrekin began making wine in his licensed and bonded garage in the Finn Hill neighborhood of Kirkland back in 2008. His curiosity about the differences between wines from celebrated names like Gorman Winery and Mark Ryan that source from the same vineyard sites led him to begin asking probing questions like, how much does the vineyard influence the end product? What about a specific block in the vineyard? How much is clonal?
More and more, he realized his preoccupation growing into passion and enrolled in a two-year distance learning enology program through Washington State University. He caught the bug, picked a scant one-and-a-half tons of fruit and spent the next four harvests in what he calls his six-ton garage. "It could park two cars or make six tons of wine. That's it," Rob jokes.
---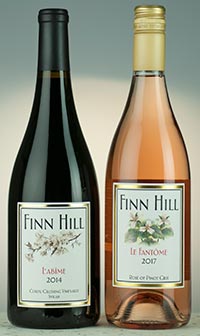 Finn Hill 2014 "L'abime" Corfu Crossing Vineyard Syrah, $30

Editor's Choice – Outstanding (91-94 pts.)

Meaning "abyss," this Syrah starts with earthy aromas of clove, tobacco, leather and dark red fruit. Beautifully sculpted, with sinewy structure and loaded with silky, mouthfilling flavors of red plum and blackberry layered with expressions of licorice, baking spice and fresh vanilla accents. Powdery fine tannins give grip to the bottomless finish.
–JV
Finn Hill 2017 "Le Fantome" Rosé of Pinot Gris, $20
Editor's Choice – Outstanding (91-94 pts.)
Styled after a Trentino Rosé, this bone dry Pinot Gris Rosé leads with a smooth, viscous mouthfeel counterbalanced with snappy acidity that ripples with undercurrents of watermelon rind, dried strawberry and cranberry, finishing with zesty notes of lemon citrus and spice.  –JV
---
Contracting with five different vineyards in South Central Washington, Rob focuses on single vineyards and single varietals to capture a snapshot of that moment in time, like his 2014 L'abime Syrah, which shows notable aging potential and a Rosé of Pinot Gris from Sugarloaf Vineyard.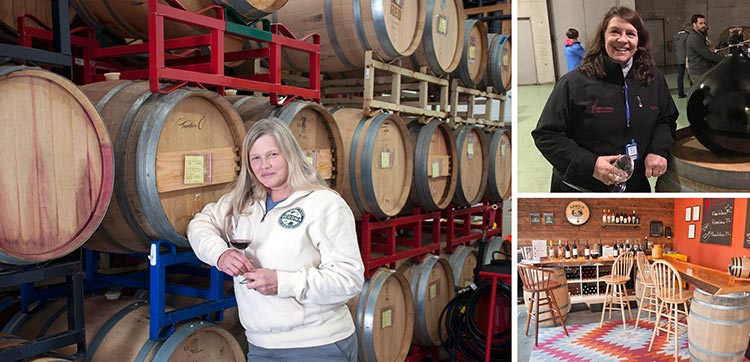 For a winery barely two years old, vintner Pam Adkins has years of experience in both California and Washington. She is visibly moved when she talks about how people like Tony Coltrin (winemaker at Robert Mondavi Winery for over three decades), have helped her over the years; people she thought were untouchable but proved eager to pay forward kindnesses shown to them.
---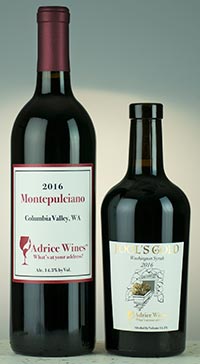 Adrice Wines 2016 Columbia Valley Montepulciano, $38

Editor's Choice – Outstanding (91-94 pts.)

A rare varietal in Washington, delivering aromas of cherry, leather, and warm spice. Tons of vitality emerge from this solidly structured, medium-bodied red, filled with tantalizing flavors of pie cherry, boysenberry, red plum and oregano. Soft tannins and earthy notes linger on the finish.
–JV
Adrice Wines 2016 "Fool's Gold" Washington State Syrah, $50
Editor's Choice – Outstanding (91-94 pts.)
A hedonist's delight, this brawny Syrah was aged in Bourbon barrels to impart nutty notes of caramel and vanilla, mixed with cigar leaf and dark red fruit flavors. Barrel spice notes build traction on the eternal finish. –JV
---
In 2016, when she finally added up her training with Chateau Ste. Michelle, Rex Hill, Mondavi, Orin Swift and others, she decided it was time to get serious. Along with her wife, Julie Bulrice, they packed up 300 cases and 19 barrels of wine that Pam had made from Napa-sourced grapes and headed north, back to Washington where it all began.
Pam loves to experiment, as evidenced by her portfolio that includes Washington-sourced Montepulciano and bourbon barrel-aged Syrah called Fool's Gold. She also wears her heart on her sleeve with Leadfoot Louie, a white wine blend that's a tribute to her late mother with a label that carries an image of the 1955 Thunderbird that gave Helen Louise that esteemed moniker. "Each name and label means something special to us," says Pam.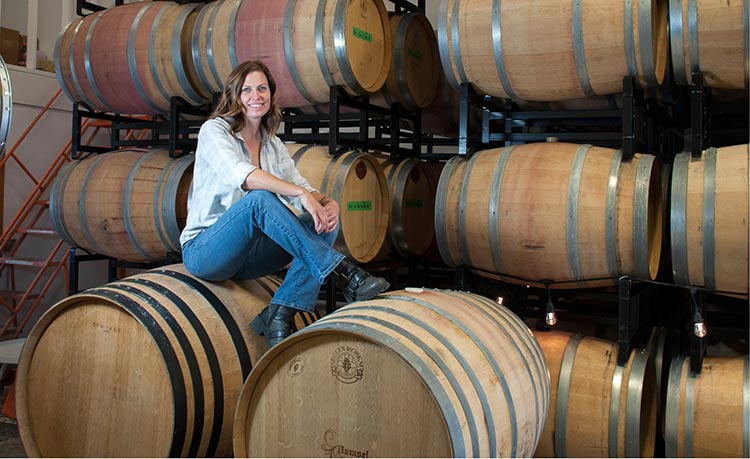 When winemaker Mari Womack was kicking around a name for her label, she knew she wanted to tip her hat to being a female winemaker and bring a level of femininity and romance to her brand. By the same token, she is self-challenged to be a champion for female winemakers. "I want there to be enough women in the wine business for the qualifier 'woman' to go away," says Mari, who expresses she would simply like to see winemakers acknowledged for their talent without gender having to be attached.
---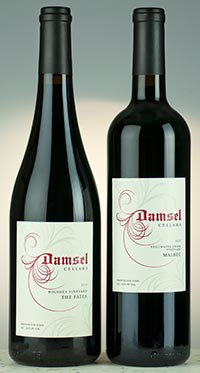 Damsel Cellars 2015 "The Fates" Boushey Vineyard GSM, $36

Editor's Choice – Outstanding (91-94 pts.)

Sultry aromas of tar, peppercorn and dark berries meld with rich concentration on the balanced palate, joined by enticing strawberry, raspberry and black currant flavors interlaced with earthy minerality. Stays focused, with black pepper and spice gaining momentum on the protracted finish.
Grenache, Mourvèdre, Syrah
–JV
Damsel Cellars 2015 Stillwater Creek Vineyard Malbec, $36
Editor's Choice – Outstanding (91-94 pts.)
Powerful, focused and finessed, with brooding black fruit that dominates the ultra-plush mouthfeel, revealing a multitude of blackberry coulis, black raspberry and violet flavors wrapped tightly around nuances of cocoa and roasted coffee. Peppercorn spice runs through firm, powdery tannins on the long finish. –JV
---
There is no question that Mari is crafting darned good wine with the best of them. She says her "head exploded" when she caught the wine bug in her early 20's working in Seattle's restaurant scene. While volunteering at her favorite Woodinville tasting rooms in 2010, she met Darby English and signed on for a four-year "crash course" that earned her the title of assistant winemaker at Darby Winery—all the time building her Damsel Cellars brand on the side.
Mari trusts her palate when grape sourcing, leaning towards the Yakima Valley with Boushey Vineyard, yet sourcing outside the Valley from formidable sites in the Horse Heaven Hills AVA and beyond. Joining her current lineup of predominantly bold yet elegant and nuanced reds are two single-vineyard releases, a Boushey Vineyard GSM blend and a Stillwater Creek Vineyard Malbec.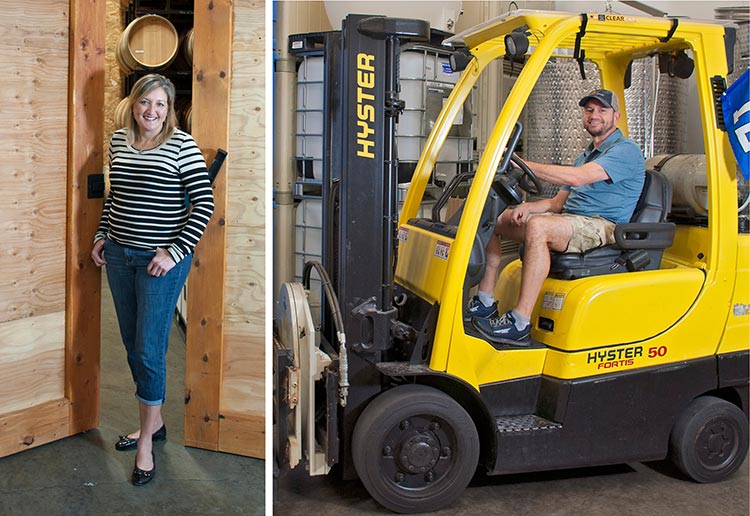 Mike Metheny was a hop head whose career began in aerospace. Lisa Swei was once a librarian for a large law firm in New York and holds a Master's in library science. Together, these long-time co-workers are slowly segueing out of the tech world and into an industry that promotes their creative side. After dragging his poor wife to beer festivals up and down the West Coast, Mike attended a wine festival at The Herb Farm when it was in Fall City, Wash. He became fascinated and a trip to Napa in 2005 solidified his destiny.
Mike started making wine in his garage the same year and lured Lisa in with a bottle of 2007 Syrah and an invitation: "Drink it with pizza."
Lisa's response was, "Let's start a winery."
---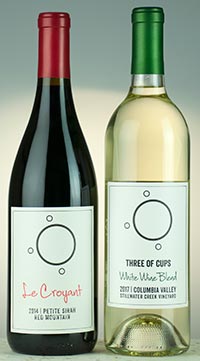 Three of Cups 2014 "Le Croyant" Red Mountain Petite Sirah, $32

Editor's Choice – Outstanding (91-94 pts.)

Bold and masculine, this rich version delivers plush, mouthcoating tannins backed by ripe, polished flavors of plum, blackberry and licorice wrapped around midpalate notes of stony minerality. A dusting of white pepper graces the long, smooth finish.
–JV
Three of Cups 2017 Stillwater Creek Vineyard White Wine Blend, $16
Editor's Choice – Excellent (88-90 pts.)
This blend of Sauvignon blanc and Semillon is crisp and juicy with an undertow of steely minerality backing zesty flavors of grapefruit, Key lime and green apple. Accents of white flowers and blanched almond notes flirt on the racy finish.  –JV
---
Their first release was late 2015 with their winery's soft opening. After apprenticing under Mike, Lisa is now the official assistant winemaker. One of their most popular wines is their 100% bottling of Petite Sirah, which they named Le Croyant. They feel it is an under-rated grape, of which top producers are trying to raise consumer awareness of.
"Le Croyant means the believer," points out Mike. "It made a believer out of us."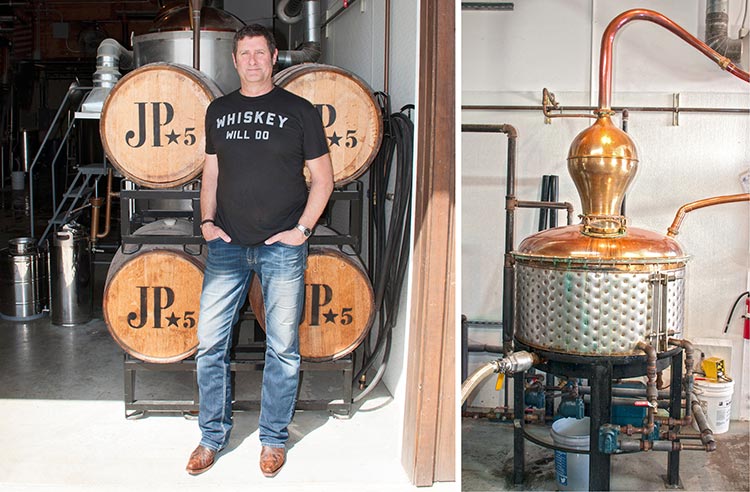 Distiller and owner Mark Nesheim ran restaurants for years. In fact, he was a chef long ago and likens distilling spirits to "cooking in slow motion." The youngest of 15 grandchildren, Mark spent a great deal of one-on-one time with his grandpa, J.P. Trodden, who passed away in 1980. Grandpa Trodden was a mail carrier in a small town in Okanagan County and, during Prohibition, he was known for making detours to pick up whiskey for his friends back in the States. A replica of his mailbag hangs in the J.P. Trodden tasting room.
When Mark and his wife, Jennifer, both decided that he should follow his daydream, Mark gained firsthand experience at Dry Fly Distilling, the first distillery in Washington. Today, J.P. Trodden is the only distiller in the state crafting exclusively bourbon, an American whiskey produced predominately from corn.
---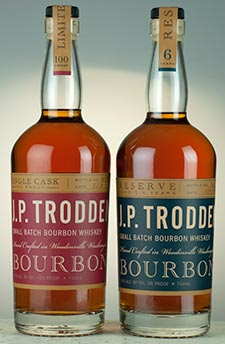 J.P. Trodden Red Label 4-Year Single Cask Bourbon, $79.95

Editor's Choice – Outstanding (91-94 pts.)

Aromas of peppercorn, leather, malt and citrus lead into a full-flavored and complex mouthfeel, with hearty depth to the warm flavors of caramel, maple, vanilla, fresh oak and finely ground black pepper notes that continue long into the finish. 
–JV
J.P. Trodden Blue Label 6-Year Reserve Bourbon, $109
Editor's Choice – Extraordinary (95-100 pts.)
This immaculate reserve offers up rich aromas of toffee, honey, vanilla and macadamia nut introduce smooth balanced flavors of maple, butterscotch and floral hints that carry into the long finish nuanced with honey and sweet corn accents. –JV
---
A family farm in Quincy has supplied their corn and wheat since the beginning. He's beaten out a lot of the Kentucky big boys with his 90 proof three-year aged small-batch bourbon and attributes his hands-on approach versus large production for his success.
Along with his 100 proof, four-year aged single cask bourbon and recently released 96 proof, six-year aged bourbon, Mark even has a morning breakfast offering—a Vermont-sourced syrup aged in used bourbon barrels. Demand for his bourbon is so high that he is in the process of expanding with a larger production facility.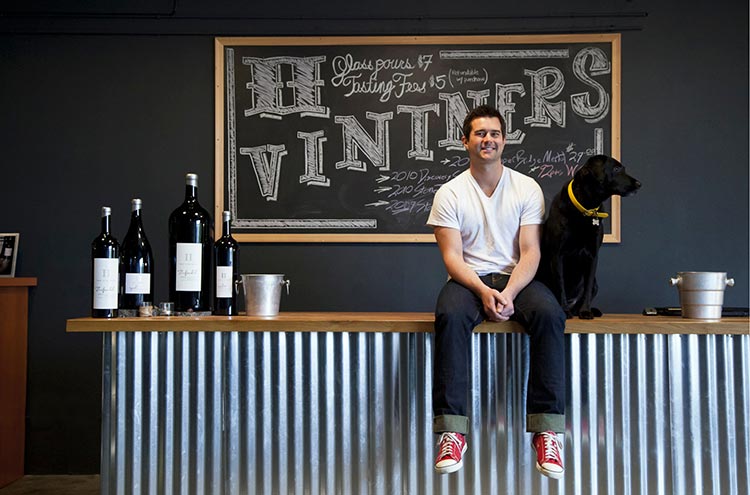 At one point in his career as winemaker for Covington Cellars, Morgan Lee asked the owners if he could start a side project with Syrah and Merlot. Their reply was that those varietals didn't fit their focus but they'd be happy to invest in Morgan to start his own brand. Two Vintners was born and he continues to be head winemaker at Covington.
As often happens, wine disrupted his path to chef/restaurateur when he took a wine appreciation class in his senior year of college. His background includes an internship at Tabor Hill Winery in Michigan and another at Columbia Crest the following year.
At a 5,000 case production, Syrah is a large part of that although Morgan still believes strongly in the attributes of Merlot and also puts out a Syrah/Cabernet Sauvignon blend, as well. Morgan makes "a lot of things that are off the beaten path" like Zinfandel, Cinsault, Grenache blanc and an orange wine named O.G. made from 100 percent Gewürztraminer sourced from Yakima Valley. Wait for it: Two Vintners recently bought a nine-acre cherry orchard in The Rocks District that will soon be planted to vines.
---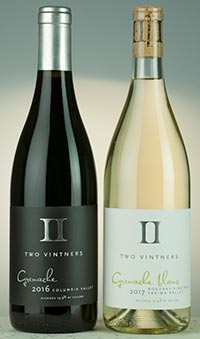 Two Vintners 2016 Columbia Valley Grenache, $25

Editor's Choice – Outstanding (91-94 pts.)

Impeccably balanced and powerful, with jammy flavors of macerated raspberry, strawberry and black currant draped over earthy expressions of peppercorn, saline, rock and mineral notes that extend the lasting finish.
–JV
Two Vintners 2017 Boushey Vineyard Grenache blanc, $25
Editor's Choice – Outstanding (91-94 pts.)
This gem is crisp, clean and light bodied with refreshing lemon citrus, yellow apple and limestone flavors that pick up a slight hint of lanolin on the mid-palate.  There's longevity to the lively, minerally-driven finish. –JV
---
Wine reviews and photographs by editor John Vitale
Article written by Viki Eierdam