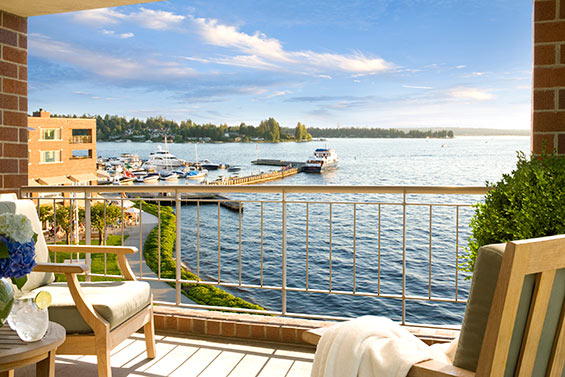 We map out two days of exploration into Kirkland's intimate tasting rooms and cultural attractions.
The thriving city of Kirkland on the shores of Lake Washington makes an ideal weekend getaway for wine lovers. With Woodinville's wine tasting rooms next door reaching a saturation point, wineries and tasting rooms are spilling over to this well-heeled city located 15 miles east of Seattle. You'll also find upscale hotels, trendy boutiques and galleries, and plenty of fine dining.
FRIDAY
1PM: ARRIVAL LUNCH & PADDLEBOARD
You'll find over 70 wines by the glass at Purple Café and Wine Bar, where you can order up warm Bucheron Goat Cheese bruschetta or for a deeply satisfying dish try the risotto of the day.  Picnicking is popular at Kirkland's Marina Park with playful sculptures, bench seating and wide-open lawn to nosh and people watch.  When the sun is out, rent a kayak or paddleboard.
3PM: NORTHWEST CELLARS
Kick off your tasting at Northwest Cellars, where wine variety is the stock-in-trade of self-proclaimed "wine geek" Bob Delf (it's on his business card).  This is one of three tasting rooms tucked together in a quiet corner behind an industrial complex.  All three tasting rooms stay open late on Fridays until 7pm, so feel free to linger.
The vision for the winery came about when Delf received a bottle of wine that was custom labeled as a corporate gift, but upon opening it he found the wine to be of poor quality.  Seeing an opportunity to increase the quality of custom-labeled wines, Delf launched Northwest Cellars in 2004.
"It was a corporate gift, and I wondered why anyone would give you something that awful?  And the answer is that most people never open it.  So my business now serves people who care that the wine is really good, and they like the custom label idea too," says the entrepreneurial Delf.  "We produce private labels for non-profits and schools, weddings, celebrations and anniversaries, birthdays and more."  Imagine your own private wine label for an anniversary or party.
Northwest Cellars specializes in unique wine blends sourced with fruit from top vineyards.  Robert Smasne is the main winemaker, well respected for his own Robert O. Smasne wines, and Delf does all the wine blending.
They also host plenty of events including wine and food pairings, fundraisers and a second Thursday of each month wine and art walk.  Known for award-winning wine at affordable prices, it's a great place to kick off your weekend escape.
4PM: SKYLITE CELLARS
A couple doors down in the same complex is Skylite Cellars.  Based in Walla Walla, the winery is owned by Tom and Cheryl Hodgins, and daughter Ashley Bruton.  A series of custom-etched wine barrels with a long glass and wood top serves as a unique tasting bar; several wine barrel tables and chairs provide extra seating; and a beautiful wine hutch display graces the far wall.
Their signature wines are big bold red blends and generally there are eight wines available for tasting.  Their second label, Hiney Wine, was hatched years earlier and stems from owner Tom Hodgin's radio days.  In the 1980's he built radio towers and radio stations, and his popular southeast Washington smooth jazz station's radio show, "The Hiney Winery," was an instant success.  The wine label of the same name bears the drawing of a woman's "hiney".
5PM: WAVING TREE WINERY
At the end of the building is Waving Tree Winery.  Winemaker Terrence Atkins is from the Goldendale area, where his family has been growing vineyards along the banks of the Columbia River for four generations, since 1927.
Located just below the famed Stonehenge Memorial, the 60-acre Waving Tree estate vineyard has a long growing season with a tempering effect from the river, ideal for Rhône and Italian varietals.  Many of the vines are older, with distinctive flavors.  Terrence started the winery in 2001 and today produces Sangiovese, Syrah, Mourvèdre, Cabernet Sauvignon and Cinsault, among others.
The tasting room opened last spring and this newcomer to the Kirkland tasting room scene is worth a visit.
6PM: HOTEL CHECK-IN
If you're looking for a panoramic sunset view of Lake Washington, the tastefully appointed Woodmark Hotel is the place, located only steps from the marina. A superb alternative is the Heathman Hotel, an upscale boutique hotel in Kirkland's vibrant downtown.  They are serious about guests getting a good night's rest and provide an Art of Sleep bed menu—choose from a luxurious European featherbed, pillow-top or Tempur-Pedic.
6:30PM: DINE ON THE LAKE
The enormous wine cellar in Woodmark Hotel's classy Bin on the Lake Restaurant—itself a revered haunt for in-the-know wine aficionados—has a heavy emphasis on Washington wines.  Dishes highlight seasonal Northwest tastes with a Mediterranean influence.  Savor seared scallops with wild mushrooms, or Prosciutto di Parma with pickled fennel, Tuscan kale with olive oil and garlic, and cavatelli pasta with rapini, garlic and pecorino.  Bonus: you'll enjoy a perfect view of Lake Washington while you dine.
SATURDAY
9AM: COFFEE AND BREAKFAST
Wake up with a cup of hand-roasted artisan coffee at Zoka Coffee Roasters & Tea Company.  Afterwards, stroll around town or drive two miles up the lake to Juanita Bay Park and enjoy excellent birdwatching from the boardwalks over the wetlands.
10AM: SHOPPING
Downtown Kirkland boasts numerous boutiques and galleries, as well as several culinary stores to pick up that new pan or whisk, or whatever you're short of in the kitchen.  Browse at The Epicurean Edge, with hundreds of knife choices for the home chef, or at Sur la Table, with a dazzling variety of kitchenware from Dutch ovens to shiny utensils to oils and spices.
Asher Goods is a men's boutique offering high quality casual and unique wardrobe choices.  Check out Via Lago on Lake Street for fashionable casual, work and special occasion clothing for women, as well as unique jewelry and accessories.
12PM: LUNCH
The lunch options run the gamut from Italian to Greek, American to Asian, with a range of prices and choices.  Try Cactus Restaurant for hearty fresh Southwest and Mexican inspired cuisine in an unfussy setting with indoor and outdoor seating.
1PM: àMaurice Cellars 
A short drive from downtown is àMaurice Cellars, standing at the side of a small industrial lot, where you'll find friendly hospitality and fine wine.
A small family-owned winery and vineyard in Walla Walla, àMaurice is a family affair.  Tom Schafer is the visionary of this small family-owned winery and vineyard in Walla Walla, and his daughter Anna makes the wines.  Tom planted the estate vineyard and coaxed her into helping found the winery with the rest of the family.
"My dad is the instigator," says Anna smiling.  "I graduated college around 9/11, and moved to San Francisco thinking I was going to get a job in wine.  I always thought I wanted to get into the sales side, but my dad found this piece of land and he called me up and asked me what I thought about starting a vineyard."  And the winery was born.
Anna crafts sophisticated reds and whites, letting her imagination and creativity guide her educated palate.  The tasting room in Kirkland is open on Saturdays during most of the year, or by appointment, so plan your visit accordingly.
2PM: FORCE MAJEURE
The majority of Force Majeure wines are sold through a mailing list, but you can taste by appointment if you plan ahead.  This premium winery produces six red wines per year, each crafted by a different winemaker.
Force Majeure wines are all made solely from fruit grown in the Red Mountain AVA. "The way we approach it in the vineyard, and the way the winemakers treat the wines, we get very plush soft tannin structures resulting in a wine that will age for decades without breaking a sweat," says founder Paul McBride. Grapes are sourced from the famed Ciel du Cheval, as well as their estate vineyard, both managed by Ryan Johnson.
Rather than using proprietary names to label the wines, they keep it simple and assign a Roman numeral to each wine. "Think of the number as a jersey number for the winemaker.  Each winemaker has their own number," says founder Paul McBride. The winemakers, or collaborators, are top acts in their own rights: Ben Smith of Cadence, Ross Mickel of Ross Andrew, Mark McNeilly of Mark Ryan, Carolyn Lakewold of Donedei, Chris Gorman of Gorman Winery, and James Mantone of Syncline.
3PM: ART GALLERY
Immerse yourself in fine art at the Howard/Mandville Gallery, an immense gallery showcasing national and regional artists. The friendly owners Dan and Pat Howard have strong ties to Washington wine—they also own Pondera Winery in Woodinville whose wine labels feature several of the gallery's artworks.
4:30PM: SPA MASSAGE
For your late afternoon relaxation, try the Northwest Face Spa at the Woodmark Hotel.  The extensive treatment menu offers both aesthetic and medical treatments from relaxation to therapeutic and skin restoration. The spa shop offers a wide range of health and beauty products to take home with you.
6PM:DINE IN TOWN
Trellis Restaurant at the Heathman Hotel provides an intimate, relaxed dining experience with an Italian vibe and wine menu with over 200 selections. Chef Brian Scheehser uses fresh, young organic fruits, vegetables, and herbs from the restaurant's ten-acre farm in nearby Woodinville.  Trellis serves local artisan meats and offers a farm-to-table dining experience. The seasonal menu includes dishes like sausage and prawns tagliatelle, Penn Cove clams with pesto and fresh basil, and sustainably-raised salmon sautéed with Granny Smith apples.
Written by Roy Stevenson