We feature 16 top wines from the Wahluke Slope, one of the driest, hottest growing regions of the state and sought after by winemakers for producing ripe, full-bodied wines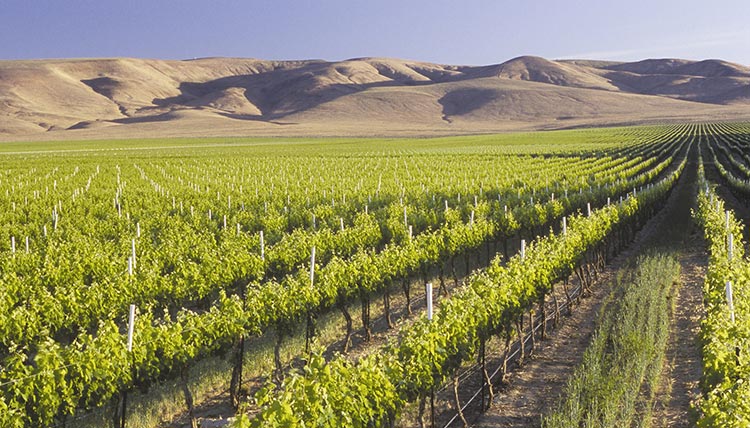 Written by John Vitale
THE WAHLUKE SLOPE was established in 2006 as Washington's 8th federally recognized American Viticultural Area (AVA). A bulk of the grapes grown here have long been used by wineries, both large and small, to incorporate with grapes from other regions. That is slowly changing as its popularity continues to rise among top winemakers seeking the finest blocks for the purpose of crafting distinctive AVA designates.
The appellation is geographically isolated, buffered by the Saddle Mountains along its northern boundary, and Hanford Reach National Monument to the east. On the western and southern flanks, the deep waters of the Columbia River tightly hug the AVA's border. The Wahluke Slope was named after a Native American word meaning "watering place."
Today, about 12% of the AVA's total 80,490 acres is covered with vineyards. Looking at the bigger picture, the Wahluke Slope is the fourth largest planted appellation in Washington, representing an important 15% of the state's total crop. The area is notable for producing ripe, full-bodied wines, sometimes nuanced with mineral notes. Known foremost for red grape varieties (though certainly not exclusively) Cabernet Sauvignon accounts for 42% of all grapes grown here, then Merlot at 30%, Chardonnay at 12%, trailed by Syrah at 5% and Riesling at 4% (source: WA Vineyard Acreage Report 2017). Numerous other varieties can be found on the Slope as well.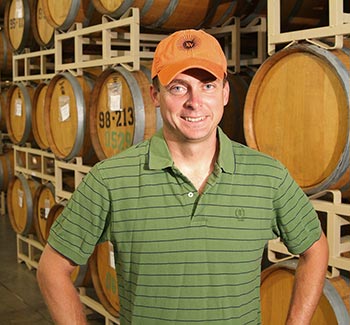 Greg Fries, president of Fries Family Wines (which includes Desert Wind Winery in Prosser) started planting vineyards on the Wahluke Slope in 1993 with his father, Doug Fries, before it became an official AVA. Their two large vineyards, Desert Wind and Sacagawea, total about 500 acres. "The combination of somewhat shallow soils and frequent winds tend to be dominant factors in influencing canopy growth, and promoting the intensity of the fruit flavors," says Greg, commenting on the uniqueness of the terroir. "The fruit has a high level of anthocyanins (pigment compounds with antioxidant effects) which help make a very full-bodied wine."
Lisa Warr-King Packer, owner and winemaker of Woodinville-based Warr-King Wines has been working with grapes grown on the Wahluke Slope since 2013, specifically Cabernet Sauvignon, Merlot, Mourvèdre, Petit Verdot and Cabernet Franc.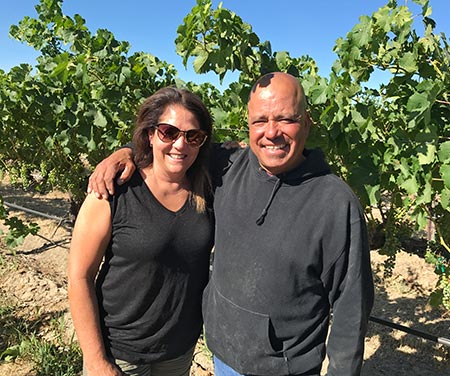 "The sandy loam soils and the consistent warm temperatures create wines with big bold flavors and excellent acidity and structure," Lisa says, adding, "I think the soils bring an Old World characteristic to the varietals grown here. Gravelly and rocky soils, combined with a dry and warm climate, make the grapes from this AVA exceptional." Lisa buys fruit from three vineyards in the AVA: Rosebud, Weinbau and Riverbend Vineyard.
Mike and Karen Wade, owners of Fielding Hills Winery, planted Riverbend Vineyard in 1998 on land once covered with orchards. The 22-acre site is exclusively planted with reds like Syrah and Bordeaux varietals. Mike Wade agrees with Greg Fries' observations about the prominent color compounds found in the red wines. "The grapes provide outstanding color extraction. The deep rich color as it pours into a glass sets you up for a great experience," Mike says, noting that the wines are further characterized by "fruit forwardness, with retained acid and not excessive tannins."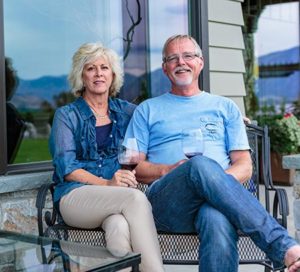 Mike points to the very long, warm summer days with cool nights that the Wahluke Slope experiences. "In August the grapes will have sunlight from about 4am to 10pm. There are no mountains to block the sun. It is a very hot growing region where warm climate varietals (wine styles) grow exceedingly well," he says. Despite the dominance of reds, the demand for white varietals is present. The Wades recently planted six acres of white wine grapes in the southern tip of the AVA that include Chenin Blanc, Roussanne and Chardonnay.
Brad Binko, owner and winemaker of two brands, Eternal Wines and Drink Washington State, has been sourcing Cabernet Sauvignon and Carménère grown in the AVA since 2014. "The wines seem to have fine silky tannins with a nice backbone of acidity," Brad says. "They don't have over the top flavors, like Napa, or super earthy notes, but they do seem to be more approachable early on."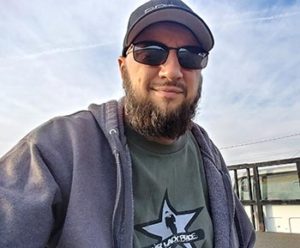 Like the others, Brad feels that climate is one of the unique factors about the AVA. "It is one of the warmer areas in Washington as far as heat units go. This does allow the area to ripen fruit on a consistent basis. There is always this mineral component that is nice to play with, too," he adds.
There is no question that the Wahluke Slope is a highly valuable growing region responsible for garnering a wealth of wine accolades. "Plantings everywhere seem to be rising. I would say more people are getting familiar with it as an AVA, and I know we push this hard at our winery too," concludes Brad Binko.
Mike Thiede of Ginkgo Forest Winery has been growing estate vineyards on the Wahluke Slope since 2005, and he agrees with Brad Binko's observation that the AVA is gaining mindshare among consumers. "Presently, much of the Wahluke Slope grapes are sold to wineries outside the appellation to improve their own grapes. Our closest neighbors are mega-wineries (millions of gallons) which are sold under labels that don't necessarily show the Wahluke appellation specifically," Mike explains. "However, the trend is toward more and more of the big wineries producing Wahluke Slope labeled wines in their portfolios." Ginkgo Forest is currently the only winery operating a tasting room in the AVA, a couple miles north of Mattawa on Hwy 243.
Mike concurs that the AVA is known for bold, intense fruity wines, pointing out that "the rocky, gravely, meager soils by our winery produce some of our most intense and flavorful wines." Ginkgo Forest grows 16 different varieties, among them are all six Bordeaux grapes, Rhône grapes, Italian grapes, even Pinot Noir.
"I haven't found any red grape that we couldn't grow on the slope," admits Mike. He maintains that the Wahluke Slope has the second longest growing season in terms of total heat units in the state, rivaling just behind Red Mountain. "Grapes that require long growing seasons to achieve maximum and intense flavors are especially unique for this area, including Cabernet Sauvignon, Barbera, Cabernet Franc, Malbec, and Carménère."
As the tide of high quality wines rises among top producers, the Wahluke Slope is an AVA that all devotees of Washington wine can expect continued greatness from.
TOP PICKS

» 16 wine designates & food pairings from the Wahluke Slope AVA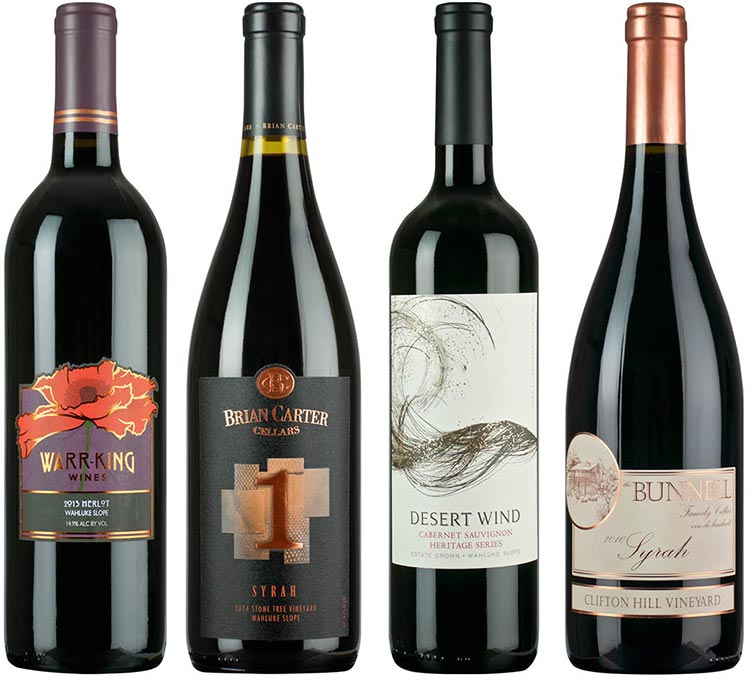 Warr-King Wines 2013 Riverbend Vineyard Merlot, $32
Editor's Choice – Outstanding (91-94 pts.)
Powerful depth lies behind the rich dark stone fruit flavors of plum and black cherry, seamlessly integrated with boysenberry and ganache notes. Finishing accents of stony minerality and nutmeg extend the focused finish.
Vintner's Favorite Pairing: Grandma's secret meatloaf recipe, or my favorite, Rogue River Blue cheeseburger
Brian Carter Cellars 2014 Stone Tree Vineyard ONE Syrah, $85
Editor's Choice – Outstanding (91-94 pts.)
Umami aromas of roasted nori, tamari, and dark fruit introduce the vibrant chiseled structure and brooding flavors of blackberry, peppercorn, cocoa and mesquite, swirling with deep earthy minerality and finely polished tannins on the finish.
Vintner's Favorite Pairing: Lamb sausage grilled with mushrooms and assorted vegetables
Desert Wind 2015 Heritage Series Cabernet Sauvignon, $35
Editor's Choice – Outstanding (91-94 pts.)
Dusty aromas of dark fruit, cigar box and mocha lead into the rich palate that resonates with complex flavors of dried cherry, black currant and blackberry, layered with licorice and crushed pebbles. Finishes long and elegant.
Vintner's Favorite Pairing: Braised beef short ribs, or portobello mushroom burgers
The Bunnell Family Cellar 2010 Clifton Hill Vineyard Syrah, $42
Editor's Choice – Outstanding (91-94 pts.)
Beautifully aged, with brooding aromas of tobacco and red plum that evolve on the well-structured palate, joined with sage and floral notes integrated with rich dark cherry and blackberry. Great intensity and length.
Vintner's Favorite Pairing: Grilled meats and vegetables, lamb, braised beef, duck, aged hard cheese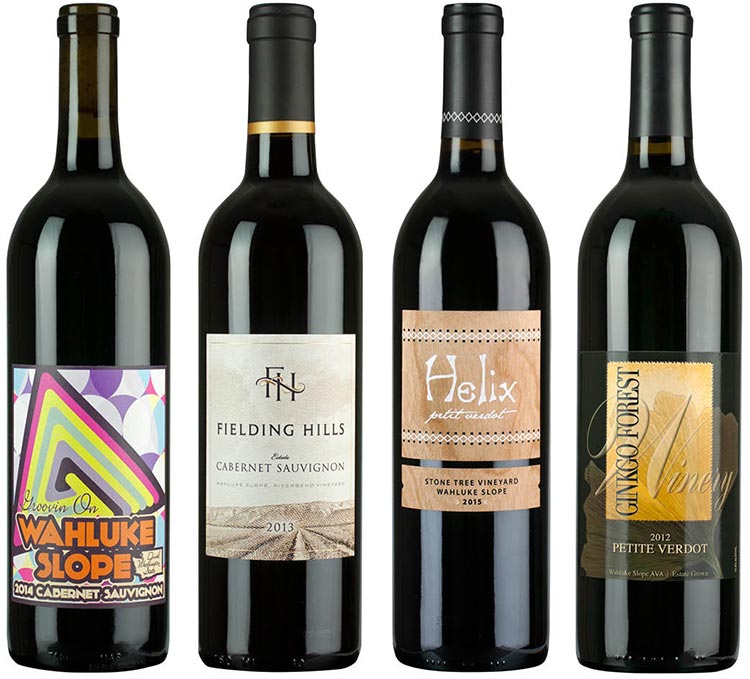 Drink Washington Wine "Groovin' On Wahluke Slope" 2014 Cabernet Sauvignon, $26
Editor's Choice – Excellent (90 pts.)
This juicy and lively version offers a generous core of blackberry, red plum and dried red berries interspersed with leather, earth and spice notes. Bright acidity and light, grippy tannins frame 
the finish.
Vintner's Favorite Pairing: Panko-fried chicken Parmesan topped with melted provolone
Fielding Hills 2013 Riverbend Vineyard Cabernet Sauvignon, $46
Editor's Choice – Excellent (90 pts.)
Lavishly built, the rich texture complements the wealth of blackberry and cassis flavors infused with expressive sage, anise, cocoa and cedar boughs. Mineral notes and barrel spice persist on the finish.
Vintner's Favorite Pairing: Beef tenderloin with salt and pepper rub, grilled on a Traeger, with beef demi-glace
Helix 2015 Stone Tree Vineyard Petit Verdot, $44
Editor's Choice – Outstanding (91-94 pts.)
Brimming with verve, this finessed version sports core flavors of black plum sauce, black cherry and violet, flanked with notes of cassis, red currant, graphite and tobacco. Waves of structured acidity are held in reserve by mouthcoating tannins on the concentrated finish.
Vintner's Favorite Pairing: Roasted lamb, grilled beef, game, sausage, aged cheeses

Ginkgo Forest Winery 2012 Petit Verdot Wahluke Slope AVA, $30
Editor's Choice – Outstanding (91-94 pts.)
This winery is located in the Wahluke Slope AVA. Rich and well built, with a tightly wound core of crushed stone, cassis, black plum, violet and pencil shavings. Bridled tannins provide plenty of grip on the sturdy, mineral-charged finish.
Vintner's Favorite Pairing: Rolled beef medallions filled with brie, roasted red peppers and spicy sausage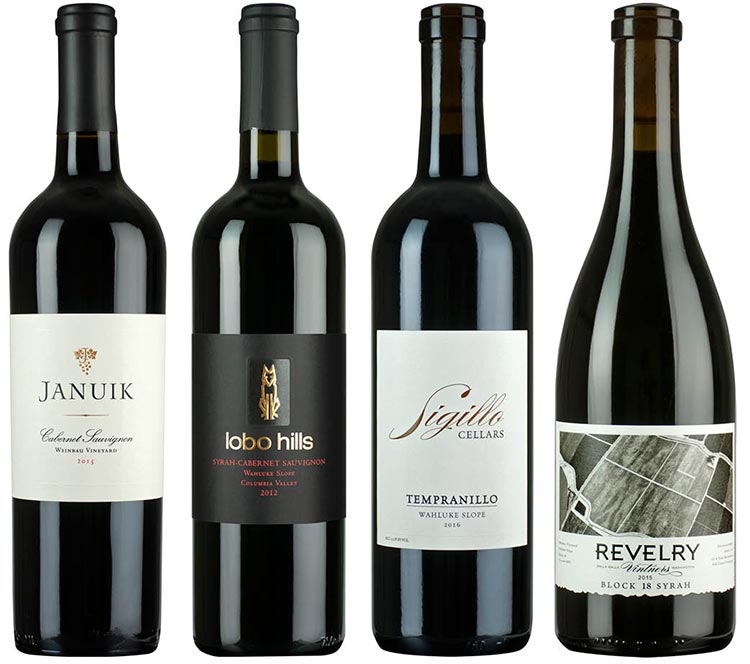 Januik 2015 Weinbau Vineyard Cabernet Sauvignon, $40
Editor's Choice – Outstanding (91-94 pts.)
Well structured and finely balanced, this version is supple, with richly layered flavors of cassis, black raspberry and blackberry backed by violet, anise and espresso notes that surface on the long, concentrated finish.
Vintner's Favorite Pairing: Roasted cauliflower dressed with pistachio dukkah, feta and mint

Lobo Hills 2012 Syrah-Cabernet Sauvignon Wahluke Slope, $35
Editor's Choice – Excellent (90 pts.)
Opulent and rich, gushing with macerated boysenberry, dark cherry and plump black currant flavors that meld with fig, ganache, cigar box and juniper notes. Mouthfilling from front to finish, ending with round, creamy tannins.
Vintner's Favorite Pairing: Beef bourguignon, mushroom risotto (with beef stock), or filet mignon
Sigillo Cellars 2016 Tempranillo Wahluke Slope, $38
Editor's Choice – Outstanding (91-94 pts.)
Fragrantly aromatic, offering leather, spice and dried berry aromas that follow through on the supple palate with generous dried strawberry, red currant and cranberry flavors streaked with floral rose petal. Sage and vanilla notes grace the finish.
Vintner's Favorite Pairing: Chipotle-marinated grilled flat iron steak with a side of polenta
Revelry Vintners 2015 Weinbau Vineyard Block 18 Syrah, $56
Editor's Choice – Outstanding (91-94 pts.)
Incredibly plush and airy in texture, yet densely structured, exhibiting floral aromas and polished flavors of grilled plum, jammy blackberry, with a bright beam of eucalyptus and slate minerality that hold together on the finish.
Vintner's Favorite Pairing: Grilled rack of lamb with chimichurri an a side of skillet-fried fingerling potatoes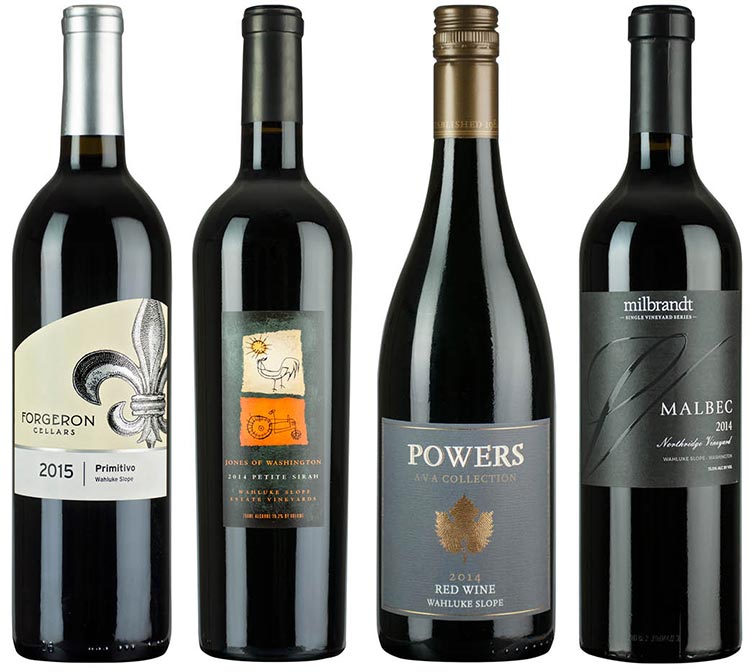 Forgeron Cellars 2015 Stone Tree Vineyard Primitivo, $46
Editor's Choice – Outstanding (91-94 pts.)
Well sculpted and tightly packed with cassis, black cherry, violet and pomegranate flavors that wrap around complex layers of tar, anise, baker's chocolate and warm stone details that yield to firm tannins on the deep, lasting finish.
Vintner's Favorite Pairing: Beef kabobs or pulled pork tacos with jalapeno coleslaw
Jones of Washington 2014 Estate Vineyards Petite Sirah, $30
Editor's Choice – Excellent (90 pts.)
Harmonious and smooth in texture, ringing with high-toned blackberry, black raspberry and currant flavors inlaid with bright violet, barrel spice and gentle tannins. There's concentration on the deep, focused finish.
Vintner's Favorite Pairing: Roasted pork or baby back ribs
Powers 2014 Wahluke Slope AVA Collection Red Wine, $30
Editor's Choice – Outstanding (91-94 pts.)
This Rhône style blend entices with floral lavender, spice and red fruit aromas. Polished, with plenty of backbone and flavors of white cherry, black fruit, strawberry, raspberry and currant, leading to licorice and white pepper notes on the finish.
Vintner's Favorite Pairing: Pulled pork tacos, rosemary lamb burger, roasted duck breast with lavender honey


Milbrandt 2014 SVS Northridge Vineyard Malbec, $42
Editor's Choice – Excellent (90 pts.)
Smooth and rich, with savory expressions loaded with cassis, blackberry preserves, dried herbs and licorice notes backed with ample spice and minerality. Plush, sweet tannins extend the range on the long finish.
Vintner's Favorite Pairing: Red-wine braised Moroccan lamb stew