A top shelf selection of reds, whites, sparkling and dessert wines paired with each vintner's favorite dishes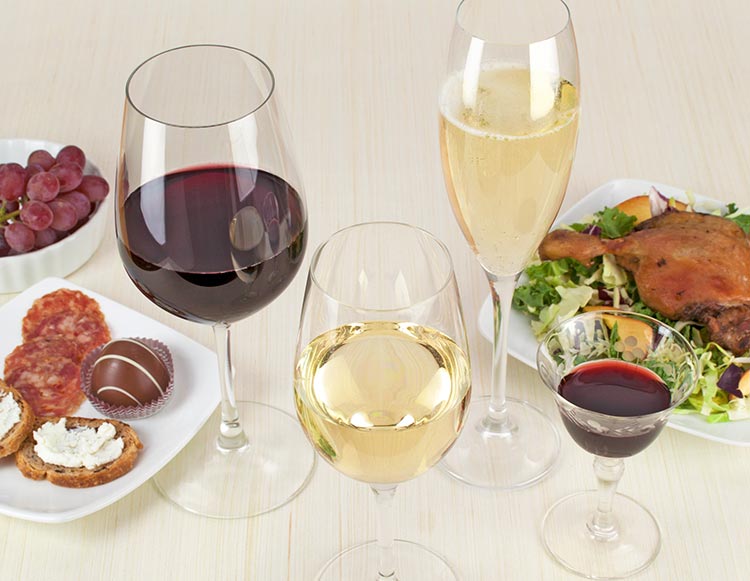 Regular social gatherings are temporarily on pause, but this writer's humble opinion is that enjoyment of great wine should never be sacrificed. Not one teensy bit. Wine is like a pair of rose-colored glasses — it brings clarity and instant appreciation to everything around us. Like love. Family. Friendships. Even virtual happy happy hours and Zoom parties.
Below we've featured 20 wines that will turn any ordinary moment into a spectacular memory. If you've emptied your wine rack lately (like most of us), now is the time to re-stock it with great Washington wine. And for an elevated treat, try the food pairing suggestions provided by each vintner.
Bonus: Supporting the local wine industry when they need us most means we can all continue to enjoy world-class, locally-produced wines long into the future. All, or practically all of these wines can be ordered online at the wineries' websites and delivered to your door or picked up curbside at their tasting room.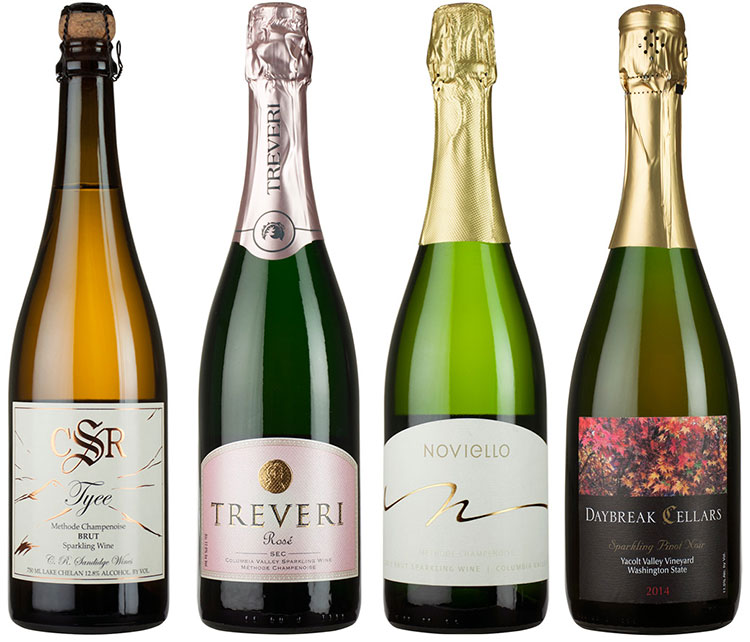 PARTY STARTERS

» Pop open one of these sparkling wines and transform any moment into a celebration worth toasting. Alone, or on Zoom.

C.R. Sandidge Tyee Brut Sparkling Wine, $50
Editor's Choice – Extraordinary (95-100 pts.)
This blend of Pinot Noir and Chardonnay is knit with immaculately fine beads flowing with balanced, crisp flavors of yellow peach, Bartlett pear, white cherry and pastry cream. Shows exceptional depth and sophistication on the creamy finish.
Vintner's Suggested Pairing: Ripe sheep or cow's milk cheeses with a little bit of funk like triple cream brie, Chaource or a tangy blue

Treveri Cellars Sparkling Rosé, $18
Editor's Choice – Outstanding (91-94 pts.)
This sparkling Chardonnay/Syrah spent 24 months aging en tirage (on the yeast) to develop its superb character. Vivacious, yet delicate and refined, offering dried strawberry, white raspberry and crisp citrus flavors. Fine beads lead to crushed rock minerality on the finish.
Vintner's Suggested Pairing: Seared scallops with a raspberry compote; lamb shoulder with polenta and brussels sprouts; prosciutto panini

Noviello Vineyards 2013 Brut Sparkling Wine, $45
Editor's Choice – Outstanding (91-94 pts.)
Light florality graces the nose of this sleek sparkling wine produced in the traditional French methode champenoise. Offers refined beads and nuanced flavors of honeycrisp apple, pear, citrus and brioche with a minerally finish.
Vintner's Suggested Pairing: Appetizers, especially cheese and fruit; great with holiday brunch and desserts, particularly chocolate

Daybreak Cellars 2014 Sparkling Pinot Noir Brut Rosé, $36
Editor's Choice – Excellent (88-90 pts.)
Crafted from 100% Pinot Noir grown at Yacolt Valley Vineyard in Clark County, this bubbly has a pretty coral hue and is crisp and flinty, with tangy acidity and mineral-driven flavors of berries, mulled apple and citrus.
Vintner's Suggested Pairing: Yaquina Bay oysters, fried or half shell; sauteed shrimp or baked salmon



RHÔNE RANGERS

» These red wines in the style of Côte du Rhône play nicely with most anything on the dinner table, from heavy appetizers to hearty braised meat and game dishes.

W.T. Vintners 2015 Rhône Blend Boushey Vineyard, $40
Editor's Choice – Outstanding (91-94 pts.)
Finely sculpted, with a pillowy structure that reverberates with an alluring combination of steeped black raspberry, plum, currants, flowers, green olive, cured meat, wet stone and tarry edges. White pepper and dried savory herbs linger on the aftertaste.
Vintner's Suggested Pairing: Pork ossobuco, roasted root vegetables and creamy polenta; Muscovy duck breast with cherries

Kevin White Winery 2017 Pionnier, $40
Editor's Choice – Outstanding (91-94 pts.)
A generous and polished style, flexing with energy that displays a terrific beam of black raspberry and wild strawberry flavors deftly framed by savory expressions of peppercorn, tar, herbs and crushed rock. Stays fresh and vibrant on the extended finish.
Vintner's Suggested Pairing: Roast chicken with homemade cranberry and orange peel marmalade glaze and root vegetables

Damsel Cellars 2016 "The Fates" Boushey Vineyard, $38
Editor's Choice – Outstanding (91-94 pts.)
Seductive aromatics of blackberry, raspberry, blood orange and white pepper lead to more dark juicy fruit on the palate with bits of tar, dried herbs, pink peppercorn and exotic florality. Firm tannins play out on the long finish.
Vintner's Suggested Pairing: Any braised meat, slow roasted lamb with Moroccan spices; savory side dishes with lots of bacon and butter

Tertulia Cellars 2016 "The Great SchisM" Reserve, $45
Editor's Choice – Outstanding (91-94 pts.)
Smooth, rich and balanced, this GSM style red wine displays an elegant profile of dried fig, raspberry jam and currants inlaid with limestone, rose water and flecks of tar. The flavors meld harmoniously on the polished finish.
Vintner's Suggested Pairing: Roast leg of lamb or coq au vin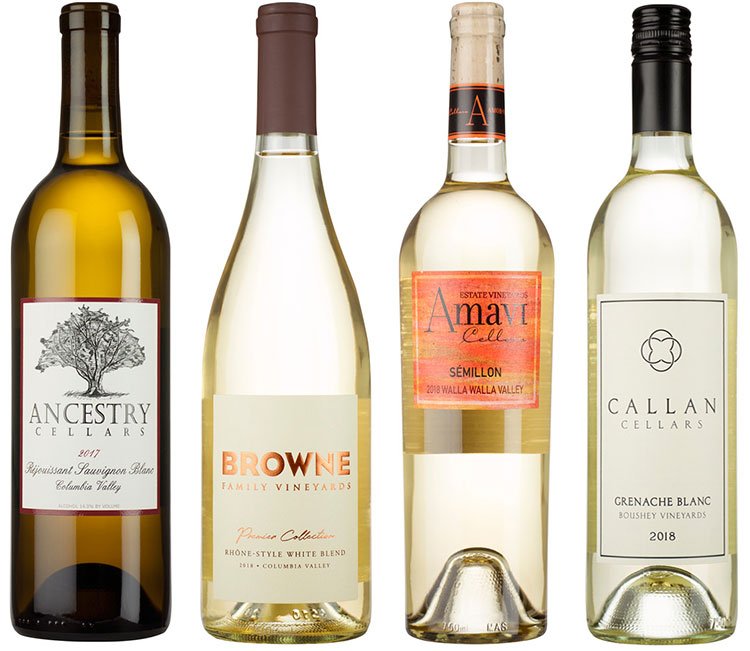 DREAMY WHITE BLENDS

» Bordeaux and Rhône white varietals will elevate antipasto to poultry dishes, and will turn most seafoods into a sublime pairing

Ancestry Cellars 2017 Réjouissant Sauvignon Blanc, $20
Editor's Choice – Outstanding (91-94 pts.)
The creamy mouthfeel is richly layered with tropical fruit of mango, melon and pineapple that merge with crisp details of grapefruit and limestone. An exotic version, with plenty of intensity that pushes through the long supple finish.
Vintner's Suggested Pairing: Mini apple cheddar tarts with cinnamon pecan crumble topping; creamy tomato basil grilled cheese dip

Browne Family Vineyards 2018 Premier Collection Rhône White Blend, $32
Editor's Choice – Outstanding (91-94 pts.)
Rich and full flavored, this dry white wine offers a distinctive perfume of white flower blossoms and expressions of oyster shell, white peach, nectarine and citrus flavors on the clean, approachable finish.
Vintner's Suggested Pairing: Butternut squash soup or prime rib

Amavi Cellars 2018 Semillon, $25
Editor's Choice – Outstanding (91-94 pts.)
This white Bordeaux varietal wine is a perennial crowd pleaser, delivering unctuous, rich flavors of honeysuckle, apple chutney, lemon citrus and white peach with an underlay of river rock and lanolin. Complex and finessed with a lingering finish.
Vintner's Suggested Pairing: Prosciutto wrapped scallops with maple butternut squash purée and golden raisin mostarda

Callan Cellars 2018 Grenache Blanc Boushey Vineyard, $25
Editor's Choice – Outstanding (91-94 pts.)
A stellar version of this Rhône varietal white wine from winemaker Lisa Callan. Clean and pure, loaded with gorgeous mineral notes of slate and limestone backed with green apple and star fruit flavors that resonate on the mouthwatering finish.
Vintner's Suggested Pairing: Fresh green and squash salad; spicy food, seafood or turkey


TIMELESS TRADITIONS

» Left Bank…Right Bank…you can always bank on these red Bordeaux style wines to impress when serving classics like roast beef, filet mignon or prime rib au jus

L'Ecole N° 41 2015 Perigee Seven Hills Vineyard, $55
Editor's Choice – Outstanding (91-94 pts.)
Brimming with vibrant red and black fruit, violet, cassis and spice embedded with sinewy structure and accents of leather, graphite and cedar box. Fine tannins give weight to the finish, adding to the understated power and elegance that defines this flagship red.
Vintner's Suggested Pairing: Roasted meats and turkey and rich vegetable dishes; pork loin and lean cuts of beef

Lauren Ashton Cellars 2014 Cuvée Arlette, $55
Editor's Choice – Outstanding (91-94 pts.)
This Right Bank Bordeaux style is silky textured and fresh, with dazzling bright plum, raspberry and cassis flavors entwined with perfumed violet, anise, cocoa, spice and graphite notes. The captivating layers continue to evolve with graceful tannins on the expressive finish.
Vintner's Suggested Pairing: Robust meat dishes such as beef, pork or lamb glazed with a reduction of the wine itself

TERO Estates Windrow Vineyards 2015 DC3, $38
Editor's Choice – Outstanding (91-94 pts.)
Dense and lush in feel, filled with ripe blackberry, black currant, dried cherry and warm fig layered with tobacco leaf, savory herbs, espresso and ganache details that add range. The profile builds with complexity on the alluring finish. Named after the Dugger Creek Cattle Company.
Vintner's Suggested Pairing: Pork roast with herbes de Provence; pork medallions with caramelized onions and roasted winter vegetables

Hightower Cellars 2016 Red Mountain Cabernet Sauvignon, $40
Editor's Choice – Outstanding (91-94 pts.)
An elegant version, streaked with tobacco and hints of earth and smoke that underpin layers of violet, juicy red and black fruit and cocoa. Firm, fine tannins edge through the finish, highlighted with dried herbs of rosemary and sage.
Vintner's Suggested Pairing: Mission fig and kalamata olive tapenade; bacon wrapped dates with Manchego cheese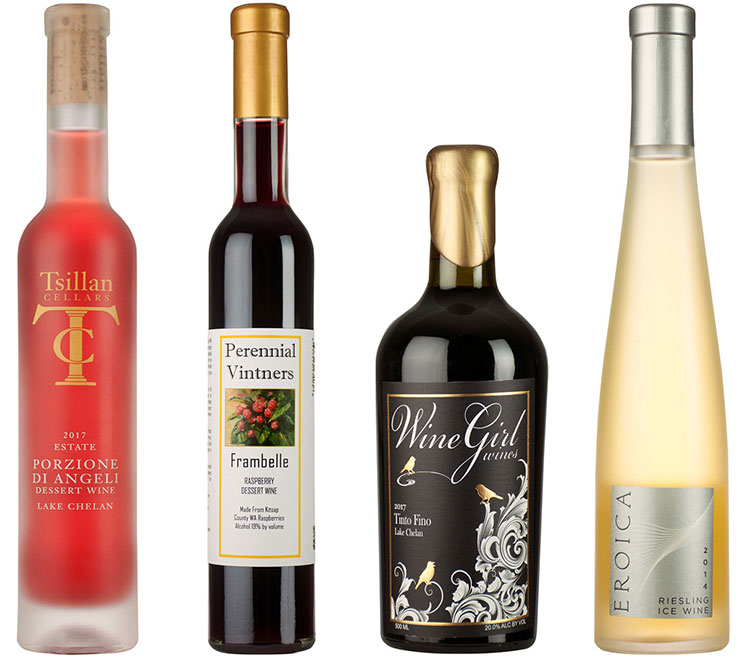 DESSERT IN A BOTTLE

» Prepare to be wowed with special finds like late harvest, fortified and fruit wines that deliver intrigue and a sweet finish

Tsillan Cellars 2017 Porzione di Angeli, $48
Editor's Choice – Outstanding (91-94 pts.)
Crafted from dried Barbera grapes, there's distinct elegance behind the creamy flavors of strawberry preserves, delicate rose petal and citrus notes. Finely structured, with lingering accents of Amarena black cherry and dried cranberry on the alluring 
finish.
Vintner's Suggested Pairing: Strawberry and raspberry custard tart and other fruit-based desserts

Perennial Vintners 2018 Frambelle Raspberry Dessert Wine $30
Editor's Choice – Outstanding (91-94 pts.)
There's a bowl of luscious raspberries in every sip of this fortified fruit wine, accompanied by rich blackberry, heirloom cherry and Japanese plum. Gains power on the midpalate, finishing with warm spice and dried tannins.
Vintner's Suggested Pairing: Frambelle rosemary roast duck; chocolate orange ginger tart; orange hazelnut chocolate balls

Wine Girl Wines 2017 Lake Chelan Tinto Fino, $120
Editor's Choice – Outstanding (91-94 pts.)
This hedonistic Tempranillo-based port-style wine is loaded with dense flavors of black cherry, dark plum and cigar box layered with torched brown sugar and warm baking spices that add range and complexity on the finish.
Vintner's Suggested Pairing: Caramel nut cheesecake with swirls of caramel topped with caramel-coated nuts and a drizzle of chocolate

Eroica 2014 Riesling Ice Wine, $60
Editor's Choice – Extraordinary (95-100 pts.)
Made in partnership with German winemaker Ernst Loosen. An opulent dessert wine with enticing aromas of beeswax and diesel notes. The mouthfeel is unctuous, exuding exotic layers of poached pear, fresh honey and ripe apricot. A sheen of crushed pebbles flows through the finish.
Vintner's Suggested Pairing: Upside-down cake with Riesling-poached pears topped with slivered toasted almonds

Wine reviews by editor John Vitale