With an increase in food trucks, especially in rural areas, wine tasters are not as hard-pressed to find great food options. Wine lovers will be pleasantly surprised by unique pairings made possible with dishes from our favorite food trucks in Washington wine regions.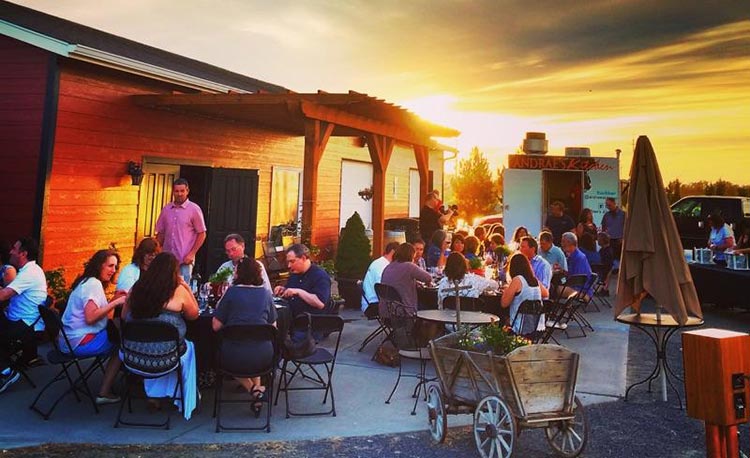 Andrae's Kitchen, Walla Walla
Recently spotted at: Sleight of Hand, Tranche, Dusted Valley
Chef Andrae Bopp had the inkling to put a kitchen on wheels in 2010. Establishing his business as Walla Walla's first gourmet food truck, Bopp says his "menu of global street food creations was an instant hit with wine tourists and locals alike." Andrae's Kitchen can be found truckin' around Walla Walla wineries, as well as serving the masses during the more popular wine events. Customers are treated to unique dishes such as the Left Coast burger, complete with house-ground beef brisket and American cheese with the works, or options such as lamb or beef gyros or the chicken noodle bowl. But what the truck has really become known for is Bopp's innovative "voodoo fries," hand-cut spuds with Cajun spice, piled high with pulled pork, pickled peppers and "crystal hot sauce" aioli.
---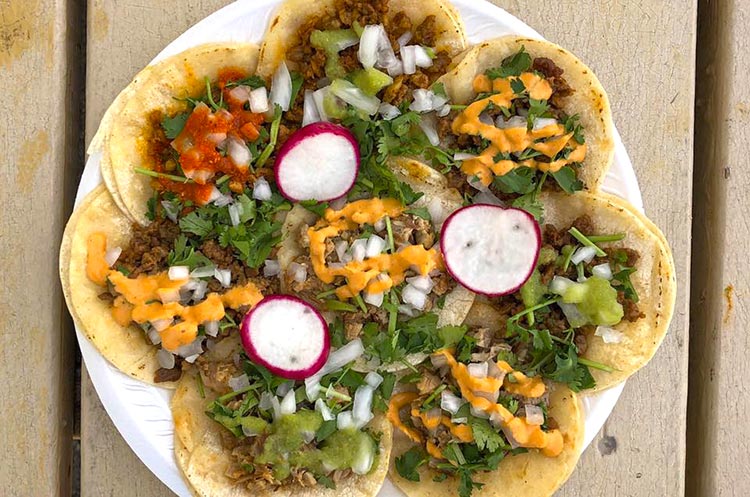 Tacos Don Chayo, Yakima
Recently spotted at: Owen Roe Winery
Food trucks abound on Yakima Valley street corners but few get around as much as Tacos Don Chayo, dishing out authentic Mexican food at wineries, breweries, and their home-based location in the city of Yakima at 2810 W. Washington Ave. Mariano Salguero and his wife Liliana run the truck, plating Mexican street-style tacos, tortas, burritos and quesadillas. Meat options include asada (beef), pollo (chicken), adobado (pork), and lengua (tongue). The owner-couple offer a DIY topping station with additional fixings like radish, lemon and a variety of homemade hot sauces. The food is simple, but full of flavor, and although their authentic tacos are a crowd favorite, it's their giant burritos that will really grab any foodie's attention.
---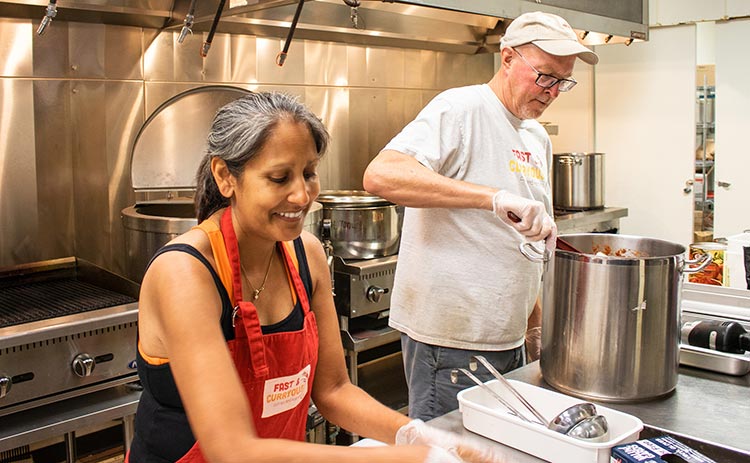 Fast & Curryous, Tri-Cities
Recently spotted at: Airfield Estates, Anelare, Badger Mountain & Powers Winery
With a shared love for cooking, along with backgrounds in finance and science, David Stenoien and Kavita Patel-Stenoien's accent is on healthy, flavorful Indian dishes, with vegetarian and vegan options as well. They rarely fry anything for their dishes, and they make their own spice blends, along with fresh paneer cheese. The owners love to sit down with winemakers and figure out pairings for their dishes, and they have often found that, although it may not be intuitive to pair Indian flavor profiles with wine, the pairings truly surprise them. Some of their most popular dishes include butter chicken, ghost chili chicken and vegetable korma, which are all gluten-free and vary in heat levels. The truck also serves up menu items with a fusion approach, like their tikka tacos or rice bowls.
---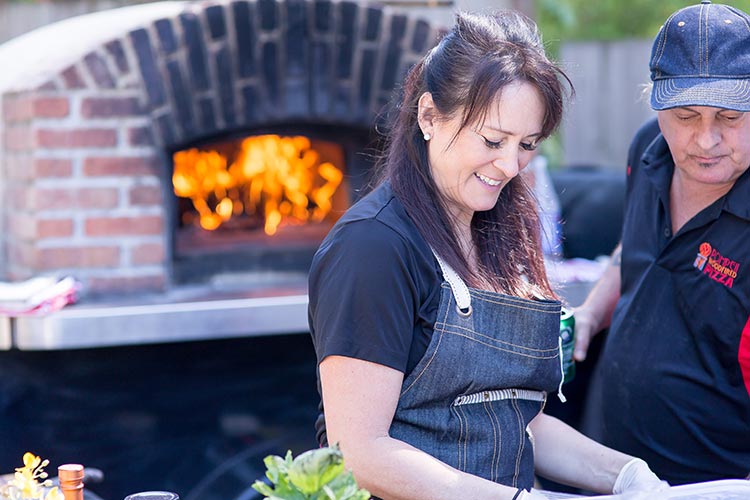 Pompeii Wood Fired Pizza, Woodinville
Recently spotted at: Brian Carter Cellars, Patterson Cellars, Page Cellars, Eye of the Needle Winery, Matthews Winery and Adams Bench Winery
Have pizza oven, will travel. After getting inspired from a trip to Pompeii, Italy, owner Dawnelle Dutcher returned to the Seattle area and put a dome-style, wood fired oven on a trailer and never looked back. Pizzas cook at 900 degrees to the scent of applewood and are ready in mere minutes. A few offerings include a pear and gorgonzola pizza with arugula, or their signature Mt. Vesuvius pizza topped with pepperoni, Italian sausage, genoa salami, fresh onions, wild mushrooms and kalamata olives. Whether sipping a Chenin Blanc or a Cabernet Franc, one of their ultra-thin wood fired pizzas is sure to pair with it nicely.
---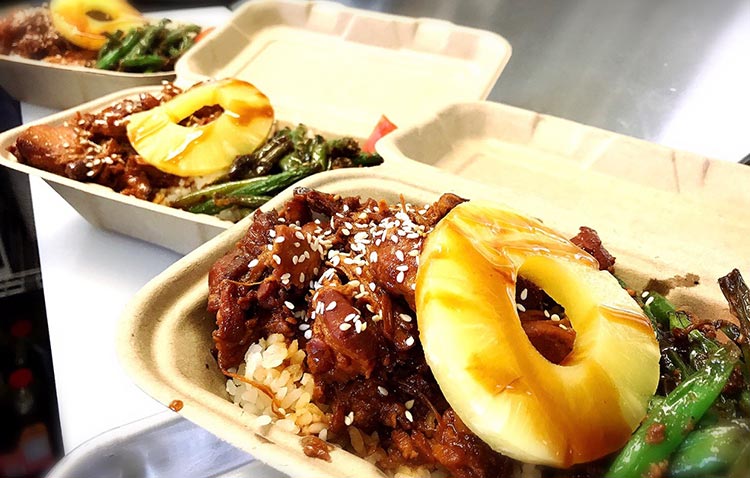 Mixed Plate Food Truck, Spokane
Recently spotted at: Maryhill Winery, Craftsman Cellars, Arbor Crest
Immerse yourself in the Pacific Islands with this food truck, the brainchild of Tony Epefanio and Nat Vargas. Their diverse menu focuses on Asian/Island cuisines, prepared with fresh, high-quality ingredients. Vargas is a Thai native who also lived in Guam, and she infuses her unique background into the creations found on their menu. Dishes include tacos or rice bowls featuring their Island-style, slow-cooked chicken in an island sauce dressed with pineapple, green onions and sesame seeds. Customers also love their beef bulgogi with thinly sliced steak marinated in Korean flavors, served with greens, Asian dressing and topped with green onions and sesame seeds. The truck offers vegan options too, along with a few surprise chef specials featuring seasonal dishes that are not typically offered in the Spokane area.
---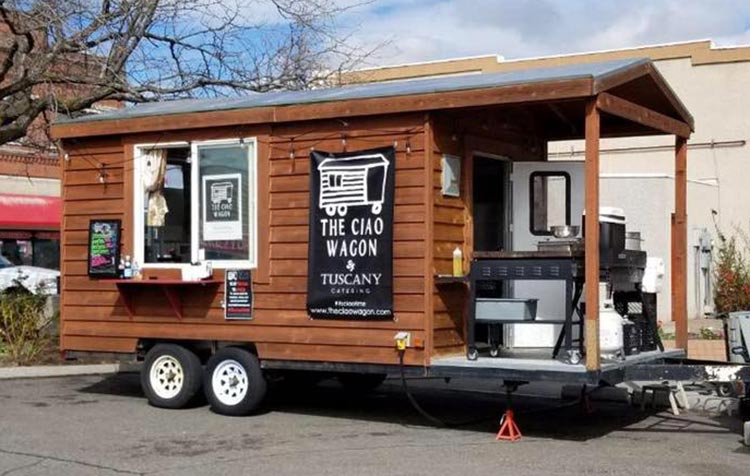 The Ciao Wagon, Prosser
Recently spotted at: Martinez & Martinez and Coyote Canyon in Winemakers Loft in Prosser, and Long Shadows in Walla Walla
For The Ciao Wagon, sometimes their menu options all come down to the old adage "it depends." And in this case, that's a good thing. Owner Susanne Ayala says she customizes her menus based on the location they'll be parking the truck. "For instance, when parked at Martinez & Martinez Winery in Prosser, we will put something on the menu that has a Spanish flair," she says. "Like chorizo meatballs or salmon tostadas." The wagon always serves up their core menu as well, including their popular gyros and paninis, but what really keeps customers following along is their signature lemon pasta. The dish is superb with crisp white wines and features noodles topped with butter, garlic, fresh squeezed lemon, parmesan and parsley.
---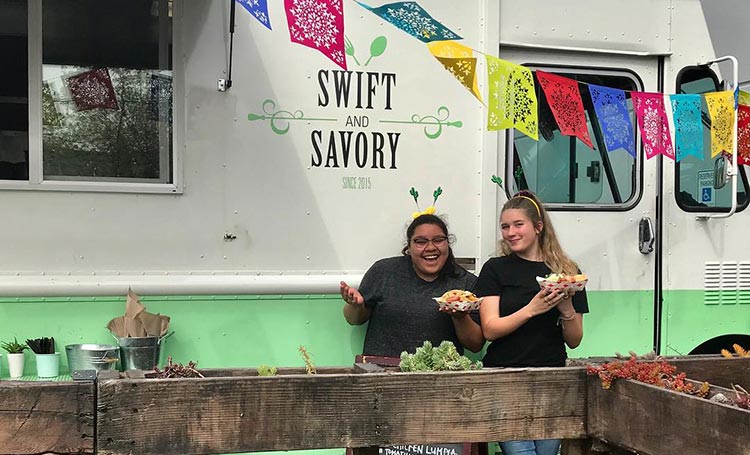 Swift and Savory, Duvall
Recently spotted at: Gorman Winery, Cherry Valley Winery
The chance to order a variety of classic comfort foods all in one place can be hard to find. But find it all in one restaurant on wheels? One might think they've struck gold. Swift and Savory was started by best friends Kristen DeMontigny and Julie Bergstrom, who serve up dishes that never go out of style. The female duo dishes up everything from BBQ brisket sandwiches and carnitas pork tacos to lumpia and even crispy chicken wraps. Due to the popularity since they began truckin', the best buds just opened a restaurant in Duvall, but they can still be found mobile at select wineries in the Woodinville area.
---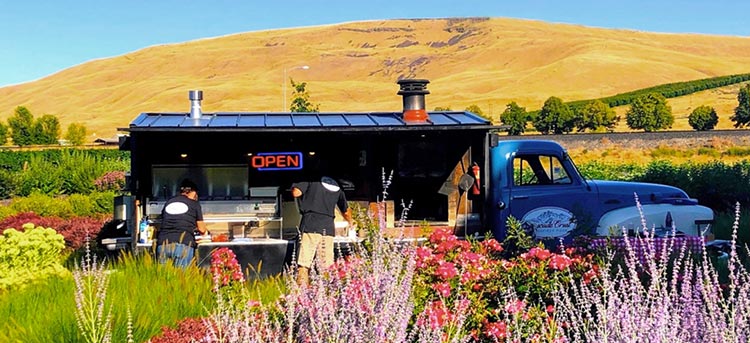 Cascade Crust Woodfired Pizza, Prosser
Recently spotted at: Mercer Family Vineyards, Chandler Reach, Winemakers Loft
Home-based in Prosser, this unique outfit serves up traditional pizzas, but their transportation method is anything but ordinary. Cascade Crust was born a couple years ago when owner Phil Laurx's 1954 Chevy truck was outfitted with a pizza oven and kitchen. The wood fired oven sits on the back of the truck, cooking pizzas within minutes. With family ties to the Prosser area, Phil and his crew operate in the lower Yakima Valley but travel to a variety of locations. They serve up classics like Margherita, Hawaiian style or meat-topped pizzas, but Laurx says one of their best sellers is the pesto bacon with shaved parmesan.
---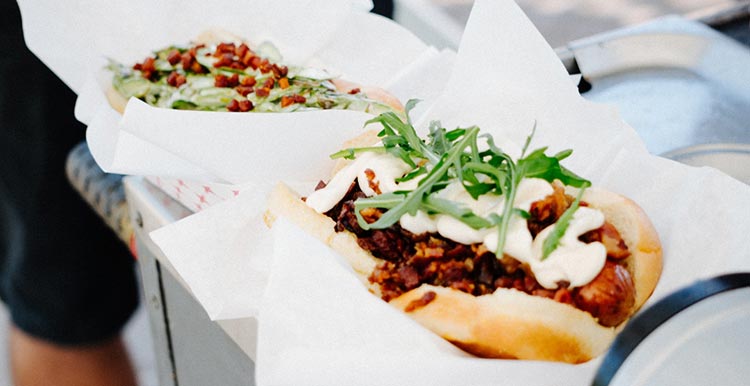 Doggie Style Gourmet, Tri-Cities
Recently spotted at: Ginkgo Forest Winery, Alexander Nicole Cellars, Pepper Bridge
This is not an ordinary hot dog cart. Andrew Chilton and Tanner Guy started with a desire to bring delicious, locally sourced food options to their hometown of Tri-Cities. The all-beef franks and German sausages are made nearby and focus on utilizing fresh, local ingredients as much as they possibly can. The owners love to connect with winemakers to come up with dogs that will pair well with wines, even incorporating fresh fruits from surrounding orchards or utilizing the actual wines in their sauces or condiments. The "bacon maple doggie" (pictured) features bacon chutney, maple cream cheese and fresh-picked arugula from their garden. They dish up equally delicious vegan franks as well. Another crowd pleaser is the "green machine," featuring handmade asparagus slaw, shaved parmesan and crispy pancetta. And for those looking for a meat-free option, they dish up equally delicious vegan franks as well.
---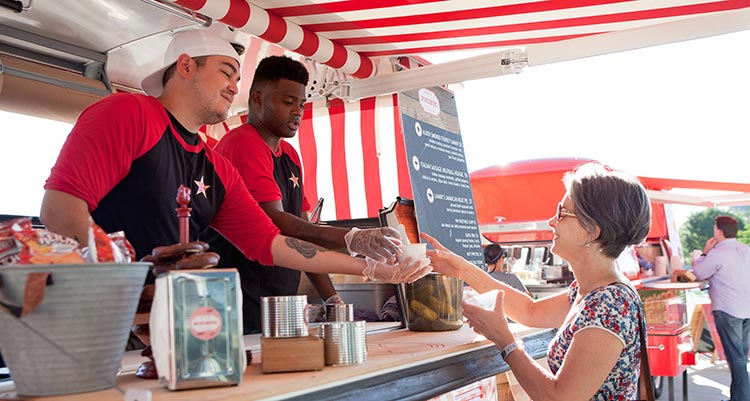 Mobile Mavens, Greater Seattle
Recently spotted at: DeLille, Kerloo, Novelty Hill-Januik
Mobile Mavens' foodie fleet consists of three very different truck concepts, each with its own culinary focus. Biscuit Box serves up hearty biscuits like bao biscuit, complete with Chinese barbecue pork belly, pickled cucumber and green onions. Gai Box dishes up delicious chicken and rice options such as their combo rice bowl, chicken teriyaki or basil-marinated tofu. The third in the fleet, Picnic, embraces a hand-crafted meal approach, serving up hearty sandwiches like the Italian sausage meatball hoagie with grilled peppers. Each of the three trucks operates separately, with three different culinary focuses, yet all equally delicious.