Wineries traditionally dominated by oak barrels and stainless steel are making room in the cellar for a new superstar—concrete tanks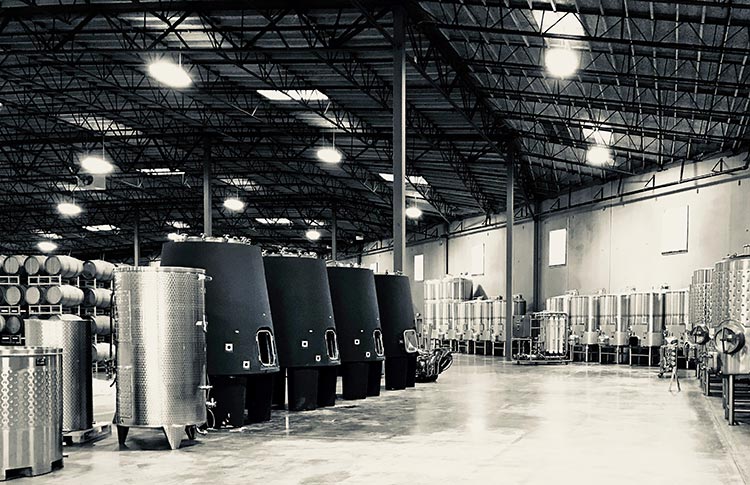 Article and wine reviews by editor John Vitale
Harking back to wines made in the Roman era, modern concrete "wine vessels" have re-emerged as the newest phenomenon to hit Washington wineries. This is a big deal because for eons most wineries traditionally used oak barrels and stainless steel tanks during elevage (the formative winemaking stages that include initial fermentation through barrel aging, up to and including bottling).
A recent tasting evaluation by Washington Tasting Room of red and white wines treated in concrete tanks—to varying degrees—proved outstanding results. Notably, wines that were influenced by this medium showed distinctive rich textural and minerally elements with effortlessly polished structure.
Concrete vessels come in a multitude of forms, ranging from egg shaped, conical, cube, pyramid and more. They are manufactured in various sizes as well, giving vintners yet another tool in the creative winemaking process.
For years the practice has been quietly gaining traction in the marketplace and is becoming more prevalent as winemakers seek fresh, new approaches. An industry poll conducted by Washington Tasting Room in June of 2019 shows that a host of wineries have jumped on the concrete vessel bandwagon with more planning to follow.
More Age Worthy and Balanced Reds
Matthew Loso of Woodinville Custom Wines and his own label, Matteo, embraced the idea 15 years ago. "I was actually the first winemaker to purchase a concrete tank from France in Washington. The first tank that I purchased was in 2004 from Nomblot. Shortly after, many winemakers followed suit and began experimenting," says Loso. Early on, he used concrete only for primary fermentation, but has expanded its usage to aging as well—a task once strictly reserved for oak barrels or stainless steel tanks, depending on the varietal.
Loso has started running test trials on fermenting red wines in stainless steel tanks versus concrete. "In these trials we have split different red varieties and fermented in both methods. Every single time the concrete shows much more varietal typicity as well as much greater mid-palate and structure," he says. "I also believe that the resulting tannin structure in the wine fermented in concrete is smoother and more age worthy and balanced."
As for aging reds and whites in concrete, Loso believes it's a great alternative to neutral oak barrel aging, pointing to concrete's similar ability to "breath" due to its porousness.
Purity Of Fruit Like No Other Tanks
Chris Upchurch of Upchurch Vineyard and founding winemaker of DeLille Cellars, concurs with Loso's observation, saying, "Basically, the cement tanks have similar properties as the old oak oval tanks, however they are a lot easier to maintain." Upchurch has been using concrete for about five years. He prefers the conical tanks for fermentation of reds and whites, and uses concrete eggs for fermentation and aging of mostly white varieties, such as his Southwest Facing Sauvignon Blanc.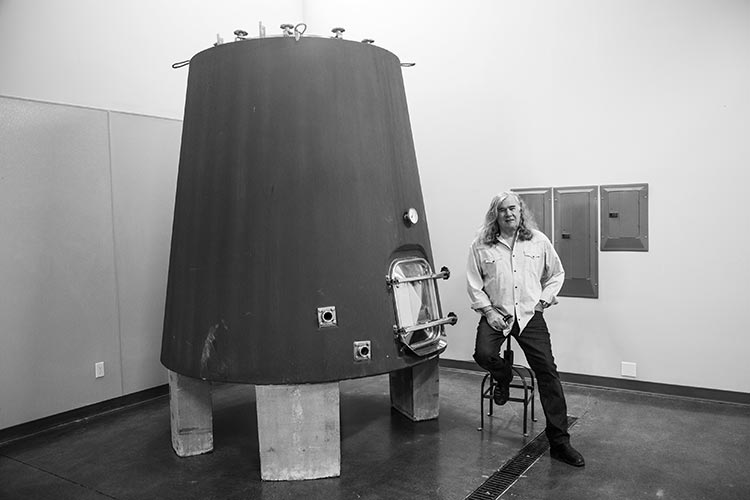 "Cement has dissolved oxygen which feeds the wine and prevents it from reducing.  My Sauvignon Blanc was in the tank for 20 months without any signs of reduction.  The same wine would reduce in just a few months in stainless steel," he says.
Upchurch likes the egg shape in particular for this white Bordeaux varietal because the oval tank has no corners where the fine lees can settle, which helps keep them in suspension during the sur-lees process. "For extended sur-lees aging, the lees give the wine a creamy texture otherwise the cement gives us purity of fruit like no other tanks." On Upchurch's recent trip to the Bordeaux region he noted that many of the wineries he visited were also moving to cement vessels.
Soft, Textured and Rounded Wines
When Mike Martin of The Walls Vineyards built his production facility in 2016 he was already sold on the benefits of concrete and made sure he included a healthy lineup of eggs, vats and cubes. "In terms of red varietals, we have had wonderful results with fermenting Rhône reds like Syrah, Grenache and Mourvèdre in concrete cubes, as well as much of our Cabernet Sauvignon," says Martin. He finds the thick cement walls to be great insulators that keep the fermentation kinetics even-keeled. "This is beneficial to what we are trying to achieve, which is soft, textured and rounded wines."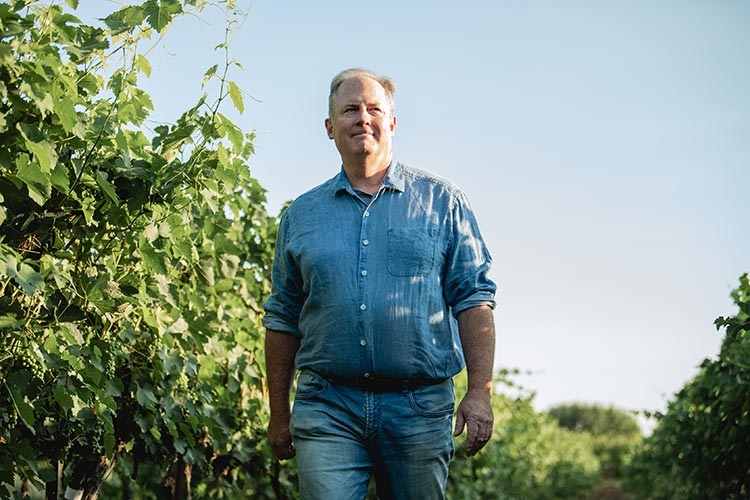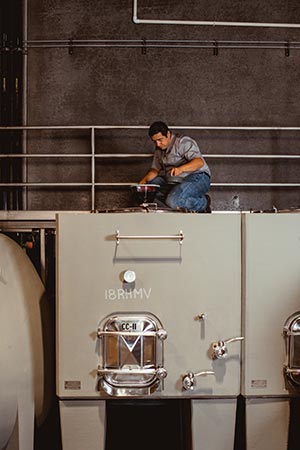 By adding concrete to his barrel program, the textural element becomes even more interesting and expressive in wines like his Concrete Mama Grenache. "The concrete helps with maturation by adding texture and allowing gas exchange similar to what barrels can do, which can fill out the mid-palate and soften the tannins over time. The main difference is obviously that in concrete we are not extracting any oak compounds, thus we get the textural benefit without any oakiness," explains Martin. "Small amounts of oak can help, but we want to create wines with freshness and energy, and concrete helps to achieve that."
Through experimentation, Martin says he prefers to ferment whites in stainless steel due to the ability to better control temperature (keeping them cooler) and then to age in concrete.  "Fermenting in concrete adds a texture to the mid-palate that is not as linear or lean as what you tend to find with stainless steel," he says. Using a combination of stainless and concrete for his white wines and Rosé provides the best of both worlds.
Broader Mouthfeel, Viscosity and Texture
Gilles Nicault of Long Shadows Vintners has worked with both large and small concrete eggs since 2012, using them for Chardonnay, Sauvignon Blanc and Mourvèdre. He utilizes concrete to help create wines with fresh energy, like Long Shadows Dance Chardonnay.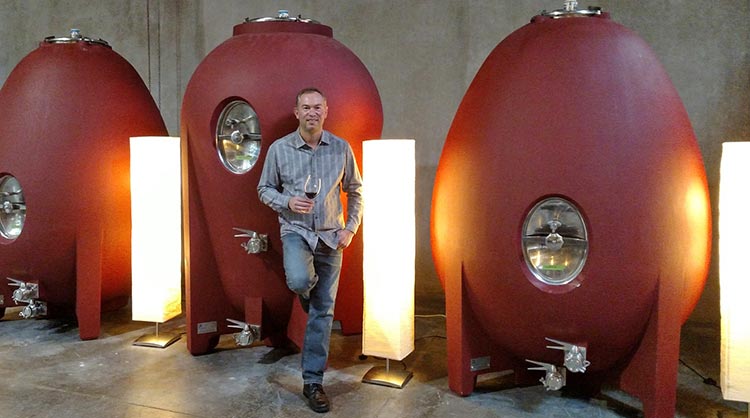 "Aging the Chardonnay in a cement egg brings back a layer of freshness and minerality to the final blend. It allows me to do full malolactic in some new French oak barrels to bring a broader mouthfeel, viscosity and complexity, while keeping the wine's purity," says Nicault. Initially, he ferments this wine in concrete too, which he says enhances the natural minerality of the wine. Then he keeps it on the lees for 17 months in a combination of concrete egg, neutral and new oak barrels. "For the last seven months of its aging, I use a reversed egg shape, as it concentrates the lees at its tip point on the bottom and slows down the natural stirring of the lees, therefore starting the clarification process." Indeed, the wine dances on the palate.
Showcasing the Terroir
Charlie Lybecker of Cairdeas Winery just started using concrete eggs two vintages ago. "The reason we went with the egg shape is because that vessel shape stirs the wine while it ferments which creates a softer texture in the wine," he says.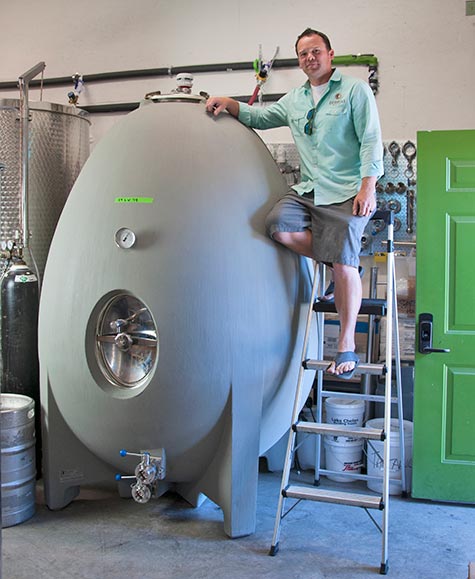 Lybecker has found success fermenting Grenache Blanc, Rosé and Syrah. "For all three of those varieties we really like the minerality that the concrete adds to the wine. You get a unique texture from the concrete, which is distinctly different from barrels or stainless steel."
He takes his Syrah further by aging it in the concrete eggs for about a year, never letting it see the inside of an oak barrel. "We want this wine to be a pure representation of Syrah aged in concrete. The wine has a beautiful fruit forward nose and great texture without having any influence from wood so it really showcases the terroir from the vineyard and the varietal characteristics of the grape."
It's clear that every winery's exact formula for crafting wine in concrete differs, but the results are conclusive: concrete is an absolute winning medium for producing distinctive world-class wines.
TOP PICKS

» 16 Wines Influenced By Concrete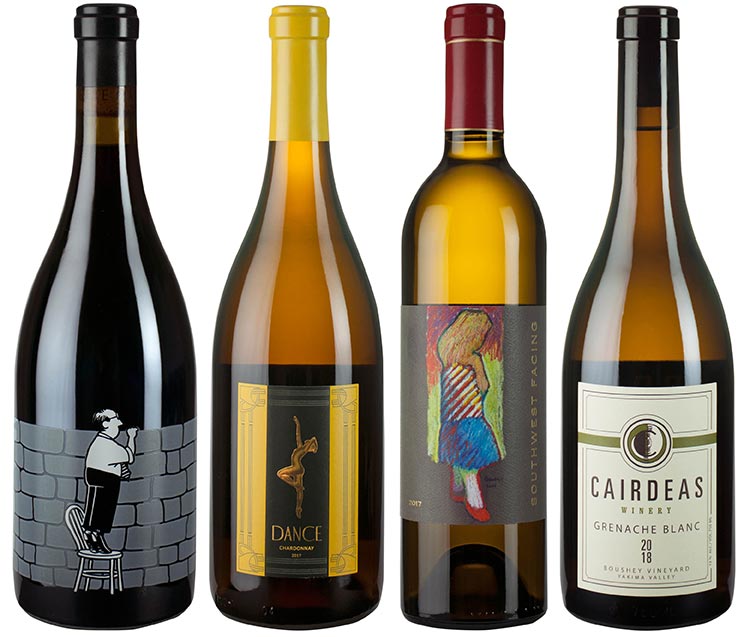 The Walls Vineyards 2016 Concrete Mama Grenache, $75
Editor's Choice – Extraordinary (95-100 pts.)
Notable for its ethereal and viscous texture layered with a wealth of macerated raspberry, black currant, dried spice, white pepper and juniper flavors that define an exciting harmony on the focused and fine-tuned finish. Concrete Factor: Fermented and aged nearly 18 months in a mix of 48% concrete tank and 52% oak barrel
Long Shadows 2017 Dance Chardonnay, $42
Editor's Choice – Outstanding (91-94 pts.)
Creamy and rich, showing elegance in the presentation of white peach, apricot and apple blossom flavors that unfold beautifully on the sleek frame. Reveals hints of citrus, spun honey, butterscotch, toast and slate that waltz through the finish.
Concrete Factor: Fermented and aged using a combination of concrete eggs and French oak barrels for 17 months
Upchurch Vineyard 2017 Southwest Facing Sauvignon Blanc, $36
Editor's Choice – Extraordinary (95-100 pts.)
Beautifully aromatic and creamy smooth on the entry with a rich, complex tapestry of grapefruit, guava, Asian pear and lime zest flavors that flow with precision through the juicy finish. Ample notes of crushed pebbles linger on the stunning aftertaste.
Concrete Factor: Fermented and aged "sur lie" in cement egg-shaped tanks for 20 months
Cairdeas 2018 Boushey Vineyard Grenache Blanc, $24
Editor's Choice – Outstanding (91-94 pts.)
Exceptionally balanced, dry and clean cut, brimming with exciting aromas and flavors of peach, pink grapefruit, and fresh lemon tart that intensify with limestone and gravel accents lining the broad finish.
Concrete Factor: Fermented in a 450-gallon concrete egg tank, then aged in stainless steel tanks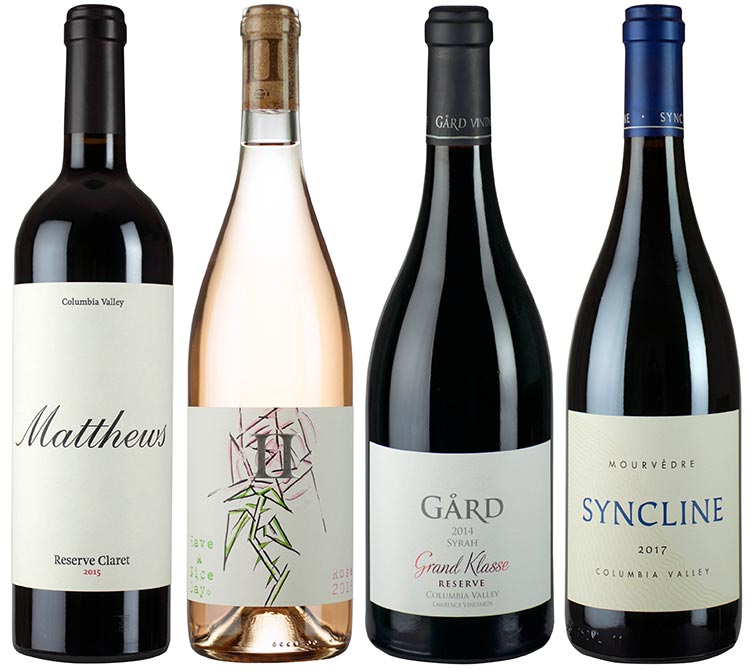 Matthews 2015 Reserve Claret, $67
Editor's Choice – Extraordinary (95-100 pts.)
Swirling with florality and black fruit aromas, this red wine is lithe and sculpted, boasting fine tannins and fluid flavors of cassis, tobacco, blackberry, violet and shades of fresh blueberry that deliver plenty of depth and power on the precise finish.
Concrete Factor: Fermented in 87% concrete tanks and 13% stainless steel, aged in 80% new French oak barrels
Two Vintners 2018 "Have A Nice Day" Rosé, $25
Editor's Choice – Outstanding (91-94 pts.)
Clean, with a viscous texture that encompasses polished flavors of peach, cherry, red berries and river rock. Loaded with energetic character, mineral and spice details that descend on the succulent finish.
Concrete Factor: Fermented and aged in one-third each concrete egg, neutral French oak and stainless steel tank
Gård Vintners 2014 Syrah Grand Klasse Reserve, $50
Editor's Choice – Outstanding (91-94 pts.)
Bold, plush and powerful, with meaty, smoky undertones to the flavors of black plum, currant, sweet incense, vanilla bean, white pepper and steely minerality. The rich, concentrated flavors extend through the finish.
Concrete Factor: Fermented in 100% concrete tanks and aged in 75% new French oak puncheons
Syncline 2017 Columbia Valley Mourvèdre, $40
Editor's Choice – Outstanding (91-94 pts.)
Fleshy in texture, with lively acidity that provides a balanced framework for the polished flavors of violet, dark stone fruit, pink and black peppercorns, and red currants that linger on the finish where a mineral accent emerges.
Concrete Factor: Native yeast fermented in concrete or small open top fermenters and aged in 870-gallon concrete cube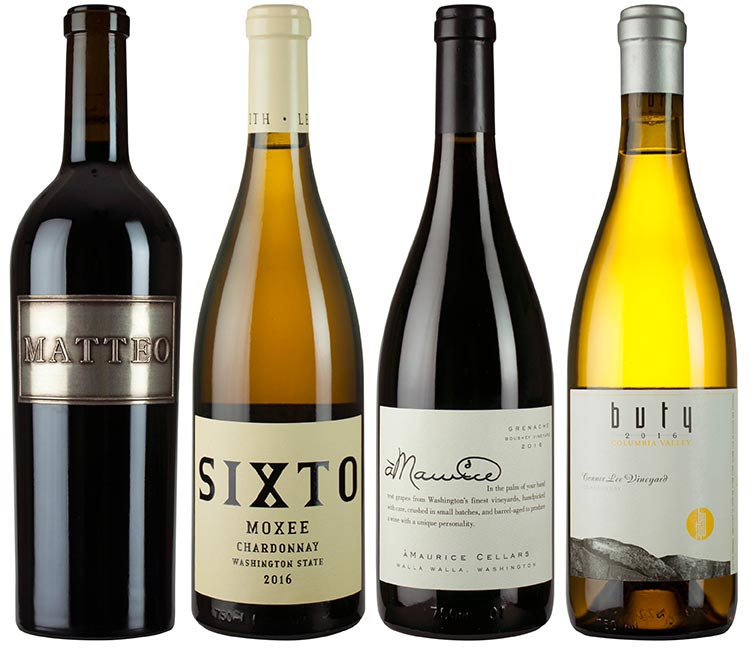 Matteo 2014 Red Wine, $75
Editor's Choice – Extraordinary (95-100 pts.)
There's an ethereal textural quality behind this Merlot, with immaculate dark stone fruit flavors framed by deft tannins and backed with perfect proportions of fig, tobacco, underbrush and graphite. Shows remarkable structure and duration on the burnished finish.
Concrete Factor: Fermented in concrete tank, racked to concrete egg for malolactic, then aged in 100% new French oak
SIXTO 2016 Moxee Chardonnay, $55
Editor's Choice – Outstanding (91-94 pts.)
Creamy smooth and elegant on the front, leading to distinctive textural nuances delivering gravelly notes with tea-infused flavors of pear, apple, melon rind, lemon curd and a glimpse of butterscotch. The flavors gain persistence on the refined finish.
Concrete Factor: Native yeast fermented in 50% concrete tanks and 50% French oak; aged on lees in 25% new French puncheons
àMaurice 2016 Boushey Grenache, $38
Editor's Choice – Outstanding (91-94 pts.)
Supple, with superb focus and uplifting structure on the midpalate, offering a range of tar-edged raspberry and cherry flavors that mingle with savory minerality, bramble, black pepper and bay leaf. Firm tannins lend depth to the generous finish.
Concrete Factor: Fermented in barrel through malolactic, then aged in French oak and a concrete Nomblot egg for 8 months
Buty 2016 Conner-Lee Chardonnay, $42
Editor's Choice – Outstanding (91-94 pts.)
Silky and graceful, with pretty aromas of apple blossom and citrus. There's vibrancy to the well-balanced structure, with seamless flavors of white peach, lime and Tuscan melon undercut with stone and mineral textures on the clean finish.
Concrete Factor: Fermented in 43% concrete tank and 57% Burgundy barrels (mostly mature or neutral oak)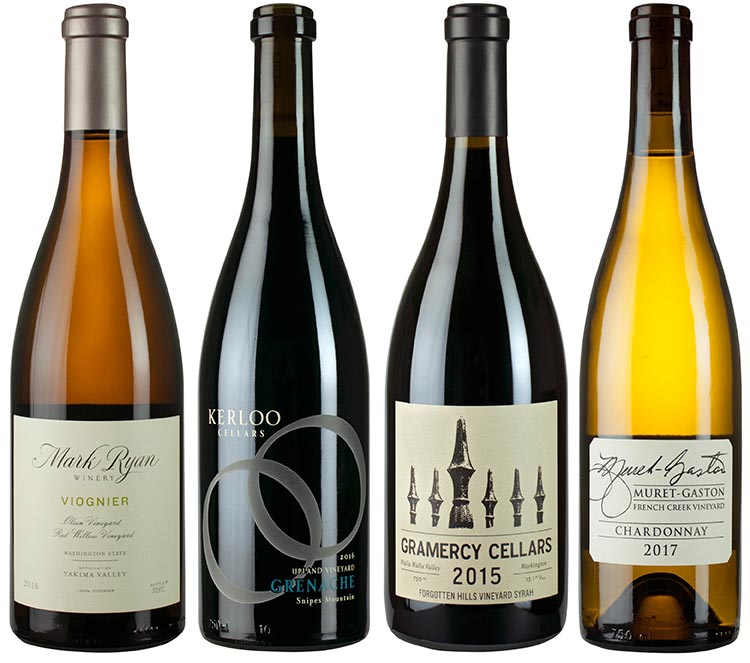 Mark Ryan Winery 2018 Viognier, $35
Editor's Choice – Outstanding (91-94 pts.)
Crisp, rich and impeccably structured, displaying aromas and flavors of white flowers, fresh apricot and apple infused with lime zest and herbaceous notes of lemon verbena. Mineral and textural components weave through the juicy finish.
Concrete Factor: Aged 6 months in combination of used French oak, concrete egg, new French oak and stainless steel
Kerloo Cellars 2016 Upland Grenache, $40
Editor's Choice – Outstanding (91-94 pts.)
Broad and expansive, with expressive and complex flavors of roses, tropical rain forest, raspberry and dried cherry notes that build with intensity, joined by loamy earth, peppercorn and stony minerality on the vivacious and compelling finish.
Concrete Factor: Aged 6 months in combination of used French oak, concrete egg, new French oak and stainless steel
Gramercy Cellars 2015 Forgotten Hills Syrah, $60
Editor's Choice – Outstanding (91-94 pts.)
Crafted with an Old World flair, this version is filled with fresh, vibrant acidity and fleshy layers of smoked meat, rock, blood iron minerality, red berries, and savory dried herbs like marjoram, oregano and lavender. Ends long and complex, with good funk and character.
Concrete Factor: Fermented with 75% whole berry cluster in concrete and stainless steel tanks; aged 18 months in neutral oak puncheons
Muret-Gaston 2017 Chardonnay, $28 
Editor's Choice – Outstanding (91-94 pts.)
Satiny and refined, this medium-bodied version strikes a lovely harmony between the fruit flavors of pear, apple, lemon and lime and creamy notes of crème fraiche. Finely structured and nuanced, with wet stone minerality lingering on the aftertaste.
Concrete Factor: Whole cluster native yeast fermented, then aged "sur lie" in 70% concrete/30% new French oak