The world is swooning over Washington state Syrah, a seductive red grape able to morph into a range of styles — we feature 16 of our top picks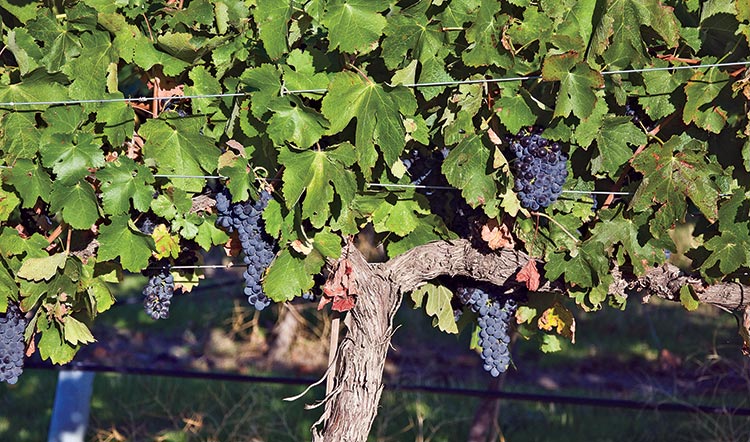 Written by John Vitale
SYRAH is one of the most alluring red varietals in the marketplace, beloved for its overall complex, ripe dark berry flavors and lush mouthfeel. Its popularity is huge in Washington where it is far and away the third most widely-planted red wine grape in the state, trailing only Cabernet Sauvignon and Merlot.
Like a chameleon's ability to change the color of its skin and blend into the surrounding landscape, Syrah has the ability to take on a wide range of different flavors and textural characteristics. These variances result from the interplay between the vineyard, the grower's hand and the vintner's cellar practices. Each of these unique combinations of factors affect the wine differently—some are bold and powerful, others fruitier and round, while still others take on wild, earthy funk qualities.
Chris Gorman of Gorman Winery started crafting Syrah in 2002 with fruit from Kiona's Ranch at the End of the Road Vineyard in the Red Mountain AVA (American Viticultural Area). He has been a devout proponent of the AVA ever since.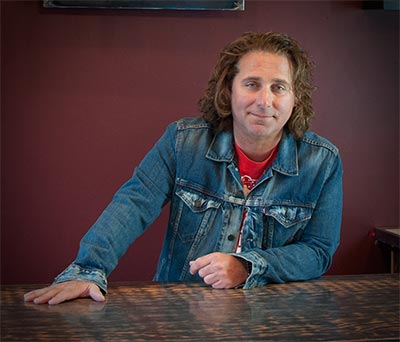 "Syrah is vital to Gorman," says Chris, who estimates that Red Mountain Syrah accounts for roughly 40% of his production. "It is in six of our wines although only two of them are labeled Syrah," pointing out that it makes up the bulk of his Evil Twin (blended with Cabernet), The Devil You Don't Know (with Grenache and Mourvèdre), Old Scratch GSM, and most years it makes it into his Zachary's Ladder (named in Wine Spectator's Top 100 wines of 2017).
Gorman's wines have met with high acclaim for his bold, powerful New World style. "Red Mountain Syrah is a very masculine expression of American Syrah.  It's got everything…color, intensity, beauty and structure. It's dense and delicious, with black fruit, blueberries and that classic gravel road scent of Red Mountain," he says. Outside of the AVA, his only other source of Syrah comes from Boushey Vineyards, located just 25 miles to the west of Red Mountain.
Dick Boushey has been growing wine grapes in the Yakima Valley for nearly four decades. "Syrah wines can reflect the site, the grower and the winemaker's style more than any variety I know.  Pinot Noir is probably comparable," he comments. "I believe there are more variables and options in making Syrah than any variety I know. The differences between my vineyard and Red Mountain are very dramatic."
Boushey Vineyards receives much less heat units than Red Mountain and sits at a higher elevation. "This cooler growing season and higher elevation allows Syrah at my site to hang on the vine longer and gain maturity without big sugar and alcohol, while at the same time retaining acid," he says.
Dick admits he loves drinking Syrah wines. "It is very versatile," he says. "It can be grown for lots of different price points—every day wine with good yields or high-end wines at lower yields."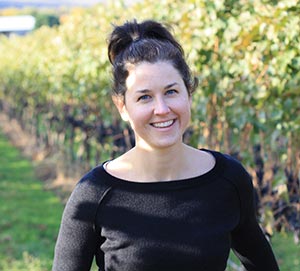 At àMaurice Cellars, winemaker Anna Schafer Cohen has sourced fruit for her Boushey Vineyard Syrah since 2006. "In the fermenter Boushey Syrah smells of pumpkin pie. In the resulting wine, it has layers of spice, but more primary notes round it out," she says. "We use neutral wood so very little of the aroma is from the barrel.  There is simply no need due to the fragrance of the vineyard; we are trying to preserve what we get organically."
Anna agrees with Dick Boushey that Syrah is quite versatile. "The biggest thing with Syrah is having an end game in mind. A well-farmed site will dictate the resulting wine to an extent.  A good winemaker could make a dense wine or a high-toned wine out of the same vines."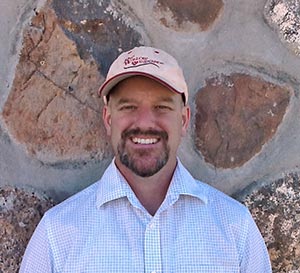 Mike Sauer planted the first Syrah vines in Washington in 1986 at Red Willow Vineyard, where his son, Jonathan, grew up at his side in the vineyard. "Syrah will express a terroir like few other varieties can.  We grow several blocks in differing soil types and each wine will express a uniqueness," says Jonathan. "It is the most versatile grape that we grow in regard to wine styles." The Sauer family went on to plant Viognier in 1993, which some winemakers use to co-ferment in small amounts with Syrah, introducing floral and citrus notes to the red wine. This technique originated in the Northern Rhône region of France where Syrah is the reigning red varietal.
"Since then we have seen many different styles of Syrah being made," Jonathan notes. "It can be harvested early without green notes or later, dependent upon a winemaker's preference.  Some use natural yeast, some concrete tanks. Some throw the stems back in while fermenting or even do 100% whole cluster fermentation."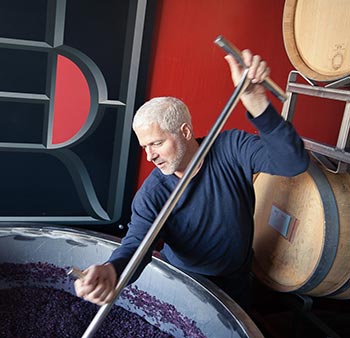 Bob Harris of Robert Ramsay Cellars has been making Syrah since 2002 and concurs with Jonathan's observation about the timing of harvest. "You can get a lot of different flavors out of the Syrah grape and they change fairly dramatically with ripeness. I think this is true across most of the vineyards we pick Syrah from, including Red Willow, Dineen, Phinny Hill, and McKinley Springs," says Bob, who produces three to four vineyard specific Syrahs, such as his elegant McKinley Springs Vineyard Syrah sourced from the Horse Heaven Hills AVA.
"One of the most fascinating experiments we have run is ripeness in Syrah and its affects on flavor profile. We pick Syrah earlier than most everyone else, and get a more European profile by doing so. I like to say, if you put the fruit in your mouth and think, yep, its there, then you are too late."
Waters Winery is distributed in approximately 20 states and mostly known for Syrah vineyard designates. "It's the most expressive, varied and nuanced grape variety I work with," says winemaker Jamie Brown, who believes in letting the vineyard site speak through the wines. "Not every location is best for Syrah, but the ones that are, have to have conducive winemaking to get the most out of the site."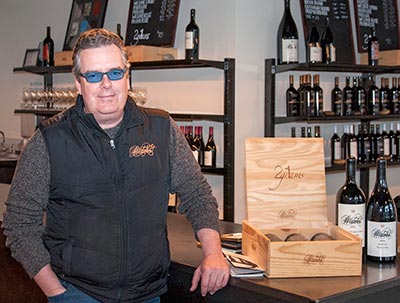 One of his favorite sites is Forgotten Hills Vineyard outside the city of Walla Walla near the foothills of the Blue Mountains, where he has sourced grapes for the past 16 vintages. Syrah grown at this vineyard touts strong earthy flavors. "It has gamey roasted meats with flint and blue fruit undertones, with surprising back end tannin and always rippin' acidity," says Jamie.
Richard Funk of Saviah Cellars sources Syrah from a dozen vineyards around the state. "Every single one smells, tastes, and expresses the site's unique characteristics more than any other varietal I work with," he says, admitting he is especially fond of The Rocks District of Milton-Freewater AVA, a tiny sub-appellation of the Walla Walla Valley where he has planted ten acres of Syrah.
"I would describe Syrah grown in The Rocks District as funky, earthy, umami, meaty, bloody, savory and briny. Fruity is one of the last adjectives used, but there is always a core of delicious berry fruits ranging from raspberry to boysenberry, depending on the vineyard and vintage," says Richard. He notes that choices made in the winery can have a significant impact on the wine, such as the practice of fermenting whole clusters of grapes (versus removing the stems) to impart additional savoriness and structure.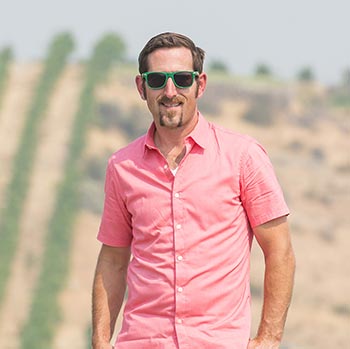 Ryan Crane at Kerloo Cellars also employs whole cluster grape fermentation. He produces four different bottlings of single-varietal Syrah, each displaying a bit of that expressive funk that fans go gaga over. "I fell in love with Syrah in 2004 and I continue to love her," says Ryan. "At Kerloo, we 100% whole cluster ferment our Syrah and the majority of them are all fermented with native yeast as well.  This brings an animalistic, funky, pure style of Syrah to our lineup."
Ryan's cellar techniques further include aging his Syrah in concrete tanks, using some neutral barrels, as well as aging the juice on the lees to enhance structure, complexity and mouthfeel.
His Les Collines Vineyard Syrah from the Walla Walla Valley benefits from being grown at a higher-elevation where long, hot days and cooler nights, along with the deep, heavier clay soil found there, contribute to the fruit's floral aromas and flavors of blood iron, blue fruit, smoke and meaty notes.
"Wines out of the Northern Rhône remind me of Les Collines Vineyard," he says. "The beautiful part is we make exceptional Syrah here in Washington."
Top Syrah Picks: Spring 2018 Issue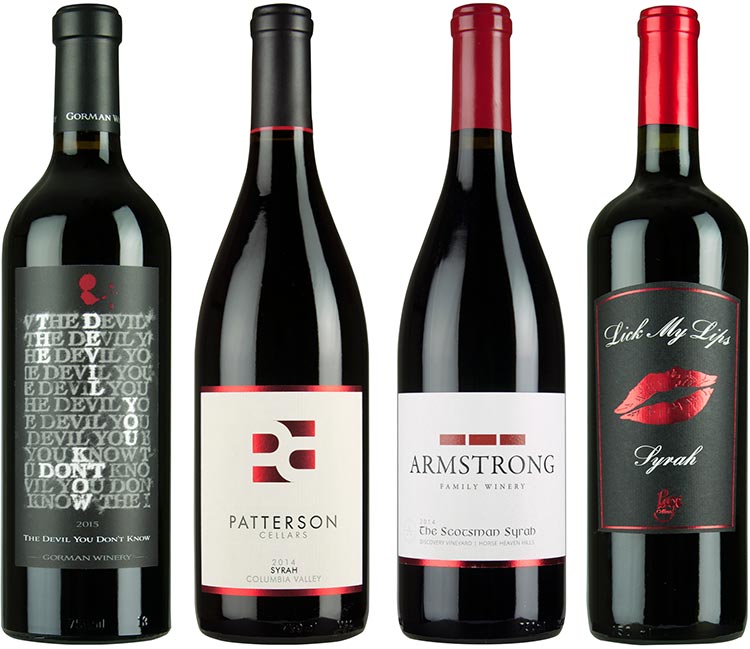 BOLD NEW WORLD

» Big, bold, smooth reds with power under the hood

Gorman Winery 2015 The Devil You Don't Know, $28
Editor's Choice – Outstanding (91-95 pts.)
Smoky aromas of coffee bean, vanilla, rose petal, wild berries and spice amplify on the powerful palate, joined with expansive, rich flavors of raspberry preserve and blueberry inlaid with pepper, sweet rolling tobacco and 
toast notes on the long finish.

Patterson Cellars Columbia Valley 2014 Syrah, $40
Editor's Choice – Outstanding (91-95 pts.)
With alluring aromas of dark berries, smoke, cocoa and stone ground cracker, this version is opulent with rich, bold blackberry and raspberry preserves that utterly coat the mouth. Deftly layered with fresh acidity, finishes with notes of clay, sage, fennel, anise and toasted spice.

Armstrong Family Winery 2014 The Scotsman Syrah, $36
Editor's Choice – Outstanding (91-95 pts.)
Bold, smooth and powerful, leading with aromas of sandalwood, blue fruit and vanilla bean. Fine tannins glide through the palate, flowing with blackberry and blueberry fruit flavors intertwined with savory notes of tobacco, coriander, clove and sage.

Page Cellars 2011 Lick My Lips Syrah, $33
Editor's Choice – Outstanding (91-95 pts.)
Bursting with aromas of dark berries and sweet pipe tobacco, this version is structured with pleasing fresh acidity that flows through the seamless medley of raspberry, blackberry and pie cherry flavors accented with spice and wet stone on the long aftertaste.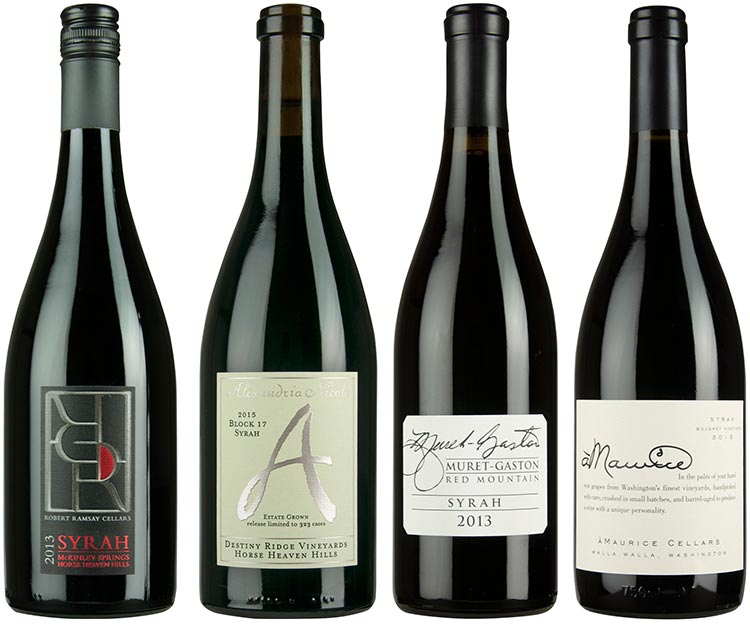 OLD WORLD TWIST

» New World wines with a touch of European restraint

Robert Ramsay Cellars 2013 McKinley Springs Syrah, $30
Editor's Choice – Outstanding (91-95 pts.)
Offering generous aromas of black plum, blueberry, tar, white pepper and rose petal, this red wine is supple and expressive, with juicy layers of red cherry, raspberry, licorice and a tinge of citrus on the complex, bright finish. Powerful, without being weighty.

Alexandria Nicole Cellars 2015 Block 17 Syrah, $45
Editor's Choice – Outstanding (91-95 pts.)
Silky, pure and fresh, with pillowy suppleness and a concentration of lovely raspberry and cherry flavors inlaid with orange citrus, crème fraiche and dried thyme notes that continue to evolve. Ends with a laser beam of structure, giving uplift and added range.

Muret-Gaston 2013 Red Mountain Syrah, $42
Editor's Choice – Outstanding (91-95 pts.)
Elegant and refined, yet powerful, with shimmering blackberry, red plum, black raspberry and violet flavors that pulsate through loamy earth and mineral notes. Textural and well structured, there's harmony in the way all the elements combine on the masterful finish.

àMaurice 2015 Boushey Vineyard Syrah, $42
Editor's Choice – Outstanding (91-95 pts.)
Tight and focused, with expansive texture and cottony tannins surging with steely accents of bedrock and loamy soil infused with black currant, dark purple berries and florality. Complex, finishing with white pepper and sweet saline notes.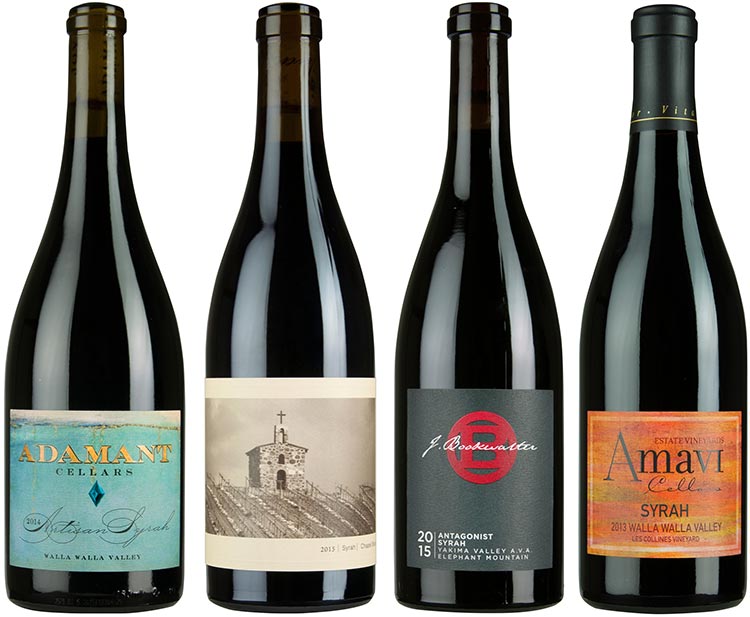 PURITY OF FRUIT

» Supple, richly built wines expressing purity and depth

Adamant Cellars 2014 Walla Walla Valley Artisan Syrah, $40
Editor's Choice – Outstanding (91-95 pts.)
Exceptional depth and purity of fruit stand out amid the lush flavors of dark plum and rich black raspberry detailed with pretty notes of baked blueberry. Ultra smooth, with savory elements of coffee, crushed rock and brine that enliven the fulfilling finish.

Owen Roe 2015 Chapel Block Syrah Red Willow Vineyard, $55
Editor's Choice – Outstanding (91-95 pts.)
Broadly aromatic, with engaging notes of wild berries, game, smoke, crushed gravel and a tinge of orange essence. There's cavernous depth to the flavors of black and red berries, currants, anise and tobacco accents that coat the mouth. Finishes with a spine of rocky minerality.

J. Bookwalter 2015 Antagonist Syrah, $45
Editor's Choice – Outstanding (91-95 pts.)
With aromas of sweet dark fruit and tobacco, this red wine is supple, bold and muscular, with a dense, polished backbone of plum, blackberry and dark cherry flavors that integrate with expressions of espresso, spice and crushed pebbles. Stays sharply focused through the gripping finish.

Amavi 2013 Les Collines Vineyard Syrah, $50
Editor's Choice – Outstanding (91-95 pts.)
There's a deep purity of fruit that defines this luscious version, with solid depth to the rich core of dark cherry, and blackberry coulis flavors melded with sage, violet and licorice details. Graphite minerality and spice notes flow through the long finish.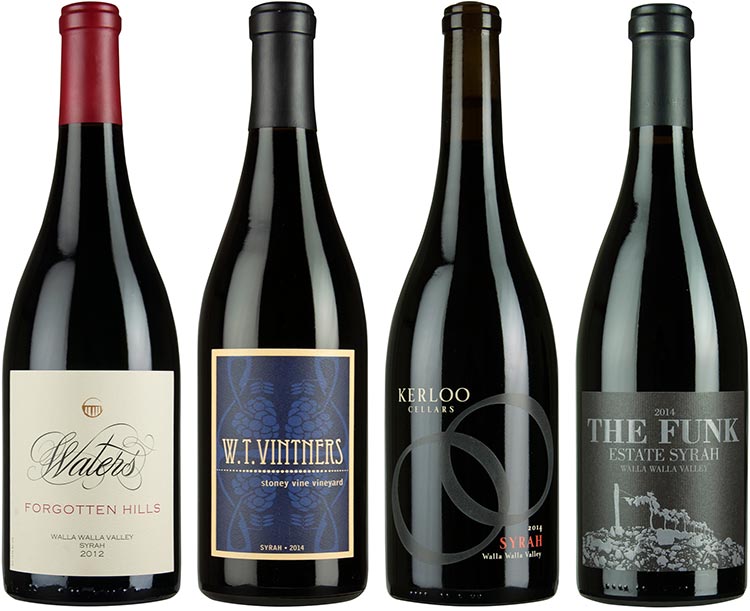 THE GOOD FUNK

» Like their Northern Rhône counterparts, these abound with classic funk

Waters Winery 2012 Forgotten Hills Vineyard Syrah, $60
Editor's Choice – Extraordinary (96-100 pts.)
Tightly structured, possessing a mouthfeel of plush silk with lavishly rich and umami flavors of loamy earth, crushed gravel, rosemary and tobacco wrapped around a juicy core of raspberry and cherry. Buoyed by supple tannins, the flavors continue to evolve.

WT Vintners 2014 Stoney Vine Vineyard Syrah, $48
Editor's Choice – Outstanding (91-95 pts.)
Scents of cured olive, tar, meat and violets mingle with dark fruit. Silky and elegant, filled with lively acidity on the palate, there's a beautiful funk to the earthy flavors of rocky soil, iron, wet stone, and savory herbs that pulsate with cherry and a tinge of purple fruit.

Kerloo Cellars 2014 Walla Walla Syrah, $40
Editor's Choice – Outstanding (91-95 pts.)
Tantalizing aromas of tarry-edged red fruit, bright floral and sweet herb notes sweep onto the palate, revealing rich cherry, plum and violet flavors supercharged with energetic texture, umami and spice elements. Earth, wet stone, iron, white pepper and bits of tar flow through the finish.

The Funk 2014 Estate Syrah, $60
Editor's Choice – Extraordinary (96-100 pts.)
Brooding aromas of grilled steak, asphalt, dark fruit and hints of grapefruit lead to a velvety mouthfeel with excellent structure. Expressive notes of tar, mesquite, iron and salinity wrapped tightly around flavors of violet, stone fruit and blood orange. Finishes with a textural element.