Pizza and wine are the Holy Grail of epicurean pairings and these 14 wineries & wine bars specialize in thought-provoking recipes that will leave you craving more
Written by John Vitale
PIZZA is addictive, drool-worthy, and praised as America's No. 1 comfort food. It also happens to be the most-Instagrammed food. There are even scientific studies conducted to learn why pizza reigns supreme in the food chain, though it shouldn't take an MIT graduate to figure out we just simply crave those umami flavors of savory, cheesy goodness that trigger the clang of far-away bells buried deep in our cranial pleasure sensors. Let's be honest, pizza and flatbreads are part of our DNA, beloved by fast-food addicts and gourmands alike. Bonus: a fulfilling meal that doesn't break the bank.
We are obsessed with the life-altering combination of hand-rolled dough baked in a wood-fire brick oven until the edges are golden brown—or slightly charred—with either a scarcity of sauce and cheese, or piled mile high with toppings. And a matchup with the right wine can take the pizza experience to a new level.
Our search for the Holy Grail of pizza and wine pairings led us to 14 wineries and wine bars around the state whose kitchen chefs regularly serve up a dizzying selection of pizza and flatbreads. Using proprietary dough recipes, we found their signature pizzas were as imaginative as they were tasty—topped with a winning array of fresh ingredients guaranteed to satisfy any critic. So this summer (or any season for that matter), quell your hunger for authentic style pizzas or flatbreads paired with great wine at any of these establishments.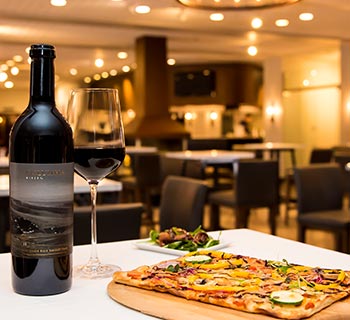 What you can expect: A rotation of seasonal flatbreads are served year round from the tasting room; the menu changes quarterly, but customer favorites can make repeat appearances
Popular flatbread: The Gardener
What makes it special: "The combination of tomato sauce, mushrooms, red onion, yellow peppers, sundried tomatoes, kalamata olives, summer squash and fontina topped with a balsamic reduction drizzle."
Pair with: Columbia Winery Horse Heaven Hills Cabernet Franc because it has an herbaceous quality which ties in wonderfully with the vegetable medley of The Gardener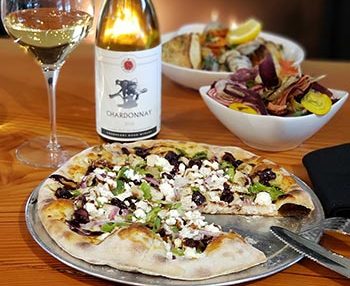 What you can expect: Pizzas and flatbreads on the Lunch & Dinner menu are served year round at the winery's farm-to-fork restaurant
Signature pizza: Cranberry Road
What makes it special: "Our artisan hand-tossed pizza is made with mozzarella cheese, roasted herb chicken, craisins, red onion, green bell pepper and Bulgarian feta drizzled with balsamic glaze. The mild Bulgarian feta ties everything perfectly together.
Pair with: Cranberry Road Chardonnay because the pear and apple notes of the dry Chardonnay compliment the sweet of the balsamic glaze and the savory of the chicken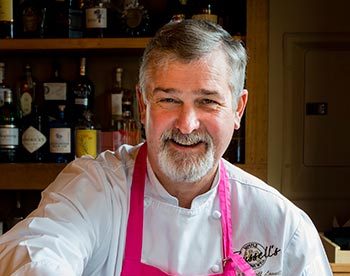 What you can expect: Farm-fresh fare, including brick-oven pizza year round, from the kitchen of renowned Northwest chef Russell Lowell at this wine bar inside Molbak's Garden & Home store
Seasonal favorite pizza: Smoked Salmon & Mozzarella
What makes it special: "House-smoked salmon with mozzarella baked in house made pizza skins makes for a winning combination."
Pair with: Pinot Grigio or even a Pinot Noir, which bring out the sweet smoky flavor of the salmon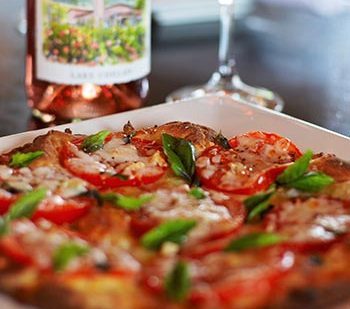 What you can expect: Flatbread pizzas are on the menu year round at this Italian-themed restaurant at the winery
Popular flatbread: Margherita Flatbread Pizza
What makes it special: "There are no secrets to this simple iconic recipe. Heirloom tomatoes, fresh basil and buffalo mozzarella graced with a patina of Italian garlic oil upon a classic thin crust pizza brought to perfection in the oven."
Pair with: Tsillan Cellars Bocciolo di Rosa because the Barbera-based Rosé is off dry with pretty notes of strawberry, melon, cranberry and rhubarb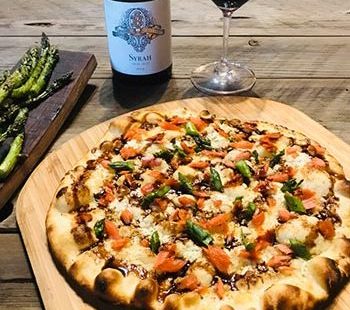 What you can expect: A core of five pizzas are served from the outdoor kitchen February to November
Signature pizza: Salmon
What makes it special: "We use fresh smoked salmon on our savory house made Alfredo sauce, goat cheese, finished with a hickory balsamic. This goes on our freshly made dough. The dough and sauces are all made from scratch in-house."
Pair with: J. Bell Syrah because the spice notes and smokiness are complimented by the hickory balsamic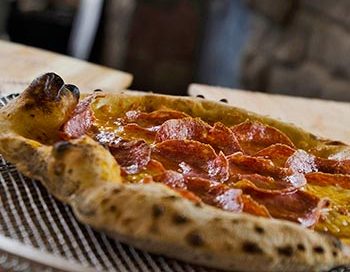 What you can expect: Pizzas served at the winery every Saturday during the grape growing season (mid-April through October)
Signature pizza: Salami
What makes it special: "Made with local ingredients from local farms, we start with naturally leavened and slowly fermented whole grain local flour. Cheeses include fontina, asiago pressa, fior di latte, caciotta and scamorza, topped with salami from Glondo's Sausage Company and Momotaro tomatoes from Grandpa's farm."
Pair with: Kamiakin red wine, a Right Bank Bordeaux blend (Merlot prominent) that is higher in acid and very fruit-forward, which highlights the savory elements in the pizza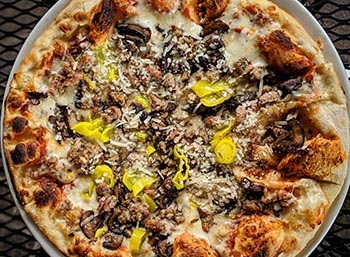 What you can expect: Pizzas are on the menu year round at J. Bookwalter Winery's onsite restaurant
Popular pizza: Fennel Sausage
What makes it special: "It is the pizza most symbolic to our establishment's motto of Inspired, Stylish, Local. House made fennel sausage, house made dough, local mushrooms, and house made marinara using local garden vegetables, herbs and our own Cabernet. Additionally, the cheese is a provolone and mozzarella blend, with pepperoncini and fresh grated mozzarella to top."
Pair with: J. Bookwalter Protagonist because its bright floral aromatics complement the sweet herbaceous flavor of the fennel, yet the strong tannins cut the rich, savory flavor of the mushroom and hearty sauce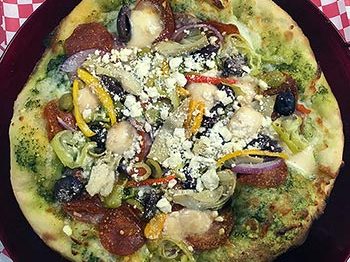 What you can expect: Wood-fired pizza offered at the winery year round rain or shine
Popular pizza: Pesto Anti Pasto
What makes it special: "The red sauce topped with mozzarella cheese, pepperoni, salami, kalamata and spanish olives, artichoke hearts, pepperoncini, red onion and feta cheese."
Pair with: Millea Reserve because the salty, creamy and tangy mix of flavors on the pizza play well with this red blend of Caberent Franc, Cabernet and Petit Verdot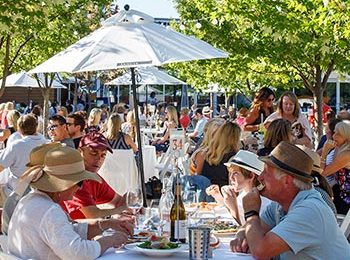 What you can expect: A seasonal pizza menu featuring ingredients from local farms is offered Friday through Sunday all year
Signature pizza: The Greek God
What makes it special: "Winery executive chef Liam Spence uses his very own combination of gyro meats (a mix of lamb, beef and Mediterranean spices) and finishes it with tzatziki, feta, tomato and kalamata olives."
Pair with: Novelty Hill or Januik Cabernet Sauvignon because this varietal nicely accentuates the spices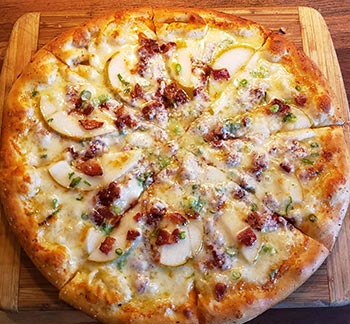 What you can expect: Wood-fire flatbread style pizzas are served year round at this family-run wine bar and bistro
Signature pizza: Savory and Sweet (see recipe on page 66)
What makes it special: "The Savory and Sweet is also known as the pear and bacon pizza, topped with Anjou or Bosc pears, bacon, aged white cheddar cheese, and chives from the garden (out of season we use scallions). The pizza also has extra virgin olive oil, kosher salt, and a special spice blend that we make ourselves using green peppercorns, pink peppercorns, and coriander seeds."
Pair with: The Bunnell Family Cellar Hélène, a dry white Rhone-style blend of Viognier and Roussanne, because the saline and savory flavors of the bacon and aged cheddar combine to accentuate the fruit and floral notes in 
the wine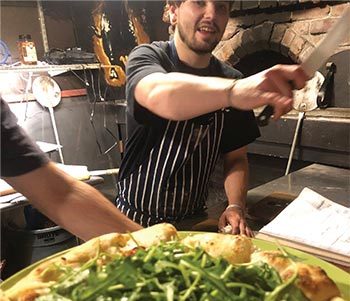 What you can expect: Wood-fired pizzas are offered year round during regular tasting room hours and for special events
Popular pizza: Amos Lee
What makes it special: "So named by our staff for our winemaker's favorite artist. The pizza started out as a special pizza offered once in a while. When people asked us to put it on the daily menu we needed a name, so they mockingly said Amos Lee because they were tired of hearing him come up on the playlist too much. The signature of the Amos Lee is arugula on top. It is made with olive oil/garlic sauce, manchego cheese, smoked hot coppa, basil and arugula."
Pair with: Roland Sangiovese because the sweet balsamic and cherry flavors in the wine pair well with the spiciness of the arugula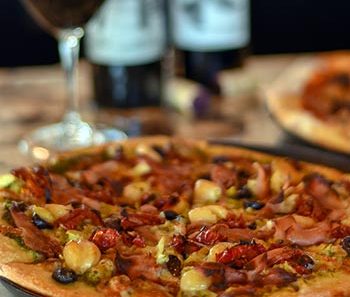 What you can expect: The menu offers a huge selection of hand-tossed pizzas and is open for lunch and dinner daily, acting as the tasting room for Schooler Nolan Winery
Popular pizza: Tuscany
What makes it special: "The combination of pesto, mozzarella, prosciutto, artichoke heart, sun dried tomatoes, roasted garlic and kalamata olives."
Pair with: Schooler Nolan Horse Heaven Hills Red Wine (Petit Verdot and Merlot blend) because the crispy, salty prosciutto flavors of the pizza balance with beautiful fruit in the wine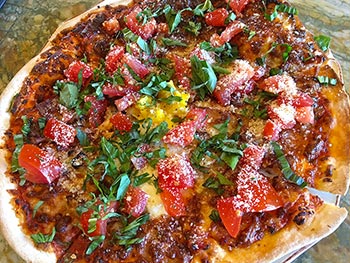 What you can expect: Pizza served year round at the tasting room overlooking Lake Chelan
Signature pizza: The Rooster
What makes it special: "Smoked bacon, mozzarella and caramelized onions, with a freshly cracked egg cooked in the middle; finished with fresh tomatoes, basil chiffonade, parmesan cheese and seasonings."
Pair with: Siren Song Émile Pinot Noir because this wine has lively fruit and the spice is just right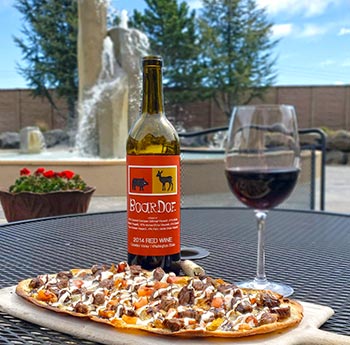 What you can expect: Flatbreads are popular year round on the winery's restaurant menu with locally sourced ingredients
Popular flatbread: Tenderloin Steak and Blue Cheese
What makes it special: "Extra virgin olive oil, fresh garlic, caramelized Washington onions, roasted tomatoes, Double R Ranch tenderloin steak, crumbled blue cheese, balsamic reduction, horseradish crème fraiche. All of these flavors combine to create a pleasant combination of sweet, salty, and the perfect kick of heat that will have you craving more."
Pair with: Tagaris Boar Doe because the soft, smooth Bordeaux varietal red wine helps carry the horseradish crème fraiche across the tastebuds