Wine in a can makes a portable traveling companion, and the quality from Washington producers will surely please anyone looking for an easy sipper in their favorite outdoor setting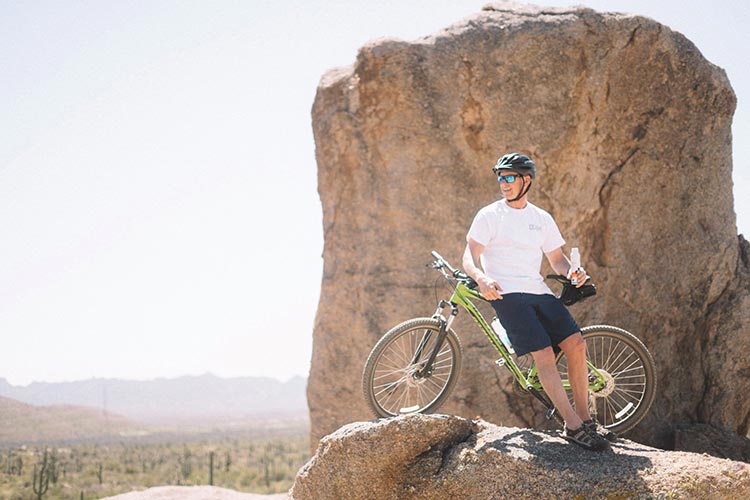 Excerpt of the full article originally published in the January 2020 (Winter) issue of Washington Tasting Room Magazine:
Written by John Vitale
A QUICK GLANCE at wine aisles in many grocery outlets tell the story: the number of wine labels sold in a can are multiplying.
Precept Wine, headquartered in Seattle, has seen an explosion of sales from coast to coast in this dynamic category. Their popular House Wine, produced in Walla Walla, is ranked the #1 top selling 375 ml can wine brand in the country. And in Washington, House Wine is the #1 top seller among all sizes of cans.
"House Wine's can sales have doubled in size the last two years and we see that trend continuing in 2020," says Andrew Browne, CEO of Precept. "We've seen phenomenal consumer acceptance of a half bottle of wine in an aluminum vessel!" He is referring to the fact that two 375 ml cans are the equivalent of one bottle of wine.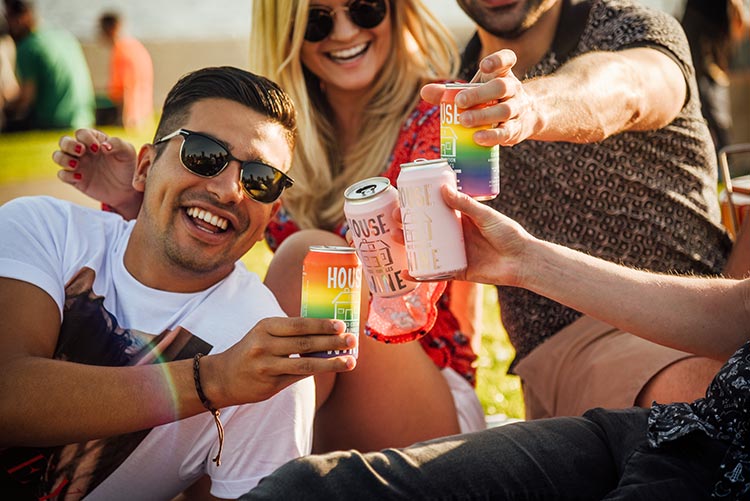 Browne has been an avid proponent of packaging wine in super-portable aluminum cans, leading Precept to enter the can wine category in early 2016, and launching House Wines nationwide a year later.
"Cans are a phenomenal opportunity that we said 'yes' to from day one," Browne asserts. "We know people care most about quality, and that the package complements the end result. Glass bottles have been the norm for the past few centuries. But a new idea, like aluminum in this case—as long as the integrity of the product stays perfect—doesn't scare consumers away."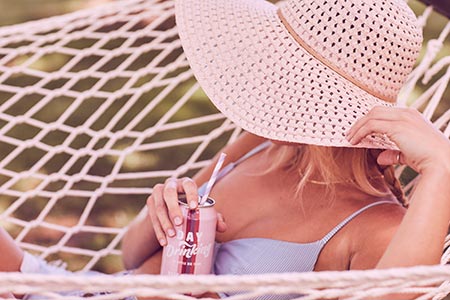 Canned wine has been a major focus for Precept in 2019 with expansion of their House Wine and Idaho-based Ste. Chapelle portfolio, as well as the multi-state launch of Day Drinking by Little Big Town and Sawtooth. In addition, they introduced Waterbrook cans and Browne Family Vineyards cans throughout Washington.
Resealable & Environmentally Friendly
Mercer Estates Winery owners Rob and Brenda Mercer rolled out a can wine brand in 2019 called ICAN (as in, "I can!") with nationwide distribution.
"We love the idea of canned wines for several reasons. I know it is not traditional or prestigious, but a lot of people who enjoy wine are not stuck on those ideas," points out Brenda Mercer. "A lot of times consumers want to enjoy wine on the go. Many of us enjoy wine on a hike, picnic, at a concert, on the golf course, by the pool or on the beach where bottles are not allowed or become cumbersome or dangerous."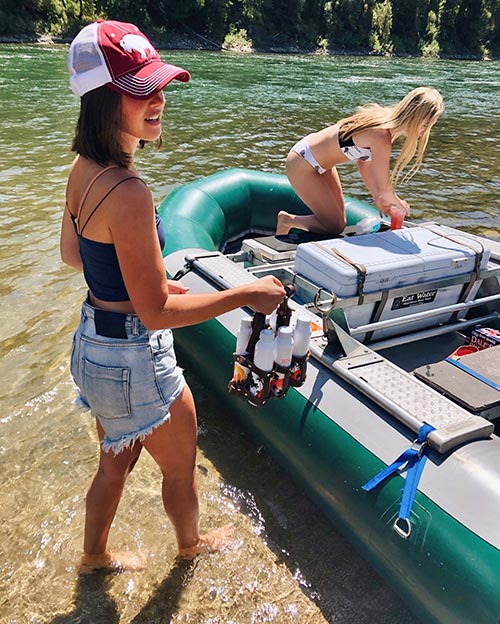 The ICAN stands out due to its twist off, resealable cap and tall, slim shape. It travels anywhere a sports water bottle might, and the resealable cap means you can toss it back in the ice cooler if it gets too warm.
The environmental benefit of using 100% recyclable aluminum cans made it a no-brainer for the Mercers too, who have for years won acclaim for their commitment to sustainable farming practices. "We love the lesser footprint. Our cans are recyclable, reliably resealable and reusable," says Brenda. "They are more efficiently transported due to their smaller weight and size."
The Mercers are prominent growers in the Horse Heaven Hills AVA. They grow all the fruit for their canned wines that are then carefully blended by Mercer's winemaker, Jeremy Santo at their Prosser production facility.
"There really is a lot of upside to canned wines. I don't think they will replace a nice bottle of wine, but for the right experience canned wines fill the niche nicely," says Brenda. She points to the fact the ICAN Rosé and Chardonnay are very different in style from the Rosé and Chardonnay they put in a bottle. This makes sense because canned wines are for the most part consumed out of doors, whereas finer quality wines in a bottle are better appreciated indoors in a protected and controlled environment.
The Mercers believe the key selling points behind the success of canned wines sales do not make them a temporary fad or passing trend. Rob Mercer points out that "none of the reasons [canned wines] are selling now are trendy—convenience, quality of the wines and the containers, environmental ease and value."
Toast On The Trail
Adulting is a line of sparkling wines in a can released in 2019 by Alexandria Nicole Cellars (ANC) and is distributed through their tasting rooms. "We have been excited about this environmentally conscious option since the canned wine craze began," says co-founder Ali Boyle. Their cans are sourced from the same estate vineyards that go into their bottled wines.
"We use the same great wine regardless of the package people find most convenient to consume," says Ali. "We realize that we have a loyal fan club and we want them to be able to purchase our bottles, kegs or cans with confidence regardless of the package they find most convenient."
To illustrate the point, Ali shares one of her favorite stories relayed to her from a wine club fan that toasted a beautiful hike in the Cascades with a can of sparkling wine they packed along for the trip. "Until now they haven't been able to enjoy wine on their hikes. Made me want to take a hike myself!" she exclaims.
Below is a brief roundup of our favorite wines in a can we recently sampled:
House Wine
A wide assortment of 11 cans to choose from, in styles ranging from bubbles to spritz to varietal wines. This brand garners 30% of the can wine category nationwide. Produced in Walla Walla.
House Wine Pinot Noir, $6

Inviting aromas of black cherry and clove. Plum, brown sugar and cocoa flavors mingle with silky tannins, leading to a smooth finish.
House Wine Grapefruit Spritz, $6
Refreshingly zesty, this spritzer exudes bright citrus aromas and refreshing effervescence, with lingering flavors of juicy, sun-ripened grapefruit and zest.
House Wine Sangria, $6
Bright scents of ripe navel orange spiced with cinnamon and clove lead to a lightly effervescent mouthfeel, with fresh flavors of spiced red berry, summer stone fruit and citrus.
---
ICAN by Mercer Wine Estates
Made from Horse Heaven Hills AVA fruit that is farmed, harvested and crafted by Mercer Estates Winery. Available in stores and their tasting rooms in Prosser and Seattle. Look for their red wine in a can soon!
ICAN Chardonnay, $7.99

A lush, yet refreshing Chardonnay with aromas of honeysuckle and fresh pear and undertones of caramel and sweet vanilla balanced by clean bright acidity that leads into a soft, savory finish.
ICAN Rosé, $7.99
Sleek with bright, lively acidity and aromas of fresh strawberries, pomegranate and cranberry uplifted on the palate with hints of white tea and pink lemonade. Crisp, refreshing and well structured.
---
Waterbrook
Produced in Walla Walla with quality fruit sourced from the Columbia Valley AVA. In stores throughout the Northwest and the Waterbrook tasting room.
Waterbrook Rosé, $8

Sleek, with strawberry, melon, cranberry and a bright kiss of grapefruit citrus that blends perfectly with Provencal herbs.
Waterbrook Winemaker's Red Blend, $8

Rich blackberry, black cherry, mocha and spice notes lead the parade in this smooth, signature red blend that's a hit in either a can or bottle.
Waterbrook Chardonnay, $8
Silky flavors of tropical fruit, particularly papaya, light butterscotch, dried pears and slivered almond combine to offer a firm mouthfeel and long, clean finish.
---
Browne Family Vineyards
It's the same high-end juice they put in the bottles except you can leave the corkscrew at home. Available at select retail locations in Washington and at Browne Family Vineyards tasting rooms in Seattle and Walla Walla.
Browne Family Vineyards Cabernet Sauvignon, $15
Loaded with dark black cherry and compelling layers of blackberry compote, tobacco, leather and baking spice. Firm, gripping tannins complete the long finish.
Browne Family Vineyards Chardonnay, $12

This full-flavored Chardonnay tempts with butterscotch, apple, Asian pear, toffee and allspice, with finishing notes of sweet vanilla and toasty oak.
---
Day Drinking by Little Big Town
Produced in Walla Walla, this is a collaboration between Grammy award-winning country music band Little Big Town and 
Precept Wine.
Day Drinking Southern Peach Spritzer, $6

Refreshingly delicious, with effervescent peach preserves that maintain a light, delicate feel and ever-so-slight tart note that adds balance.
Day Drinking Watermelon Rosé Spritzer, $6

Ripe red watermelon and sweet strawberry blend effortlessly with crisp, bright bubbles in this ode to summer that makes an easy-going sipper all year long.
Day Drinking Rosé Bubbles, $6

Aromas and flavors of fresh, ripe red berries are intertwined with bright, refreshing bubbles.
---
Adulting
Produced by Alexandria Nicole Cellars with fruit grown at their Destiny Ridge Vineyard in the Horse Heaven Hills AVA. Available for purchase at their tasting rooms in Prosser and Woodinville.
Adulting Sparkling Rosé Wine, $7.99

This dry sparkling wine exhibits red berry, lime and lively red cherry notes with an intriguing chalky-like finish.
Adulting Sparkling White Wine, $7.99
It's like Champagne in a can, complete with balanced citrus, white peach and apricot notes that glide along the crisp minerally finish.