Pep up your party platter with farmstead cheeses from Lost Peacock Creamery—versatile enough to grill, slice, spread or shred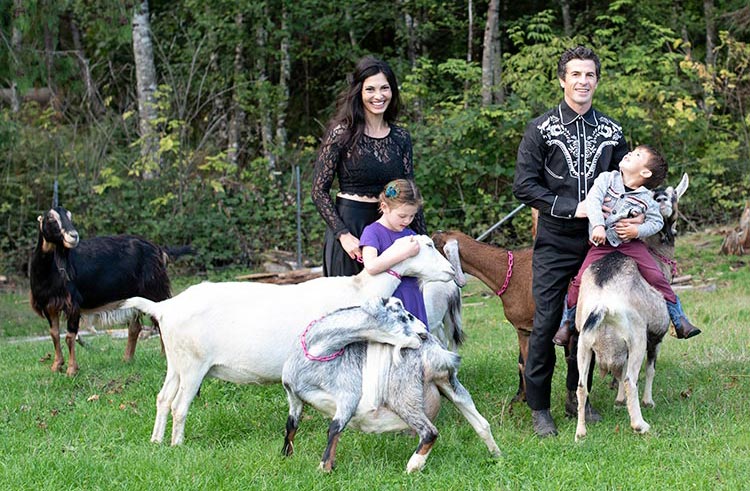 FARMSTEAD goat's milk cheeses from Lost Peacock Creamery will wake up your palate and rejuvenate your party platter in a matter of seconds. They are so sweet and scrumptious and will win over the hearts of cheese lovers of every age.
First generation farmers and cheesemakers, Matthew Tuller and his wife Rachael Taylor-Tuller, started producing craft cheeses on their farm in Olympia because they wanted a product that would make them proud to feed their family.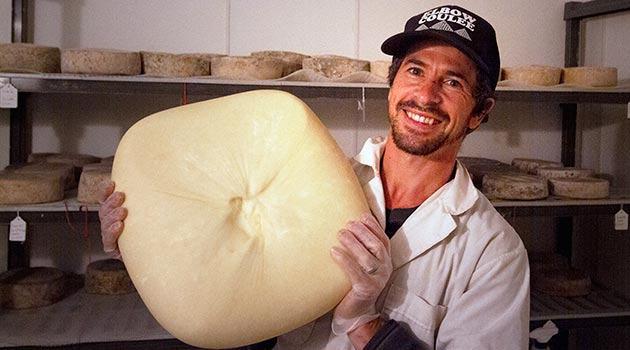 "Our goats are fed a diet that's soy-free, wheat-free, and corn-free because studies have shown animals that are fed diets rich in seeds and forage actually produce food that is less inflammatory for humans," says Rachael. "Even though we're not certified organic we only feed [our goats] organic alfalfa. We have young children and so we're especially conscious of what's going into their growing bodies."
Lost Peacock is a Thurston County Green Business as well as a certified Animal Welfare Approved farm. The Tullers aspire to the practice known as "high farming," a European term used to reference a symbiosis between the land and the farm animals.
"Our goats are more than milk machines. We spend time with them in the pasture, brushing them, petting them, talking to them and enjoying time with them," explains Rachael, an Air Force veteran who felt a calling to work with the land despite the fact neither she nor her husband had any farming background.
Making the decision to leave good careers and jumpstart a farm wasn't an easy one. But when a white peacock suddenly showed up on their fence line one day, Matthew and Rachael considered it a divine sign. "That peacock ended up making its home on our farm and we took it as a very good omen to keep doing what we were doing and follow our dreams!" says Rachael.
The healthy diet and pasture grass fed to the three dozen or so goats at Lost Peacock Creamery accounts for the incredibly rich, full flavors and smooth tastes behind the cheeses being handcrafted in small batches at this Grade A-rated dairy.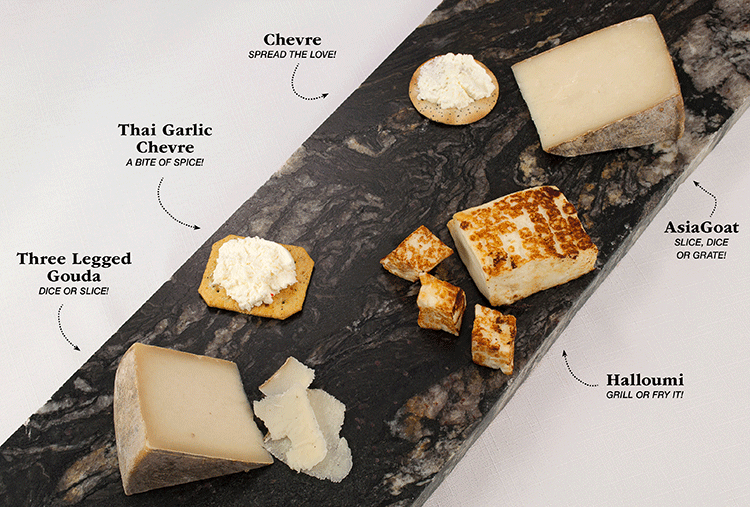 5 Cheese & Wine Pairings
AsiaGoat: Dice or Slice
TASTE: A hard goat cheese aged in a cave for three months. Umami flavors abound with sweet milky and nutty notes. Try grating over your favorite salads or pasta for a
savory kick.
SIP: Rustic, lighter style reds like Sangiovese, or try Marsanne to match the nutty flavors
Chevre: Spread the Love
TASTE: Fresh tasting with a shining tangy sweetness and lemony hints. The texture is light as air with a silken creaminess. Say farewell to the factory stuff, this is what chevre is meant to taste like!
SIP: Sauvignon Blanc, Semillon, Rosé or sparkling wine
Thai Garlic Chevre: Spread the Spice
TASTE: Fluffy and creamy textured, with lip-smacking garlicky goodness married with perfectly balanced warm notes of Thai chili peppers.
SIP: Semi-sweet white wines to contrast the Thai chili notes, preferably a Riesling or Orange Muscat
Halloumi: Grill it!
TASTE: This Greek-style cheese is comfort food at its finest and the high quality of the goat's milk makes it doubly tasty. Pan grill several minutes on each side until golden brown for a savory crust that's slightly gooey on the inside and has a beautiful squeaky cheese toothiness with light sea salt notes.
SIP: Dry Rosé or anything bubbly to contrast the buttery richness of the cheese
Three Legged Gouda: Dice or Slice
TASTE: Aged at least 60 days, this hard goat cheese is firm, yet with a pliable chew and mild notes of sweet pasture grass and forest. Delightfully complex to the last bite. A hearty addition to any snack plate.
SIP: Pinot Noir or other earthy, lighter-bodied reds and white Rhône varietals
Where to Find Lost Peacock Cheese
All PCC Markets in and around Seattle, Central Co-op on Capitol Hill Seattle, Beecher's in Pike Place Market, New Seasons Market in Ballard and Mercer Island, Olympia Food Co-op, Spuds in Tumwater, The Mouse Trap in downtown Olympia. Or inquire online at www.lostpeacock.com
Written by John Vitale