An interview with Andrew Browne, CEO of Precept Wine, whose mantra for success and personal passion behind Browne Family Vineyards were instilled by his grandfather and WWII hero William Bitner Browne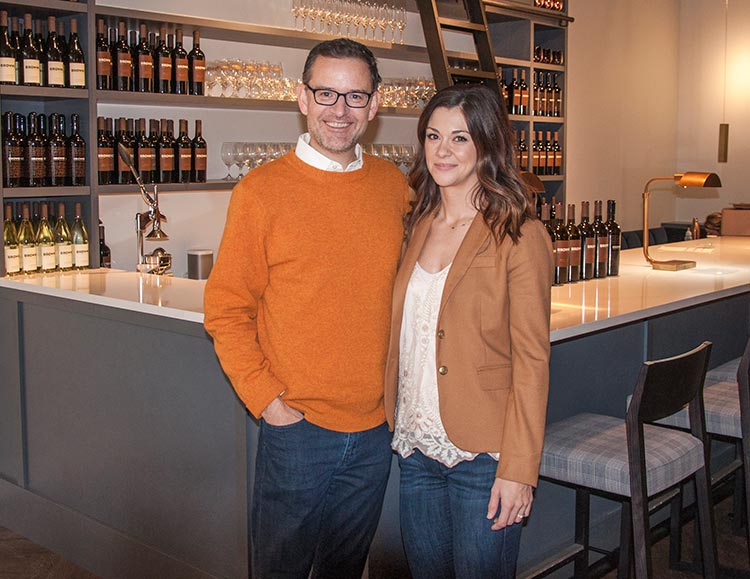 Reprinted from the Spring 2018 print issue of Washington Tasting Room Magazine
Interview & Photographs by John Vitale
THE BOND between child and grandparent can have an everlasting impact on one's life. Andrew Browne, CEO and founder of Precept Wine, attributes the life lessons he gleaned from his grandfather, William Bitner Browne, for laying the foundation for success. That ethos is indelibly etched into every facet of Browne Family Vineyards—from the quality of the premium wines to the high level of tasting room hospitality that Andrew calls "customer nirvana."
Bitner, as friends and family called him, was a Midwest lawyer, decorated WWII hero, and larger-than-life figure to Andrew. At the tender age of 20, Bitner attended the University of Bordeaux in the 1930s where he developed a taste for French wine. Later, after graduating from Harvard Law, he started a family but was quickly recruited by the Office of Strategic Services (predecessor of the CIA) to assist the French Resistance in the fight against the Nazis. Bitner's work as a spy behind dangerous enemy lines supplied the Allies with vital intelligence reports. Afterwards, the veteran returned to Ohio to practice law and provided decades of tireless public service to his community and charitable organizations.
Andrew Browne grew up in Spokane, where his grandparents would come visit every summer. He also spent copious one-on-one time with his grandfather at their home in Springfield, Ohio, and their place in Florida.
In the early 2000s, Andrew founded Seattle-based Precept Wine, the Northwest's largest family-owned wine company. In addition to Browne Family Vineyards, Precept owns Waterbrook, Canoe Ridge, Gruet, HOUSE Wine and Pendulum, to name a few. The parent company is one of the fastest growing wine companies in the U.S. with total wine volume at 1.9 million cases annually. In addition, Precept operates thousands of acres of vineyards in emerging wine regions across Washington, Idaho, Oregon and New Mexico, giving them quality control over every phase from vineyard to bottle.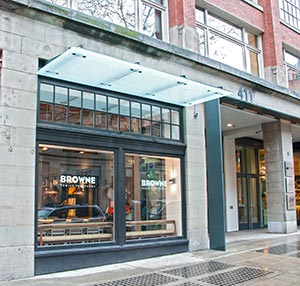 Early in 2018, Browne Family Vineyards opened a second tasting room to complement their Walla Walla tasting room—this time in Seattle's bustling historic Pioneer Square neighborhood.
I sat down with Andrew Browne to talk about why this particular brand holds such personal meaning for him.
You've said you were inspired to launch Browne Family Vineyards as a tribute to your grandfather, Bitner. Was he there to witness the start of the winery?
Andrew: My grandfather died in 2002, which was not expected. Precept was founded in 2003 and Browne Family's first vintage was 2005. So I was already moving in the direction of doing Browne. We already had a number of vineyards. We felt like the grapes were finally mature to the level we felt comfortable putting our name on it.
What would your grandfather have thought about the idea of starting a family winery?
Andrew: He was a lawyer from Ohio—he spoke very quietly and carried a big stick; he believed in never putting your name in front of the public. But I knew I was going to be in the Washington wine industry forever and it made sense. I think you do put yourself out there, but at the same time you can also build and establish something that is truly credible to a level that is different from just putting a name on a wine bottle. And at the same time, you have to be very diligent and somewhat stressed, because you are putting your name on it, so the wine better be damn good.
What was unique about your relationship with Bitner?
Andrew: When you're a small child, you always look up to parents, you look up to adults and they're bigger than life. But when you grow up you realize they are not as big to you as when you were little, and you see their shortcomings. That was one thing that never happened with my grandfather and me.
Were you able to spend much time with him?
Andrew: My experiences with my grandfather, when we were together, was an all-in experience for a couple weeks at a time where he wasn't focused on his work and I wasn't focused on school or something. I got dedicated time that was 24/7.
Did Bitner's presence have a lasting affect on you?
Andrew: My grandfather was always that giant in my life. He stayed that way and he was that ever-presence. It was one of those things where I would think to myself in any given situation, what would Bitner do? And that was the thing I always thought. If I was in a conversation, or if I was doing something, if he was in the room, how would he handle it?
How did the lessons learned from 
your grandfather influence 
your leadership style?
Andrew: At our parent company, Precept, we live with a certain cultural ethic. The way we try to go through our life is through a certain amount of corporate precepts that are predicated on my whole upbringing and my growing up with my grandfather. That's really what the trigger is. So we can talk about Browne Family in a subtext of that, as a family winery, but really what he developed for me was a much greater and bigger presence in life, which has led us to build a dynamic wine company with over 400 employees. It all comes back to your culture and your people.
How does Browne Family fit into Precept's other brands?
Andrew: Browne Family stands on its own. When John [Freeman, head winemaker] and I sit down and talk about the wines, and how we make them, and the grapes that we decide to allocate to them, and the barrel programs that we use, this is a strictly stand-alone winery.
Does Browne Family benefit from the parent company's larger resources?
Andrew: Browne Family gets to share with the resources of a brilliant group of people, which can create a better village, I believe. We're in such a blessed position to have the resources that we do as a bigger family company, so we can do it right for Browne. We put a lot of legs under the table. Many years ago when I was at Columbia Winery we had a terrible freeze in the state and we realized that even if you have a giant trunk under your table—as a company—if something devastating happens, you can take a chainsaw and knock one leg down and damage the whole business.
So we put a lot of legs under the table—whether it's a tasting room, wine club, special event, how we work with local restaurants, or whether Browne Family is served in First Class with Alaska Airlines—because we don't want to establish this as a one-trick pony. We understand that at the end of the day we want to get compassionate consumers behind our brand and we do that in a lot of different directions.
Creating those "legs" sound like an enormous challenge.
Andrew: We're pushing a rock up the hill every day, and the nice thing is, maybe we can get the hill to be a little less steep as you mature, and as you grow your business. But if you ever think you're not pushing the rock uphill, it's going to do one thing—it's going to roll back onto you (laughter).
Is it fair to say Browne Family represents the pinnacle of Precept Wine?
Andrew: If you're asking Andrew Browne, is Browne the penultimate, damn right it is. But if I was at Waterbrook Winery as the CEO and founder of Precept, well, Waterbrook's really important. And if we're talking Waterbrook, let's talk Waterbrook or Canoe Ridge…(pauses, then says with a quiet chuckle) but I love Browne a little bit more. What would Bitner do? If Bitner found out I was putting Browne second, I think I'd be in trouble (grins).
Actually it's a great question and I'd like to elaborate. Browne Family is the guinea pig within Precept. Let's say we're making a video or going to start doing something with social media, or want to try something different—my response is, let's try it with Browne, let's put it out there, let's really dig in.
Everyone knows that I'm intense and serious about Browne Family and if we're going to guinea pig it with Browne, it means we're going to put our best minds, our best resources and we're going to give it 100%. And if we find it works, we can learn from that and we can move it to other brands.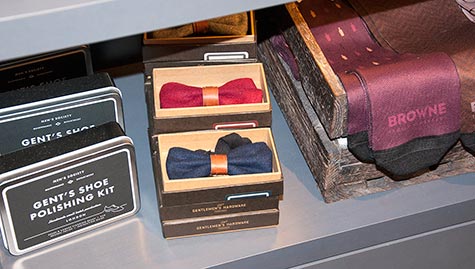 Has Browne Family always had an emphasis on Bordeaux grape varieties?
Andrew: In the 1930s, my grandfather graduated from Wittenberg University in Springfield, Ohio and got accepted to Harvard Law. He took a year sabbatical and went to the University of Bordeaux. An Ohio kid. That's where he got his passion for everything French. In the 1940s, he goes into the OSS—today's CIA—for the government, because "Wild Bill" Donavan, who headed up the OSS ran the first law firm he worked at in New York City.
Grandfather was a fluent French speaker. Everything was predicated on Bordeaux. He worked with the French resistance; he was in France during the war, post Normandy invasion and the liberation of Paris. So it really sits true for us to focus on Bordeaux varietals.
With the latest releases it appears the Browne Family has been growing?
Andrew: Yes, in more ways than one (laughs, gesturing to his wife, Courtney, across the tasting room with their newborn six-week-old son). Our daughter just turned two yesterday and she went with the grandparents to a Disney Live event in Kent with all her little cousins. To watch Courtney's mom and dad and to see them with four or five grandkids, well, it's why grandparents love to be grandparents (grins with parental pride).
I got that from my grandfather. And that's why I get so passionate about Browne Family, because I had that unique, unbelievable experience with my grandfather who gave me so many tools in my toolbox. And I get to apply all those best practices in business, craftsmanship, and in developing and making a real product.
So your personal experiences with your grandfather helped lay the foundation for success?
Andrew: To be able to establish ourselves with a foundation built on such a wonderful premise is like building a house and pouring an extra 18-inches of concrete. The depth and the thickness of what we've got in the foundation are so special. It creates a feeling of strength. And what it's built around is strength of community, whether it's the tasting room or winemaking team, or our marketing or PR team, every year what we're doing gets more dynamic and exciting.
And I think it's all predicated on my grandfather, or at least my grandfather's beliefs that have been instilled in all of us. That's what I can be proud of. I can look at that and say, a little bit of Bitner rubbed off on everybody that ever touched the Browne brand.
Editor's Top Picks

---
Browne Family Vineyards 2013 Klipsun Vineyard Malbec, $48
Editor's Choice – Extraordinary (95-100 pts.)
There's a refreshing quality behind the powerful and generous flavors of plum, cassis, violet and jammy red and black fruit supported by well-integrated tannins and polished structure. Spice, tobacco, vanilla and toast notes run deep on the fresh, harmonious finish. –JV
Browne Family Vineyards 2014 Petit Verdot, $36
Editor's Choice – Outstanding (91-94 pts.)
Tantalizing aromas of dark fruit, violet, leather and cigar box flow onto the savory palate joined by hints of dried cherry and pencil lead shavings blanketed with carpet-plush tannins. A juicy beam of acidity adds a light touch to the finish. –JV
Browne Family Vineyards 2014 Tribute Red Blend, $31
Editor's Choice – Outstanding (91-94 pts.)
A seamless red blend of six varieties: Merlot, Cabernet Sauvignon, Malbec, Petit Verdot, Petite Sirah, Carménère. The wine abounds with expressions of bold dark fruit, fine yet firm tannins and balanced acidity. Smooth flavors of black cherry, plum skin, cassis, tobacco, anise and bay leaf meld effortlessly into the tautly structured frame and carry long into the finish. –JV
Browne Family Vineyards 2016 Grenache Rosé, $19
Editor's Choice – Outstanding (91-94 pts.)
Crisp and well-heeled, this bone-dry version is minerally driven, with a spear of acidity running through the lively flavors of pink grapefruit, cranberry, watermelon rind and red berries. Notes of river rock, pomegranate and white pepper stay pronounced on the clean finish. –JV
---
Visit & Taste Browne Family Vineyards

Seattle Tasting Room:
411 First Avenue South, Seattle
Ph: 206-887-9463
Walla Walla Tasting Room:
31 East Main Street, Walla Walla
Ph: 509-522-1261