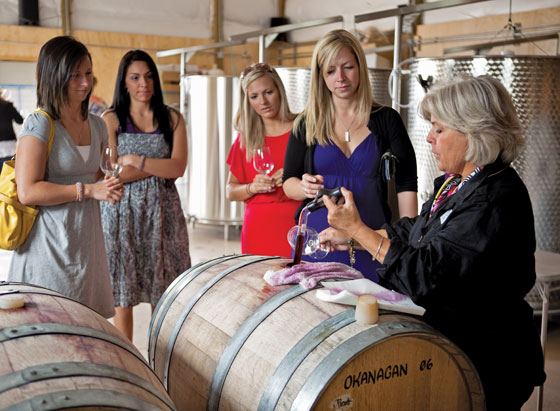 Attend a Spring Barrel Tasting event and get ready for a glimpse into the future

SPRING BARREL TASTING is a time of hope, of anticipation to what the future holds—and winemakers are excited to show their fans a small glimpse into what the last harvest has yielded and what they might be able to look forward to in the future.
A Snapshot In Time
Of course, what you are about to experience is really only a snapshot in time.  The wine still has a long way to go and will evolve immensely before it's mature enough to be released.
It's hard for the average wine drinker to remember this though, as you can only taste the present, not the future.  It's like looking at a painting that is only half finished, or a fixer home that has yet to be remodeled.  And since wine drinkers are often not that versed in winemaking, most don't know how to project what will become of the wine over time as it ages in the barrel.
Fermenting the wine is by far the most essential step in making wine, but the hard work is far from over when the yeast has done it's job and the wine is ready to start aging.  Winemakers are constantly checking on the wine and occasionally racking the wine, which is the process of separating wine from its sediment, or lees, and transferring the wine into another barrel.  They make a variety of simple adjustments to the wine over time, but most of the changes to come will be from the impact of oxygen, the oak barrels, and time.
A Million Miles From Finish
When a winemaker allows you to take a sneak preview, they usually do this just for fun while all along knowing some people will not understand this wine is a million miles from what it will be when finished, a big risk on their part.
The wine enthusiast who does not truly understand the wine is an infant will often mistake the youthful, angular wine to be of poor quality and sometimes a little too "grapey!"  You may still taste yeast and the wine might still be a bit murky.  All of this will change as the wine becomes more elegant, refined and balanced over time.
Barrel samples will often leave the impression the wine will be sharp or a little too tannic and dry, which will subside over time.  Yet there's more to the end result being different in taste than just the result of aging.
The Magic Of Blending
Quite often the wine in barrel will be blended before bottling with other grape varietals for balance and layering of flavors.  Besides being blended with other grapes, if the winery is making any quantity over and above one barrel per grape, they typically put all of the barrels of that grape into a very big tank and blend them all together before bottling.  And every barrel is different.
So for example, if a winery makes enough Cabernet Sauvignon to fill eight barrels, you may taste the Cabernet out of one barrel at the Spring Release, but by the time it's blended with the other seven barrels in a tank at bottling, everything will be quite different as well.
So, yes, spring release barrel tastings are fun.  They are a good time to celebrate the end of winter with your friends, and a good way to get out to the wineries and see the fresh, new growth that will become another piece of living history sometime soon.
A Glimpse Into The Future
Keep in mind what you are tasting out of the barrel is really only a glimpse of what could be in the future.  And thank the winemaker for taking the risk to show you something they know is far from finished.
Written by David LeClaire
Looking for a barrel tasting event to attend?  Visit our calendar.