Artist Laura Gable spends her time painting en plein air and in the studio as she captures impressions of wine country in its natural shades of glory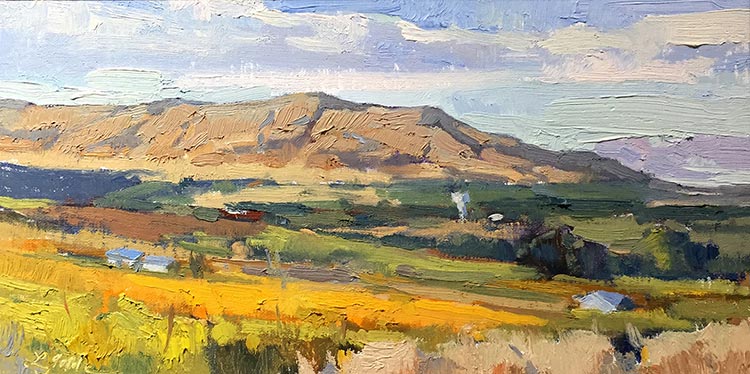 Interview by John Vitale
ARMED with tubes of oil paint, brushes and canvas, artist Laura Gable professes she spends as much time painting outdoors as she does in a studio, capturing the raw beauty and moody nature of Eastern Washington wine country. She enjoys the freedom of painting outdoors, a form of art known as en plein air ("in the plain air"), and belongs to a regional group called Plein Air Washington Artists.
Growing up in rural Nebraska, Laura's creative side gravitated towards painting as a hobby early in life, minoring in art in college and later pursuing graphic design. After a long hiatus, she resurrected her art career in 2001 after moving to Washington. Her striking landscapes are like peering into the heart of an old soul, whose wisdom of the vineyards, rivers and desert terrain around her are brought magically to life with succinct brush strokes.
In an interview with Washington Tasting Room Magazine, Laura talks about her admiration for nature and artistic synergy as a plein air artist.
If your landscape paintings could speak, what would they say?
They would say, Please look at what nature offers us, the beauty of a winter's morn, the movement of clouds in the sky, the shadow patterns on snow. It was stated best by John Muir when he said, "I care to live only to entice people to look at Nature's loveliness." We can get so far away from this beauty with the imagery that is constantly available to us through print and our digital devices; our spirits become overwhelmed by this. Yet when we take the time to look at a painting, we interact with it, attempt to understand the artist's message, or just to translate the message in our own way. So in a way "the viewer completes the painting." 
I read that once, though I don't recall who said it.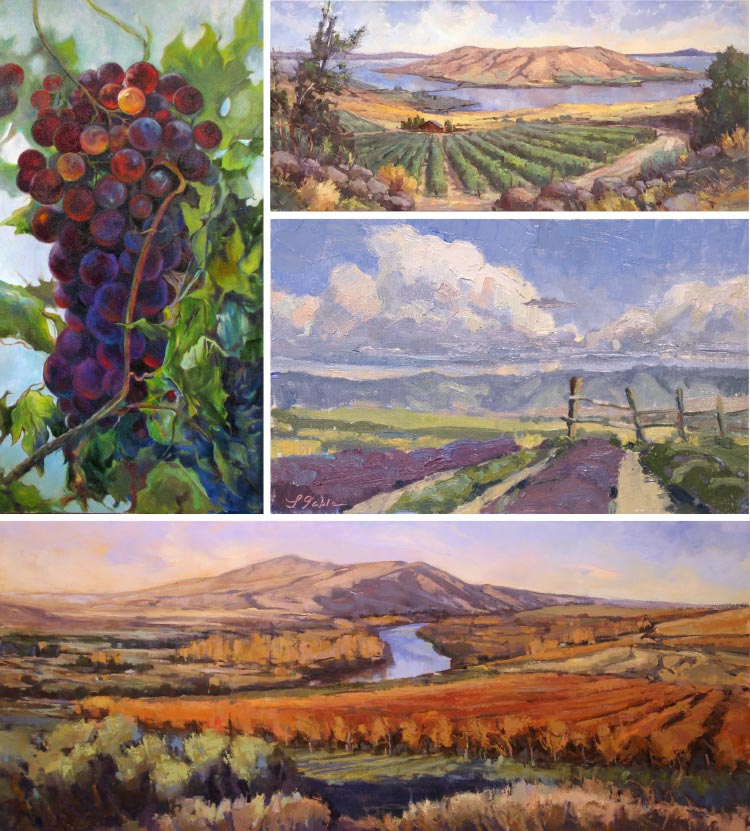 What is your favorite season to paint vineyards?
Autumn in the vineyards is a magical time when the leaves turn golden and sometimes red. The scent of grapes on the vine is invigorating. I imagine I am in the French countryside. Autumn is my favorite time to paint and the haze that comes over the vineyards creates a lovely atmosphere on the cooler days. The winery owners are so accommodating and always welcome the artists onto their property. I think together we create a beautiful combined experience. The wine-goers always love to stop and visit while we're out there painting. The Red Mountain area is lovely with its rolling hillsides covered with the vines—a nice foreground to the dominant Rattlesnake Mountain that stands tall in the background. Hedges Vineyard has some beautiful architecture as well.
Do you paint mostly in a studio or plein air?
In the beginning when I was learning plein air, it became the majority of my work. But now it is about equal, as I've learned some of the true nuances of color, light and shadow (though I am always learning) and able to translate that while in the studio. The studio pieces are generally larger and are developed from the plein air paintings. Ideally there would be a number of plein air studies from a region, which could inform the larger studio painting.
Do you ever start a landscape outdoors and 
finish it in the studio?
Sometimes the plein air painting gets a bit more finishing strokes applied once it gets to the studio. But I am cautionary about doing this because I can quickly alter and disrupt the color harmony that was developed out of doors. The studio lighting is never the same as the lighting out of doors. Leaving it alone is a way of honoring the experience.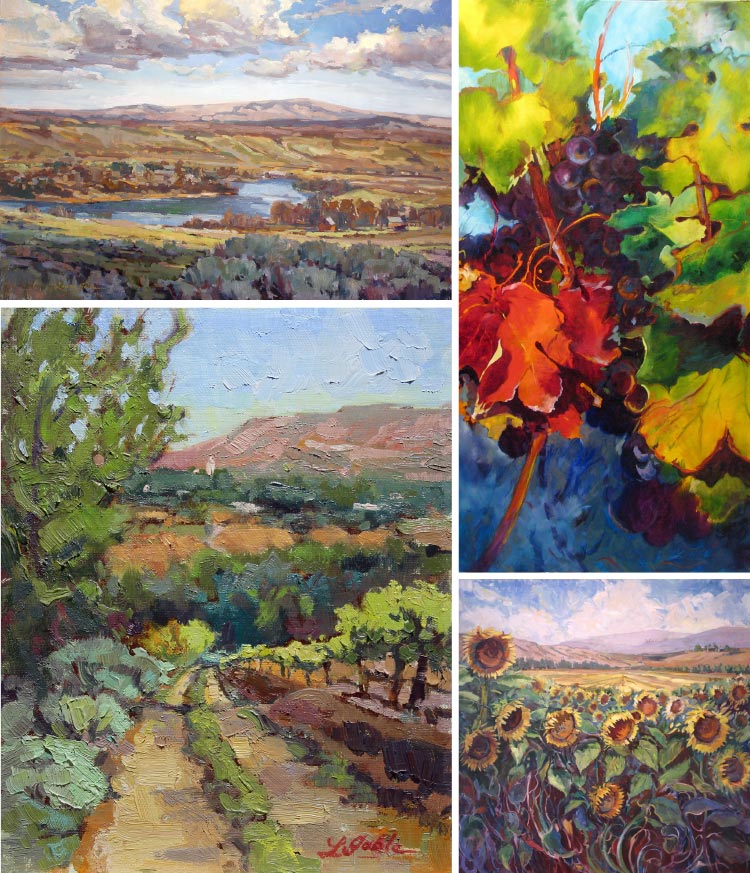 How does your creativity benefit from working outdoors?
There is a synergy and spontaneity that comes from working out of doors. My goal is to continue to develop this synergy in my indoor paintings. Being outside generally clears my head, and I feel the work is fresher. So even if I go outside to work on an entirely different scene than what I'm doing inside, the studio piece will always benefit. The outdoor works are not always winners, or "frame-able," but it is never a wasted effort since the experience of doing it speaks volumes.
With plein air, maybe the best way to state it is that "your studio is wherever you are." I try to keep supplies in the car so I can dash off a quick sketch, gouache study, or longer oil sketch if I have time.
I also paint plein air with some local artist friends. It is a welcome change to the isolation of working in a studio. I find that I need a balance of both.
Do you notice differences in your plein air work compared to the studio?
As I continue this practice, there is very little variance between plein air work and studio work. But currently I see differences, mostly the synergy I mentioned. Where in outdoor work, the brush strokes seem more decisive and color decisions are made quicker and thus placed down in fewer strokes—out of doors we don't get the luxury of "noodling" over passages since it all changes so quickly.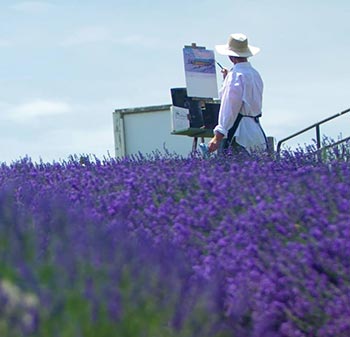 Your landscape paintings have a timeless quality. What do you look for in your subject matter?
I am intrigued by shadow and light and the patterns created by their interplay; atmosphere; and of course, color is a constant source of inspiration. I have more of an itch to go out and paint on blue sky days than the gray ones, though there are some marvelous colors that can be seen in muted areas on these low light days we get in the winter. There's a feeling that happens while standing in the great outdoors, so I try to get that into the painting—perhaps it's a bit like a narrative, like a nostalgia. The heart definitely comes into play in paintings. I feel reverent and in awe of what I see in nature. Nature and the natural world is a phenomenal teacher.
Editor's note: To view Laura Gable's paintings or follow her art show exhibitions, visit her website at www.lauragable.com