Scrumptiously rich and creamy, these raw milk cheeses from
Twin Sisters Creamery will dress up any occasion
Written by John Vitale
FOR LINDAY AND JEFF SLEVIN, the desire to become world-class cheesemakers was born out of their love of family.
"We were inspired by our twin daughters to pursue our dream of opening our own business," says Lindsay. They constructed a modern cheese production facility in their hometown of Ferndale, Wash. and opened the doors to Twin Sisters Creamery in August of 2015. Lindsay Slevin received accreditation as an ACS Certified Cheese Professional by the American Cheese Society in 2012. "Jeff and I are the actual hands on cheesemakers," she says.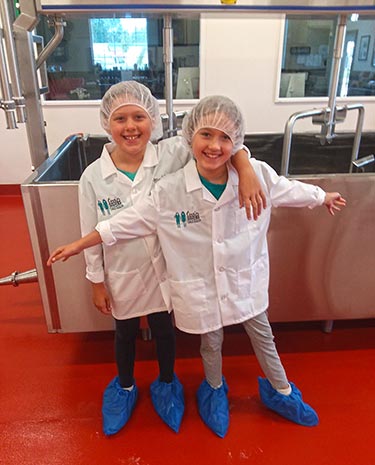 Prior to making cheese, Lindsay had spent 18 years as a professional in the cheese industry on the retail and distribution sides. Teaming up in a family business that combined her experience with Jeff's manufacturing and IT background seemed like a natural idea to the entrepreneurial couple. They use only the freshest, top-quality raw milk ingredients from pampered Jersey cows raised at Twin Brook Creamery not far from the Ferndale cheese production facility.
Farmhouse Cheese
A mellow, creamy cheese with a citrus tang and buttery finish that show off the luxurious cow's milk. MUNCH Heavenly on its own, but makes for a sublime melting cheese. Elevate dishes such as a grilled cheese sandwich or Panini, mac and cheese, pizza, chili and burgers. SIP Oaky Chardonnay, Gewürztraminer, Merlot, Syrah, fruity Zinfandel. Equally good with hard cider, brown ale or IPA.
Farmhouse Cheese with Whole Black Peppercorn
Same as the Farmhouse but with bold, spicy notes. MUNCH With superior melting qualities and a kick of peppercorn, wake up mundane dishes like quesadillas, omelettes and scrambled eggs. SIP Robust, spicy reds like Carménère, Malbec, Syrah and Petite Sirah
Whatcom Blue
This elegant blue cheese doesn't overpower, delivering a pleasantly sharp taste with a velvety-cream finish that coats the mouth amply.
Munch
Thin sliced pears, apples, figs, honey, pecans or sour cherry spread. Toss in salads or grill on top of steaks or burgers.
Wine Pairings
White wines with fruity, mineral and floral notes like Chenin blanc or a sweet Riesling. Try bold red wines like Merlot or Port.
Find the Cheese!
Twin Sisters Creamery products can be found at select stores (and distribution is growing) around the Pacific Northwest: Beecher's Handmade Cheese-Pike Place Market, Central Market, The Cheesemonger's Table, Community Markets, Fred Meyer-Murray's Cheese Shop, Haggen Food, Market of Choice, Metropolitan Market, New Seasons Market, QFC-Murray's Cheese Shop, PCC, Town & Country Markets, Whole Foods Market.
Visit the Cheese Store
Make a day trip for a joyful experience and visit Twin Sisters Creamery retail store at 6202 Portal Way in Ferndale, Wash. or order online at www.twinsisterscreamery.com