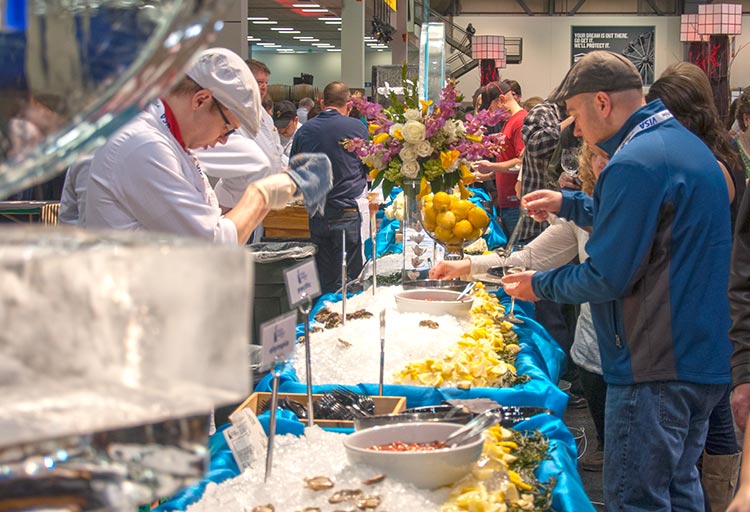 Seattle, Wash. — A record-breaking 8,479 local, national and international visitors attended the 22nd annual Taste Washington festival March 28-31 to sample delicious food from Seattle's hottest chefs and sip some of the state's most incredible wines. Festival organizers also announced dates for the 23rd Taste Washington, which will occur March 19-22, 2020. Tickets will go on sale later this year.
Voted one of USA Today's 10-Best Wine Festivals, Taste Washington spans four days and is the nation's largest single-region wine and food festival. The 2019 festival featured more than 240 Washington wineries and more than 70 of the state's most celebrated restaurants, inspiring Seattle chefs and culinary luminaries from around the nation.
"Taste Washington continues to grow each year because it represents the best of what makes this state so unique—from the cold waters of the Pacific to the lush vineyards of Eastern Washington," Senior Vice President & CMO of Visit Seattle Ali Daniels said. "At Taste Washington, visitors, chefs, winemakers and food and wine lovers can experience the diversity we have to offer in one place, making March one of the best times to visit Seattle."
"Throughout the Taste Washington festival, there's an energy that's absolutely contagious," president of Washington State Wine commission Steve Warner said. "It's quite simply the best place to get a pulse on the Pacific Northwest's exciting food and wine scene."
This year's Taste Washington introduced new events and venues prompting tickets to sell out early. At the new Canlis Wine Dinner, guests dove into the iconic restaurant's storied wine cellar with wine director Nelson Daquip. At The New Vintage, held at Seattle's The Sanctuary, wine and food lovers wound their way through an epicurean adventure with culinary icons and some of Washington's most acclaimed winemakers. James Beard Award-winning chef Edouardo Jordan also hosted the first-ever Lexus Late Night at his restaurant Salare. This year's second annual Sunday Brunch featured a special bi-coastal menu with Seattle chef Tom Douglas and Boston chef Ana Sortun in celebration of the Mariners' opening weekend at T-Mobile Park against the Boston Red Sox.
Returning favorites included the sixth annual Red & White Party on Thursday, Taste Washington On the Farm which offered two distinctive experiences at Oxbow Farm & Conservation Center and Falls City Farms on Friday, and Saturday and Sunday morning which featured Washington wine seminars at Four Seasons Hotel Seattle.
Capping the weekend's festivities, the Taste Washington Grand Tasting featured 242 wineries and 71 restaurants and boasted record attendance with 6,997 people attending over Saturday and Sunday afternoons at CenturyLink Field Event Center. Alderbrook Resort & Spa took home the coveted Best Bite trophy as voted by attendees for their Parmesan Pouffe with house-cured Bresaola, which utilized simple flavors and locally made ingredients to showcase the style of food found at the resort.
Taste Washington by the numbers:
Overall Attendance: 8,479
Total wines poured during Taste Washington: 1,240
Total oysters shucked during Taste Washington: 10,200
Grand Tasting Attendance: 6,997
Restaurants at Grand Tasting: 71
Wineries at Grand Tasting: 242
Wines poured at Grand Tasting: 1,026
Taste Washington is produced by Visit Seattle in partnership with Washington State Wine.
About Visit Seattle: Visit Seattle has served as the official destination marketing organization (DMO) for Seattle and King County for more than 50 years. A 501(c)(6) organization, Visit Seattle enhances the economic prosperity of the region through global destination branding along with competitive programs and campaigns in leisure travel marketing, convention sales and overseas tourism development. Visit visitseattle.org.
About Washington State Wine: Washington State Wine is a state government agency that represents every licensed winery and wine grape grower in Washington State. To learn more, visit washingtonwine.org.