Revelry Vintners Awarded Top Red Wine from 2020 Rodeo Uncorked! International Wine Competition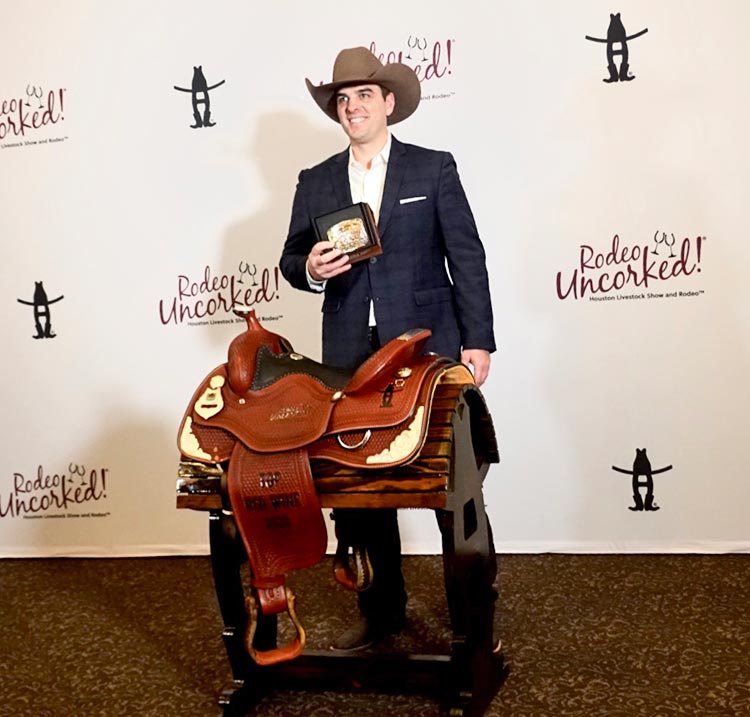 Walla Walla, Wash. — Revelry Vintners of Walla Walla, Washington takes home the honor of "Top Red Wine" from 2020 Rodeo Uncorked! International Wine Competition held as part of the Houston Livestock Show and Rodeo in Houston, Texas. The competition included over 3,500 wines from almost 1,200 wineries in 19 different countries. Jared Burns, owner and winemaker at Revelry Vintners traveled to Houston to accept the award for Revelry Vintners D11 Cabernet Sauvignon, a custom-made trophy saddle. As part of the event Burns attended the Rodeo Uncorked! Gala Auction where one 9-liter case of the wine was purchased for a record setting $105,000. "I am honored to be recognized in the company of so many great wines and wineries," says Burns.
"I grew up on a working cattle ranch in eastern Oregon," Jared shares. "I loved every facet of it. I was fortunate to be able to compete in rodeos throughout the northwest in roping. I won a handful of trophy buckles, but I never did win a saddle—until now."
Having won multiple awards at the 2016 Rodeo Uncorked! Competition Burns became enamored with the event and knew that when the time was right he wanted the opportunity to vie for the top prize and take home the saddle. "There was no doubt in my mind that our 2015 vintage of D11 Cabernet Sauvignon would show well against the best wines in the world, so much so it is the only wine we submitted. To have this wine recognized by a panel of both consumers and trade professionals is a real compliment. To take home the saddle makes it even sweeter."
Revelry Vintners focuses on wines that are pure representations of their origins and varietals, individually they are each very distinct, yet they share the common qualities of balance, structure and dynamic flavor. The D11 is a true reflection of Revelry Vintners' stylistic portfolio, and part of Revelry's premium AERIAL Series collection of wines.
Revelry Vintners was founded by Burns in 2005. "These days I spend more time in the vineyards and winery than at the ranch. The same things I learned at the ranch are true in winemaking—dedication, hard work, striving for perfection, showing patience and compassion, and being strong stewards of our land and water. Washington is an amazing place to grow grapes and make wine; the D11 Cabernet Sauvignon truly showcases all of this."
Revelry Vintners is located on 20 acres of farmland just south of downtown Walla Walla with panoramic views of the Blue Mountains. The tasting room is open to the public daily at 3798 Peppers Bridge Road.