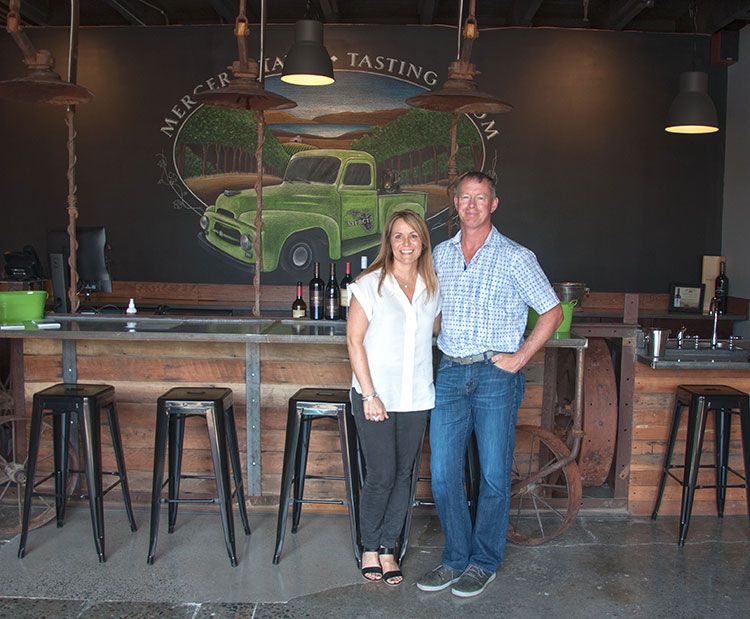 Seattle, Wash. — June 9, 2017 — Rob Mercer, owner of Mercer Estates, is a licensed private pilot who tells Tasting Room Magazine that he became familiar with Seattle's quaint Georgetown neighborhood during his flights into Boeing Field. The Mercer's have brought a slice of their Horse Heaven Hills roots to the metro area with a new tasting room that opened early this month near the north end of Boeing Field. The tasting room offers easy freeway access from Interstate 5 and is located a couple blocks from Charles Smith Wines Jet City tasting room.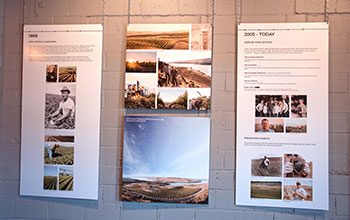 The Mercer family is heavily focused on growing sustainable vineyards and row crops in the Horse Heaven Hills AVA (American Viticultural Area). They own 1,951 acres of vineyards which, if you were to stretch that vineyard out into a single row it would reach from Prosser, Wash. across the Rocky Mountains, all the way to Chicago… and then some. In addition, they grow roughly 365 million pounds of fresh produce—that equates to almost one pound of veggies for every American every year. In 1972, patriarch Don Mercer was the first to pioneer wine grape growing in the Horse Heaven Hills. Today, under the continued vision and guidance of Rob and Brenda Mercer, along with Rob's brother, Will, the five-generation farming family continues to be a driving force in the state's wine industry.
"We really love the feel of Georgetown and everyone we have met here," Brenda Mercer told Tasting Room Magazine several weeks ago. "It's our hope to open our doors in a way that fits the climate and personality of this area and also shares our story."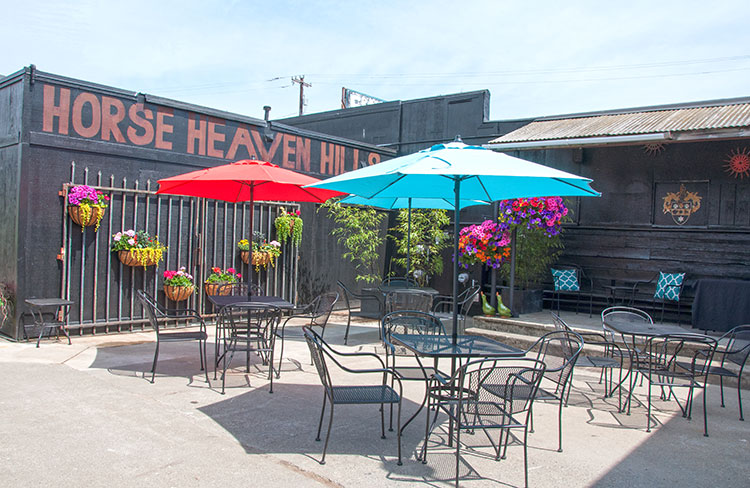 Decorated with historical photos and repurposed farm implements, the artistically-designed tasting room blends smartly into Georgetown's eclectic landscape of brick-lined buildings amid a casual, unhurried ambiance.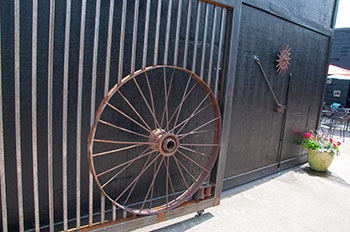 A portion of the spacious back patio is bordered by a shipping container beautified with a rustic mural of the Mercer vineyards painted by Seattle artist Harro Scharbau. A large garage door opens up the entire tasting room onto the outdoor patio area. The renovation includes a 20-person conference room for trade trainings, tastings and meetings.
"We have been hosting a growing number of wine club and industry events on the west side of the Cascades, so opening a tasting room in Seattle just made a lot of sense," says Brenda. "The tasting room is adjacent to a brewery and a distillery located in the same building—providing one-stop shopping for everyone!"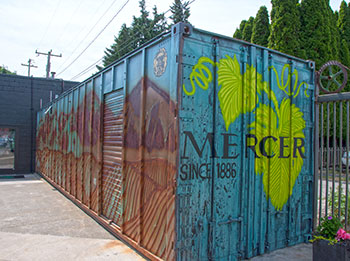 Seattle Tasting Room
Tasting fee: $10, refundable with purchase
Address: 6235 Airport Way South, Suite 102, Seattle
Hours: Open Wed-Sun 11-7pm
Phone: (206) 717-7387
Prosser Tasting Room & Winery
Tasting fee: $10, refundable with purchase
Address: 3100 Lee Rd, Prosser
Hours: Open Wed-Sun 11-5pm
Phone: (509) 786-2097
Website: www.mercerwine.com