Washington's southwest corner along the Interstate-5 corridor is home to a growing number of wineries settling in Clark County.  We tour eight wineries, from rustic and quirky tasting rooms to urban chic.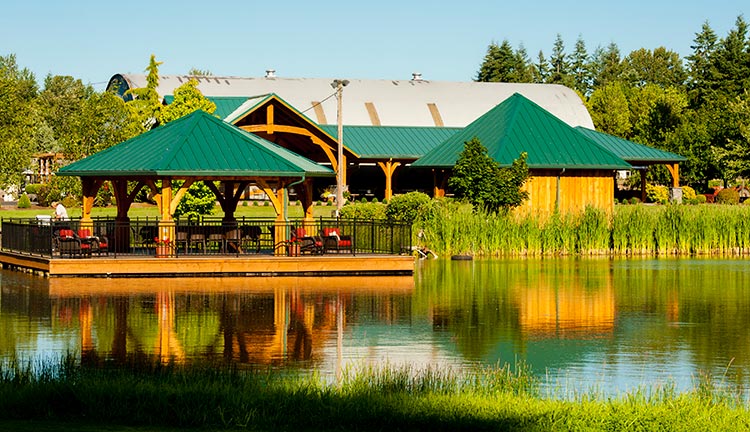 English Estate Winery
On Vancouver's booming east side is English Estate Winery, Vancouver's first winery and vineyard, which was planted in 1980 on the farm that has been in the family's care for many generations.  The winery and tasting room are housed in an upgraded 100-year-old dairy barn, known as the Loafing Shed, surrounded by seven acres of vineyards and beautiful gardens.
Winery founder and winemaker Carl D. English's extensive studies of the ground, climate and vineyard growing conditions are still referenced by other area growers.  Upon his passing in 2010, siblings Jennifer and Carl S. took over the winemaking duties.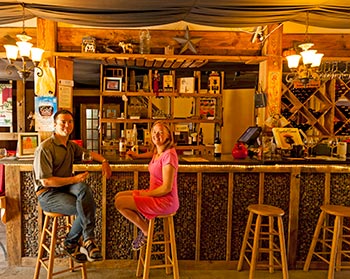 "As he grew older, Dad told us in no uncertain terms that he wanted us to do this," notes Jennifer English Wallenberg.  "I stayed up endless nights reading and re-reading 'From Vines to Wine' just to make sense of it all.  I found myself getting excited about what he had done and what we could do.  I grew up with livestock, grapes are easier!"
She describes her style as "low intervention, not much oak, and focused on letting our fruit come through.  Like our Dad used to say, you should taste the dirt."
Jennifer oversees the production of the mostly white estate wines, assorted Rosés, and a Cabernet Sauvignon drawn from the quarter-acre of estate grapes which she freely admits is a hit or miss venture each year.
Friday night music fests, and a variety of arts and culinary events keep the winery a lively and regular destination.
Burnt Bridge Cellars
Boasting its urban roots as Vancouver's only downtown working winery, the winemaking team of Mark Mahan and Ben Smith at Burnt Bridge Cellars are focused on Bordeaux and Rhône varietals.
Mahan founded the winery with David Smith in 2008, a medical oncologist who left the winery in early 2016 to devote all his energy to his medical research.  When growth outpaced their managing capability, Greg Wallace joined as a partner to handle sales and marketing.  Wallace jokingly refers to the winery as "an overnight success that was 10 years in the making."
The team recently enlisted Ben Stuart, fresh from Walla Walla Community College's enology program, who assumes the day-to-day winemaking.  With visible pride in the rocket stream of progress in just seven years, Mahan notes, "We'll probably always be known for producing our style of red wines but we also love crafting Merlot and Semillon.  It really comes down to a simple approach: make wines that we like and that we can sell."
Popular cooking classes are offered adjacent to the tasting room by professional chef Kim Mahan (Mark's wife).  She also provides an eclectic menu to winery guests and helms a growing catering business.
"We have the best location in the county," says Wallace, "and our base gives us the foundation to present our wines to the growing wine community."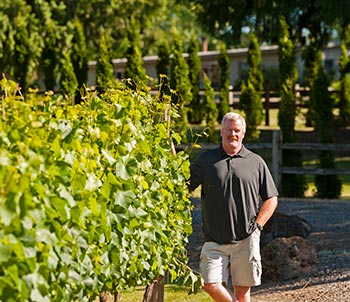 Three Brothers Vineyard & Winery
In the '90s, Dan Andersen was a civil engineer who used to build freeway exchanges in California.  Weekends found him nosing around wine areas like Paso Robles and Temecula, and before long he was dabbling in winemaking.
A farmer by nature who grew up in rural Northern Idaho, Andersen had a hankering to move back to the Pacific Northwest to work with the land and take his growing skill as a winemaker to the next level.  He found beautiful fertile acreage in Clark County and launched Three Brothers Vineyard and Winery (named after his three sons).
With a notion to make estate wines, by 2006, he'd planted Cabernet, Syrah and Merlot, and later added six clones of Pinot and other varietals.  What he can't grow for his wines, he sources from Eastern Washington but he's supremely confident in the vineyard's capability.
"I like bold flavors, mature flavors that complement food; flavors I can blend into wines for anyone to buy and enjoy," he says of his winemaking approach.
Keeping the place a destination for locals and visitors is an ongoing project and Andersen continues to add touches to the picturesque grounds, replete with grassy areas, amphitheater and stage, tasting room and the vineyard.  Wedding and event planners have long discovered the beauty of this place and his calendar fills briskly.  The annual summer concert series has become a community staple.
What he delivers to guests is a "getaway experience," he says, "a family friendly atmosphere with excellent wines."  Time spent strolling the grounds, wine in hand and surrounded by the sounds of nature, is time well spent.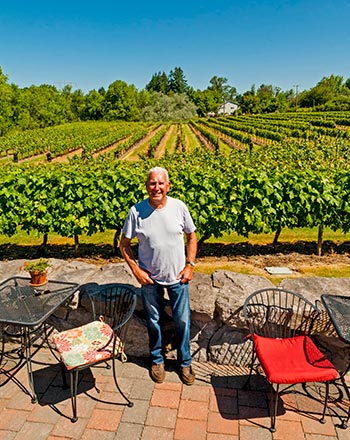 Bethany Vineyard & Winery
Curled around a small lake in Ridgefield are rows of manicured vines that frame an expansive lawn and thick-timbered outdoor pavilion.  A stone bridge connects the vineyard to a sheltered patio that all but demands you take a load off your feet and put a wine glass in your hand.  This is Bethany Vineyard, and for viticulturist and winemaker Walt Houser, it's paradise.
"My dad was an amateur winemaker who taught me winemaking and I just took to it right away," recalls Houser.  "I made my first wine when I was 26 and it felt like something I was born to do."
In 1999, Houser and his wife Beth (the vineyard and winery are named after her) planted vines on their 80-acre compound.  By 2002, they produced their first vintage.  Today, Bethany Vineyard consists of 29 acres of mostly white wine grapes, augmented by a second 10-acre vineyard on the Columbia River Gorge that produces much of his red wine grapes.
For Houser, who proudly states that every Bethany wine contains some percentage of his grapes, vineyard management is his single greatest source of joy.  At age 77, Houser still does every vineyard task himself, aided only by the same two-man crew he's had since the beginning.
"Every day, I wake up with a smile, thinking about what I get to do in the vineyard today," he says.  "I love everything about the process; well, except for maybe the pruning.  I'm getting a bit old for that."
Come the height of the wine season, Bethany bustles with wine drinkers, vineyard lovers, wedding visitors and concertgoers.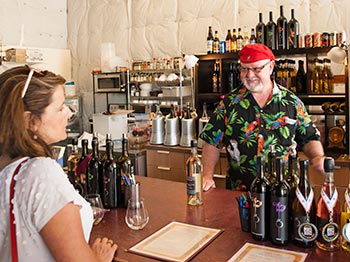 Gougér Cellars
A lifelong wine aficionado, Gary Gougér (pronounced "Goo-jay") nurtured his winemaking interest via weekend trips to wine country.  He scored big on his first self-made wine, a Zinfandel, and followed it with a well-received Petite Syrah.  The sideline soon turned to a full commitment, and requiring more formal education he traveled to Australia and earned a degree in winemaking.
"I've always followed my own path of trying to find new ways to do things," he says.  "I wanted a different approach into winemaking based on a different culture."
Ever the iconoclast, he launched Gougér Cellars in 2009 and makes wines using grapes grown in Washington, Oregon and California.  While Gougér has a healthy respect for traditional styles of winemaking, they don't weigh him down.  "Tradition is great but new ways are good, particularly in more efficient natural resource management.  So I look for different ways to make my wines the way I want."
Gougér is among the first Northwest wineries to use "zorks," a synthetic cork popular in Australia.  He's also enamored with "flex tanks"—food grade plastic containers that allow him to use oak chips instead of barrels, thereby decreasing the bacterial load and resulting in less water usage to clean the tanks.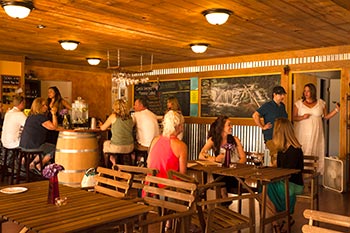 Koi Pond Cellars
Koi Pond Cellars reflects Wes and Michelle Parker's love of the vividly colored Japanese fish and their passion for wine.  Joined by partner Jesse Grillo, the trio comes by their wine affection naturally.  Parker and Grillo, paternal cousins, grew up in Sonoma where the family business was transporting wine up and down the West Coast.  Relocating to the Willamette Valley, the family established a large wine storage facility in the Pacific Northwest.
Wes' fascination with the exotic Koi also came about at the same time and it quickly grew from a hobby to an importing business.  By the time he and Michelle married, they had established Children of the Sun Koi fish store.
"Living in the Willamette Valley, we just fell in love with the wine lifestyle," says Michelle Parker.  A lease change forced them to find a new home for the Koi store and that move renewed their winery interest.  Clark County fit all their criteria, and in 2014, the couple launched the winery adjacent to their Koi fish store in Ridgefield, followed a few months later by the opening of their tasting room in a nearby former post office.  Grillo soon joined them to lend his operations expertise.
As chief winemaker, Parker describes their wines as, "Washington wines that reflect a California and Oregon approach."  Indeed, the winery sources grapes from all three states to make what Parker describes as "big reds with deep tannins and dark colors."
Visitors to the tasting room will find a low-key setting with chalk murals adorning the walls created by a local artist.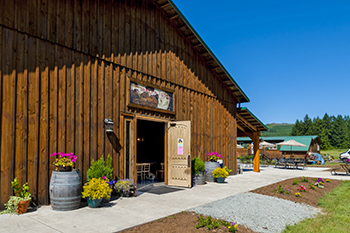 Moulton Falls Winery
The furthest east of any winery in the county, Moulton Falls Winery in Yacolt can be reached via a 12-mile drive through scenic forests.  Owners Joe and Susan Millea have carved out a lodge style winery and tasting room that proudly honors the Red Mountain grapes that constitute their wines.
Joe's fascination with wine came about because of a rash bet with a friend that he could make better wine than whatever it was they were drinking.  The results?  "Terrible," he says with a roar of laughter.  "But now I had to prove to myself that I could do it."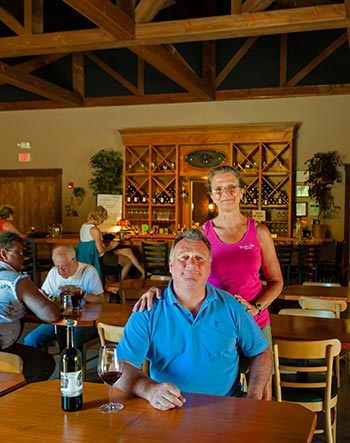 Millea set about picking the brains of every winemaker who would spare him five minutes.  "I was amazed at the warmth and camaraderie I found.  That, as much as the aim to make good wine got me hooked."
Millea forged a relationship with Kiona Vineyard, crafting many of his wines, like his hearty Lemberger, to spotlight the bold characteristics of the Red Mountain grapes.  "We work the wines together," he says.  "Susan does the lab work, I'm the muscle."
The winery's concert events tap into the rich community of world-class musicians who live nearby.  Blues Hall of Fame guitarist Terry Robb visits and performs often.  Wood-fired pizzas are made onsite, with a menu that includes smoked cheeses, meats and hummus.
Pride in their Northwest roots is clearly evident.  "Lots of folks suggested that I model the winery after a Tuscan style but I wasn't at all interested," he states emphatically.  "I live in a beautiful section of the Northwest and I want our winery to reflect it."
Rusty Grape Vineyard
Just outside the community of Battle Ground lies Rusty Grape, owned by Jeremy and Heather Brown.  The five-acre grounds hold a vineyard, garden, deck, expansive tasting room and eatery.  A seasoned brick oven looms large, where the winery's three full-time cooks whip out wood-fired pizzas that accompany wines and microbrews.
The winery offers live music several nights a week, outdoor movies on the lawn, and arts & craft events throughout the year.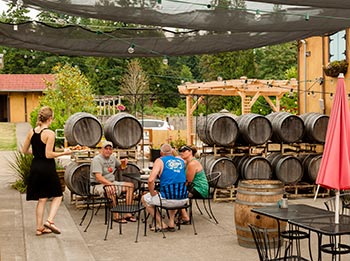 Family expansion drove the Browns to move to Battle Ground in search of larger space and the notion of a winery began to take root.  With acreage to spare, they didn't stop at building the winery.  "From the beginning, we were about the destination experience," Brown affirms.  "To us, everyone is a guest.  We wanted a space for folks to feel that our backyard was their backyard."
The winery opened in 2006, the third in the county.  Grapes come primarily from Columbia Gorge vineyards but he also pulls from eastern Washington sources.  His training came mostly from helping out at other wineries where he watched and listened intently.
The operation has grown into a full-time business and a community center for all ages.  "We've seen friendships forged, proposals made, kids come back as adults with their parents to sample their first glass of wine," says Brown.  "This is what we envisioned and we're excited about moving ahead."
Written and photographed by Richard Duval
Stay
The Heathman Lodge is a classic Northwest lodge style retreat, with modern urban amenities and an onsite restaurant in the center of Vancouver.
www.heathmanlodge.com
The Hampton Inn & Suites offer comfortable and spacious guest rooms and suites in East Vancouver, steps away from shops and restaurants.
www.hamptoninn3.hilton.com
Play
Go bird watching at the Ridgefield National Wildlife Refuge for an incredible variety of bird species like sandhill cranes, shorebirds, songbirds and great blue herons.
www.ridgefieldfriends.org
Walk, jog or skate on the paved 5-mile scenic Waterfront Renaissance Trail along the shores of the Columbia River.
www.cityofvancouver.us
Tour & Taste
Discover more wineries in this region at www.clarkcountywine.com
Be an informed tourist of Greater Vancouver, Wash. at www.visitvancouverusa.com