Entrepreneur Mike Martin's tale of a winery and restaurant began with a detour to Walla Walla, a hole-in-one golf shot, and 10 barrels of Chardonnay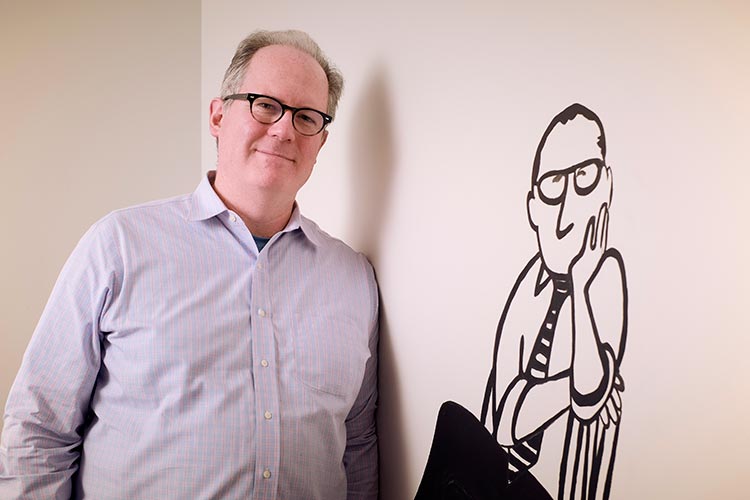 Reprinted from the Spring 2018 print issue of Washington Tasting Room magazine
IT WAS SUPPPOSED to be a trip to Sun Valley with a pit stop in Boise. No detours. Microsoft attorney Mike Martin knew he had to get on with his life after grieving the loss of his girlfriend to cancer the previous year, and hit the road with his buddy, Gordon, in search of sun and golf. But when he decided the drive from Seattle to Boise was too much for one day, he was reminded of Walla Walla, a town that he visited in the 90s and was fond of. What's more, he learned that Wine Valley Golf Club had just opened. "I like golf. I like wine," says Martin, chuckling as if to finish with what's not to love?
Mike and Gordon landed at Vintage Cellars (now Kontos Cellars) for some wine and were instantly embraced by a group of locals. "We all ended up at the Golden Horse singing karaoke until 2 AM," Martin recalls. "I can't think of a town I've popped into where that's happened."
The late night regaling did well for Martin's golf game. The next morning, he hit his first hole-in-one. "I've been playing golf since I was 12," he says. "It wasn't a pretty shot but it went in." Martin felt the universe was trying to tell him something. He didn't know at the time his future would include owning a winery and a restaurant in a small town four hours away from his life as an attorney for the giant tech firm.
"The greatest accomplishment I had at Microsoft was the people I hired," Martin says. "I'd like to think that in another career I'd be a scout." The ability to recognize talent would end up serving him well in the future, especially in uncharted territory.
Starting a business, let alone plural businesses, in Walla Walla wasn't even on Martin's radar when he bought a condo at Vue 22 downtown. "There was no plan," he says. "I told people there's no way I'd own a winery—you'd have to be crazy to do that. Same with a restaurant." But he knew that although he loved his job, he didn't want to do it forever. That was 2012, and at an open house to celebrate the finishing touches to his condo, he met winemaker Ali Mayfield.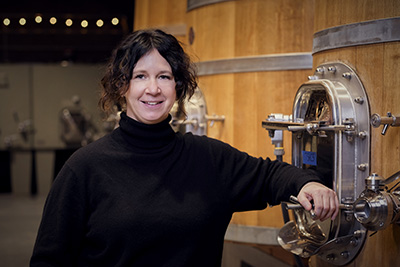 Mayfield, a graduate of the Institute for Viticulture and Enology at Walla Walla Community College, experienced success in the industry early on working for Long Shadows Vintners, Corliss Estates and Foundry Vineyards.
Even before her tenure with some of the valley's most prestigious players, she made wine as a hobby. When asked if she was a garage winemaker, "I was more of a closet winemaker," Mayfield responds, laughing. "That was the only dark, damp space I could find."
Politely Belligerent
Martin found plenty of outstanding Washington red wines, but was on the search for some whites that he liked. "People in town, including other winemakers, told me I should drink some of Ali's wines at Foundry Vineyards," he recalls. "And I did. And I liked them a lot."
He bought bottles to give to his friends in Seattle, but Mayfield left the brand and started consulting for other wineries. "They started to bug me like how do I get more of that stuff," recalls Martin. In the spring of 2014, Martin ran into her at a party. "I had the voices in my head of my friends in Seattle and I was probably borderline belligerent—politely belligerent—and told her, you got serious game, girl. You need to make more wine." Later that month, Mayfield sent Martin a spreadsheet titled, "The 10 Barrels of Chardonnay Project."
The two met for lunch and Martin wasn't convinced it was something for him. But then he posed a question that would change everything. "Do you want to do something real or do you want to just make ten barrels of wine?"
Martin reiterates that he didn't set out to start a winery but admits that Ali sent the spreadsheet at the right time. "I didn't just want to be in Walla Walla, I wanted to do something here." The talent scout in him saw Mayfield as an individual who was super focused, talented and passionate—with something to prove. Just as he had surrounded himself with exceptional people at Microsoft, Martin could see that Mayfield had strong relationships with some of the best and brightest in the business.
Grape harvest was looming. Martin attended a talk at Whitman College where Myles Anderson of Walla Walla Vintners did a tasting. Anderson made the point that winemakers have limited opportunities to work harvest in their lifetime—one shot a year. "I told Ali, 2014 is only going to come around once," says Martin. So on July 30th they started The Walls, with Martin as owner and founder and Mayfield as co-founder and winemaker.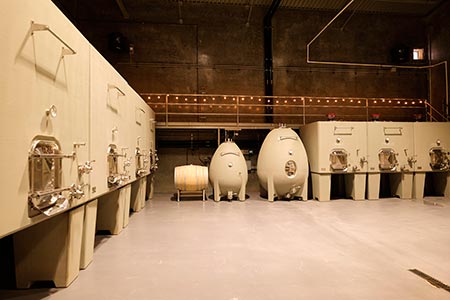 "I realize how crazy we were to start a winery one month before harvest," Martin says laughing. "I didn't know any better."
The two scrambled to create a 2014 vintage and Martin credits Mayfield and her connections for the quality of fruit and barrels they were able to get. Martin lauds the custom crush facility, Artifex Wine Co., for bringing them on as a client so late in the game. "We could have never made wine without Artifex. I will always be grateful for what they've done for us."
After two vintages at Artifex, Martin purchased the former home of Whitman Cellars and turned it into The Walls tasting room and production facility, giving it a makeover with sustainability in mind, along with state-of-the-art equipment. The infamous ten-barrels-of-wine spreadsheet with Martin's comments hangs in a frame on the office wall.
The Walls, The Struggle
When considering a winery name, Martin looked to brands that had authenticity to them, that were grounded in place. "We were making wine at Artifex and we were looking at the prison every day," he recalls. "It's part of the fabric of this community and this region." It turns out the walls is one of the nicknames for the prison. Martin wanted to pay homage to it without a depressing connotation. With the help of Gauge Branding they arrived at a sketch that served as the starting point for a series of label illustrations drawn by cartoonist Joe Dator, a regular contributor to a number of publications, including The New Yorker.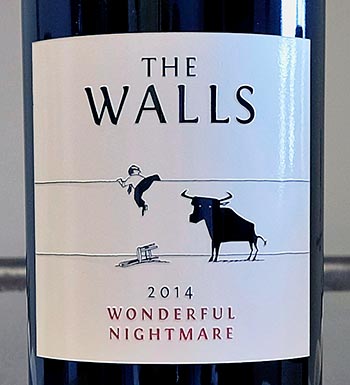 Dator created a cartoon character for The Walls similar to his Walter Groovy sketches. Martin thought the character looked like a 'Stanley,' which worked on another level. Ali's mentor was the late Stan Clark from the Institute for Viticulture and Enology. It was because of Stan that Ali left her steady job at UPS in Indiana, packed up her belongings and three girls and moved to Walla Walla to pursue her dream.
Martin and Mayfield have collaborated on all the proprietary names for the wines, all with memorable stories. La Lutte, for example, which in French is the struggle. "I call La Lutte Ali's 4th child. She obsesses about all the wines, but to me, that's her most personal wine." Mayfield was a single mom and her youngest was born with a congenital heart disease enduring three open-heart surgeries, the first when she was just two-weeks old. "To raise three kids on your own and go to school? That's a struggle," says Martin.
A Sound Connection
White Salmon Vineyard in the Columbia Gorge AVA, farmed by Peter Brehm (the fruit source for La Lutte) is a site that is very personal for Mayfield. "Peter is one of my favorite humans," she says. "His vineyard has always been something very special to me just in the way it makes you feel when you're in it."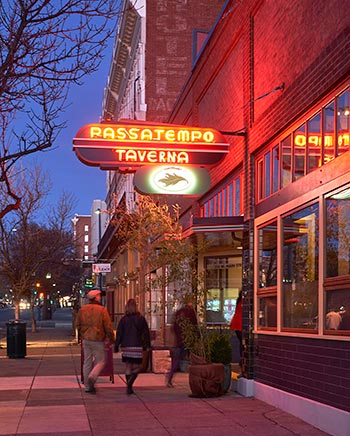 When Mayfield introduced Martin to Brehm, the two men discovered they both went to the same high school, Fairfield Prep, in Fairfield, Conn. "It was like some kind of cosmic connection," Martin says.
Cosmic, indeed. It was because of Brehm that Mayfield and Martin were introduced to world-renowned viticulturist, Phil Coturri, who farms certified organic grapes in the Napa Valley. He is consulting on The Walls Vineyards, a 20-acre site in The Rocks District that will be planted in 2019 and grown organically.
Passatempo Taverna
From corporate attorney for one of the most high-profile tech companies on the planet to winery owner in a small town, Martin's new life didn't stop there. In 2015, he purchased the former Pastime restaurant—a beloved icon in the town that had sat empty for years—and reinvented it as Passatempo Taverna.
"I had already planted this seed about creating some sort of synergy between food and wine and drinks," says Martin. "I was a little crazy and I bought it." What appealed to Martin the most was something others overlooked: the parking lot. "I saw it as an outdoor dining space, which is what I thought Walla Walla needed—a true garden patio." With tall bamboo and other plantings, the space indeed is enchanting. Above the patio is the space dubbed the 'wine studio,' used for private events, including receptions, wine dinners and overflow restaurant seating.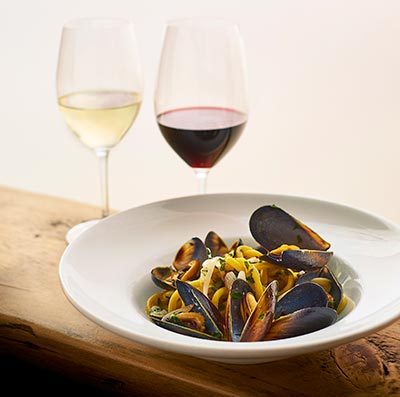 The restaurant specializes in slow-cooked rustic Italian fare like house-made pappardelle with ragu Bolognese, seared scallops with lemon and peppercorn risotto, and tender osso bucco (veal shank slow-braised in red wine). New in the works is a seasonal menu that includes rotating dishes.
Out of his own playbook, Martin knew whom to recruit to execute his vision for Passatempo. He'd loved the Jimgermanbar in Waitsburg for their spellbinding craft cocktails, and was able to recruit Jim German. "He is the co-founder of Passatempo and his vision permeates the entire experience here." The space is open, modern and warm with quirky accents.

When asked if he's had a chance to absorb opening high profile, high-risk businesses and developing vineyards, Martin points to the memory of his mentor and friend, Norman Hildes-Heim. The architect and international developer had once given the advice, "If it doesn't get built it's not architecture, it's just a pretty picture."
The Walls Vineyards and Passatempo Taverna—once a pretty picture in Martin's head—have now become reality. However, Martin insists with a twinkle in his eye, "The best is yet to come."
Written by Kirsten Telander & Photographed by Colby Kuschatka
Editor's Top Picks: The Walls Vineyards

---
The Walls 2015 Curiositas, $56
Editor's Choice – Extraordinary (95-100 pts.)
This lush Cabernet Sauvignon is sourced from the Red Mountain AVA. Dark and powerful, there's a loamy edge to the plush flavors of blackberry, cassis and bitter plum that meld effortlessly with espresso, tobacco leaf and iron notes. Well-integrated tannins lend solid grip, coupled with a swath of fresh acidity that delivers muscular structure while keeping it light footed through the long finish. –JV
The Walls 2015 Martin's Gold, $36
Editor's Choice – Outstanding (91-94 pts.)
Named for Martin Ray, the California wine pioneer who revolutionized Chardonnay with this French clone in in the 1940s. This version hails from the first planting of this Mt. Eden clone in Washington State. Pure and silky, with a zesty mix of perfumed pear, nectarine and honeydew melon flavors that gain momentum amid verve-backed minerality and an edge of pithy citrus lingering on the complex aftertaste. –JV
The Walls 2015 Stanley Groovy, $38

Editor's Choice – Outstanding (91-94 pts.)

An exotic red blend of lesser-known Iberian Peninsula grape varietals, offering well-defined structure with tons of briary black fruit flavors, orange bitters, African violet and loamy soil. Finishes smooth, with fresh acidity and hints of dark purple fruit. Pairs with a multitude of earthy Mediterranean dishes, like savory pasta puttanesca. 
–
JV
The Walls 2015 La Lutte, $42

Editor's Choice – Outstanding (91-94 pts.)

Crafted with grapes grown at the renowned White Salmon Vineyard, this Chardonnay is creamy yet stalwart in structure. There's a distinctive vein of mineral and chalk notes that pulsate through polished flavors of pear, apple and white nectarine inlaid with preserved lemon and citrus details that push through the complex, dry finish. 
–
JV
---
Tour & Taste
The Walls Vineyards
1015 W Pine St, Walla Walla
Ph: 509-876-0200
www.thewallsvineyards.com
Wine & Dine
Passatempo Taverna
215 W Main St, Walla Walla
Open Thurs-Mon
Ph: 509-876-8822
www.passatempowallawalla.com