Tour seven family-owned wineries near the State Capital city of Olympia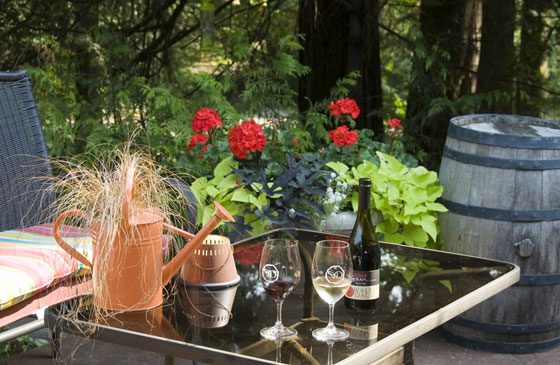 Click here to view the actual pages as published in the Winter 2012 issue
The blue-green tendrils of Puget Sound's waterways extend southward as far as Olympia, Shelton and Lacey. In recent years the State capital has developed into a vibrant cultural center, attracting musicians and artists to the region—along with a cadre of talented winemakers.
There are seven family-owned wineries scattered along a 30-mile stretch called the South Sound wine trail. A bonus: winemakers are on hand at most of them and will cheerfully share insights into their winemaking methods.
The route is interspersed with rich history, quiet tree-lined neighborhoods, and tranquil scenery. Pack a picnic to enjoy at one of the tasting rooms. With a wealth of places to stay, camp, dine and wine, consider a mini-getaway to explore the region. There are many public and state parks. Hike breathtaking nature trails in the Nisqually National Wildlife Refuge from the safety of a boardwalk that traverses over salt and freshwater marshes, grasslands and mixed forest habitats. Or head downtown to Olympia and visit a museum, stroll through art galleries, and listen to live music at any number of intimate venues that have popped up in recent years.
Walter Dacon Wines
Nestled near the shores of Hood Canal in Shelton is a gem of a woodsy setting where you'll meet bubbly Lloyd and Ann Anderson of Walter Dacon Wines, who celebrated their 25th wedding anniversary in 2012. Their romance was sparked over a bottle of wine.  Ann relates how the two met over dinner with friends. "He bought a bottle of expensive wine and shared it with everybody, and some of his beer and whiskey drinking friends didn't like it. So then he looks over at me and asked me what I thought of the wine," she says. "I said it was the best bottle of wine I'd ever had!" And that was the beginning of their courtship.
The couple shares a fond passion for craft Rhône-style wines. In 2002, they began flying back and forth from Shelton to UC Davis to take winemaking classes. Lloyd had an epiphany when, on a solo trip, he ventured into a wine bar that happened to be pouring a '95 Guigal Hermitage.  "I'm sitting there, and I bought a glass for $25, which is a lot for a glass of wine! I swirled it, and thought it was just so good, so I called Ann immediately," recalls Lloyd about the exciting moment. "I told her 'we are going to do Rhône wines. Our goal is to make a Hermitage.'"
True to his word, Walter Dacon's slogan and mantra is "experience the Rhône." They opened the winery in 2005, serving up their '03 crush wines which were an instant hit.
Indeed, Walter Dacon produces four different lush, smooth and captivating Syrahs, including their signature wines C'est Syrah Belle and C'est Syrah Beaux. You can taste at the tasting bar, or enjoy outside comfortable seating, with beautiful views of forest flora and fauna.  Or, wander over to the decorative vineyard and look up at the sea of colorful welcome flags.
McCrea Cellars
Winemaker Doug McCrea, along with business partners Bob and Susan Neel, have been championing Rhône varietals in the state since 1988. There were only five acres of Syrah planted in the entire state, but they quickly recognized the outstanding potential for Grenache and Syrah.
Owned and operated by two couples; Doug and Kim McCrea, and Bob and Susan Neel; Bob & Sue are the sales and operations arm and of winery and Doug is the winemaker and vineyard overseer.
McCrea then stumbled across a little vineyard in the Columbia River Gorge with Grenache vines. "When I got to the Grenache vines in '89 they were already close to 25 years old.  Old gnarly vines. I always loved Grenache. It's from my roots I guess, because my mother's side is French," he says.
Over the years, the winery worked to increase plantings at notable sites like Boushey Vineyards and Ciel du Cheval, where more Syrah was planted, as well as other French varietals, including Viognier, Mourvèdre, Counoise and many others.
Along the way, McCrea Cellars churned out many "firsts" of Rhône-style wines in Washington. "We were the first winery to make a Côte-Rôtie style, a co-fermented blend of Syrah with Viognier. The first Grenache Blanc. First Picpoul. First Marsanne. First Counoise. Lots of firsts," says the gregarious McCrea.
The winery's signature wine today is still Syrah (because of the volume) and has historically produced five different Syrahs.  Their other signature wine is Mourvèdre. "It's an amazing varietal and has a great future," says Doug. "Growing up in New Orleans I was exposed to the great restaurants in the French Quarter," he explains, talking about his passion for food and wine.  "There needs to be a balance and finesse to the wine.  I'm not interested in the big monster wines."
McCrea was formerly a jazz musician and music producer in San Francisco. With a head for technical details, he continues to make overtures with consistent, refined stylings of wine from McCrea Cellars. The winery is open for tastings by appointment in the nearby town of Rainier.
Vina Salida
Doug McCrea's latest wine project is Salida—varietals and blends of Spanish lineage from grapes grown in Eastern Washington.
It all came about in the fall of 2006 when grower Phil Cline asked McCrea if he could use some Tempranillo from Two Coyote Vineyard. "There's this lovely saddle leather and cigar box to the Tempranillo. I asked for more in '07 and Phil worked it out. Then it just took off," says McCrea.
He kept going and planted his own vineyard of Spanish varietals in the Yakima Valley. "Phil called again and said he had some extra Malbec.  Not quite a ton, so I topped the barrel with Tempranillo. People loved the result, and now we've named it, Fuego Sagrado, which means the sacred flame."
McCrea believes Tempranillo will become a major player in Washington. You can taste Salida wines by appointment at the winery.
The future of Salida is limited only by McCrea's quest for experimenting with Iberian varietals. "It's always an unraveling road, which makes life fascinating," he says with a grin and a twinkle in his eye.
Madsen Family Cellars
Dana Madsen and his wife Sandra have had opposing vacation schedules most of their lives. Sandra is a teacher and he was in construction.  As Dana puts it, "She's busy in the winter, and I'm busy in the summer." So, the two hit upon a plan to do something together after they retired besides sitting in a Lazy Boy — they started a winery.
Not ones to sit idle, they received their winery license in the middle of the harvest season in 2005, and two days later they were already crushing grapes from Red Mountain that went into making their first barrels of wine. "You can make bad wine from good grapes," Madsen says, "but you can't make good wine from bad grapes." His grapes were better than good. The wine won a bronze medal at the annual Capital Food & Wine Festival in Olympia, energizing the couple to ramp up operations.
They have developed a loyal following for their portfolio of Bordeaux-style reds, as well as whites.  Last year, Madsen produced 16 varieties of wine, totaling 1100 cases. The modest but friendly tasting room and working winery are located in a warehouse complex just off the interstate in Olympia.
Sandra still teaches high school English, and the names of some of their wines depict literature and literary ties; such as their bold and elegant Othello Bordeaux and Port-style wine, Heart of Darkness. A visit to the winery will stretch your palate—and perhaps test your knowledge of English literature too.
Northwest Mountain Winery
A few hundred yards away from Madsen Cellars in the same warehouse complex is Northwest Mountain Winery.  Ray Curtis has a split life—he's a registered nurse by day and spends the rest of his waking hours making wine and mead. "It's a hobby gone terribly wrong," he jokes humorously.
Curtis got his first introduction to the wine business 30 years ago at a small winery in central Ohio owned by the family of his best friend. Years later the dormant memories were revived.
"The bug to make my own wine hit after spending time at several wineries during a Red Wine and Chocolate event on the Olympic Peninsula," tells Curtis. He and a friend began making mead and blackberry wine, first as garagistes, and subsequently opening the winery in 2010.
The tasting room is welcoming and inviting, with an almost lounge-like atmosphere.The lineup includes fruit wines, as well as Chardonnay, Syrah, Cabernet, and brandy fortified dessert wines.
Curtis is most proud of his award winning spicy jalapeno mead, made with crushed jalapeno peppers and raspberry honey. "It's something you're not going to find anywhere else," he says. It's got a zesty kick, and makes a lively pairing with chips and guacamole, mild nachos, multi-layer bean dips, even melon and prosciutto.
Stottle Winery
The timing was serendipitous for Josh and Amy Stottlemyer when they decided to open a winery. In 2010, they happened across a small craft vintner still in the infant stages of starting a winery, but for personal reasons was seeking to sell all his equipment and inventory. By jumping in full throttle when they did, the enterprising couple was able to launch their Lacey-based winery in record time.
Offering a diverse lineup of reds and whites, the tasting room is set in a modern and sleek light industrial office park. Josh is a studious winemaker, skilled with a background in chemistry and geology. "We like to make a whole range of wines. Quality well made wines with finesse. Some big and bold, some subtle lighter wines," he says.
Josh's philosophy is to let each vintage, and each grape speak for themselves. "A sculptor finds the design for the sculpture in the stone. If there's a crack in the stone there are some designs that can't be made. It's the same with grapes. We have to work with the fruit the same way to find the highest expression of that wine. Basically, we're guiding the wine and trying to make the best product possible in each vintage," he explains.
Adding production every year, their goal is to grow production to 3500 cases per year.  Amy, the marketing arm behind the winery, and a middle school teacher by day, jokes "We jumped in full throttle." Stottle has two other tasting rooms on the shores of the Puget Sound, located in Hoodsport and Alki Beach.
Medicine Creek Winery
Entering Medicine Creek's tasting room feels like stepping into a New Orleans saloon during the golden era of the western frontier. Antique backgammon tables, delicate chandeliers, and wall sconces—even hand-made costumed mannequins—add to the aura. Most of the ornate handiwork was painstakingly built or restored by owners Jim and Liz Myers.
The winery stands on an 41-acre farm, believed to be the original homestead of the first settler in the Nisqually Valley. The Myers' have lived here for three decades, and still work the land. The name, Medicine Creek, comes from a spring fed creek that runs through the property.
Today, as you enter the historic building, you'll come across a bright red shiny stagecoach built from scratch by industrious winemaker Jim Myers. His wife, Liz, pours wine behind the enormous antique bar, the focal point of the tasting room. The 300-year old Heart Pine flooring was salvaged from a building in New Orleans after Hurricane Katrina came through, which an antique dealer re-milled for the Myers.
Jim handcrafts five to six different boutique wines each vintage, mostly Bordeaux varietals and also a Sangiovese and Syrah. The grapes are sourced from noted vineyards including Elerding, Pontin del Roza, Chandler Reach Estate Vineyards, Kiona Vineyards, and Goose Ridge Estate Vineyards.
They couple renovated the original house three times since 1982, and have strived to keep the historical integrity of the house and property. "We've experienced a lot of life doing this project" Jim says. "It's been a total commitment of our energy, time and money."
Stay and linger with a glass of wine. You may even coax one of them to tell the fascinating account about the time Liz drove a team of mules and a wagon all the way from Vancouver, Washington to Saint Maries, Idaho. But that's another story.
Written and photographed by John & Adean Vitale